HVAC Trade School Programs
By Publisher
| Last Updated
By completing vocational training at an HVAC trade school, you can become well-equipped to join this fast-expanding and diverse trade. HVAC technicians frequently enjoy satisfying work, steady incomes, and consistent demand for their services.
---
HVAC Trade School Training
HVAC trade schools are set up to teach you what you need to know to begin working as an HVAC technician at the entry level. In some cases, completing college-level training can also shorten the length of an apprenticeship if you choose that route.
---
---
HVAC Trade Schools
Sponsored Listings


Heating, Ventilation, and Air Conditioning (HVAC)
---
---
---
Benefits of HVAC Training at a Trade School
Learning from those in the know: You can get guidance from experienced instructors who understand industry-current practices and can challenge you to keep adding to your skill set.
Hands-on practice: Trade school HVAC programs often give students lots of practical experience with the types of tools and situations that technicians commonly deal with on the job. That means you can concentrate on expanding your skills without the pressure of real-world job expectations.
Professional certification: Many programs are designed to prepare students for the Section 608 certification exam required for any technician who handles refrigerants.
How Long is HVAC Trade School?
It typically takes eight to 24 months to complete a post-secondary program in HVAC technology, depending on whether you choose a certificate, diploma, or associate degree program. HVAC apprenticeships can last up to five years.*
HVAC Program Options
Certificate or diploma programs in HVAC technology typically last one year or less, though some take up to two years.* Some shorter programs focus on one specific area, such as air conditioning technology or residential heating and cooling. They offer a quick way to enter the trade.
Associate degree programs are generally designed to last about two years.* They are similar to HVAC certificate and diploma programs but tend to offer a broader scope of training, including several general education courses that can give you a more well-rounded experience. Completing a program at this level can make you a stronger candidate for supervisory roles once you have some experience.
Apprenticeships can last up to five years.* Some companies are willing to hire apprentices and provide all the training on the job. Trade associations or plumbing or sheet metal unions often sponsor formal HVAC apprenticeships that consist of technical lessons and paid workplace training. You can try using the online search tool from the Department of Labor to find apprenticeships in your area.
---
---
Typical Courses Included in HVAC Training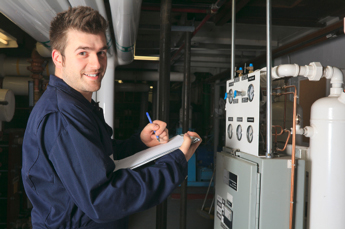 Depending on the HVAC or HVAC/R program you choose, you may receive instruction in subjects such as:
Interpretation of mechanical drawings and diagrams
General theories of heating, ventilation, air conditioning, and refrigeration
Principles of electric, gas, and oil heat
Airflow and indoor air quality
Basic electricity
Heating fuels
Heat pumps
Thermostats
Refrigerant types
Piping
Soldering and brazing
Venting and duct systems
Installation and service
Troubleshooting and problem-solving
Building codes
Safety practices
Many HVAC training programs that are accredited by an industry organization use the Industry Competency Exams (ICE) as exit tests for students. Depending on the program you choose, you might have to take one or more of the three tests that are available as part of the ICE.
The different testing areas are:
Residential air conditioning and heating
Light commercial air conditioning and heating
Commercial refrigeration
Skills You Can Learn in Your HVAC Training
You could begin learning how to:
Read and understand blueprints
Set up, troubleshoot, and maintain residential and commercial equipment and systems
Calculate loads in BTUs (British thermal units)
Braze and solder pipes and fittings
Connect electrical wiring
Handle refrigerants
Follow safety protocols
HVAC Licensing & Certification
Licensing and certification requirements for HVAC technicians depend on where they live, the specific types of systems they work with, and whether they intend to be their own boss.
HVAC Licensing
Many, but not all, states have licensing requirements for HVAC technicians. (In some cases, licensing is required at the local rather than state level.) Becoming licensed often requires passing an exam. Plus, some states require you to have completed the equivalent of an apprenticeship program or two to five years of on-the-job experience before applying for a license to legally work on your own. You can use CareerOneStop's license finder to research the requirements in your area.
Additionally, most states require you to get a special license if you're aiming to work as an HVAC contractor.
HVAC Certification
Some HVAC certifications are required; others are voluntary. However, even voluntary certifications can help you advance in your career since most employers like to see official acknowledgment of your competencies.
Section 608 of the Clean Air Act of 1990 requires anyone who services equipment that uses specific refrigerants to take a test to prove that they know how to properly handle, recycle, and dispose of materials that can damage the ozone layer. The Section 608 certification exam is a written test administered by various organizations approved by the Environmental Protection Agency (EPA), including unions, building groups, trade schools, and contractor associations.
Section 608 certification is broken down into four types:
Type I for small appliances
Type II for very high-pressure appliances
Type III for low-pressure appliances
Universal for all types of HVAC/R equipment
Many formal HVAC programs prepare their students to take the EPA Section 608 Universal certification test.
Technicians who work on air conditioning systems in motor vehicles must complete Section 609 certification.
The EPA does not require additional certifications for technicians working with R-410A refrigerant. However, since this type of refrigerant is used at a much higher vapor pressure and therefore requires different tools, equipment, and safety standards, some trade schools and training providers offer classes related to R-410A.
Other types of voluntary professional certifications are designed to verify the real-world skills and working knowledge of technicians who have had at least a year or two of on-the-job experience. Independent organizations offer certification in many specialty areas, such as residential and commercial air conditioning, heat pump service and installation, gas heat, electric heat, oil furnaces, hydronics, air distribution, and commercial refrigeration.
The two most recognized providers of professional-level certifications in the American HVAC/R industry are HVAC Excellence and North American Technician Excellence (NATE).
HVAC Training FAQs
How can I prepare for an HVAC program?
Taking high school courses in subjects such as mechanical drawing, basic electronics, math, computer science, and applied physics and chemistry can be helpful. It can also be beneficial to gain some basic knowledge of electrical and plumbing work.
What are the HVAC apprenticeship requirements?
Generally speaking, HVAC apprentices must:
Be at least 18
Hold a high school diploma or equivalent credential
Be comfortable with algebra
Have a valid driver's license
Pass a drug screen
Keep in mind that apprenticeship openings are often highly competitive. Completing an HVAC program at a technical college or trade school can give you a leg up on the competition when applying for a registered apprenticeship.
HVAC Career Information
HVAC is among the most worthwhile trades for people who enjoy diverse challenges and hands-on work. This career offers good earning potential and strong demand.
Career Outlook
5% growth from 2021 to 2031
Median Salary
HVAC Technicians
Job Openings
Average Yearly Openings
Length of Training
Most Common Length
Work Settings
Specializations
Residential heating and cooling, commercial or industrial heating and cooling, commercial refrigeration, mobile refrigeration, automotive or marine service, geothermal heating and cooling, energy auditing
Sources**
U.S. Bureau of Labor Statistics
U.S. Department of Education
HVAC Technician Job Openings & Outlook
Employment in the HVAC trade is expected to expand by five percent from 2021 to 2031, according to Bureau of Labor Statistics (BLS) projections.
On average, 40,100 jobs for HVAC technicians should become available each year over that same time frame. They break down this way:
Brand new positions: 2,000
Openings due to workers retiring: 12,300
Openings stemming from workers changing to other occupations: 25,800
Key Benefits of Becoming an HVAC Technician
A sense of accomplishment: It can be intensely rewarding to fix problematic equipment or install new systems because your hard work directly impacts the ability of people to feel comfortable in their environments.
Long-term stability: Controlling indoor climates is important not just for people's comfort, but also for efficiently operating computers and machinery. And refrigeration is crucial for safely storing perishable foods and medical supplies. HVAC technicians have essential expertise that will always be needed.
Mental stimulation and work variety: HVAC is one of the best trades to learn because it allows you to develop skills in several different areas, including electrical work, plumbing, welding, pipefitting, and sheet metal.
What Does an HVAC Technician Do?
HVAC technicians are experts in indoor climate control. They install and service the systems that control temperature and air quality. Some of them also set up and maintain refrigeration systems that make it possible to transport and store perishable foods and medicines (which is why the trade is sometimes referred to as HVAC/R).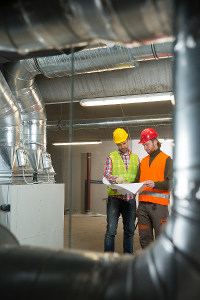 HVAC technicians' job duties can depend on whether they specialize in working with a particular type of equipment (e.g., furnaces or refrigeration systems) in either the installation or service side of the business. That said, typical tasks can include:
Installing furnaces, heat pumps, and air conditioning units
Installing the ductwork that carries treated air throughout a building
Following blueprints and specifications used in the installation of systems and components such as:

Air ducts
Vents
Pumps
Water and fuel supply lines

Connecting electrical wiring and controls
Charging refrigeration systems with the proper refrigerants
Conserving, recovering, and recycling refrigerants for reuse or ensuring that they are disposed of properly
Venting refrigerants into the appropriate cylinders
Performing routine maintenance, such as:

Checking for leaks
Adjusting blowers and burners
Changing air filters
Lubricating motors
Cleaning condenser and evaporator coils

Diagnosing and repairing problems that are found within any part of a system
Adjusting the controls of a system and recommending appropriate settings
Testing the performance of a furnace, heat pump, air conditioning unit, or other piece of equipment to ensure that it operates at peak efficiency
Using carbon dioxide and carbon monoxide testers to make sure that a customer's equipment operates safely
Selling service contracts or replacement equipment to customers
Responding to calls for emergency repairs
Work Settings
HVAC technicians can work in any building that utilizes climate-control equipment. Examples include:
Homes
Schools
Offices
Retail stores and supermarkets
Restaurants
Hospitals
Computer data centers
Factories
Research labs
Industrial plants
Airports
Entertainment venues
According to the Occupational Outlook Handbook (OOH), about two-thirds of HVAC technicians work for plumbing or heating and cooling contractors. Seven percent are self-employed.
HVAC Specializations
Many HVAC technicians are generalists, but some choose to concentrate on installing new systems or on maintaining and repairing systems already in place.
Additionally, some technicians specialize in one type of system. For example, in regions with warm climates, many technicians work on air conditioning systems exclusively.
Other areas of specialization can include:
Residential heating and cooling: Work on equipment like furnaces, boilers, air conditioners, and pool heaters for private homes.
Commercial or industrial heating and cooling: Work on more complex systems in offices, hospitals, schools, and industrial plants.
Commercial refrigeration: Work on refrigerators, freezers, product display cases, and cold storage facilities in restaurants, supermarkets, convenience stores, and food processing plants.
Mobile refrigeration: Work on refrigeration units in transport trucks, cargo ships, and rail cars.
Automotive or marine service: Work on climate-control systems that keep people comfortable inside cars, trucks, vans, or boats.
Geothermal heating and cooling: Work on the heat pumps and underground pipes that transfer heat between a building and land beneath the surface (rather than between a building and the outside air).
Energy auditing: Assess a home's or other building's energy consumption and recommend measures to improve energy efficiency.
Career FAQs
What makes a good HVAC technician?
It's important for an HVAC tech to exhibit the following characteristics:
Dependability
A sense of craftsmanship and pride in your work
An aptitude for mechanical, hands-on work
Determination and a strong work ethic
An interest in the science behind HVAC technology
How dangerous is HVAC work?
Because they work with things like wiring and refrigerants, HVAC technicians face potential hazards like electrical shock, frostbite, and burns. But following safety protocols can greatly reduce the risk of injury. BLS data indicates that there were 22 fatal workplace injuries among HVAC technicians in 2020. There were 380,400 technicians employed across the country that year, so the fatality rate for this occupation was only 0.01 percent.
Where do HVAC technicians make the most money?
The highest average wages in the HVAC trade can be found in the following areas, according to OEWS program data:**
District of Columbia: $70,130
Alaska: $70,100
Hawaii: $69,100
New Jersey: $68,460
New York: $66,180
---
HVAC Training Is a Reliable Way to Get Started
Formal HVAC training can be an excellent first step if you're eager for a career in this diverse and reliable trade. By completing an HVAC program at a trade school or vocational college, you can develop hands-on skills, receive help from knowledgeable pros, and get ready for important industry certifications.
Featured HVAC Trade School Locations:
---
* Length of training information is based on a combination of information from the Occupational Outlook Handbook, the U.S. Department of Education, and a wide sampling of relevant programs from about 30 individual school websites. They are a mix of public, private non-profit, and private for-profit institutions.
** Unless otherwise noted, salary information is based on May 2021 data from the Occupational Employment and Wage Statistics (OEWS) program. Job growth and average yearly openings estimates are from the Bureau of Labor Statistics and are for the 2021 to 2031 period.