---
---
Plumbing Career Information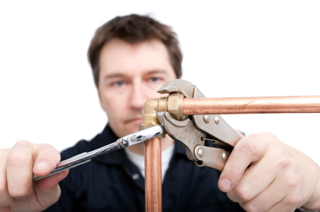 At its core, plumbing is the comprehensive system of fixtures, pipes, valves, drains, and devices that are responsible for two important tasks within a building. The first is to distribute water and the second is to remove waste (sewage).
A plumber is a person who works in the skilled trades industry and specializes in the installation, repair, maintenance, and replacement of plumbing systems used for the distribution of water and the removal of waste and sewage within buildings.
The work performed by plumbers is invaluable. Here is just a small list of examples of the functionality we enjoy because of plumbing:
Access to fresh water from taps
Disposal of waste and sewage
Delivery of gas that powers appliances (including ovens) as well as heating and air conditioning systems
---
What Does a Plumber Do?
Ultimately, a plumber makes it possible to transport water, air, steam, gases, wastes, and different kinds of liquids throughout all types of buildings, from homes and offices to factories and hospitals.
To give you a more in-depth and accurate understanding of the job description, here are some of the most common responsibilities:
New Systems
Studying blueprints and planning the installation of plumbing systems in accordance with safety standards, building codes, budgets, and timelines
Ensuring that the plumbing system plans work with the intended location of other necessities such as electrical panels and wires
Preparing the plumbing materials for installation by measuring, bending, cutting, and threading pipes
Preparing the building for the installation of pipes and plumbing systems, including cutting holes in floors, ceilings, or walls, and installing ceiling joists and hanging steel supports for pipes
Installing all small and large pipes and waterlines throughout the building as per the approved plans and blueprints
Installing plumbing fixtures, including sinks, toilets, bathtubs, and showers
Installing water- and gas-related appliances, including water heaters, dishwashers, and garbage disposals
Performing a final inspection and testing of all finished systems, materials, fixtures, and appliances to ensure that they are up to code and work properly and safely
Existing Systems
Inspecting faulty systems or appliances to diagnose the cause of any malfunctions
Providing an estimate for the repair or replacement of faulty systems, appliances, fixtures, or pipes
Troubleshooting and repairing or replacing plumbing systems, fixtures, appliances, or pipes
Inspecting and replacing worn parts to prevent future malfunctions
Handling on-call or emergency requests for issues like clogged, leaking, or burst pipes, backed up septic systems, maintenance of underground holding tanks and septic systems, etc.
Industrial Systems
Planning, installing, repairing, maintaining, inspecting, and troubleshooting large-scale systems, pipes, fixtures, and appliances within industrial settings
Handling on-call or emergency requests promptly to make repairs or replacements and minimize factory downtime
Following strict safety guidelines and building codes, especially when an industrial plant is involved with the movement or disposal of high-pressured steam, acids and dangerous gases, or waste byproducts
Additional Tasks
In addition to the above responsibilities, a plumber who runs his or her own business will have many other business-related responsibilities. Large companies may hire administrative professionals to handle the majority of these tasks, but in smaller companies, the owner often handles them personally. Some of these additional tasks can include:
Hiring, training, and managing skilled laborers
Acting as a mentor and teacher to apprentices and new journeymen
Handling financial management, including billing, payroll, and tax preparation
Handling marketing, advertising, and promotion
Booking jobs, creating timelines and deadlines, and scheduling staff
Creating on-call and emergency schedules and protocols
Specializations
Common specialties include:
Pipefitters—Concentrate on installing and maintaining pipes within industrial and commercial settings. They may specialize even further by, for example, solely handling the installation, maintenance, and repair of heating and cooling systems within large office buildings.
Gasfitters—Handle the installation of pipes used specifically to carry clean oxygen to hospital patients.
Sprinkler fitters—Perform the installation, repair, and maintenance of fire sprinkler systems within residential, commercial, and industrial buildings.
Steamfitters—Work with pipe systems used to move steam under extreme pressurization within power plants and factories.
Other Considerations
It is important to remember that plumbing is a complicated trade that requires a great amount of knowledge, skill, and experience in order to perform at an advanced level. It takes time and hard work to become a master plumber (considered the highest level of the plumbing profession). Therefore, you can't expect to start out tackling the most advanced tasks.
In the beginning, you will likely work as an apprentice under the mentorship of a master plumber, assisting more experienced plumbers and handling basic tasks. Once you have completed your apprenticeship, you will move up to the journeyman level. From there, you will likely have the required experience and training to pursue licensing, which is required in most states.
---
Can You Tell Me How to Get Into This Trade?
The plumbing industry has been continually advancing in terms of technology, tools, and eco-friendly innovation. So, in order to have the best chance of success in the industry, you will need to complete comprehensive training, either by taking a program at a trade school, college, or university, completing an apprenticeship, or undertaking a combination of these two options.
Keep in mind that completing a skilled trades program and/or an apprenticeship—whether it's electrician training, HVAC training, or learning another trade—can take up to five years. You will then be considered a journeyman and should be ready to pursue licensing, which officially makes you a professional plumber. Licensing requirements vary by state, so it is crucial that you investigate exactly what the criteria and prerequisites are in your area.
---
What Can I Learn in School?
Theoretical Training
Basic principles
Residential, commercial, and industrial principles
National codes
Building codes
Hot and cold water delivery
Potable water and gas piping systems
Drain waste and vent systems
Backflow principles
Safety principles
Workplace hazards
Toxic, flammable, and combustible materials
Cross-connection protection
Business and Administrative Training
Creating and reading blueprints
Interpreting isometric drawings
Cost estimating
Budgeting
Entrepreneurship
Management
Project management
Accounting
Payroll
Scheduling
Marketing
Hands-On Training
Brazing and soldering techniques
Installing, troubleshooting, and servicing plumbing fixtures (commercial, industrial, and residential)
Professionally installing toilets, bathtubs, drainage systems, gas systems, and waste disposal systems
Plumbing troubleshooting, service, and repair
Drainage waste and vent design
Pipe system design
Licensing exam preparation
Internship
---
What Does an Apprenticeship Involve?
An apprenticeship can be thought of as a paid learning experience. Most apprenticeships are managed by unions or other industry associations.
Some of the most common apprenticeship programs are administered through the Plumbing-Heating-Cooling Contractors Association (PHCC) and The United Association (UA) Union of Plumbers, Fitters, Welders, and Service Techs.
In most states, you will also have to obtain an apprentice license before you can officially begin an apprenticeship. They are typically administered by individual state boards. Prerequisites and costs vary by state.
The format for apprenticeships can also vary widely. Some may allow you to complete the theoretical and textbook work online or through correspondence. Others may require that you attend classes. For this reason, some apprenticeship programs partner with technical or trade schools, allowing you to attend classes at a college to complete the theoretical and coursework portions of the apprenticeship.
Some common topics covered during the theoretical and classroom portions of an apprenticeship include:
Safety considerations
Plumbing codes and regulations
Blueprint reading
Mathematics
Chemistry
Applied physics
Piping systems
Plumbing fundamentals
Pipe system design
When it comes to practical and real-life experience, apprenticeships are invaluable because they allow you to work closely with experienced plumbers at actual job sites. Most apprenticeships also provide pay (typically between 30 and 50 percent of the wages earned by a fully licensed plumber), as well as insurance, benefits, and a pension. During this portion of the training, you will have the opportunity to work with industry tools and equipment and perform hands-on tasks such as:
Cutting, welding, soldering, and joining pipes
Installing and testing pipes
Installing, repairing, and maintaining existing pipes and plumbing systems
Inspecting, diagnosing, and repairing faulty plumbing fixtures, appliances, and pipes
Joining more experienced plumbers during emergency calls for issues like leaking, burst, or clogged pipes, backed up septic systems, etc.
In order to graduate from an apprenticeship, you will typically have to complete about 250 hours of technical education and as many as 2,000 hours of paid, supervised, on-the-job training. It generally takes up to five years to complete all portions of an apprenticeship.
---
How Long Is a Typical Training Program?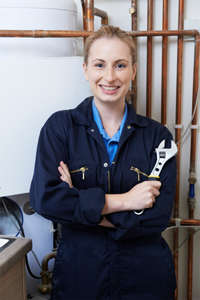 If you choose to enroll in a training program outside of an apprenticeship, then you can expect it to take about two years to earn a certificate or diploma, or up to four years to graduate with a plumbing degree.
Alternatively, if you take a program from a technical school that has partnered with a union or trades association as part of an apprenticeship initiative, then you may be able to graduate more quickly. Typically, a program that is associated with an apprenticeship is shorter than one that doesn't because it focuses solely on theoretical and classroom learning. (The apprenticeship itself will provide the hands-on and practical training.)
You should also keep in mind that, if you choose to take a program before entering an apprenticeship, it's a good idea to check with the union or professional association administering the apprenticeship to see if your post-secondary credits and hours of practical experience can be applied toward the apprenticeship. If so, you could be eligible to bypass some of the training and practical hours, thereby finishing your apprenticeship sooner.
---
Do I Need a License?
In most states, you will be required to obtain a license before you can officially work as a professional plumber or, in some cases, even before you can officially start an apprenticeship. There tend to be different levels of licenses, including apprentice, journey, and master level. A single organization is not in charge of handling nationwide licensure. Instead, licensure is handled by individual state boards.
Licensing requirements vary by locality and level. Common prerequisites for a license at all levels include:
Being 18 years of age or older
Having a high school diploma or equivalent
Having a clean record (no felony convictions)
Submitting application forms and fees
Additional apprentice-level prerequisites include:
Providing proof that you will be working under a licensed journeyman or master plumber
Providing proof that you are enrolling in an apprenticeship program that is registered with the United States Department of Labor
Passing the apprentice-level exam
Additional prerequisites for a journeyman license include:
Providing proof that you have completed the minimum number of required years working in the industry as an apprentice (usually between two and five)
Passing the journeyman-level exam
Additional prerequisites to obtain a master-level license include:
Holding a current journeyman-level license in good standing
Passing the master-level exam
---
What Is the Average Salary?
Plumber salary rates can be influenced by various factors, including:
Amount of education and/or training
Amount of experience in the field
License level
Location of employment
Type of employment (i.e., self-employed, union worker, or employee within a small, mid-size, or large company)
Specific employment sector within the plumbing field (i.e., residential, commercial, or industrial)
According to data from the Occupational Employment Statistics program, annual salaries break down this way:
The main factor of influence is probably the level of seniority. An apprentice usually only makes 30 to 50 percent of typical wages until he or she becomes a journeyman, whereas a master plumber can make significantly more than a journeyman.
---
What Is the Job Outlook?
The job outlook is positive. The Occupational Outlook Handbook (OOH) shows a projected growth rate in the employment of plumbers of 14 percent between 2018 and 2028.
Some of the factors that are thought to influence the increased demand include:
A high number of current professionals who are expected to retire over the next 10 years
The fact that plumbing isn't affected by economic downturns since clean water access and safe waste removal are necessary services rather than optional expenditures
---
Where Do Plumbers Work?
The majority work for plumbing companies (which can be unionized or not). Self-employment is also an option in this industry. According to the OOH, about nine percent of plumbers were self-employed in 2018.
When it comes to actual working environments, plumbers tend to work in:
Homes (including apartments, condos, townhomes, and semi-detached houses)
Businesses
Factories
Industrial plants
Most work full-time hours and are often expected to work nights and weekends, especially when they are on-call for emergencies. In addition, if their job involves the new construction sector, they can be expected to put in overtime regularly in order to meet construction deadlines.
---
What Are the Benefits of the Job?
Some of the most important upsides to this job include:
Good pay—This is a well-paying profession within the skilled trades industry.
Steady work—Since the majority of the work is typically completed indoors, it is a year-round occupation with less chance of downtime caused by seasonal factors.
Growing industry—Thanks to the necessary nature of a plumber's work, it tends not to be negatively affected by economic downturns. Plus, the growing concerns over water conservation and eco-friendly buildings are helping to expand the plumbing industry and increase demand.
---