Plumbing School Information
By Publisher
| Last Updated
Attending a plumbing school can set you up for a career in one of the most attractive sectors of the skilled trades industry. Trade schools offer streamlined training that is convenient and relatively quick. Plus, vocational training often counts toward the length of your apprenticeship. Plumbers generally benefit from good pay, varied work, and potential for advancement.
---
Plumber Education & Training
The primary route into this vocation involves an apprenticeship. However, a plumber school program can help people like you gain essential skills that provide a competitive edge when applying for apprentice positions.
---
Plumbing Schools
Sponsored Listings
Bridgeport, Connecticut
Hamden, Connecticut
New London, Connecticut
Waterbury, Connecticut
---
---
Length of Training
It generally takes between four and 24 months to complete a pre-apprenticeship plumbing program at a vocational school. Plumbing apprenticeships typically last for four or five years in total.* In some cases, credits earned from previous trade school programs can be applied toward an apprenticeship, which shortens it.
Most Common Length of School*
(range in months)
Plumbing

Electrical technology

Welding

HVAC technology
Program Options
You can take a plumbing program at a trade school or vocational college, complete an apprenticeship, or pursue a combination of those two options. How long it takes to get certified in plumbing depends on the program you choose.
Certificate or diploma programs: These typically take no more than a year to complete.* They are designed to help students learn basic plumbing concepts and skills.
Associate degree programs: These can last up to two years.* They tend to include the same kinds of courses as certificate or diploma programs and also incorporate more general education courses like math and science.
Plumbing apprenticeship programs: Most plumbers learn the trade this way, typically taking four or five years.* Some go straight into a program while others complete a certificate, diploma, or degree first. Apprentices undergo classroom lessons as well as on-the-job training, for which they receive a wage.
Most apprenticeships are managed by unions or other industry associations, such as:
You can also search for registered apprenticeships through the U.S. Department of Labor.
---
---
Typical Courses
Plumbing schools tend to provide training in areas like:
Blueprint reading
Pipe system design
Water supply systems
Gas piping systems
Drainage systems
Installing and repairing pipes, fittings, and valves
Brazing and soldering techniques
Backflow principles
Plumbing codes
Safety protocols
Skills You Can Learn at a Plumber School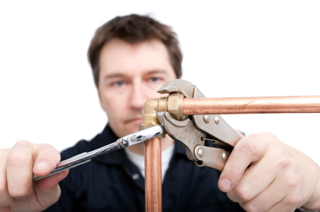 At a plumbing trade school, you could begin learning how to:
Interpret blueprints
Calculate plumbing measurements
Design and install piping systems in different settings
Install, troubleshoot, and service various plumbing fixtures and appliances
Use tools like plungers, pliers, pipe wrenches, and soldering torches
Perform work according to relevant codes
Follow established safety practices
Estimate plumbing jobs
Licensing & Certification
In most states, you must obtain a license before you can officially work as a professional plumber or, in some instances, even before you can formally start an apprenticeship. In some cases, licensing is done at the city or county level. So it's important to find out what regulations apply in your area.
There tend to be different licenses, such as apprentice/trainee, journeyman, and master.
Licensing requirements vary by locality and level. However, you will typically have to:
Be 18 years of age or older
Have a high school diploma or equivalent
Have a clean criminal record (no felony convictions)
Apply and pay a fee
Pass an exam
Some states require special licenses or certifications, depending on the type of work you hope to perform. For instance, you may need to get a medical gas piping license or endorsement to work on the systems that carry gases like oxygen and nitrous oxide in healthcare facilities. And many states have special requirements for plumbers who work with propane or natural gas systems.
Use CareerOneStop's license finder to check the requirements in your state.
Education & Training FAQs
Do plumbers need to know a lot of math?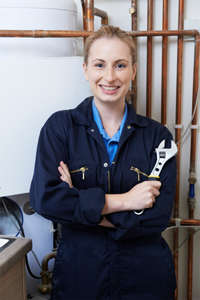 Plumbers typically deal with basic addition, subtraction, multiplication, and division. They must also be comfortable converting decimals to fractions.
They may need to calculate things like the volume of a water tank, the water pressure at different depths, or larger pipes' capacity versus smaller pipes. But in most cases, that means plugging numbers into a formula. Once you do that a few times, it becomes relatively automatic.
If I become a licensed plumber in one state, will my credentials be recognized in another state?
Some states have reciprocity agreements that allow licensed plumbers from certain other jurisdictions to practice the trade in that area without obtaining a new license. You can check for such agreements through the National Center for Construction Education & Research.
Is plumbing hard to learn?
Plumbing can be straightforward to learn if you focus on keeping up with your coursework and have decent memorization skills. It's important to remember, though, that much of the trade is learned and practiced during your apprenticeship. Plumber trade school provides the groundwork of knowledge to help you succeed as an apprentice (plus your program credits may count toward your apprenticeship). And an apprenticeship provides the skills needed to succeed as a journeyman and, eventually, a master plumber.
Career Information
Plumbing is a rapidly growing trade that offers the potential for high wages, stable work, and multiple avenues for advancement or specialization.
Career Outlook
2% growth from 2021 to 2031
Median Salary
Plumbers
Job Openings
Average Yearly Openings
Length of Training
Most Common Length
Work Settings
Specializations
Residential plumbing, commercial plumbing, gas fitting, medical gas piping, pipefitting or steamfitting, sprinkler fitting, plumbing inspection
Sources**
U.S. Bureau of Labor Statistics
U.S. Department of Education
Plumber Salary
The median annual wage for plumbers, pipefitters, and steamfitters is $59,880,** according to the Occupational Employment and Wage Statistics (OEWS) program. The highest earners make $99,920 or more.
Median Annual Wage Comparison**
Job Openings & Outlook
Bureau of Labor Statistics (BLS) projections show that the employment of plumbers, pipefitters, and steamfitters is expected to grow by 2 percent from 2021 to 2031.**
Over that same period, an average of 48,600 jobs should become available each year. They break down this way:
Newly created positions: 900
Openings that stem from retirements: 15,700
Openings that result from workers transferring into other occupations: 32,000
Key Benefits
Steady work: Since plumbing is often carried out indoors, it's a year-round occupation with less chance of downtime caused by seasonal changes.
Consistent demand: Water supply systems are crucial to our daily lives. That means plumbers are essential workers whose expertise is continually needed.
Advancement potential: You can progress all the way to master plumber and become a self-employed contractor. Or you could pursue roles like plumbing supervisor, job estimator, inspector, and more.
What a Plumber Does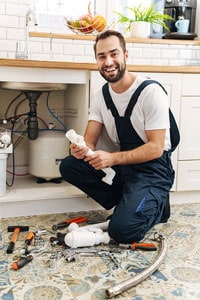 Plumbers make it possible for water, gases, wastes, and liquids to be carried throughout all types of buildings, from homes and offices to factories and hospitals.
Common responsibilities include:
Planning the installation of plumbing systems following safety standards, building codes, budgets, and timelines
Ensuring that plumbing system plans work with the intended location of other necessities such as electrical panels and wires
Preparing materials for installation by measuring, bending, cutting, and threading pipes
Preparing buildings for the installation of pipes and plumbing systems, including:

Cutting holes in floors, ceilings, or walls
Installing ceiling joists and hanging steel supports for pipes

Installing, testing, maintaining, and repairing items like:

Sinks
Faucets
Toilets
Bathtubs
Showerheads
Water heaters
Washing machines
Dishwashers
Garbage disposals

Handling emergency issues like pipes that have burst or septic systems that have backed up
Following safety guidelines and building codes
Inspecting completed work to ensure that it's up to code
Providing estimates for repairs
Supervising and mentoring laborers, apprentices, and new journeymen
Work Settings
Plumbers work in any setting that needs running water. For example, that can include places like:
Homes
Offices
Schools
Restaurants
Stores and shopping malls
Entertainment venues
Factories
Hospitals
Airports
Government buildings
Hotels
Cruise ships
Industrial plants
Construction sites
According to the Occupational Outlook Handbook, most plumbers, pipefitters, and steamfitters work for plumbing or heating and cooling contractors. About nine percent are self-employed.
Specializations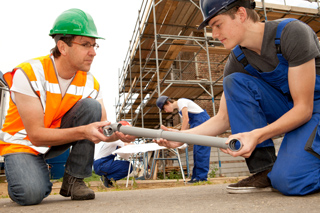 People who go into the pipe trades can choose to specialize in several areas, some of which require additional training or other qualifications. Examples include:
Residential plumbing: Focus on installing and repairing pipes, fixtures, and appliances in houses, condos, and other private residences.
Commercial plumbing: Work on piping systems and appliances in large settings like office buildings, retail stores, hospitals, and schools.
Gas fitting: Install and repair natural gas piping and related appliances, such as stoves, fireplaces, water heaters, and hot tubs.
Medical gas piping: Concentrate on the systems that deliver gases like nitrous oxide and oxygen to medical patients.
Pipefitting or steamfitting: Fabricate, assemble, install, and service piping systems in commercial and industrial settings. You could deal with systems for carrying anything from chemicals for manufacturing to high-pressure steam for generating electricity.
Sprinkler fitting: Perform the installation, repair, and maintenance of fire sprinkler systems in all types of buildings.
Plumbing inspection: Check completed plumbing work to ensure that it was done correctly and following applicable codes.
Career FAQs
Which states have the highest salaries for plumbers?
Based on OEWS program data, these five states offer the highest average wages for plumbers, pipefitters, and steamfitters:
Illinois: $86,200
Alaska: $85,300
Massachusetts: $84,090
New Jersey: $82,740
Oregon: $81,470
What kind of schedule do plumbers have?
Most put in full-time hours. Residential plumbers tend to work a standard daytime schedule, but they often must be available for after-hours emergencies. Plumbers or pipefitters who work in commercial or industrial settings may work more irregular hours because their tasks may need to be carried out at off-peak times.
What's the difference between a plumber and a pipefitter?
Plumbers tend to work with water, gas, and drainage systems and related appliances. Pipefitters mostly concentrate on the industrial side. They fabricate and install large-scale piping systems that carry hazardous materials like acids, chemicals, and gases in settings such as power plants, oil refineries, and factories.
---
Get Started Learning to Become a Plumber
Training at a plumbing school offers a clear path to entering a trade that's both reliable and varied. The focus of vocational training is to prepare students for the workforce, with only the courses necessary for learning the trade. The sooner you find a school near you, the closer you are to becoming a plumber. Find one today!
---
* Length of training information is based on a combination of information from the Occupational Outlook Handbook, the U.S. Department of Education, and a wide sampling of relevant programs from about 30 individual school websites. They are a mix of public, private non-profit, and private for-profit institutions.
** Unless otherwise noted, salary information is based on May 2021 data from the Occupational Employment and Wage Statistics (OEWS) program. Job growth and average yearly openings estimates are from the Bureau of Labor Statistics and are for the 2021 to 2031 period.