Veterinary Assistant and Vet Tech Schools
By Publisher
| Last Updated
Veterinary assistant and vet tech schools focus on helping students gain the skills to support the health and well-being of all types of animals. This career field offers diverse responsibilities, enormous demand, and a wide array of specialized veterinary jobs to train for.
---
Veterinary Technician Schools
Sponsored Listings


Distance Education (Online)
---
Distance Education (Online)
Anaheim, California
Los Angeles, California
Ontario, California
Riverside, California
Veterinary Assisting and Grooming - Online
Veterinary Technician
Brecksville, Ohio
Maumee, Ohio
Veterinary Assistant and Grooming - Online
Veterinary Technician
Pleasant Hill
Sacramento
San Jose
San Leandro
Stockton
Veterinary Assisting
Veterinary Technology
Auburndale
Brandon
Ft. Myers
Orlando
Port Charlotte
Sanford
---
---
Information is based on data from the Bureau of Labor Statistics Occupational Outlook Handbook (OOH) unless otherwise indicated.*
Education & Training
By completing a vet assistant or vet tech school program, you can gain the expertise and abilities to make a positive difference in animals' lives.
Vet Assistant vs. Vet Tech: What's the Difference?
Veterinary Assisting:
Work involves helping veterinarians and clinics with primary animal medical care.
Responsibilities include taking care of the essential basics that keep the practice running smoothly, like animal and facility hygiene, grooming, providing food and water, record-keeping, assisting vets with equipment, and a lot more.
Since vet assisting isn't regulated the way vet technology is, the potential duties can vary significantly.
Veterinary Technology:
Involves a deeper level of understanding in veterinary science, a more comprehensive skill set, and credentials to back up your training.
An associate degree in veterinary technology leads to becoming a veterinary technician.
If you continue your training in veterinary technology to earn a bachelor's, you can become a veterinary technologist.
So what's the difference between a veterinary technician and a veterinary technologist?
In most cases, technicians and technologists perform the same types of tasks. They both study veterinary technology. However, technologists require a bachelor's degree, which can lead to more career opportunities at the supervisory or management level. This level of training can also open doors to more specialized laboratory jobs. Plus, veterinary technician school can help you qualify for animal medical school if that is your end goal.
List of users

| Career Title | Education Level | Length of Training* | Median Salary* | Job Growth 2021-2031* |
| --- | --- | --- | --- | --- |
| Vet Assistant | Diploma or Certificate | 9 - 12 months | $29,780 | 19% |
| Vet Technician | Associate Degree | 1.5 - 2 years | $36,850 | 20% |
| Vet Technologist | Bachelor's Degree | 4 years | $36,850 | 20% |
Education Requirements & Length of Training: How Long Does It Take to Become a Vet Tech or Assistant?
How long you spend learning veterinary science will depend on how broad you want your career options and skills to be. Vet assistants can train in less than a year, vet technicians typically spend two years in school, and vet tech programs can require a two-year associate degree or a four-year bachelor's degree. So, it takes between nine and 48 months to become a veterinary assistant, technician, or technologist.
Most programs, at all levels, give students the opportunity to complete hands-on externships in real-world veterinary settings.
Veterinary assistant schooling takes 9-12 months, though some veterinary assistant jobs don't require a diploma or certificate.
Veterinary technician schooling typically involves two years to earn an associate degree. Most states require veterinary technicians to hold at least an associate degree.
Veterinary technologist programs usually last four years and culminate with a bachelor's degree. They include advanced studies in areas like emergency care and practice management.
---
---
Typical Courses
When it comes to courses, vet tech school is more advanced and will cover more than veterinary assistant school because of the breadth and length of the programs. Depending on which you choose, you may have courses in:
Animal behavior and handling
Pet grooming
Veterinary medical terminology
Animal anatomy and physiology
Pharmacology
Medication dosages and administration
Nutrition
Diagnostic imaging
Clinical pathology
Animal nursing
Laboratory procedures
Anesthesia
Surgical preparation and assisting
Radiology
Dentistry
Veterinary office procedures
Client communication
Skills You Can Learn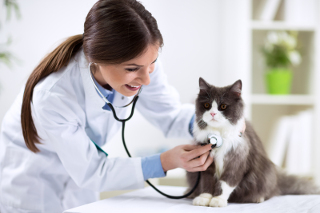 You could begin developing abilities related to:
Bathing, feeding, and grooming animals
Handling and restraining animals
Collecting and analyzing biological samples
Assisting with or performing diagnostic imaging
Cleaning animals' teeth
Sterilizing surgical equipment
Administering anesthesia
Caring for animals before, during, and after surgery
Administering medication
Maintaining veterinary records
Educating owners about home care
Licensing & Certification
Veterinary assistants do not require licensing or certification. However, a voluntary certification called Approved Veterinary Assistant is available from the National Association of Veterinary Technicians in America (NAVTA). You must complete a NAVTA-approved training program in order to qualify for the exam.
Most states require licensing, registration, or certification for veterinary technicians and technologists. Vet techs generally must earn at least an associate degree in veterinary technology and pass official exams, which usually include the Veterinary Technician National Exam (VTNE) and sometimes a state exam. Depending on your state, official designations for vet techs who pass the exams include Licensed Veterinary Technician (LVT), Registered Veterinary Technician (RVT), or Certified Veterinary Technician (CVT).
Licensed, registered, and certified vet techs are also often required to take a certain number of continuing education courses every year in order to keep their expertise up to date.
Education & Training FAQs
What's required for admission to a program?
For veterinary assistant programs, you generally need to hold a high school diploma or equivalent credential. Some programs also require an entrance or placement exam.
Veterinary technology programs often require students to pass a drug screen and criminal background check. You may also have to provide a current record of immunizations, particularly for tetanus and/or rabies.
Some applicants must complete college-level courses in subjects like biology, chemistry, math, or English composition before they can be admitted to a vet tech program. That can mean completing a year of post-secondary coursework before beginning your veterinary technology studies.
Some programs also require students to have volunteer experience in a veterinary clinic.
Are online vet tech programs available?
Yes. Some programs allow students to complete the theory part of the curriculum entirely via distance learning. However, you still may need to complete a supervised externship at a veterinary facility in your local area. Some programs include the externship, while others require students to arrange it for themselves.
What's on the Veterinary Technician National Exam (VTNE)?
The VTNE requires you to answer 170 multiple-choice questions in three hours. The exam covers nine major areas:
Pharmacy and pharmacology
Surgical nursing
Dentistry
Lab procedures
Animal care and nursing
Diagnostic imaging
Anesthesia
Emergency medicine/critical care
Pain management/analgesia
Online practice tests are available for purchase from the American Association of Veterinary State Boards (AAVSB), which administers the VTNE.
How to Become a Vet Assistant
Consider the future and if your long-term career goals involve veterinary medicine. A minority of employers are willing to train vet assistants on the job and don't require post-secondary credentials. Most others require a diploma or certificate, which ensures you have learned a specific set of skills they can rely on.



If you are seeking a position that doesn't require schooling, simply look for job opportunities. Getting some experience handling animals through volunteer work can be a good way to bolster the skills you can offer an employer in exchange for on-the-job training.

Talk to people working in the field to get a realistic idea of what the job involves and make sure you're still interested.
Complete a diploma or certificate program in veterinary assisting.
Complete your externship (most vet assistant programs will include an externship or similar hands-on experience).
Find a job! Trade schools' career services departments can help you find the right employer.
Top 5 Reasons to Work as a Veterinary Assistant
You get to work with animals of all varieties and help them feel their best!
Less training time means less commitment. So if you're not entirely sure you want to join the field long-term, you can test it out and then use your experience toward further education if you choose to continue your training.
You can play a crucial role in keeping a veterinary practice running effectively. Although vet assistants require less training than vet techs and veterinarians, they often oversee the administration, coordination, and patient contact that helps a clinic run smoothly.
You can help animals stay healthy without the responsibility of diagnosing or performing advanced procedures. You get to provide basic needs that animals tend to love: food, water, affection, attention, and assistance in feeling secure and calm during exams and procedures.
Vet assistants are in demand and expected to stay in demand. With 20k jobs expected to open from 2021 to 2031, this career is projected to grow much faster than average.
How to Become a Vet Tech
Do some research by talking to veterinary technicians and/or technologists about their work by calling your local animal care centers and checking out online resources like the veterinary forum on Reddit.
Find a trade school or college offering an accredited vet technology degree program, apply, and complete your studies.
Complete your externship to gain hands-on experience.
Take and pass the Veterinary Technician National Exam (VTNE) and/or the North American Veterinary Licensing Exam (NAVLE).
Get credentialed as a licensed, certified, or registered veterinary technician (requirements depend on your state).
Take advantage of any career services offered by your school and start looking for a position!
Top 5 Reasons to Become a Vet Tech
You can feel a real sense of value by being the veterinarian's right-hand person. If you like the idea of nursing but prefer to work with animals, vet technology is a great option.
There is a lot of variety in job duties. Vet techs gain a lot of skills in school that can help them handle different types of situations, animals, and pet owners. Each day contains a mix of different tasks to keep things interesting.
You can be on the frontlines of saving animals' lives. Vet techs perform vitally important procedures like collecting blood samples, taking x-rays, administering anesthesia, and preparing animals for surgery.
There is a demand for these professionals, with more than 24,100 new jobs projected for 2021-2031. This type of work can't be automated or outsourced, so the demand is likely to stay high for the future.
You can diversify your skills by getting certification to work in specialty areas like emergency care, surgery, behavior, nutrition, and more.
---
Career Information
Helping to provide quality medical care to animals can be highly rewarding work. Vet techs and assistants often perform a wide range of tasks and enjoy strong demand for their services.
Earnings
According to Occupational Outlook Handbook (OOH) information the median annual veterinary technician salary is $36,850.
And how much does a vet assistant make? The median annual veterinary assistant salary is $29,780.
Job Openings & Outlook
Veterinary workers are in great demand. Bureau of Labor Statistics (BLS) projections indicate that employment of vet techs should grow by 20 percent between 2021 and 2031. Veterinary assistants can expect employment growth of 19 percent over that same time frame.
The BLS also expects an average of 15,500 jobs to open up for vet techs and 23,900 jobs for vet assistants each year over that decade.
Key Benefits
A sense of meaning: You get to experience the joy and satisfaction of helping injured or sick animals feel better.
Job security: The huge demand for people with this type of expertise means there's a better chance of finding a position once you complete your training.
A ton of variety: You can work in animal hospitals, private clinics, pet stores, and many other settings. Vet techs can also pursue a wide range of specialties, including areas like anesthesia, nutrition, dentistry, surgery, and more.
What a Veterinary Assistant or Vet Tech Does
Veterinary assistants and technicians play important roles in the care of ill and injured animals. Assistants carry out both clerical and clinical tasks, while techs perform more advanced medical and testing duties.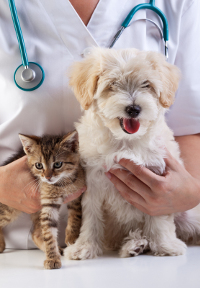 Vet assistants' typical tasks include:
Taking patient histories
Feeding, bathing, grooming, and exercising animals
Helping to collect tissue, urine, and blood samples
Cleaning animals' teeth
Setting up equipment for procedures
Restraining animals during exams or procedures
Giving medication prescribed by a veterinarian
Passing instruments to veterinarians during surgery
Monitoring animals' conditions in the recovery room after surgery
Cleaning kennels, cages, and exam rooms
Maintaining patient records
Tracking inventory
Answering phones and scheduling appointments
Vet techs can perform all the above. Plus, they are often responsible for:
Preparing animals for surgery
Administering anesthesia
Providing emergency medical care
Performing lab tests
Developing x-rays
Assisting during surgeries
Giving injections
Extracting teeth
Placing catheters
Removing sutures
Performing euthanasia
Vet techs are not allowed to diagnose a condition, prescribe medication, or perform surgery. The specific kinds of tasks that they can legally perform vary from state to state. However, a vet technician will generally be allowed to carry out many advanced duties—often without supervision.
In a few states, there is no legal distinction between a vet assistant and a vet tech. In these states, vet assistants are allowed to perform any task so long as it happens under the supervision of a licensed veterinarian.
Work Settings
Vet assistants, technicians, and technologists can work in a wide range of settings. This is not a comprehensive list, but common examples of where you can find jobs with animals include:
Veterinary clinics
Animal hospitals
Animal boarding facilities
Animal shelters
Wildlife rehabilitation centers
Humane societies
Pet stores
Grooming businesses
Specializations
With additional education, vet tech certifications can be earned in specialties such as:
Anesthesia and analgesia: Concentrate on safely managing the pain of animals during surgeries and other procedures.
Behavior: Use humane techniques to manage and modify animal behavior to improve the bond between pets and their owners.
Clinical pathology: Analyze blood, tissue, and other biological samples to detect signs of disease.
Dentistry: Care for animals' teeth and gums.
Dermatology: Specialize in disorders or conditions affecting animals' skin.
Diagnostic imaging: Use specialized equipment like ultrasound machines or CT scanners to capture images that help in pinpointing an illness or disease.
Emergency and critical care: Treat animals that have life-threatening conditions.
Equine nursing: Support the well-being of horses.
Internal medicine: Focus on diseases and disorders affecting animals' internal body systems, such as diabetes, pneumonia, or kidney failure. Within this specialty, you can choose to focus on cardiology, neurology, oncology, small animal internal medicine, or large animal internal medicine.
Nutrition: Specialize in dietary management for animals.
Ophthalmology: Help animals who have vision or ocular issues.
Physical rehabilitation: Use physical therapy techniques to reduce pain and increase mobility in injured animals.
Surgery: Focus on preparing animals, setting up surgical suites, administering anesthesia, and monitoring patients' recovery.
Career FAQs
Is animal care dangerous work?
Handling and restraining animals comes with a certain amount of risk. Injured or frightened animals can react in unpredictable ways. However, experienced workers often develop techniques for avoiding injuries. Additionally, many training programs require students to provide proof of vaccination against illnesses that can be passed from animal patients to humans.
---
Secure a Better Future for Yourself and the Animals You Care For
Chances are, you're an animal lover. And the veterinary field needs people like you who want to take their passion to the next level and make a career of caring for people's beloved pets and other animals in need. Get your start right now by finding vet assisting and vet tech schools near you and online!
---
* Bureau of Labor Statistics, U.S. Department of Labor, Occupational Outlook Handbook, https://www.bls.gov/ooh/. Some careers listed may be part of a combined occupation profile (visited July 20, 2023).