Automotive Schools and Colleges
Last Updated
Let one of these automotive schools transform you into one of the most highly skilled and useful people in the garage! Armed with formal automotive training, you can become a respected worker in a field that requires qualified technicians to keep up with interesting and challenging work environments.
The business of servicing cars and trucks is changing regularly as new models emerge and more sophisticated and complex technologies take hold. It's becoming more and more difficult to learn everything you need to know from on-the-job training alone, making automotive trade schools even more important.
You have the keys to a successful future at your fingertips. These automotive schools are eager to share additional details like how much it costs to attend and how soon you could be graduating after starting a program. Invite one of them to get in touch with you directly!
---
---
---
Automotive Schools
Sponsored Listings


Automotive Technology
Collision Repair and Refinishing
Diesel Technology
Heavy Equipment
---
Mahwah
South Plainfield
Union
Automotive Technology
Collision Repair and Refinishing
Diesel Technology
Heavy Equipment
Bakersfield
Chula Vista
Garden Grove
Gardena
Oceanside
Sacramento
West Covina
Automotive Service Technician
Diesel - Heavy Truck Technician
Corpus Christi, Texas
San Antonio, Texas
Automotive Service Technician
Diesel Heavy Truck Technician
Automotive Technology
Automotive Technology with Service Management
Diesel/Heavy Vehicle Technology
Diesel/Heavy Vehicle Technology with Service Management
Bridgeport, Connecticut
Somers, Connecticut
North Andover, Massachusetts
Pawtucket, Rhode Island
Commercial Drivers License Training
Bridgeport
Hamden
Waterbury
Brockton
Chicopee
Worcester
Long Beach
Rancho Cucamonga
Sacramento
Austin
Dallas/Fort Worth
Houston
Automotive Technology
Collision Repair & Refinish Technology
Diesel & Industrial Technology
NASCAR Technician
Baltimore, Maryland
Lester, Pennsylvania
Pittsburgh, Pennsylvania
Advanced Tractor Trailer Driving
Class A CDL Driving
Class A CDL Preparatory
Class B CDL Driver Training
Class B CDL Truck Driving
Commercial Truck Driver Training
Auto Repair Technician
Diesel Mechanics/Heavy Truck Maintenance
Motorcycle Repair Technician
---
---
Frequently Asked Questions
What is an automotive technician / mechanic?
This is someone who works to repair and maintain vehicles, from small cars to large transports. They are trained to work on a variety of automotive systems and parts, and utilize many different tools.
Do I need a post-secondary education to become an auto mechanic?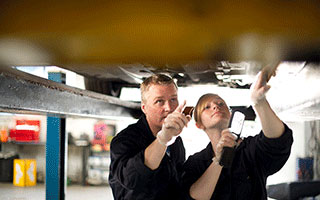 In most cases, in order to become a mechanic, you will need to complete an apprenticeship or take a post-secondary program. Many vocational schools offer auto mechanic programs, and some may even include an apprenticeship or externship as part of the curriculum.
What will I learn at an automotive mechanic school?
Automotive schools will usually start off by providing you with a solid theoretical knowledge of automotive mechanics. You can do a lot of your learning in a hands-on environment, working on actual vehicles, repairing a variety of systems and parts, from brakes and exhaust to steering and suspension. And you can learn how to use a wide range of industry-related tools and equipment. Some schools can give you the opportunity to specialize in vehicles from a particular manufacturer.
Most programs end with an apprenticeship or externship, so you can put what you've learned to use and get real experience in the field.
How can I find automotive service technician schools in my area?
Our simple search tool is a great place to start researching the available programs and schools in your area.
How long does it take to complete an auto mechanic program?
Certificate or diploma programs from vocational schools usually take one to two years, or less. Colleges and universities can offer associate degree programs that include general education courses, and may take up to four years to complete.
What is the difference between an auto mechanic and an auto body repair technician?
A mechanic works to repair the inner parts and systems of a car, while an auto body repair technician handles exterior repairs, such as glass installation, frame repair, and paint refinishing.
---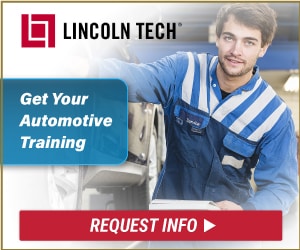 ---
Is certification necessary to becoming an automotive service technician?
Although certification isn't typically a legal requirement to work in this profession, it can lead to increased opportunities and larger salaries. Certification is available through national organizations, and some manufacturers may also offer specialized certification programs.
What career options will I have after graduating from an auto mechanic school?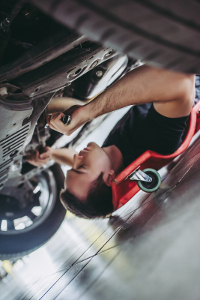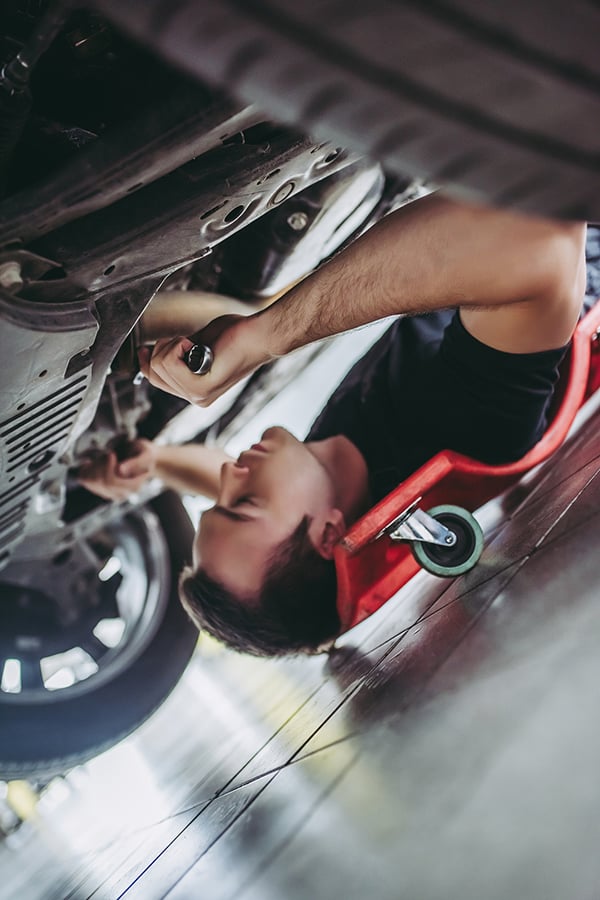 An automotive trade school will let you learn to service all aspects of passenger cars and heavy-duty trucks, from transmissions to engines to brakes. This can make you capable of taking on positions in service bays, dealerships, and transport companies. Many automotive trade schools also let you test your skills through a real-world practicum before graduation. That kind of experience can help you make contacts within the industry.
What does an automotive mechanic do?
Those employed in this field are responsible for inspecting, diagnosing, maintaining, and repairing vehicles. They handle everything from basic care maintenance, such as routine service inspections, to complex mechanical or electrical repairs, including integrated electronic systems.
How much is the median auto mechanic salary?
Earnings estimates from the Occupational Employment and Wage Statistics program show that the median annual wage for automotive service technicians and mechanics was $46,880 in 2021.*
---
---
* Unless otherwise noted, salary information is based on May 2021 data from the Occupational Employment and Wage Statistics (OEWS) program.