---
5 Facts to Know When Considering Harley-Davidson School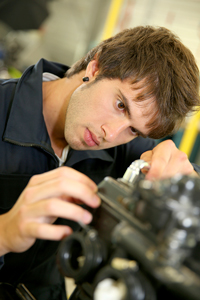 Do you know what to expect in this industry? How about what the job outlook is like for mechanics who specialize in Harleys? Check out these interesting facts related to this fascinating career option:
1. Harley-Davidson is America's favorite motorcycle brand.
In 2015—and for the eighth year in a row—Harley-Davidson was the top seller of new motorcycles for on-road use in the U.S.* But the brand's popularity is nothing new. It goes way back, all the way to the beginning of the 20th century.
In fact, the company was one of only two leading motorcycle manufacturers in America that continued to operate after the Great Depression. That's one reason why Harleys have a reputation for being tough. Another reason is that they actually are. Since 1977, every Harley—whether a customized chopper or a heavyweight road hog—has been built specifically for highway use and extensive cruising.**
2. Harley-Davidson's appeal keeps growing internationally.
Worldwide, more than 267,900 new Harleys were sold in 2014.*** But Harley-Davidson has been building its global appeal for quite some time. As an example, between 2008 and 2015, the company added nearly 176 new dealer points around the world. Almost 36 percent of all motorcycles it builds are now shipped to foreign markets.*
The bottom line is this: When Harleys are in demand, motorcycle technicians who specialize in them also tend to be sought-after.
3. The future looks bright for Harley mechanics.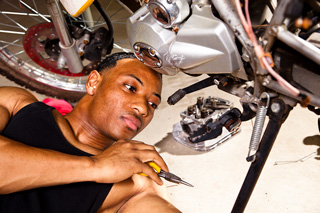 Learning how to diagnose problems with two-wheeled vehicles and repair them appropriately is very useful. But learning the special methods involved in servicing a Harley-Davidson bike can bring extra rewards. After all, not everyone has the skill set to do something like inspect, disassemble, and reassemble a Harley engine.
That's why many mechanics who specialize in this brand of motorcycles enjoy good career prospects and salary potential. In fact, the average annual wage for a motorcycle tech in the U.S. was about $39,260 in 2018. But many people in this trade—including some Harley specialists—earned more than $59,640.****
4. Being a Harley enthusiast can help you go a long way.
Many of the most successful people in this industry were inspired to achieve their goals by their drive and enthusiasm for Harley-Davidson. So if you have a genuine love for this brand and its motorcycles, then you can probably get a lot from attending a Harley mechanic school. Why not go for it?
5. Getting started is easy.
The training you need doesn't require much effort to find. You'll see some intriguing options below. And locating a program near you is as fast and simple as typing your zip code into the school finder on this page. So discover the possibilities right now!
---
---
* Harley-Davidson, website last accessed on December 1, 2017.
** Wikipedia, "Harley-Davidson," website last accessed on May 20, 2016.
*** Cycle World. "By the Numbers: Harley-Davidson," website last accessed on October 10, 2017.
**** Bureau of Labor Statistics, U.S. Department of Labor, Occupational Employment Statistics, website last accessed on April 26, 2019.