Harley-Davidson Schools
Last Updated
At a Harley-Davidson school, you can begin mastering the skills required to repair or maintain some of America's finest and most admired motorcycles. After all, Harleys have long been associated with freedom and power. And that's why having a career that lets you work on them can be so beneficial.
As an aspiring Harley mechanic, school can give you a controlled and supportive environment in which to learn the inner workings of these special bikes. In fact, formal Harley-Davidson training is one of the best ways to begin qualifying for any certification or licensing requirements you may need to meet before beginning a career as this kind of repair specialist.
Find out where you can start learning to fix Harleys by searching for a school based on your current zip code right now!
5 Facts to Know When Considering Harley-Davidson School
---
---
Harley-Davidson Schools
Sponsored Listing
---
5 Facts to Know When Considering Harley-Davidson School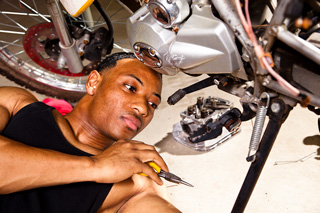 Do you know what to expect in this industry? How about what the job outlook is like for mechanics who specialize in Harleys? Check out these interesting facts related to this fascinating career option:
1. Harley-Davidson is America's favorite motorcycle brand.
Statista confirms that Harley-Davidson is the top manufacturer of motorcycles in the U.S. But the brand's popularity is nothing new. It goes way back, all the way to the beginning of the 20th century.
In fact, the company was one of only two leading motorcycle manufacturers in America that continued to operate after the Great Depression. That's one reason why Harleys have a reputation for being tough.
2. Harley-Davidson's appeal keeps growing.
Worldwide, 194,256 new Harleys were sold in 2021, according to the company's investor relations site. And the demand in America is strong, accounting for 126,276 of the sales. Additionally, the company is committed to achieving net zero carbon emissions by 2050 to preserve the planet.
The bottom line is this: When Harleys are in demand, motorcycle technicians who specialize in them also tend to be sought-after.
3. The future looks bright for Harley mechanics.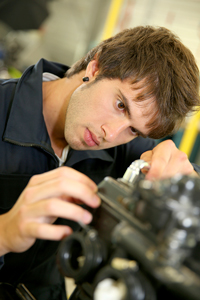 Learning how to diagnose problems with two-wheeled vehicles and repair them appropriately is very useful. But learning the special methods involved in servicing a Harley-Davidson bike can bring extra rewards. After all, not everyone has the skill set to do something like inspect, disassemble, and reassemble a Harley engine.
That's why many mechanics who specialize in this brand of motorcycles enjoy good career prospects and salary potential. In fact, the Occupational Employment and Wage Statistics program says that the median annual wage for a motorcycle tech in the U.S. was $38,170 in 2021.* But many people in this trade—including some Harley specialists—earned more than $60,420.
4. Being a Harley enthusiast can help you go a long way.
Many of the most successful people in this industry were inspired to achieve their goals by their drive and enthusiasm for Harley-Davidson. So if you have a genuine love for this brand and its motorcycles, then you can probably get a lot from attending a Harley mechanic school. Why not go for it?
5. Getting started is easy.
The training you need doesn't require much effort to find. Locating a program near you is as fast and simple as typing your zip code into the school finder on this page. So discover the possibilities right now!
---
---
* Unless otherwise noted, salary information is based on May 2021 data from the Occupational Employment and Wage Statistics (OEWS) program.