Computer Science Colleges
Last Updated
Start developing one of the world's most valuable skill sets.
Computer science colleges offer good entry points to the ever-expanding field of information technology. Their educational options can put you on course to becoming a well-paid professional with a lot of career possibilities and chances to make important contributions.
And isn't that your ultimate goal? By earning a computer science degree, online or on campus, you can greatly empower your ability to achieve a life that makes you feel proud and fulfilled. It's the type of credential worth seriously considering based on factors like salary potential, occupational growth, job variety, and day-to-day challenge and enjoyment.
So attain the ability to work in almost any industry. Explore the computer science programs on this page. Or discover the options closest to you right now by searching for schools based on your own zip code!
9 Great Careers You Can Attain with a Computer Science Education
---
---
Computer Science Schools
Sponsored Listings
---
---
9 Great Careers You Can Attain with a Computer Science Education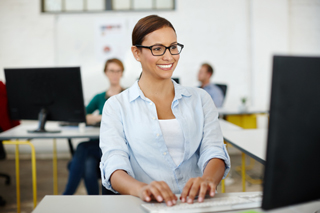 Many options exist for studying computer science. Trade school, college, and university programs all tend to provide reliable ways to start getting market-ready skills. And they typically only take between two and four years to complete.
Plus, having a degree related to information technology can enable you to find exceptional job opportunities in all kinds of different sectors—and with some of the coolest companies. (You could even work for Google.) Some of the biggest and fastest-growing sectors include healthcare, engineering, finance, digital media, and government. Throughout the course of your career, you may get the chance to contribute your technical talents to multiple industries, including some that might not even exist yet.
What type of role will you play? Here are nine intriguing possibilities:
Have you ever imagined being the person who comes up with amazing new computer programs or mobile apps? That's one of the most extraordinary aspects of being a software developer. You get to be the creative mind behind useful and innovative applications for individual devices or whole systems or networks. As you collaborate with programmers and other technology pros, you help oversee the entire process of designing, coding, testing, and updating computer software. And neurodiversity is highly valued in this field, which is why, for instance, software development offers some of the best jobs for people with autism.
Median salary: $120,730*
Top salary: over $168,570
Average annual job openings: 162,900*
Maybe you'd like to be one of the people who write the code that brings software to life and makes it work the way it should. Computer programmers take the diagrams and instructions created by software developers and turn them into digital commands using programming languages such as C++, Java, PHP, and many others. They also frequently help debug applications, fix errors, expand software features, and test functionality across different operating systems or types of hardware.
Median salary: $93,000*
Top salary: over $155,240
Average annual job openings: 9,600*
This very fast-growing occupation is great for people with an interest in preventing crime and keeping Americans safe. Cyberattacks are becoming more and more common and sophisticated. And organizations of every type are being affected. Hackers and cybercriminals are constantly trying to steal private information and cause havoc with important networks and computerized infrastructure. So information security analysts are increasingly needed across most industries to help prevent, detect, and respond to cyberthreats and breaches.
Median salary: $102,600*
Top salary: over $165,920
Average annual job openings: 19,500*
People who are fascinated by the way data and communications are distributed and transmitted across digital networks can excel in this role. As a computer network architect or engineer, you might be in charge of planning and building anything from a small local area network (LAN) or intranet that connects just a few offices to a large wide area network (WAN) that spans many offices across multiple states or countries. It's a job that involves choosing the most appropriate hardware and software components (e.g., routers and network drivers) as well as considering important data-security issues.
Median salary: $120,520*
Top salary: over $168,890
Average annual job openings: 11,800*
5. Systems Analyst
Maybe you would enjoy having the power to help a variety of different organizations maximize the benefits they receive from their use of information technology. Computer systems analysts assist company, government, or agency leaders in determining which technologies to use based on their potential for creating more operational efficiency and effectiveness within a reasonable budget. And they often oversee the process of installing and configuring new information systems, testing their functionality, and training their end users.
Median salary: $99,270*
Top salary: over $158,010
Average annual job openings: 44,500*
6. Systems Administrator
How does the idea of being in charge of the daily operation of a large network of computers or data servers sound? In this high-paying role, the focus is on ensuring that systems are performing optimally and making any necessary adjustments, upgrades, or repairs to keep them running well. The job also usually involves adding new users to a computer network, making sure they have the proper security permissions, and training them to navigate the system.
Median salary: $80,600*
Top salary: over $130,830
Average annual job openings: 23,900*
Many organizations—especially in sectors like banking, e-commerce, and healthcare—generate a lot of data and sensitive information, which all needs to be organized and stored securely. Database administrators ensure that different users have access to particular segments of information based on what they are authorized to see or use. The job involves updating user permissions, testing changes to database structures, and backing up and restoring data.
Median salary: $96,710*
Top salary: over $151,400
Average annual job openings: 11,500*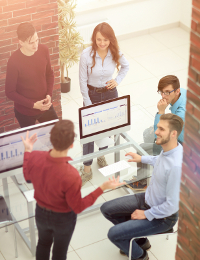 If creating websites is what appeals to you most, then computer science training is definitely worth pursuing. That's because web development requires a comprehensive understanding of modern coding and markup languages as well as database and server technologies. It's an occupation that continues to evolve alongside changes to the Internet and how people use and interact with the technology that connects us.
Median salary: $77,030*
Top salary: over $129,760
Average annual job openings: 21,800*
9. Support Specialist
For technology enthusiasts who like to teach others or assist them in overcoming technical problems, being a help-desk technician or other kind of computer support specialist can be highly satisfying. Professionals with this occupation generally fall into one of two categories: They either help computer users who don't have an information technology (IT) background, or they help the IT staff where they work with issues related to using the organization's network, special software, or other advanced systems.
Median salaries*

Computer user support specialists: $49,770
Computer network support specialists: $62,760
Top salaries*

Computer user support specialists: over $91,060
Computer network support specialists: over $102,410

Average annual job openings: 75,000*
---
---
* Unless otherwise noted, salary information is based on May 2021 data from the Occupational Employment and Wage Statistics (OEWS) program. Average yearly openings estimates are from the Bureau of Labor Statistics and are for the 2021 to 2031 period.