Radiologic Technologist & X-Ray Technician Schools
Last Updated
Get fast training in an expanding area of health care.
Radiologic technologist and x-ray technician schools empower caring and tech-minded people to learn skills needed throughout the medical sector. And they can clear the way toward specialized career possibilities with lots of advancement potential.
Radiologic technology also happens to be an especially interesting field to study. Just consider what it's all about: Performing imaging services that often lead to the timely identification of medical conditions, proper treatments, and even cures for a wide cross-section of patients. And it's a field that goes well beyond taking x-rays of chests or broken bones. Today's radiologic technologists have the opportunity to explore all sorts of clinical areas. With the necessary training and certification, they're also able to go after positions that involve using incredible cutting-edge equipment like CT and MRI machines.
So spend a few moments checking out the training programs below. And make a point to contact any school that captures your attention right away so that you can receive detailed information about getting started!
---
Radiologic Technologist & X-Ray Technician Schools
Sponsored Listings
DeLand
Kissimmee
Lakeland
Orlando
Pembroke Pines
South Miami
Tampa
Medical Assistant Technician with Emphasis in Basic X-Ray
Port St. Lucie, Florida
Atlanta, Georgia
Baton Rouge, Louisiana
Columbus, Ohio
Cookeville, Tennessee
Nashville, Tennessee
Houston North, Texas
Medical Assisting with Basic X-Ray Operation
Radiologic Technology
Daytona Beach
Fort Lauderdale
Jacksonville
Lakeland
Melbourne
Miami
Naples
Orlando
Port St. Lucie
Sarasota
Tallahassee
Tampa
West Palm Beach
Imaging Sciences
Radiologic Technology
---
---
X-Ray and Radiologic Tech Career Information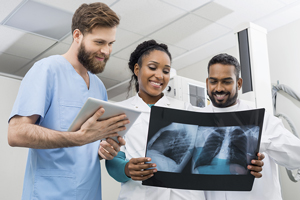 Without the ability to see inside the human body, doctors would find it much more difficult to diagnose and treat many different kinds of injuries and illnesses. That's why diagnostic imaging (such as medical x-ray technology) was invented.
Yet, as familiar as most people are with x-rays, many don't realize just how much other non-invasive (or minimally invasive) technology exists to help medical teams understand what's happening inside patients. And many people even have deep misunderstandings about the healthcare workers who specialize in all of that radiologic technology.
An x-ray technician is:
Someone who has a limited permit to perform basic x-ray exams
Sometimes known as a limited x-ray machine operator (LXMO), limited medical radiologic technologist (LMRT), radiologic technician, limited radiology technician, or non-certified technician (NCT)
Different than a fully qualified radiologic technologist or a radiologist
X-Ray Technician vs. Radiologic Technologist
While exploring the field of radiologic technology, it's important to understand the finer distinctions between the roles.
X-ray technicians work mostly in doctors' offices and outpatient clinics. They have less than two years of core education in radiologic technology and are typically permitted (depending on the state they work in) to carry out only routine exams, such as on patient chests, arms, legs, hands, or feet. They are frequently medical assistants who obtain limited x-ray training as part of their primary career training or as part of their continuing education. They generally work regular hours and are not on call.
Radiologic technologists are fully licensed to perform all of the main types of radiologic exams in hospitals, including chest x-rays, fluoroscopy, and portable exams within surgical or ICU departments. They have at least two years or more of core education in radiologic technology and usually possess a much broader and deeper understanding of diagnostic imaging technology. They can also obtain additional training and licenses for specialty procedures such as mammography, CT scans, angiography, MRI scans, nuclear medicine, and radiation therapy. Radiology techs work shifts at all hours.
A Note About Radiologists
A radiologist is an actual medical doctor who specializes in radiology. Radiologic technologists are supervised by radiologists. And only radiologists can tell patients the results of their radiologic exams.
Job Responsibilities
X-Ray Technicians
Duties can vary significantly since different states have different regulations and individual doctors' offices will have their own unique needs.
A lot also depends on whether x-ray techs bring additional skills to the table. (Are they primarily medical office assistants? Do they have phlebotomy training? Can they help in the medical billing and coding process?) In this respect, an x-ray tech's day may be full of a lot of other tasks with only a few x-rays needed now and then.
In general, though, they can have responsibilities that include:
Consulting with doctors to receive the precise orders they must follow regarding the area of patient anatomy to be imaged
Preparing patients for basic exams of injured (or potentially injured) bones
Ensuring that the areas of patients that don't need to be imaged are safely shielded from radiation during the procedures
Developing films or preparing digital images for use by the appropriate doctors for diagnoses and treatment plans
Performing basic maintenance on x-ray equipment
Maintaining detailed records
Performing assorted office duties like cleaning, filing, and handling phone calls
Radiologic Technologists
Although most are employed in the field of general radiography (taking traditional x-rays), many choose to specialize in very specific imaging techniques or therapies.
Generally speaking, they work closely with radiologists and often have duties such as:
Before Radiologic Exams
Reviewing ordered diagnostic imaging exams with radiologists and other medical staff to ensure the correct areas of patients get examined
Taking patient medical histories
Responding to patient questions
Preparing patients and imaging equipment for doctor-ordered imaging procedures
During Radiologic Exams
Protecting patients and themselves from radiation exposure in the areas that aren't being imaged using things like protective lead aprons, gloves, and other shielding devices
Placing imaging equipment and patients in the best possible positions for obtaining quality images
Operating sensitive (and often computerized) high-tech medical equipment
After Radiologic Exams
Making necessary adjustments and performing routine maintenance on diagnostic imaging equipment
Preparing x-ray films or digital images and sending them to a radiologist to review
Throughout the Day
Taking or retaking any additional images that are necessary as determined by a radiologist
Monitoring their daily exposure to radiation using special instruments and wearable badges that measure radiation levels in affected areas
Keeping detailed records about the procedures they perform as well as their cumulative lifetime doses of radiation received while on the job
Radiologic Technology Specialization Options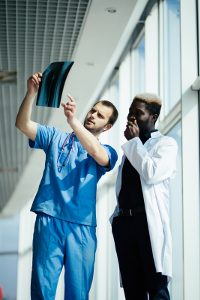 General radiography—This involves using x-ray radiation, which produces black-and-white images of a patient's internal anatomy, to detect things like bone fractures, foreign objects, unusual masses, and other anomalies.
Mammography—In this field, you take images of breast tissue using special x-ray equipment that can help detect cancerous tumors.
Computed tomography (CT)—CT techs use a special machine that rotates x-rays around a patient in order to view the inside of his or her anatomy in a more detailed way.
Bone densitometry—Here you focus on using x-ray equipment that enables the measurement of a patient's bone mineral density in order to estimate the risk of fracture or track bone loss caused by osteoporosis.
Cardiovascular-interventional radiography—Techs in this specialty employ sophisticated equipment such as fluoroscopes to allow the viewing of moving x-ray images in real time during surgery (often minimally invasive), which helps surgeons guide catheters, stents, and other tools through a patient's body.
Magnetic resonance imaging (MRI)—MRI techs take detailed images (without radiation) of a patient's internal anatomy using a computerized machine that applies a radiofrequency pulse to a strong magnetic field.
Nuclear medicine—This niche involves capturing functional visual information about a particular part of a patient's internal anatomy by administering trace amounts of radiopharmaceuticals (usually through a drink mixture) and then using a special camera that detects the gamma rays that are emitted by the radiopharmaceuticals.
Additional Radiologic Specialties
You should also know that radiologic technology isn't just about producing diagnostic images. Some highly skilled technologists specialize in helping to treat different types of cancer or other diseases. Those professionals work in one of the following fields:
Radiation therapy—Working under the direction of a radiation oncologist to administer targeted doses of radiation to patients in order to help shrink or destroy their cancerous tumors
Medical dosimetry—Working under the supervision of a medical physicist to calculate the appropriate dose of radiation to be delivered to a patient's tumor site while conforming to a radiation oncologist's treatment plan
Work Environment
The most common workplaces for x-ray techs tend to be:
Doctors' offices
Orthopedic clinics
Chiropractic offices
Radiologic technologists are employed in almost every type of healthcare environment. Due to their range of skills and optional specialties, they can be found working in urban, suburban, and rural workplaces such as:
Hospitals
Outpatient diagnostic imaging clinics
Medical imaging laboratories
Doctors' offices
Outpatient care centers
Some even work as traveling radiologic techs by signing up with agencies that enable them to temporarily fill positions in a variety of locations where there are shortages.
Salary*
According to the Occupational Employment and Wage Statistics (OEWS) program data, x-ray technicians and radiologic technologists earn a median wage of $29.50 per hour. Radiographers can earn more if they specialize. For instance, CT and MRI techs make $37.19 an hour.
How to Become an X-Ray Technician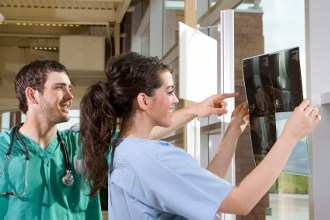 You become an x-ray tech by meeting the licensing requirements in your state. (Most states require a limited x-ray license before you can perform any procedures on patients, but some states have no such requirement.) Contact your state's radiation control licensure office for details.
In order to obtain the appropriate license, you will likely have to pass an exam that covers basic areas such as radiation protection, patient care, image production, image evaluation, equipment operation, and quality control.
The most common way to learn what you need to know for a licensing exam is completing a post-secondary x-ray technician training program that lasts a year or less. Such programs lead to a diploma or certificate. It's a good idea to find a formal training program in limited scope radiography that can allow you to learn the things you are likely to be tested on in your state's licensing exam (if your state has one).
In terms of job opportunities, you can maximize your potential by combining your x-ray training with formal training to become a medical assistant or other allied health professional. (Learning how to become a radiological technician often involves learning about related healthcare occupations.)
Once you are trained and licensed, patience and persistence can pay off. Focus on the kinds of employers that are most likely to hire limited x-ray techs, such as physicians' offices, orthopedic clinics, and chiropractic offices.
How to Become a Radiologic Technologist
Licensure is mandatory in most states. And states often require separate licenses for different modalities. For instance, you may need a license in general radiography to take x-rays in addition to separate licenses in whatever other specialties you choose to pursue. It's a smart idea to contact your state's radiation control licensure office. That way, you'll have a clear understanding of the licensing requirements and what you'll need going forward.
Most of the states with licensing laws require you to pass the appropriate certification exam from the American Registry of Radiologic Technologists (ARRT). Other states have their own exams but may also consider your scores on the ARRT exam (if you choose to take it voluntarily) in their licensing decisions.
Qualified candidates can take the ARRT exam three times within a three-year period. If you pass, you become a Registered Technologist (R.T.). The ARRT has separate certification programs for various sub-specialties in radiologic technology (e.g., CT, mammography, MRI, etc.).
To be eligible for the ARRT exam, you must have at least an associate degree. That degree does not necessarily need to be in the radiologic sciences. However, you must also demonstrate competence in a list of radiologic technology coursework and clinical procedures. So although your academic degree doesn't have to be in radiologic technology, you will still need to successfully complete a comprehensive radiologic technology program in order to meet this requirement.
Be sure to choose an accredited training program. The Joint Review Committee on Education in Radiologic Technology (JRCERT) is one of the top accrediting organizations for post-secondary programs in radiologic technology.
While you are still in school, it's smart to research the places you'd like to work and try to make as many connections as you can. Your chances of landing a job after school get better with each relationship you establish with someone already in the field. Hospitals are a popular target for most new radiologic technologists looking for work, but you might also have luck by checking out urgent care clinics.
Program Length
The schooling for x-ray technicians is usually much shorter than the schooling for radiologic technologists. It generally only takes around six to 12 months to become an x-ray tech. Most programs culminate in a diploma or certificate. On the other hand, radiologic technologists go to school for at least two years. But you should also know the following:
Most associate degree programs in radiologic technology are designed to take two years to complete. However, some programs may require some prerequisites before you can apply.
Bachelor's degree programs in this field are also available at some schools. They are designed to take about four years depending on the coursework required.
You can become an x-ray tech online (sort of). Some programs have online delivery options for academic courses. However, in-person lab work and supervised clinical practicums are still required.
If you choose to pursue a specialty in radiologic technology (anything other than radiography), then you will have to undergo additional formal training at some point. For instance, you become a CT tech by completing another six-month program after getting your associate degree. You become an MRI tech by training for an additional 12 to 18 months after finishing your associate degree. Other programs range in between.
Classes that are required for x-ray techs include:



Anatomy and physiology
Medical terminology
Patient care
Medical ethics
Radiation biology
Physics of radiography
Radiation protection
Radiographic pathology
Radiologic positioning
Radiographic exposure
Cost of Training
Training costs vary significantly depending on the type of credential you pursue, the institution you attend, and whether you qualify as an in-district or out-of-district student. According to the U.S. Department of Education College Affordability and Transparency List, between 2020 and 2021 it cost anywhere from $19,750 to $39,848 to become a radiologic technologist or MRI technician. That includes tuition, fees, and books as well as additional expenses like scrubs, CPR certification, and a criminal background check.
Advancement Opportunities for Radiologic Technologists
Radiographers represent the majority of workers in the field. However, many radiologic technologists do attain multiple skills so that they can work in one of the other specialties such as CT, MRI, or nuclear medicine.
Other opportunities for advancement exist in management, sales, consulting, or teaching.
There is also a relatively new movement toward establishing an additional career level in radiologic technology that would represent greater advancement in the clinical area. Radiologist assistants (under the supervision of radiologists):
Act as radiology "extenders"
Support and relieve the workload of radiologists
Assist with patient education and assessments
Can evaluate diagnostic images
Can order follow-up images
Can perform select interventional procedures and routine fluoroscopic ones
Registered radiologic technologists that have lots of experience and wish to become radiologist assistants must complete a formal continuing education program for this advanced occupation and become certified as a Registered Radiologist Assistant (R.R.A.) by meeting the necessary requirements and passing the appropriate exam from the ARRT.
Career Outlook*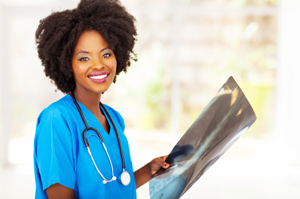 Radiologic technologists and x-ray technicians are in demand. The outlook for both fields is promising due to the aging population, technological advancement, and growing demand for diagnostic imaging exams and other radiologic procedures. In fact, the Occupational Outlook Handbook says that employment of workers within the field of radiologic technology is expected to increase by six percent from 2021 to 2031 (faster than average).
The more sub-specialties you are trained and certified in, the more attractive you'll be to potential employers. For instance, MRI technologists are projected to see employment growth of six percent over that same 10-year time period.
Benefits of a Career in Radiologic Technology
Radiology is a good career for a host of reasons:
Personal fulfillment from helping people—A sense of reward comes from knowing that their work leads to the proper diagnosis and treatment of the patients they interact with.
The thrill of working with cutting-edge technology—Diagnostic imaging equipment tends to incorporate some of the most advanced technology in the medical field. It can feel exciting to know that you are using the latest results of scientific progress.
Variety of opportunities—The field encompasses a large variety of different specialties. That means, with the right training and certification, you can try out different kinds of jobs while keeping your career in forward motion.
Get Started
Exploring your schooling options is a great way to begin. Check out the schools in the list above to get a jump start on finding one in your area. Then request more information and get ready to start training for a career that could enable you to help people while also working with some of the most advanced technology on the planet.
---
---
* Unless otherwise noted, salary information is based on May 2021 data from the Occupational Employment and Wage Statistics (OEWS) program. Job growth and average yearly openings estimates are from the Bureau of Labor Statistics and are for the 2021 to 2031 period.