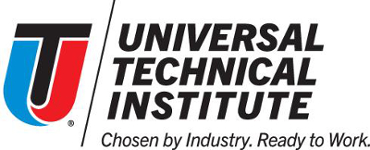 Universal Technical Institute
Arizona · California · Florida · Illinois
New Jersey · North Carolina · Pennsylvania · Texas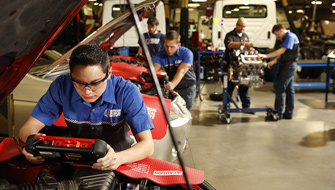 Secure a spot for yourself in the workforce of tomorrow by learning an in-demand trade today.
Universal Technical Institute (UTI) has spent over 55 years building a reputation for producing capable, professional, and hireable skilled tradespeople. Decades of working closely with industry employers and manufacturers has enabled UTI to provide relevant, concise, and high-quality training for those who want to join these essential fields.
Training Designed With Your Future in Mind
Universal Technical Institute takes a well-rounded approach to preparing students for future employment in their industry of choice. As a student, you can access facilities designed to mirror real work settings and get direct practice with the technology you're likely to encounter as a professional technician.
UTI also partners with top manufacturers to ensure that students are trained on contemporary equipment using industry-standard technology.
Automotive and collision repair students work on classics all the way up to some of the newest vehicles from a variety of manufacturers and top brands in the industry. Both well-established and cutting-edge technology are used along with quality supplies and tools to simulate real-life work and repair scenarios. And as a student, this hands-on practice in your field can prepare you for ASE certification.
Welding technology at UTI is taught in collaboration with industry-leader Lincoln Electric, which continues to guide the curriculum to ensure the relevance and importance of the courses' contents, as well as the quality of its equipment.
Machining technology is offered in cooperation with Roush Yates, a top brand in the performance industry. This means students can learn on the industry-preferred CNC lathes and mills they'll likely encounter in the field and benefit from their experience and resources.
The trained staff at UTI can assist you in finding funding, and the school offers a selection of scholarships that can make schooling affordable. Internships are available that can prepare you for real-world situations and introduce you to your profession. Plus, employment services at the school are based on extensive relationships within the industry to make transitioning into the professional world easier.
---
Universal Technical Institute Programs
UTI offers affordable, credentialed, and supportive programs for any student who wants industry-standard training in the automotive, machining, and welding industries. Programs begin every three to six weeks and last 36-54 weeks depending on your area of study. This means you could be a trained technician in as few as nine months. Take the opportunity to make an easy request for information about one of these programs today!
---
Automotive Technology
UTI's hands-on Automotive Technology program enables you to train with the latest technology on the newest vehicles. The classrooms are equipped to industry standards by leading automotive manufacturers. Your course work will include an examination of domestic and foreign vehicle systems, including brakes, fuel, and ignition systems, diagnostic systems, and engine and vehicle modification.
UTI can allow you to choose from a variety of electives focused on individual manufacturers and organizations, giving you the chance to enter the field equipped with specialized expertise. Plus, the program can help you prepare for Automotive Service Excellence (ASE) certification examinations.
---
CNC Machining Technology
Students in UTI's CNC Machining Technology program can learn everything from basic machine shop skills to blueprint reading to advanced manual milling operations. The CNC Machining Technology program includes specific courses in CNC basics, manual machining basics, manual machining on the lathe or mill, interpreting blueprints/job layouts, mathematics, materials and maintenance, and CAD and CAM. CNC machinists have the opportunity to pursue careers in a variety of industries, including transportation, defense, aerospace, electronics, commercial manufacturing, medical manufacturing, oil & gas, and even marine.
This 36-week program provides you with the knowledge and hands-on skills you need to get started in the CNC industry.
---
Collision Repair & Refinish Technology
This program will prepare you for work as a professional repair and refinishing technician, ensuring that you are ready to complete the ASE certification tests in structural and non-structural repair, mechanical and electrical repair, and painting and refinishing. All of UTI's courses are National Automotive Technicians Education Foundation (NATEF) aligned, so you will have top of the line credentials when you enter the workforce.
In addition to ASE, this program can prepare you for DuPont, 3M, and Inter-Industry Conference on Auto Collision Repair (I-CAR) certifications.
---
Diesel & Industrial Technology
With accreditation by the National Automotive Technicians Education Foundation (NATEF), this program is designed to provide training related to agricultural, construction, and excavation equipment, as well as Class 3-8 diesel trucks. UTI can give you the opportunity to learn about hydraulic applications, transport refrigeration, and other important areas of the field. And you can gain experience handling a variety of maintenance, troubleshooting, and repair tasks within UTI's industry-simulated facilities.
UTI can give you the opportunity to learn how to work on some of the biggest and most powerful equipment and engines from Cummins, Caterpillar, International, and others. You could even graduate ready to pursue Automotive Service Excellence (ASE) certification.
---
NASCAR Technician
Start making your own tracks in the racing world. Adding this 15-week elective to your Automotive Technology program can help you speed toward a high-energy future as a motor-sports technician. It's a course of training that is completely endorsed and sponsored by NASCAR.
Imagine getting your hands on actual racing engines as you learn about fabricating and tuning up high-performance machines. UTI's learning facility was built to simulate the environment of a real race shop. And the training experience even includes high-octane practice as part of a pit crew!
---
Welding Technology
UTI's Welding Technology program teaches students about different types of welding equipment and methods and can prepare students for careers in construction, aerospace, transportation, manufacturing, and fabrication. As part of UTI's welding training program, students learn how to weld with gas metal arc welders, shielded metal arc welders, flux-cored arc welders, and gas tungsten arc welders.
This program can be completed in just 36 weeks, so you could be ready to work in the exciting world of welding in less than one year.
---
UTI Locations Across the United States
UTI's programs are offered at a number of convenient locations, spanning from Bloomfield to Rancho Cucamonga. The school welcomes you to come and take a campus tour, participate in campus events to test for scholarships, or participate in competitions the school hosts.
Arizona
Avondale Campus
10695 W Pierce St
Avondale
AZ
85323
California
Long Beach Campus
4175 E Conant St
Long Beach
CA
90808
Rancho Cucamonga Campus
9494 Haven Ave
Rancho Cucamonga
CA
91730
Sacramento Campus
4100 Duckhorn Dr
Sacramento
CA
95834
Florida
Miramar Campus
2601 SW 145th Ave
Miramar
FL
33027
Orlando Campus
9751 Delegates Dr
Orlando
FL
32837
Illinois
Lisle Campus
2611 Corporate West Dr
Lisle
IL
60532
New Jersey
Bloomfield Campus
1515 Broad St
Bloomfield
NJ
07003
North Carolina
Mooresville Campus
220 Byers Creek Rd
Mooresville
NC
28117
Pennsylvania
Exton Campus
750 Pennsylvania Dr
Exton
PA
19341
Texas
Austin Campus
301 W Howard Lane
Austin
TX
78753
Dallas/Fort Worth Campus
5151 Regent Blvd
Irving
TX
75063
Houston Campus
721 Lockhaven Dr
Houston
TX
77073
---
Generous Student Support
UTI places high value on providing services to students; the school's belief is that it is critical that students have the resources and environment that will best enhance their learning. To maintain these standards, UTI collaborates with Collegiate Housing Services to assist students in finding affordable housing close to campus.
Whether you attend UTI using VA benefits, need assistance with financial aid and loan information, or are looking to apply for scholarships, the qualified professionals at the school are there to help.
Military Benefits at UTI
Returning service members are supported at UTI in turning their military education and training into professional skills, and aiding in the transition to civilian life and employment. UTI strives to help veterans gain employable skills by providing benefits like:
Specialized admissions staff for military veterans at each campus
10% discount for veterans
Support staff available to help with VA benefits at each campus
---
Programs vary by campus.
---