Find Welding Schools Near You
By Publisher
| Last Updated
Learning how to become a welder can lead to reliable opportunities that are challenging yet enjoyable. Welding schools near you could offer hands-on training that teaches you sought-after skills for multiple specialties. You can also prepare for recognized welding certifications that are relevant to a variety of good-paying industries.
---
Welding Training
The typical way to enter this trade is by completing one of the formal programs offering welding classes near you, getting certified, and continuing to learn while on the job. Some employers also hire inexperienced people who only have a high school diploma (or the equivalent). Many jobs require you to pass on-site welding tests to verify your skills before being hired or to become properly certified after you've been on the job for a while.
---
---
Welding Schools
Sponsored Listings


---
---
---
Length of Training: How Long is Welding School?
Welding trade school training typically takes between seven and 24 months** to complete, depending on the welding program you choose. However, some schools offer shorter welding courses for tradespeople who only need to learn one or two processes rather than a broader range of techniques.
Welding School Cost
How much is welding school tuition?
To get a better idea of what to expect, we have gathered tuition rates from more than 30 accredited trade schools across the U.S. At the low end of the spectrum, a training program can cost you less than $5000 in tuition; at the high end, it can cost around $25,000. The average welding program tuition cost comes in at slightly more than $15,000.
Keep in mind that this is a comparison of tuition costs and doesn't include additional fees that the school may require. Some schools will include more under the umbrella of tuition costs, like equipment and safety gear; however, many require students to pay for these items separately.
Why do some welding schools cost more?
Welding program tuition rates can vary significantly depending on the school, location, and how comprehensive the program is. Often, shorter certificate programs cost less and will have a narrower focus on the types of welding needed for a particular job. And programs that require more time investment tend to be a bit more since they teach a well-rounded set of skills and detailed knowledge and often lead to a degree.
Some welding schools may also offer courses that can be taken alone or as part of a smaller unit that would typically be a component of a comprehensive program. For example, a GMAW unit that's part of a general welder program might also be available to take on its own separately. This option works well for people who already have knowledge and experience in the trade but need to bolster or expand their skillset. And these shorter training programs and welding courses generally will cost a lot less.
What can help with welding school costs? Financial aid: loans, scholarships, and grants
If you are interested in welding training, it's worth looking into financial aid like loans, grants, and scholarships that you may qualify for — including government resources. For example, President Biden's Build Back Better Framework promises to "reduce costs and expand access to education beyond high school" by investing in workforce development. This commitment means more money directed to training in specific sectors like welding, plus extra support for apprenticeships. Additionally, the current administration's Bipartisan Infrastructure Law aims to create approximately 1.5 million jobs (with a strong focus on union jobs) per year dedicated to upgrading aging and insufficient infrastructure. And this will lead to even more attention and funding directed at training essential tradespeople like welders.
What about paid welding training?
Welding apprenticeships can provide income while you complete your training; however, your pay will start significantly lower than what a journeyperson welder makes. Some companies will offer apprenticeships to people with no previous training and pay an entry-level wage while training new welders on the job. But most apprenticeships will be more accessible to those who have completed some formal schooling. The closer your skillset is to journeyperson status, the closer you are to making full wages. And the sooner you start making good money, the sooner you can pay off any debt incurred from your education.
Program Options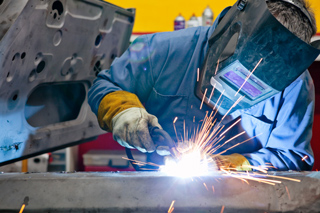 Welding schools near you may offer the chance to earn one or more of these academic credentials:
Welding certificate: This type of program is usually the fastest training option. Some courses of study are geared toward people who are new to the trade and cover several welding processes. Others are meant for existing tradespeople who wish to gain skills for specialties. You can earn stackable certificates in different welding processes at some schools that count toward a future associate degree.
Welding diploma: At this level, the training is fairly streamlined yet somewhat more comprehensive than a general certificate program. It often takes just a year or less.** Some schools make it possible to upgrade your diploma to an associate degree at a future date by taking extra classes.
Welding associate degree: This study level is usually the most comprehensive when it comes to the number of welding techniques you can learn. It also tends to include several general courses. And some programs incorporate business-related classes in case you ever want to become a self-employed contractor. Expect it to take up to two years to earn this type of welding degree.**
Welding apprenticeships: Some employers and trade unions offer the opportunity to earn money while you learn to weld through a combination of classroom-based education and on-the-job training. Welding apprenticeship opportunities have become a little less common than they used to be. They often go to people who already have some formal schooling or trade experience. But you can find potential openings through the U.S. Department of Labor.
---
---
Typical Welding Courses
Each trade school for welding uses its own curriculum, but here are some examples of subjects you may learn about in welding classes near you:
Workplace safety
Metallurgy (i.e., the properties of metals)
Welding symbols and principles
Fundamentals of:

Chemistry
Physics
Electricity

Trades math
Blueprint reading
Mechanical drawing
Human relations
Methods of fabrication
Setup and maintenance of tools and equipment
Material selection and handling
Various types of welding methods, such as:

Oxyacetylene welding
GTAW
GMAW
SMAW
FCAW

Weld inspection and quality control
Plasma and thermal cutting
Automated systems
Skills You Can Learn
Welding school can teach you how to carry out tasks such as:
Interpreting welding codes, specifications, and technical drawings
Setting up and safely using various kinds of welding equipment, tools, and accessories like:

Safety gear
Electrodes and wire feeders
Torches and welding guns
MIG pliers
Clamps and magnets
Angle grinders
Chipping hammers
Wire brushes and metal files

Taking accurate measurements
Making precise calculations
Preparing materials to be welded
Using direct and alternating current to create arc welds
Choosing and performing the most appropriate welding process for each project
Producing different types of welded joints like:
Creating clean and precise welds in flat, horizontal, vertical, and overhead positions
Cutting materials using plasma or thermal equipment
Fabricating durable goods
Licensing & Certification
Most states don't require welders to be licensed unless they are self-employed contractors with their own businesses. For the few states that do have government licensure, registration, or certification requirements, it is generally just for a particular area of the trade, such as inspection or structural steel, pressure vessel, or pipeline welding.
Some cities in the U.S. also have their own requirements for welders who work for local government.
Although government regulations don't usually require it, many employers insist on certification through an organization such as the American Welding Society (AWS). Depending on the types of projects you work on, you also may need to get certified by:
AWS offers some of the most widely recognized welding certification programs, which can lead to professional designations like:
Certified Welder (CW)
Certified Radiographic Interpreter (CRI)
Certified Resistance Welding Technician (CRWT)
Certified Robotic Arc Welding (CRAW)
Certified Welding Engineer
Certified Welding Sales Representative
Certified Welding Supervisor (CWS)
Certified Welding Inspector (CWI)
To become AWS-certified, you'll need to pay a registration fee and pass an in-person weld test that demonstrates your skills. More advanced certifications may have additional requirements for exams, education, and experience.
---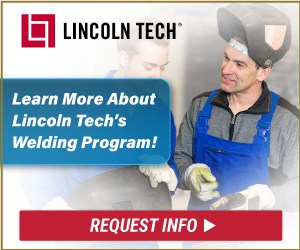 ---
Welding Training FAQs
Can you become a certified welder without going to school?
Technically, you can. For basic American Welding Society certification, you don't need to meet any educational requirements. But you do need to pass a skills test. Most people who enter this trade learn fundamental welding skills through a welding trade school. It is also possible to learn everything on the job if your employer is willing to train you as a true beginner.
Can I teach myself to weld?
Some welders are self-taught, but that isn't the norm. Experienced people in the trade often recommend that newcomers go to welding trade school to learn the proper techniques and safety procedures. However, you can learn some of the fundamentals by watching online videos and getting lots of practice with the right materials and equipment. Most importantly, you need repeated practice at welding various kinds of joints.
Try to find some experienced welders in your area before you get started so that you can ask for some tips and advice. It can be difficult or impossible to recognize and correct any improper techniques you may be using without formal instruction (or at least an in-person mentor).
How to Become a Welder: 5 Steps to Your Career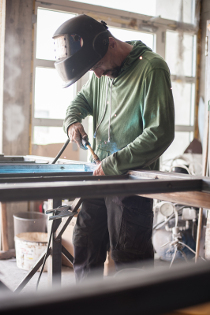 Talk to professionals in the field to give you an idea of what the work is like and answer your questions. Then consider the pros and cons of becoming a professional welder, specific to your life. Welding schools, local trade unions, and organizations like the American Welding Society can provide valuable details. Additionally, doing some internet research is a great idea. Websites like Reddit offer entire forums dedicated to welding where anyone can ask questions and get answers from people with experience in the field.
Get training at a welding trade school near you or from a certification organization. Having formal training at the college level will generally improve your chances of finding employment, boost your earning potential, and give you more opportunities to specialize your skills and choose the welding discipline you want.
Get experience through an apprenticeship or on-the-job training. Many apprenticeships are paid positions, so you can make money while earning valuable experience.
Get certified. Though not always required, Certified Welder (CW) certification from the AWS will improve your appeal to future employers. Depending on your state and job requirements, additional certifications, including those in specialized welding disciplines, may be necessary (or preferred).
Obtain certification for specializations as needed for the job you intend to pursue (or keep if you're already working as an apprentice).
---
Welder Career Information
Welding trades are essential nearly everywhere, which offers welders the possibility of traveling for work and numerous opportunities in several different industries.
Career Outlook
2% growth from 2021 to 2031
Median Salary
Welders
Job Openings
Average Yearly Openings
Length of Training
Most Common Length
Work Settings
Specializations
GMAW, GTAW, SMAW, FCAW, weld inspection, underwater welding, industrial pipe welding, and more
Sources*
U.S. Bureau of Labor Statistics
U.S. Department of Education
Welder Salary: How Much Does Welding Pay?
Welders in the U.S. earn median wages of $47,010 a year, according to estimates from the Occupational Employment and Wage Statistics (OEWS) program.* The highest earners in the trade make over $60,000.
Many top-paying welding jobs involve working in remote or inhospitable locations, such as constructing gas or oil pipelines in the wilderness. Pay also tends to be higher for jobs that involve elevated levels of risk.
Job Openings & Outlook
The Bureau of Labor Statistics (BLS) includes welders as part of an occupational group that also comprises brazers, solderers, and cutters. BLS projections show that employment in this vocational category is expected to grow 2 percent from 2021 to 2031.*
People in the welding trade can often maximize their job prospects by being willing to travel or relocate for work.
Key Benefits
Enjoyment: Many welders find this type of work to be exciting and challenging. The heat, sparks, and variable work settings can provide a satisfying adrenaline rush and leave you with a fulfilling sense of accomplishment.
Travel opportunities: Some jobs in this trade enable welders to see all kinds of cool and interesting places across the nation or even worldwide. That's especially true for those who have highly specialized skills for the oil, gas, or underwater construction industries.
Long-term security: People who've completed welding school and earned certifications for multiple techniques can often work in several different industries at once. So if one industry slows down, you can move into another one. Plus, as you gain experience, you may have the chance to apply for a wider range of opportunities, including advanced positions such as foreman, supervisor, manager, or weld inspector.
What a Welder Does
Welders apply heat to metal pieces (or, less commonly, plastic or wood) to permanently join them. As part of their work, they may carry out tasks such as:
Interpreting welding codes, specifications, drawings, and blueprints
Preparing structures or materials to be welded by:

Cleaning and inspecting metal pieces
Calculating dimensions
Taking and marking measurements
Cutting or trimming metal parts as necessary
Repairing holes or cracks

Choosing, inspecting, and starting up the best welding equipment for each project
Monitoring gas flows, flame levels, or other factors while fusing metal pieces
Examining welded joints for defects or potential areas of weakness
Performing maintenance on welding equipment
Operating automated machinery
Coordinating with other tradespeople
Work Settings
More than 60 percent of people in the soldering, brazing, cutting, and welding trades work in the manufacturing sector. But welders are also employed in many other industries like construction, mining, shipbuilding, power generation, and oil and gas production and distribution. Their work environments can include places like:
Workshops
Factories
Construction sites
Shipyards
Repair facilities
Oil rigs
Refineries
Mines
Power plants
Military bases
---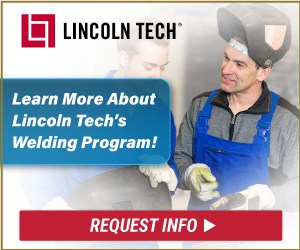 ---
Welding Specializations
Although more than 30 different welding processes currently exist, most welders learn and specialize in only some of them. Deciding which specialties to learn often depends on the industries you want to be part of and the types of projects you want to work on.
Most people who attend a welding trade school get to learn skills for multiple processes. For example, they typically learn about the most common types of arc welding (used in many construction and industrial applications) as well as oxyacetylene welding (used primarily for repair and maintenance jobs). Plus, trades training can make it much easier to obtain welding certification near you.
Other processes, such as many types of resistance and solid-state welding, are often for highly specialized advanced manufacturing applications for products like automobiles, airplanes, and space vehicles.
Some of the most popular areas of welding specialization include:
GMAW (gas metal arc welding): Also known as MIG (metal inert gas) or MAG (metal active gas) welding for its two subtypes, this process involves feeding a consumable stick electrode through a welding gun and using gas to shield the weld area from water vapor and oxygen. An electrical current creates an arc, which melts the electrode, fills the weld joint, and bonds the metal pieces together (usually steel or aluminum). The process is prevalent in shipbuilding and automotive fabrication.
GTAW (gas tungsten arc welding): Known informally as TIG (tungsten inert gas) welding, this process is versatile yet time-consuming. Unlike GMAW, it requires the use of a non-consumable electrode and often the manual application of filler. It tends to produce some of the strongest, most precise welds. And it can be used with almost any kind of metal. That's why it's frequently used in pipeline construction and aerospace fabrication.
SMAW (shielded metal arc welding): Also known as stick welding, this process employs a flux-coated consumable electrode. It's considered easier and less expensive to carry out than many other methods, but it produces large amounts of metal splatters and slag (i.e., stony waste matter). It's used a lot in the construction, maintenance, and repair of steel and iron structures.
FCAW (flux-cored arc welding): This process utilizes some of the same equipment as GMAW, but it requires a consumable electrode with flux in the center of it. Also, you don't need a shielding gas. FCAW is frequently used in less-than-ideal environments, such as construction sites or ships where wind or bad weather may be a factor or materials have surface contaminants.
Submerged Arc Welding (SAW): This is another arc welding process that uses an electrode and a special layer of flux over the material being welded to prevent any contamination from the atmosphere. This layer of flux also prevents sparks from flying and reduces harmful by-products like fumes.
Weld inspection: People with several years of experience in this trade can take on roles examining and testing welded joints for defects (such as cracks or other signs of weakness) that could cause them to fail.
Underwater welding: In this highly specialized career, welders get certified in scuba diving and help inspect, construct, maintain, or repair structures below the ocean's surface or other bodies of water.
Industrial pipe welding: People who go into this specialty focus on constructing and repairing pipelines and other piping systems for companies that produce and distribute oil and gas or generate nuclear power.
---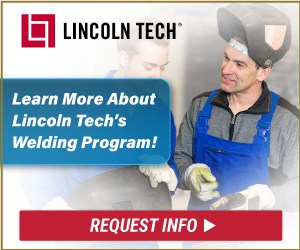 ---
Career FAQs
How is welding different from soldering and brazing?
All three processes use heat to join metal pieces. But soldering and brazing employ lower temperatures so that the base pieces of metal are not melted. In soldering and brazing, a filler metal is melted, joining the pieces together.
Soldering is used extensively to assemble and repair small electrical or electronics components (such as circuit boards). Brazing utilizes higher temperatures than soldering. It is often used to manufacture or repair major appliances, HVAC equipment, engine parts, and other products made of thin metals that welding might distort.
Is welding dangerous?
Welders can stay safe from potential hazards by adhering to standard safety protocols and wearing protective equipment. For example, auto-darkening welding helmets protect your eyes from the bright flashes of a welding arc. Masks and respirators are used to protect against lung problems from fumes or fine particles. Flame-resistant aprons, gloves, and boots help prevent burns from sparks and molten metal. If you are professional and cautious, this profession does not have to be a dangerous one.
Is Welding a Good Career?
If you're considering learning a trade, welding has a lot to offer. But whether it's right for you will depend on what you value and enjoy and the type of person you are. Welding comes with a unique set of demands that you need to be equipped to handle, which can mean dealing with extreme environments, wearing protective gear, and being comfortable with certain risks (depending on your specialty). But for many people, novelty and excitement are what keeps them engaged in their line of work.
Welding can also be done on a smaller scale in structured environments with minimal risk. You still need to be able to work with heat, fire, and fumes and wear protective equipment. If you are unfazed by these factors and want to find out what this trade can offer you, check out some of these key reasons welding is a promising career:
Flexible and Versatile
Welding is needed for an immense number of industries throughout the world, which really opens your choices when it comes to hours, working environment, traveling for work, and performing side work and overtime for extra income.
Work hours can be variable, with 8- and 12-hour shifts common, and often evening or night shifts depending on your workplace.
Reliable, Now and in the Future
Welding is crucial for all kinds of manufacturing, construction, and fabrication, and the trade isn't going anywhere in the foreseeable future.
Welders are in demand throughout the U.S., with the BLS projecting a job increase of 8% in the welding, cutting, soldering, and brazing field by 2030.
Welding is needed for newer, more environmentally friendly technology and for repairing aging and damaged infrastructure.
Challenging and Fun
Welding is a challenge to learn, but it's very worthwhile and rewarding for the right person. You need focus and discipline that persists through working conditions that can be stressful and strenuous. But for many people, this combination can be incredibly satisfying. For many, a bit of thrill actually enhances focus.
Welders are needed in such a broad range of industries; you can choose a specialty that aligns with where you'd like to work, how much stress or risk you can handle, and what you find interesting.
Valued and Respected
Good welders who do high-quality work are well-respected and sought by employers and contractors who count on them. And they tend to be compensated well in return.
The median annual salary for all welders, cutters, solderers, and brazers was $47,010 as of May 2021.* And the potential for higher earnings can be impressive, depending on experience, specialty, work environment, and more.
---
Get Your Start With a Welding Trade School
Welding schools near you are ready to provide you with the details you need to get started with your focused and convenient vocational training. Search for nearby programs and fill out a short form to get more information about start dates, tuition, and more. Your first step toward an essential, in-demand, and fun career can happen right now!
---
* Unless otherwise noted, salary information is based on May 2021 data from the Occupational Employment and Wage Statistics (OEWS) program. Job growth and average yearly openings estimates are from the Bureau of Labor Statistics and are for the 2021 to 2031 period. Estimates are for the occupational category that includes welders, brazers, solderers, and cutters.
** Length of training information is based on a combination of information from the Occupational Outlook Handbook, the U.S. Department of Education, and a wide sampling of relevant program lengths from about 30 individual school websites. They are a mix of public, private non-profit, and private for-profit institutions.