---
---
Diesel Mechanic FAQ
From transporting goods across the country to constructing new buildings to delivering children to school, diesel engines power a wide range of vehicles that are essential to daily life. Because these vehicles take on such vital tasks, it is important that they stay in good working condition. That's why diesel mechanics are so valuable to the automotive industry. Keep reading to find out exactly what a diesel mechanic is, the types of tasks they perform, what their educational requirements are, how much they get paid, and much more.
---
What Is a Diesel Mechanic?
Basically, an automotive mechanic who has the specialized skills to repair, maintain, and rebuild diesel engines.
Diesel engines tend to be the preferred choice for heavy types of vehicles (such as trucks, tractor trailers, buses, trains, bulldozers, and ships). This is because they are capable of generating more power than standard engines.
How Diesel Engines are Different from Regular Gas Engines
Fuel—Diesel fuel has longer chains of hydrogen and carbon atoms than regular gasoline, making it heavier and more efficient when burned within an engine.
Fuel injection—In diesel engines, air is compressed separately before fuel is injected, allowing for higher compression ratios.
Fuel combustion—The high compression ratio makes it possible for fuel molecules to be forced into tight spaces, improving the ability to mix air and fuel, thereby creating more power from fuel combustion.
Air intake—Unlike gas engines, which limit the amount of air entering the engine, diesel engines have no restrictions on air intake. This allows for greater amounts of both fuel and air to enter the engine in order to help it reach higher speeds.
Spark plugs—While gas engines require spark plugs to ignite fuel, diesel engines do not because the high compression ratio heats air to very high temperatures.
Size—Diesel engines are bigger and heavier than regular engines. This helps make them more powerful, but it also means that they are slower to warm up and accelerate. Glow plugs and engine heating systems are sometimes required to get a diesel engine to start in cold temperatures.
---
What Is the Typical Job Description?
Some of the most common tasks include:
Basic Repair and Maintenance Tasks
Taking vehicles for test drives to help diagnose issues
Inspecting vehicles, engines, brake systems, transmissions, and other vehicle parts
Performing oil changes, battery inspections, and other routine maintenance tasks
Diagnosing issues through inspection or usage of diagnostic equipment
Repairing and/or replacing parts, components, electrical systems, etc.
Aligning and/or adjusting wheels
Engine Rebuilds and Retrofits
Diesel engines often require complete rebuilds (usually after every 100,000 miles of usage) due to the strenuous nature of the work they perform. Another task that is becoming common is retrofitting engines with emission-control systems in order to ensure that they comply with environmental or pollution regulations.
Administrative Tasks
Outside of hands-on maintenance and repair, mechanics usually need to perform some administrative and customer service tasks, especially if they work in smaller shops or become shop owners. Such tasks can include scheduling appointments, explaining diagnoses, providing estimates, processing payments, and more.
---
Are There Any Requirements I Should Know About?
In the past, diesel mechanic requirements (in terms of education and credentials) were basically non-existent. Though requirements are not legally mandated, most employers prefer to hire people who have post-secondary training in diesel engine repair or a similar field. Getting formal training shows employers that you have much-needed industry experience and knowledge.
Apprenticeships
Apprenticeship programs are usually provided by union or government organizations, but some may be held in partnership with a post-secondary institution.
The majority of these types of programs involve theoretical classroom teaching, followed by on-the-job training, working under the supervision of an experienced diesel mechanic within an actual diesel repair setting.
Once you have completed an apprenticeship, you will be considered a "journeyman" (which basically means an entry-level employee who is allowed to work with minimal supervision).
Apprenticeship requirements can include being at least 18 years of age, having a high school diploma or GED equivalent, and successfully passing an entrance exam.
The Benefits of Going to School
Many apprenticeship programs (especially ones associated with major unions) may give preference to applicants who have already completed an education in the field. So it's vital that you fully research the terms and prerequisites of any apprenticeship program you consider.
In order to prepare for a post-secondary program or apprenticeship, it can help to take high school or college courses related to automotive repair, mathematics, and electronics.
---
What Can I Expect to Learn in School?
Theory and Administration
Fundamentals of diesel technology
Interpreting technical manuals and electronic diagnostic reports
Booking appointments for maintenance and repairs
Customer service
Administrative duties (providing estimates, handling billing, processing payments, etc.)
Maintenance
Oil changes
Battery inspections
Wheel alignment
Visual inspections of all parts, systems, and electronics
Rebuilding engines
Repair
Using diagnostic equipment to pinpoint necessary repairs
Using industry-current tools and equipment
Disassembling, repairing, and reassembling equipment and parts
Repairing (or replacing) parts, electrical systems, components, and more
Retrofitting engines with emission-control systems
Hands-on Practice
Most programs also include on-site practical training, allowing you to work on diesel-powered vehicles using industry-standard tools and equipment. Alternatively, some programs may offer an off-site externship during which you work under the supervision of experienced diesel mechanics.
If you take a short-term, career-oriented diploma or certificate program, then chances are that the majority of your training will be hands-on. On the other hand, if you go for an associate degree program, you will most likely also receive plenty of theoretical background instruction, as well as general education and business training.
Specialties
Some programs also provide the opportunity to choose a specialty. This can allow you to choose a specific type of diesel vehicle to work with. Most programs offered by accredited schools also include exam preparation for common industry certifications.
---
How Long Are Most Programs?
Program length depends entirely on the type of program and the type of school you choose. But, on average, the short-term certificate or diploma programs offered by vocational or community colleges can be completed in anywhere from six months to a year. Associate degree programs from private colleges and universities tend to be longer, usually between two to four years.
---
Is Certification Required?
Although certification isn't legally required in this field, many employers will hire someone who has taken the time and effort to become certified over someone who hasn't. That's because most certifying associations have prerequisites that involve experience and education, as well as exams which thoroughly test and verify your skills and understanding.
ASE Certification
The most common certifying association is the National Institute for Automotive Service Excellence (ASE). The ASE administers exams for over 40 different types of computer-based tests. Some of the ones that relate to diesel mechanics include:
Medium-Heavy Truck
Truck Equipment
School & Transit Buses
Auto & Truck Parts
How to Become ASE-Certified
In order to become certified, you must register with the ASE and choose the tests you wish to take. Once your registration is complete, you will receive a two-month timeframe (called a testing window) in which you must visit your nearest test center and complete the tests. Tests are held weekdays and weekends four times per year.
The tests typically consist of multiple-choice questions. Practice tests and study materials are available from the ASE for use during your preparation. Once you have passed all of the tests you selected during registration, you will officially be certified by the ASE. Your certification will be valid for a five-year period, after which you must re-take the corresponding tests.
---
What Is the Average Salary?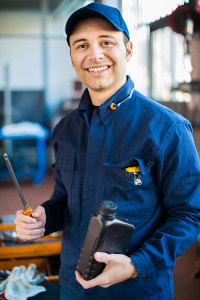 The typical salary range can vary depending on multiple factors, including:
Level of experience—The more years you have worked in the field, the higher your salary can be.
Position—You can make more if you advance into a position like foreman, manager, or shop owner.
Work environment—Your work setting can affect your salary rate. For example, those who work for federal, state, or local government may earn more than those who are employed at a private repair shop.
Location—The city or state you live in can affect your wage since salary rates fluctuate across the country.
National Wage Estimates
According to Occupational Employment Statistics program data from 2018, annual wages were as follows:
Median annual wages were $47,350.
The highest 10 percent earned more than $72,180.
Opportunities to Earn Even More
Other factors that can affect salary include hours and overtime. Most mechanics put in full-time hours, and opportunities for overtime are common, especially within private repair shops that want to offer extended hours of service during evenings and weekends. Plus, many bus and truck repair shops offer their services 24 hours a day. Additionally, some employers (most commonly truck fleet dealerships and repair shops) offer a base salary with a commission paid on top of it, making it possible to earn a higher-than-average annual salary.
---
What Are the Most Common Work Settings?
Some of the most common work environments include:
Automotive repair and maintenance shops
Wholesale vehicle and parts companies
Vehicle and equipment dealerships
General or specialized freight truck companies
Manufacturing or construction companies
Bus and public transit companies
---
What Is the Job Outlook?
According to occupational projections from the Bureau of Labor Statistics, employment is expected to grow 5 percent from 2018 to 2028. This is the average growth rate for all occupations. The reasons behind the projected growth include:
Increased need for freight to be shipped cross-country, meaning more diesel-powered vehicles being used and requiring maintenance and repairs
Current vehicles within truck fleets requiring increased maintenance as they age
Older vehicles needing to be retrofitted or modernized in order to comply with new environmental regulations
---
What Are the Best Parts of the Job?
Personal satisfaction—It can be incredibly satisfying to know that you are helping to protect people by ensuring their safety out on the road or on construction sites.
The thrill of cool technology—Since automotive technology is continually evolving, you will have the chance to experience ongoing learning and work with exciting new technologies on a regular basis.
Transferrable skills—You can utilize your skills and knowledge outside of your job. Not only can you handle your own vehicle repairs, you could even make a profit on the side by buying, fixing, and re-selling older or broken-down vehicles.
Hands-on activity—You can enjoy a hands-on career that allows you to engage in the kind of work that you find fascinating.
---