Diesel Mechanic Schools
By Publisher
| Last Updated
Diesel mechanic schools can prepare you for a thriving trade that involves maintaining heavy-duty trucks, buses, and other industrial equipment. Skills for this hands-on, high-tech work are frequently in demand.
---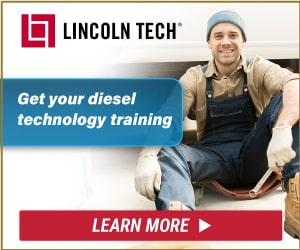 ---
Education & Training
Most employers prefer to hire people who have post-secondary training in diesel engine repair or a similar field. Completing a relevant program allows you to gain much-needed industry experience and knowledge.
---
Diesel Mechanic Schools
Sponsored Listings


Diesel Technology
Heavy Equipment
Diesel technology training at Lincoln Tech can prepare you for a career working with the essential machines that impact our lives. Lincoln's diesel mechanic classes are taught by highly-qualified professionals who are Automotive Service Excellence (ASE) certified instructors. Plus, Lincoln brings diesel engines, tractors, trailers, and construction equipment right into their shops for your training.
---
---
---
Length of Diesel Mechanic Training
Program length varies depending on the school you choose and the type of credential you pursue. Most commonly, diesel technology programs take between nine and 24 months to complete.*
Program Options
Certificate programs can typically be completed in a year or less.* Some provide a broad introduction to the trade, while others focus on specialized areas such as engine performance or preventive maintenance.
Diploma programs are usually one to two years long. Some programs that offer a combination of diesel and regular automotive training take up to 30 months.*
Associate degree programs are generally about two years long, although some programs take as little as 17 months and others take as long as 34 months.* In addition to the core subjects, they include general courses like math, business, and communications.
Apprenticeship programs allow you to learn the trade through a combination of coursework and paid hands-on work experience. Some employers give apprentices all their training on the job or pay for them to undergo training from specific manufacturers. Apprenticeships may also be sponsored by trade associations or government organizations. The Department of Labor's online search tool can help you locate potential opportunities.
Typical Courses
Your training at diesel mechanic school may cover areas like:
The basics of combustion engines
Servicing vehicle systems such as:

Braking
Steering and suspension
Fuel injection
Electrical
Climate control
Transmissions
Drivetrains
Hydraulics

Basic welding
Engine performance
Preventive maintenance
Computerized diagnostics
Workplace safety
Most programs also include on-site practical training, allowing you to work on diesel-powered vehicles using industry-standard tools and equipment.
Alternatively, some programs offer an off-site externship during which you work under the supervision of experienced diesel mechanics.
Many programs also include exam preparation for common industry certifications.
Skills You Can Learn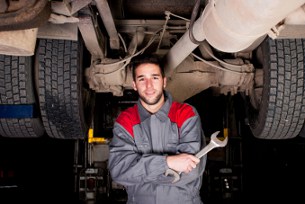 You could begin learning how to:
Test and troubleshoot diesel engine components and associated systems
Use computerized diagnostic tools
Disassemble, repair, and rebuild equipment and parts
Carry out regular maintenance
Follow established safety practices
Licensing & Certification
Diesel mechanics and service technicians do not need to be licensed in order to practice their trade. However, they usually need to hold a commercial driver's license.
Under the terms of the Clean Air Act, mechanics who work with air conditioning systems in vehicles must hold what's called Section 609 certification. This requires completing a training program approved by the Environmental Protection Agency and passing an exam.
Certification from the National Institute for Automotive Service Excellence (ASE) is not required, but it is recommended. ASE administers exams for 50 different types of computer-based tests. Some of the ones that relate specifically to diesel mechanics include:
Medium-heavy truck (T series)
Truck equipment (E series)
School bus (S series)
Transit bus (H series)
Electronic diesel engine diagnosis (L2)
Diesel mechanics who focus on marine vessels can pursue voluntary certification from the American Boat & Yacht Council (ABYC).
---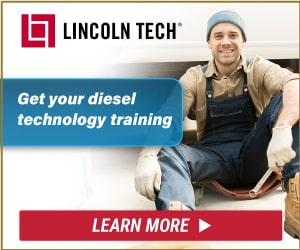 ---
Education & Training FAQs
What kind of driver's license do diesel mechanics need?
That depends on the specific kind of work you plan to do. If you're aiming to work on ships, trains, or generators, you won't need anything special. But if you want to be able to move medium- or heavy-duty trucks around, you will need a commercial driver's license (CDL).
A Class B CDL enables you to drive vehicles like box trucks, school buses, and transit buses. The most common type of CDL is a Class A license, which is required in order to operate things like tractor-trailers and tanker vehicles. Some vocational programs include CDL preparation as part of their curriculum.
What's the process for becoming ASE-certified?
You must register with ASE and choose the tests you wish to take. Once your registration is complete, you will receive a 90-day time frame in which you must visit your nearest test center and complete the exams.
The tests typically consist of multiple-choice questions. Practice tests and study materials are available from ASE. (Practice tests have a small fee, but study guides are available for no charge.) Once you have passed all of the tests you selected during registration, you will officially be certified by ASE. Your certification will be valid for a five-year period, after which you must retake the corresponding tests.
Diesel Mechanic Career Information
The mechanics who keep trucks, buses, trains, ships, and other diesel vehicles in good working condition often enjoy good wages and strong demand for their expertise.
Career Outlook
4% growth from 2021 to 2031
Median Salary
Diesel Mechanics
Job Openings
Average Yearly Openings
Length of Training
Most Common Length
Work Settings
Specializations
Light-duty vehicles, medium/heavy-duty vehicles, farm equipment, construction or mining equipment, locomotives, marine vessels, power generators, specific brands like Mack, Volvo, Cummins, Peterbilt, Daimler, International, or Caterpillar
Sources**
U.S. Bureau of Labor Statistics
U.S. Department of Education
Earnings
Estimates from the Occupational Employment and Wage Statistics (OEWS) program show that bus and truck mechanics and diesel engine specialists earn $48,690 as a median annual wage.** The highest earners make over $76,150.
Median Annual Wage Comparison**
Job Openings & Outlook
Projections from the Bureau of Labor Statistics (BLS) indicate that, from 2021 to 2031, employment of bus and truck mechanics and diesel engine specialists should grow by 4 percent.**
Over that same decade, an average of 28,500 jobs should open up each year. The vast majority of those openings will result from mechanics retiring or changing occupations.
Key Benefits
Good pay: Diesel mechanics can often expect higher wages than their counterparts who work on vehicles with gasoline-powered engines.
Enjoyment from working with cool technology: Since diesel-powered equipment is continually becoming more sophisticated, you will have the chance to learn about and use new technologies on a regular basis.
Flexibility: Some shops operate around the clock, so you can likely find a position that fits your scheduling preferences.
What a Diesel Mechanic Does
Service technicians in this trade keep diesel-powered vehicles and machinery operating safely and efficiently. They can work on anything from trucks, buses, and trains to tractors, bulldozers, and generators.
Their job duties often include:
Inspecting components and systems like:

Engines
Brakes
Transmissions
Suspensions
Emissions systems

Taking vehicles for test drives to help identify issues
Running diagnostic tests and interpreting the results
Repairing or replacing worn or broken parts and components
Rebuilding engines
Performing routine maintenance such as:

Changing oil
Checking batteries
Replacing filters
Flushing fluids
Aligning wheels

Updating service records
Work Settings
Diesel technicians typically work at places like:
Repair shops
Dealerships
Marinas and shipyards
Railyards
Construction sites
Factories
Mines
Farms
Specializations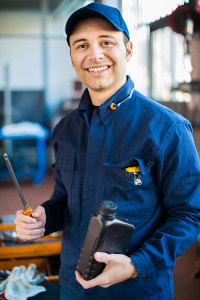 Diesel service techs have many different specialties open to them. For instance, you might choose to focus on working with:
Light-duty vehicles: Non-commercial passenger cars and trucks that operate with diesel drivetrains and have a gross vehicle weight rating (GVWR) under 14,000 pounds
Medium/heavy-duty vehicles: Larger diesel-powered vehicles that have a GVWR over 14,000 pounds, such as buses, box trucks, fire trucks, street sweepers, and tractor-trailers
Farm equipment: Machinery used to cultivate crops, such as combines, tractors, fertilizer spreaders, and irrigation pumps
Construction or mining equipment: Heavy machinery such as bulldozers, backhoes, graders, cranes, conveyor belts, drills, and excavators
Locomotives: Freight trains that transport grain, coal, lumber, and other cargo
Marine vessels: Watercraft such as fishing boats, cruise ships, cargo ships, and barges
Power generators: Portable or stationary equipment that provides backup electricity in homes, offices, hospitals, factories, and other settings
Some diesel technicians specialize in the equipment of a specific manufacturer. Common examples include:
Mack
Volvo
Cummins
Peterbilt
Daimler
International
Caterpillar
---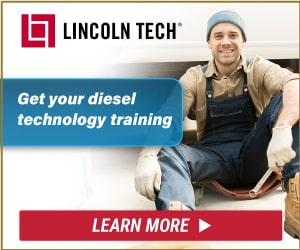 ---
Career FAQs
How are diesel engines different from regular gasoline engines?
Both types of engines work on the principle of internal combustion, but the biggest difference is the way each one creates that combustion. In a gasoline engine, a mixture of fuel and air is let into the engine cylinders, and a spark plug generates a burst of electricity that ignites the mixture. Diesel engines don't use spark plugs. Instead, air is compressed in the cylinders before the fuel is injected. The heat generated by the compressed air is what lights the fuel.
Also, diesel engines are typically bigger and heavier than gasoline engines. Due to the greater weight and higher compression ratio, diesel engines generate less horsepower but more torque. This gives them greater longevity and more towing power, but it also means that they are slower to warm up and accelerate. Glow plugs and engine heating systems are sometimes required to get a diesel engine to start in cold temperatures.
Which areas of the country have the highest salaries for diesel mechanics?
According to OEWS program estimates, diesel techs earn the highest median wages in these regions:**
Washington: $60,780
California: $60,550
Hawaii: $60,550
Massachusetts: $60,550
Alaska: $60,270
Connecticut: $60,270
See all diesel mechanic salaries by region.
---
* Length of training information is based on a combination of information from the Occupational Outlook Handbook, the U.S. Department of Education, and a wide sampling of relevant programs from about 30 individual school websites. They are a mix of public, private non-profit, and private for-profit institutions.
** Unless otherwise noted, salary information is based on May 2021 data from the Occupational Employment and Wage Statistics (OEWS) program. Job growth and average yearly openings estimates are from the Bureau of Labor Statistics and are for the 2021 to 2031 period.