Computer & Information Technology Schools
By Publisher
| Last Updated
Information technology schools offer a variety of programs that help students prepare to join the rapidly growing IT sector. By learning how to develop and manage information systems, you can gain important skills and expertise that can apply to nearly any industry. Businesses and organizations everywhere rely on computer technology, which is continually in-demand and valued by employers.
---
Education & Training
Information technology programs can help you develop the skills needed to support and manage an organization's technology needs. And trade school programs specifically can offer a streamlined, fast, and convenient path to a career working with computer technology.
Length of Information Technology Training
The length of IT training depends on the type of credential you pursue. Information technology trade school generally takes 24 to 48 months.**
Most Common Length of School**
(range in months)
Web development

Information technology

Computer programming

Software engineering

Computer science
Program Options
Information technology programs are widely available at universities, colleges, and vocational schools. They might also be known as information systems programs or computer technology programs.
Associate degree programs are typically about two years long.** They can prepare you for entry-level roles in areas like systems administration and technical support. Many allow you to transfer your credits into a bachelor's degree program if you later choose to continue your education.
Bachelor's degree programs generally take about four years to complete.** They are more comprehensive and often allow students to choose an area of focus, such as software development or cybersecurity.
Master's degree programs take an additional two to three years beyond the bachelor's level.** They are designed to prepare students for high-level roles in management, research, or systems design.
---
---
Typical Courses
Information technology and computer trade school courses often include:
The fundamentals of IT
Scripting and programming
Networking platforms and technologies
Systems security
Data management
Web development
Skills You Can Learn
You can learn to:
Install and maintain computer networks, servers, systems, and applications
Troubleshoot hardware and software issues
Communicate with end-users and team members
Develop technological solutions that meet specific requirements
Use different programming, scripting, and markup languages
Store, protect, and process data
Manage an IT project
Certification
A wide range of voluntary certifications is available for IT professionals. None are technically required to work in the industry. But some employers may prefer candidates with certifications that are relevant to their specific area of IT.
Here are a few examples of organizations that offer IT certifications:
Education & Training FAQs
What's the difference between information technology and computer science?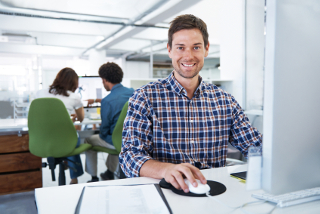 Computer science programs focus on helping you learn how computers think. They teach students how to use algorithms and advanced mathematics to get a computer to work a certain way.
Information technology programs generally are about using existing digital tools to solve business problems. They teach students how to set up, manage, and maintain computer systems, networks, and databases.
Computer science programs place more emphasis on computing theory and programming. If you would rather design networks and help information systems run efficiently, you may want to pursue a degree in this area of IT.
Do I need an information technology degree to get hired?
That depends on the position and employer requirements. Some employers will only hire candidates with a certain level of education (normally a bachelor's degree, but an associate degree is enough for some roles). And some employers place a high value on certifications.
But in many cases, employers are more concerned about what you can do than what you have studied. If you can prove you have the skills to get the job done, your educational background may not matter.
Does information technology require a lot of math?
In many cases, you don't need to be great at math to work in information technology. However, you should have an analytical mindset and the ability to use reason and logic to solve problems. Trade school for information technology can include topics like calculus or discrete math, so be sure to do your research to see how much math is involved.
---
Computer & Information Technology Schools
Sponsored Listings
---
---
Career Information
IT specialists use their technological expertise to overcome business challenges or meet the needs of a client. It's an enormous field with a huge variety of possible career paths.
Career Outlook*
10% growth from 2021 to 2031
Median Salary
Computer & Math Careers
Job Openings*
Average Yearly Openings
Length of Training
Most Common Length
Work Settings
Source***
Bureau of Labor Statistics
Information Technology Salary
According to the Occupational Employment and Wage Statistics (OEWS) program, the median annual salary for computer and mathematical careers is $97,540.*** The top 10 percent of earners make over $163,640 a year.
Median Annual Wage Comparison***
Job Openings & Outlook
Projections data from the Bureau of Labor Statistics (BLS) indicates that employment in computer careers should increase by 10 percent from 2021 to 2031.*** That's significantly faster than the growth rate for all occupations overall.
Over that same decade, around 34,700 computer-related jobs are expected to become available each year.*** About 4,100 of those will be newly created positions. A further 10,200 openings will come from retirements. And 20,400 openings will occur as a result of people transferring into other occupations.
Key Benefits
A huge variety of career options: You can focus on network management, information processing, database administration, technical support, or many other areas.
High earning potential: IT careers tend to come with above-average wages, according to the Occupational Outlook Handbook (OOH).
Opportunities to solve fascinating problems: Every day can bring a new challenge and opportunities to learn more.
What an Information Technology Specialist Does
IT specialists use computer technology to build and support critical electronic infrastructure. They typically work as part of a team, either serving clients directly or supporting an organization's internal needs.
Depending on their specific role, they might:
Maintain computer networks and optimize their performance
Help users work through technical problems
Fine-tune and update software applications
Create and maintain websites
Update data security protocols
Back up and secure databases
Work Settings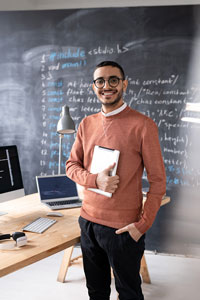 IT specialists work in:
Offices
Server rooms
Data centers
Call centers
Found in nearly every industry, they are often employed by:
Finance and insurance companies
Healthcare facilities
Engineering firms
Consulting companies
Telecommunications firms and Internet service providers
Government agencies
Educational institutions
Retail stores
Careers
Information technology training can lead to a diverse range of careers, including these examples:
Computer support specialist: Troubleshoot computer- or network-related issues and provide advice to users.
Database administrator: Maintain and optimize the systems that store and organize data.
Network and computer systems administrator: Keep computer networks and data communication systems working smoothly and efficiently.
Web developer: Design the appearance and functionality of websites.
Software developer: Design the programs and systems that run on computers, tablets, smartphones, gaming consoles, and other devices.
Cyber security analyst: Come up with security measures to safeguard an organization's data against hackers and cyberattacks.
Career FAQs
How do I know if information technology is the right field for me?
Ask yourself if you:
Have patience and perseverance: Whether you're dealing with a confused end-user or a challenging technical issue, you need to have the focus and determination to find a solution.
Have strong problem-solving skills: When an organization's systems go down, you need to work through the issue and get things up and running again as soon as possible.
Can explain complex concepts in plain English: You need the ability to communicate concepts and issues to laypeople.
Love to learn: Staying on top of technological trends is critical in this field.
How do I get into an IT career?
Formal training at an information technology school can help you develop the relevant abilities. Indeed, many employers look for candidates with an associate or bachelor's degree in information technology or information systems. Relevant certifications can also boost your employment prospects in some cases.
However, in the IT industry, skills and experience often matter more than educational credentials. You may be able to pick up valuable expertise through boot camp programs, free online courses, or your own trial and error.
What jobs within IT are in greatest demand?
Here are the projected rates of employment growth for various IT occupations from 2021 to 2031, according to the BLS:***
Information security analysts: 35 percent
Web developers: 30 percent
Applications software developers: 26 percent
Computer and information research scientists: 21 percent
Computer systems analysts: 9 percent
Database administrators: 8 percent
Computer network support specialists: 7 percent
Computer user support specialists: 6 percent
Computer network architects: 4 percent
Network and computer systems administrators: 3 percent
---
Get Started in IT
Information technology is constantly expanding and changing exponentially. This field offers the reliability of the fact that computer technology isn't going anywhere. A good part of our future is built on computer technology and how we communicate digitally. Your place in this exciting industry is waiting for you so, find a school today!
---
* Outlook and job opening data applies to computer occupations, excluding mathematical science ones.
** Length of training information is based on a combination of information from the Occupational Outlook Handbook, the U.S. Department of Education, and a wide sampling of relevant program lengths from about 30 individual school websites. They are a mix of public, private non-profit, and private for-profit institutions.
*** Unless otherwise noted, salary information is based on May 2021 data from the Occupational Employment and Wage Statistics (OEWS) program. Job growth and average yearly openings estimates are from the Bureau of Labor Statistics and are for the 2021 to 2031 period.