Lineman School Options, Training FAQs and Career Info
By Publisher
| Last Updated
By attending lineman school, you can gain critical skills for a career that provides many people with a deep sense of pride, steady work, and good pay. Lineworker jobs can also be thrilling, providing a satisfying adrenaline rush as you safely confront danger to build, maintain, or restore essential power or communications lines under challenging conditions.
---
Education & Training
Lineman training can help you begin to master the concepts and skills required for success in this field.
Length of Training
Lineman programs at trade schools and community colleges typically last for two to 12 months, although two-year associate degree programs are also available. Programs that focus on telecommunications tend to be shorter than those that concentrate on the electrical side.**
Apprenticeships in this field are usually three to four years long.**
Most Common Length of School**
(range in months)
Lineman school

Electrical technology

Electronics engineering technology
Program Options
Most linemen learn their trade through on-the-job training in the form of an apprenticeship. During each year of an apprenticeship, you complete a few weeks of in-class lessons, but you spend the bulk of your time earning a wage while learning from an experienced mentor on the job. In most cases, apprentices must be at least 18 years old and have a high school education that included at least one year of algebra. They also typically need to pass both an aptitude test and a drug screen.
Completing a relevant program at a technical school or community college can be a good way to develop basic skills and prepare for an apprenticeship. Programs are available under a variety of names, such as communication linework, electrical powerline mechanic, powerline construction, electric power distribution, or electrical utility technology. Most provide both technical training and hands-on practice.
---
---
Typical Courses
Lineman training is designed to teach students about:
The basics of electrical systems
Pole climbing
Rigging and knot tying
Safety protocols
Programs that focus on the electrical side typically include training in the fundamentals of AC and DC power, transformers, and substations.
Programs that focus on the telecommunications side include training in dealing with fiber optic and coaxial cables.
Skills You Can Learn
You have the chance to develop abilities related to:
Reading voltages
Splicing cables and tying knots
Calculating hook strain and line tension before hoisting equipment
Climbing towers and poles
Repairing and replacing damaged or defective equipment
Licensing & Certification
Some states, such as Minnesota and Texas, require linemen to be licensed. Be sure to research the requirements in your area.
A wide variety of voluntary industry certifications are available that could boost your employability, including:
Some schools include such certifications as part of their programs.
Education & Training FAQs
What high school classes are helpful?
If you're interested in a career as a lineman, it's a good idea to take math courses, especially algebra. Many apprenticeship programs require applicants to have one year of algebra. Classes in physics, trigonometry, and electronics can also be useful.
Do I need any special driver training?
Linemen are often called upon to drive utility trucks, which means they need to have a commercial driver's license (CDL). Some programs provide the training to allow you to earn your CDL. Others expect you to earn it on your own, either before enrolling or before you graduate. It's best to check with officials for the program you're considering just to be sure.
How do I know if I'm cut out to be a lineworker?
If you like the idea of doing physical, hands-on work that keeps critical infrastructure functioning, this may be the field for you. Ask yourself if you are:
Physically and mentally fit
Comfortable with the risks that are inherent in this kind of work
Unfazed by heights or enclosed spaces
Prepared to work all kinds of hours in all types of weather conditions
Linemen often enjoy stable employment, high wages, and strong camaraderie among their crew mates. While the training can be difficult, the rewards of the career are worth it to many people.
---
---
Career Information
Learning how to become a lineman can open up steady, well-paying opportunities all across the country. Despite (or even because of) the inherent danger of their work, many lineworkers love what they do and feel immense pride from tackling their jobs safely and effectively.
Career Outlook*
6% growth from 2021 to 2031
Median Salary*
Linemen
Job Openings*
Average Yearly Openings
Length of Training
Most Common Length
Work Settings
Sources***
Bureau of Labor Statistics
U.S. Department of Education
Earnings
Linemen make good money. The Occupational Outlook Handbook (OOH) breaks down linemen into two different categories: telecommunications and power-line workers.
The median salary for electrical power-line installers and repairers is $78,310.***
The median salary for telecommunications line installers and repairers is $60,190.***
To come up with the most accurate approximate salary for all lineworkers, we have calculated the average of the above two numbers to find the average median. So a lineman makes $69,250 per year as an average median wage.***
Median Annual Wage Comparison***
Job Openings & Outlook
The OOH says that from 2021 to 2031, employment of line installers and repairers is projected to grow by six percent.*** Powerline technicians should see job growth of three percent while telecommunications linemen are projected to see nine percent growth.
According to Bureau of Labor Statistics projections, an average of 23,500 jobs should open up for line installers and repairers each year over that same decade.*** Around 1,300 of those jobs are expected to be newly created positions. The rest will come as a result of workers retiring or transferring to other occupations.
Key Benefits
Pride and satisfaction: Lives would be seriously disrupted if the electrical grid or communication network went down. Being a lineworker means getting to provide one of our society's most essential services, which feels great.
Travel possibilities: Many linemen get to visit cool places far from home in order to help with a region's recovery efforts or to help install new power or communications lines in remote areas.
Excellent earning potential: Median salaries for electrical linemen are far above the median wage for all occupations, according to the OOH.***
What a Lineman Does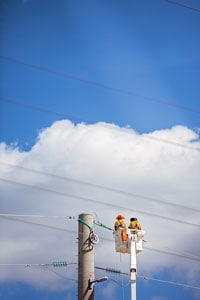 Linemen are responsible for building, maintaining, and repairing power transmission and distribution systems. They keep electricity flowing to homes, businesses, and other buildings. Some linemen work on the cables used by telecommunications companies.
Typical tasks include:
Erecting wooden poles and transmission towers
Climbing poles or operating bucket lifts
Inspecting and testing cables and lines
Attaching power lines to poles and buildings
Digging trenches for underground cables
Replacing damaged transformers and switches
Responding to outages and emergencies
Work Settings
Linemen work outdoors, often at great heights, but sometimes below ground. They can work in urban centers or in remote locations. For instance, they could:
Repair traffic lights that get damaged in a car accident
Splice cables in underground vaults
Hang from a helicopter to reach a transmission tower in a mountainous area
The OOH says that linemen are typically employed by utility companies, telecommunications firms, and construction contractors. About one percent of telecommunications linemen are self-employed.
Career FAQs
Do linemen make more than electricians?
An electrical lineman's salary is generally higher than an electrician's salary. As noted above, the median wage for linemen is $78,310.*** The top earners take home over $107,110. Meanwhile, electricians have a median wage of $60,040, and the highest earners make $99,800 or more. The difference is largely due to the fact that linemen work with higher voltages in more hazardous conditions.
How dangerous is this job?
Electrical linemen work with high-voltage systems at great heights and in all kinds of weather conditions. However, advances in equipment and training have greatly reduced the risks. Linemen use a variety of tools, such as hot sticks, which are insulated poles for working on energized lines. They wear hard hats, insulated rubber gloves, safety glasses, and fire-resistant clothing. Sometimes they use special suits called Faraday suits that direct electric current around the body rather than through it. They also undergo extensive safety training.
---
Lineworker Training Can Lead to Reliable, Good-Paying Jobs
Going to a lineman school provides the opportunity to gain truly essential skills for one of today's most exciting trades.
---
* Salary information represents an average of the median wages for electrical power-line installers and repairers and telecommunications installers and repairers, as noted by the Occupational Outlook Handbook (OOH). The career outlook is based on OOH data for line installers and repairers. Job openings data is drawn from Bureau of Labor Statistics projections for line installers and repairers.
** Length of training information is based on a combination of information from the Occupational Outlook Handbook, the U.S. Department of Education, and a wide sampling of relevant program lengths from about 30 individual school websites. They are a mix of public, private non-profit, and private for-profit institutions.
*** Unless otherwise noted, salary information is based on May 2021 data from the Occupational Employment and Wage Statistics (OEWS) program. Job growth and average yearly openings estimates are from the Bureau of Labor Statistics and are for the 2021 to 2031 period.