---
3 Good Reasons to Attend Automotive Restoration School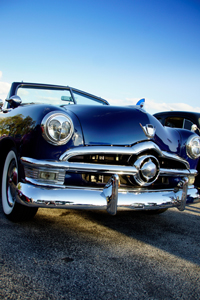 Knowing how to restore cars and trucks can be incredibly valuable. Just think of all the nice vehicles that get damaged in accidents or simply age and rust. When you combine areas like collision repairs, paint refinishing, auto parts rebuilding, hot rodding, and classic vehicle collecting, it's easy to see the massive size of the car restoration industry.
According to the Specialty Equipment Market Association, Americans spend over $40 billion a year on products to improve their vehicles. And, within the U.S., employment of auto body technicians and related mechanics is expected to increase by four percent from 2018 to 2028.
Plus, auto restoration often helps the environment. The Automotive Parts Remanufacturers Association describes some of the benefits that can result from rebuilding automotive components rather than resorting to newly manufactured ones. For example, a rebuilt car engine requires only about half of the energy required to produce a new one. And, every year, the global auto parts rebuilding industry prevents the equivalent of more than 150,000 railroad cars of natural raw materials from being extracted.
Here are a few other great reasons to consider automotive restoration training:
1. It Can Provide Stable and Good-Paying Career Possibilities
Many people enjoy successful and reliable careers that involve restoring vehicles. Some of them repair collision damage, install auto glass, or refinish cars' interiors or exteriors. Some spend their time adding style and upgrades to powerful hot rods. And still others get to help revive vintage cars for avid collectors.
Plus, it is possible to make a good living in the auto restoration field. According to the Occupational Employment Statistics program, the average annual pay of automotive body mechanics and similar repairers in the U.S. was $46,460 in 2018. And the top earners made over $71,970.
2. It Doesn't Require Much Time in School
The requirements for entering the vehicle restoration trade are relatively simple. Many employers just want you to have undergone a little schooling in a program that helps you learn some of the basic yet relevant skills involved in the work. Once employed, most technicians then keep learning while on the job.
Some of the most popular programs that incorporate car restoration training are those which focus on collision repair and auto body refinishing. In many cases, they can be completed in less than 18 months.
3. It Can Give You Expertise in a Field That's Fun, Popular, and Fascinating
Think about all of the muscle car enthusiasts and classic vehicle collectors you may have encountered. America is full of them. And restoring vintage automobiles is a major pastime among such hobbyists. According to the Historic Vehicle Association, within the U.S. and Canada, an estimated 2.75 million people own a historic car or truck. They often respect and seek help from people who have professional-level skills at giving new life to the vehicle models they cherish—whether it's a 1960s Ford Mustang, a 1930s Lincoln-Zephyr, or any of countless other models worth reviving and celebrating.
---