Medical Assistant Training Schools
Last Updated
Medical assistant schools can train you for a career in health care where you can play an integral role as part of a medical team.
This type of dynamic career lets you perform an extensive range of tasks while working closely with patients and health care professionals. If this is the kind of work that appeals to you, getting an education in medical assisting is a substantial move toward a future you can feel great about!
---
Medical Assistant Schools
Sponsored Listings
---
---
Medical Assisting Career Overview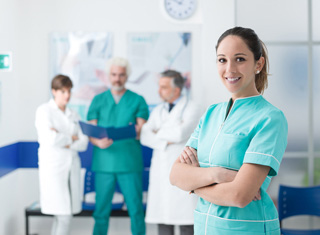 Learn what medical assistants are, what they do, their educational requirements, how much they get paid, where they work, and a lot more!
What Is a Medical Assistant?
Medical assistants are health care workers who work alongside physicians and other medical professionals to help provide quality care to patients. They are also multi-tasking experts who assist health care professionals and patients by performing administrative, clinical, laboratory, and direct patient care tasks.
Typical Medical Assistant Job Description
Here is a detailed list of the types of responsibilities typically held in this role:
Administrative Tasks
Greeting patients
Scheduling appointments
Answering phone calls and fielding questions and requests
Working with industry-related computer software applications
Recording patient histories
Creating, updating, and maintaining patient medical records
Managing the logistics of hospital admissions, laboratory services, and more
Performing medical billing and basic bookkeeping
Processing insurance claims
Managing inventory
Purchasing supplies and equipment
Authorizing drug refills and placing telephone prescriptions to pharmacies (under the direction of physicians)
Clinical Tasks
Clearly explaining treatments and procedures to patients
Educating patients on things like medications and special diet requirements
Preparing patients for examinations, procedures, and x-rays
Assisting physicians with examinations and procedures
Preparing and administering medications (as directed by physicians)
Drawing blood samples and administering injections
Cleaning wounds
Changing dressings
Removing sutures
Performing electrocardiograms (ECGs)
Preparing, cleaning, and sterilizing examination rooms, equipment, and supplies
Laboratory Tasks
Collecting and handling specimens from patients
Processing specimens for laboratory testing
Performing basic laboratory tests on specimens while carefully following standard protocols
Communicating test findings to physicians or other medical professionals
Safely disposing of contaminated supplies
It is important to note that some states regulate the clinical tasks that medical assistants are authorized to perform. Not all tasks are permitted in all states.
In addition, there are medical assisting specializations, including:
Administrative medical assistant: Focuses on handling administrative duties and doesn't usually take on clinical or laboratory tasks. These professionals often perform more advanced billing, bookkeeping, and insurance tasks.
Clinical medical assistant: Concentrates on clinical tasks instead of administrative or laboratory tasks. The job description depends on the authorizations regulated by the specific state of residence.
Ophthalmic and optometric medical assistant: Focuses on work within optometrist offices or ophthalmic departments of hospitals and surgical centers. These assistants are often responsible for assisting with eye care, teaching patients how to insert and remove contact lenses, testing, measuring and recording eye function and sight, and much more. They may also assist during eye-related surgeries.
Podiatric medical assistant: Specializes in assisting podiatrists (i.e., foot doctors) in diagnosing and treating foot-related injuries or issues. Typical duties can include taking, exposing, and developing x-rays, creating castings for feet, and assisting during foot-related surgeries.
Medical Assistant Training Overview
Education Requirements
Although there aren't legal education requirements in every state, many employers in the field will only consider applicants who have had formal medical assistant training. Therefore, whether or not your state requires it, formal training can help you obtain the knowledge and experience valued in the field. Some states require that you graduate from an accredited program and pass an exam before allowing you to perform certain tasks (such as administering injections and taking x-rays).
It can be helpful to take biology, anatomy, and chemistry courses in high school. They will apply to your career as a medical assistant and may also be prerequisites for your medical assisting training.
What You Can Expect to Learn in a Medical Assistant Program
A medical assistant training program will generally cover three areas of study: administration, clinical skills, and laboratory work.
The administration portion of the curriculum usually includes:
Medical billing, coding, and insurance processing
Bookkeeping and basic accounting
Secretarial duties (greeting patients, scheduling appointments, etc.)
Computer software applications commonly used in a health care setting
Patient records management
Inventory management and purchasing
Clinical training can cover:
Communicating with patients and educating them on post-treatment requirements as directed by physicians
Preparing patients for examinations and assisting physicians during procedures
Preparing and administering medications as per physicians' instructions
Cleaning wounds and changing dressings
Removing sutures
Administering injections
Taking x-rays and performing electrocardiograms (ECGs)
Laboratory training may include:
Drawing blood samples
Handling and processing specimens
Performing basic laboratory tests
Standard laboratory protocols
Understanding laboratory results and accurately communicating them to physicians
Most medical assisting programs also provide theoretical training related to anatomy, physiology, medical terminology, medical laws and ethics, and much more. Many medical assisting schools include an internship, externship, or clinical. These opportunities can allow you to gain experience within an off-site health care facility, working under the direction of physicians and other health care professionals. Plus, some programs will provide preparation training for industry certification examinations.
If you choose to take a more specialized route, the curricula will vary depending on the specialty. For example, a program meant to help you become an administrative/front office medical assistant will focus most training on administrative skills. A clinical/back office medical assistant program will have the bulk of the training focus on the more practical aspects related to direct patient care.
How Much is Medical Assistant School?
Generally, tuition at medical assistant schools can range from a few thousand dollars to over $30,000, depending on the school program length and education level.
You should also find out what is covered in a program's tuition. Some may include books and other fees within the overall cost of tuition, while others may charge separately.
Most vocational schools and colleges have a financial aid department that can help you research financial aid options and eligibility factors and fill out applications and other paperwork. Common funding sources include federal grants and loans, scholarships, and work-study programs.
How Long is Medical Assistant Training?
Program duration depends entirely upon the type of school and program you choose. For instance, you could complete a short-term certificate from an online career training school in just a few months or up to two years for an associate degree from a university.
However, career-oriented certificate and diploma programs from vocational schools, usually completed within a year, tend to represent the middle ground in terms of length. Vocational career training is a good choice for those who want to enter the field quickly while still receiving theoretical knowledge, practical training, and real-life experience.
Certification Requirements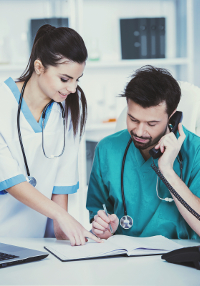 Although medical assistant certification requirements vary depending on state laws and specific job responsibilities, most medical assistant positions do not require certification by law. However, obtaining certification can be a tremendous asset when searching for employment because it shows employers that you have met the industry's minimum requirements. Pursuing this qualification also shows employers that you are committed to joining this area of health care since successfully gaining certification requires time, effort, and a monetary fee.
You can choose to prepare for the medical assistant certification examination in one of two ways: with study material you've purchased from the certifying organization or through an accredited program.
The following four organizations are accredited to provide certification to medical assistants:
The American Association of Medical Assistants (AAMA) offers a Certified Medical Assistant (CMA) credential.
American Medical Technologists (AMT) offers a Registered Medical Assistant (RMA) credential.
The National Center for Competency Testing (NCCT) offers a National Certified Medical Assistant (NCMA) credential.
The National Healthcareer Association (NHA) offers a Certified Clinical Medical Assistant (CCMA) credential.
Each organization has its own unique set of protocols and prerequisites. One may only require that you graduate from an accredited program, whereas another might administer an examination before awarding certification.
How Much Do Medical Assistants Make?
In May 2021, these were the medical assistant wages reported by the U.S. Bureau of Labor Statistics:*
Median pay was $17.88 per hour
Highest-earning 10 percent made $23.16 per hour
Lowest-earning 10 percent made $13.98 per hour
Numerous factors can affect salary rates, including experience and work environment. Location can also have a significant impact.
Where Do Medical Assistants Work?
Some of the most common areas of employment for medical assistants include:
Physicians' offices
Other health care practitioner offices
Outpatient care centers
Hospitals and surgical centers
Colleges, professional schools, and universities
Other health care facilities that tend to employ lower numbers of medical assistants (but provide higher pay) include:
Scientific research and development centers
Insurance agencies
Dental offices
Specialty hospitals (except psychiatric and substance abuse hospitals)
Medical Assisting Job Outlook
National projections from the Bureau of Labor Statistics show that the employment of medical assistants is expected to increase by 16 percent over the ten years from 2021 to 2031.* That makes medical assisting one of the fastest-growing vocations—the average growth rate for all occupations is just five percent.
Some of the factors that are influencing the growth of the occupation include:
The aging baby-boomer population and its increased need for preventive health care
The number of health care facilities opening to fill the increasing demand
Additional tasks required due to the continued trend of health care facilities switching from paper files to electronic health records
Benefits of Working in Medical Assisting
Some of the most common advantages of working as a medical assistant include:
The opportunity to meet and interact with a variety of people daily.
Knowing that your work has a direct impact on the health and well-being of others.
Having the opportunity to join one of the fastest-growing occupations also means having a good chance of obtaining a position quickly.
Peace of mind—due to the demand for medical assistants, job security tends to be quite good, regardless of the general economic situation.
Working directly with patients without putting in the necessary time, money, and effort required to become a physician.
Enjoying a wide variety of job responsibilities, making it unlikely you will become bored with your work.
---
---
* Bureau of Labor Statistics, U.S. Department of Labor, Occupational Outlook Handbook, https://www.bls.gov/ooh/. Some careers listed may be part of a combined occupation profile (visited August 28, 2023).