Phlebotomy Training Schools
Last Updated
Drawing blood safely and painlessly is a critical procedure in health care, and it's a job that requires a skilled hand. If you think this might be the career for you, or if you already work in health care and would like to expand your skill set, then consider how phlebotomy training can help you get started.
Think about your warm and friendly way with people. It's the first clue that you may be right for this vocation. Through phlebotomy training, you'll have the chance to expand on that gift. Interacting with patients is a big part of the job—and often one of the most fulfilling.
While teaching you the fundamentals of the field, many phlebotomy schools will also provide you with broader education in related subjects like anatomy. With a deeper understanding of how the human body works, you can increase your options for further healthcare training in the future.
Depending on the program you choose, phlebotomy training doesn't usually take very long to complete. A certificate or diploma can be earned from some schools in under a year. You also may have the option to combine your phlebotomy education with medical assisting or EKG technician training.
Additionally, many of the programs at phlebotomy schools can help you get phlebotomy certification. This can give you a competitive edge when seeking employment with organizations like blood-donor clinics and hospitals.
Phlebotomists do important work that, among other things, helps to ensure that medical patients get properly diagnosed and treated. Plus, for many people, this field is a great entry point into the healthcare field. If you want to learn what phlebotomy involves, how much a technician makes, the benefits of the job, and much more, take a look at the in-depth article below.
Can you already visualize having a real impact in this career? Maybe you're asking, "Is there phlebotomy training near me?" Check out the following programs or quickly find a nearby school by putting your zip code into the search tool below!
---
Phlebotomy Schools
Sponsored Listing
---
---
Phlebotomy Career Information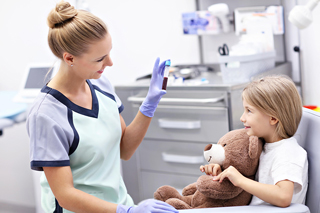 Sometimes blood tests are necessary to provide valuable information to your health care providers about how your body is working.
That's why skilled professionals exist to do the job of collecting such samples. They specialize in drawing blood from patients while making them feel as comfortable as possible with the process. And they do it day after day, providing an essential healthcare service that contributes to the ability of doctors to diagnose and treat their patients.
Doctors require good information in order to properly care for their patients. That's why laboratory testing of biological samples is so important. Without timely results from lab tests, many medical patients would go undiagnosed or untreated. But, in order to get those results, blood must often be drawn.
At its most basic level, phlebotomy (also known as venipuncture) is the process of puncturing a vein in order to extract blood or introduce an intravenous fluid. It might seem simple, but the process is serious and invasive. Strict procedures must be followed in order to ensure the safety of patients and the quality of collected specimens.
Job Responsibilities
Duties vary a little depending on where they work, but responsibilities can include:
Assembling necessary equipment such as needles, vials, and tourniquets
Explaining procedures to patients
Helping patients to feel comfortable with the procedures
Drawing patient blood samples using the correct tubes in the correct order
Correctly labeling each blood sample
Transporting blood samples to a medical laboratory for testing
Collecting and transporting other lab specimens such as urine
Entering patient data into a computerized records system
Safely disposing of used needles
When drawing multiple blood samples from the same patient for different kinds of lab tests, they must take care to avoid cross-contamination between different blood collection tubes. This is because each tube is color-coded for the type of test to be performed, and each one has different additives that can negatively affect lab testing if they accidentally wind up in the wrong tube. To prevent such accidents, a phlebotomist must use tubes in a very specific order while drawing a patient's blood.
Although using a needle in a patient's arm is the most common way of drawing blood samples, other methods (known as "microtechniques")—such as using finger sticks or heel sticks—can also be employed for drawing minute quantities of blood. Heel sticks are primarily used for collecting blood from infants.
Besides collecting blood from medical patients, many venipuncturists work for blood donation centers and draw the blood of donors so that it can be used for other people's transfusions or surgeries (after being tested to ensure that it is safe to use).
Typical Work Environments
Work in this field can occur in a variety of settings, including:
Hospitals
Blood banks
Plasma centers
Private medical clinics
Dialysis centers
Doctors' offices
Medical laboratories
After gaining plenty of experience, some professionals choose to work for employers that provide mobile medical examinations on behalf of insurance companies. It is even possible for someone with a lot of experience to create his or her own company and provide such mobile services on a contract basis.
Salary
According to Occupational Employment and Wage Statistics program data from 2021, the median yearly wage was approximately $37,380, with the highest 10 percent earning over $48,490.*
How to Become a Phlebotomy Technician
Compared to other healthcare occupations, the amount of training that's required for this profession is relatively minimal.
Your best bet is to explore the different training programs offered at schools near you. By seeking out a formal education, you can ensure that your knowledge and skills are up-to-par with industry standards, which can help you stand out to potential employers. Medical assistant schooling is also worth looking into since some programs contain phlebotomy components which can give you an extra edge with employers.
Some formal programs are accredited by the National Accrediting Agency for Clinical Laboratory Sciences (NAACLS) or the Commission on Accreditation of Allied Health Education Programs (CAAHEP).
Certification Requirements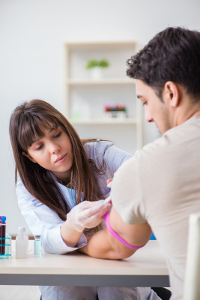 In California, Washington, Louisiana, and Nevada, phlebotomists must be certified. In all other states, professional certification is purely voluntary.
You should know, however, that certification is not the same thing as licensure. A few states do require that phlebotomists register or obtain licensure through their state's department of health.
Professional certification can be valuable in helping you land a job or in helping you gain the respect of your healthcare peers. Here are the most commonly recognized certifying agencies:
Additional organizations, other than those listed above, also provide certification, but it's best to check with employers in your area to see if they recognize a particular certifying body before committing to anything.
Regardless of the certifying organization you choose, you will have to pass a comprehensive exam. Exam content and fees vary from agency to agency. You may also have to prove that you've successfully completed a minimum amount of formal training from an accredited school.
The bottom line is this: In Louisiana, Washington, Nevada, and California, you definitely need professional certification to work as a phlebotomist. Everywhere else, it is best to check with prospective employers to see if it's necessary or desirable.
Benefits of the Job
Here are some of the most common benefits of working in this field:
Relatively minimal training—Compared to most other occupations in the field of allied healthcare, phlebotomy requires only a small amount of training.
Face-to-face interactions with different people—For anyone who likes people, you could have plenty of rewarding opportunities to meet and help a variety of people.
Flexible and varied work schedules—Depending where they work, experienced technicians often have the ability to choose the shifts and schedules that best accommodate their lifestyles.
A good starting point—You can gain a strong familiarity with different areas of a hospital as well as with related lines of work, which provides a solid stepping-stone to other healthcare careers.
Length of Training
Some courses only take a couple of months to complete, while others can take up to eight months. Overall, many programs tend to be at least 16 weeks long, often including up to eight weeks of clinical practice.
What Schooling Covers
Programs don't all share the same curricula. However, regardless of the specific program you choose, you are likely to encounter subjects such as:
Basic anatomy and physiology
Medical terminology
Medical ethics and legal issues
Circulatory system anatomy and physiology
Communication
Stress management
Safety precautions
Infection control
Infectious diseases and biohazards
Patient identification
Preparation and site selection
Equipment and tube additives
Techniques
Risk factors and complications
Corrective actions
Proper disposal of needles and other medical waste
Quality assurance
Advancement Opportunities
With experience (and sometimes further formal training), phlebotomists can have the opportunity to move into more advanced positions.
Some technicians eventually become supervisors. Others become mobile medical examiners, collecting blood and other lab samples on behalf of insurance companies.
Job Outlook
Employment projections from the Bureau of Labor Statistics indicate that jobs for phlebotomists could grow by 10 percent from 2021 to 2031.* Most of that growth will likely be due to an aging population and the greater need for laboratory testing that comes with an increase in medical conditions requiring diagnosis.
---
---
* Unless otherwise noted, salary information is based on May 2021 data from the Occupational Employment and Wage Statistics (OEWS) program. Job growth estimates are from the Bureau of Labor Statistics and are for the 2021 to 2031 period.