31 of the Highest-Paying Online Degrees You Can Pursue
By Crystal Lee
| Last Updated July 10, 2020
Summary
It's true: You can earn a degree online and make great money in a satisfying career. You can gain valuable credentials for jobs that pay well over $50K, including some that offer six-figure salary potential. Plus, online associate, bachelor's, and master's degree programs are incredibly flexible, and they are available for a huge range of career areas.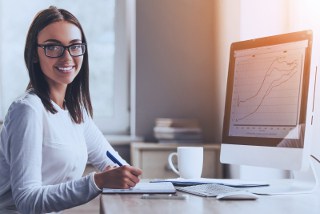 What do you imagine the highest-paying online degrees are? The reality may surprise you. After all, you can now choose from an astounding number of educational programs that can be completed from the comfort of your own home. But which ones tend to lead to the most lucrative opportunities?
As it turns out, the top-paying online programs span a broad range of career sectors, from business and information technology to healthcare and creative design. That diversity reflects the fact that you can earn a degree online in a huge variety of specific fields. For instance, you can get a psychology degree online. You can also get degrees in engineering, economics, nursing, software development, video game design, sports management, and much more.
Of course, earning potential isn't the only factor to consider when choosing an educational path. The best online degrees are the ones that lead to careers that not only have decent salaries, but also are enjoyable and satisfying. So it's important to consider your own interests and aptitudes.
The list of online degrees below is divided into those that are offered at the associate, bachelor's, and master's levels. Let these ideas fuel your career exploration!
Median salaries are current as of July 9, 2020 and are based on estimates from the Bureau of Labor Statistics unless indicated as being from (1) PayScale. All salaries are rounded to the nearest thousand.
---
5 of the Top-Paying Online Associate Degrees
You don't have to spend umpteen years studying in order to qualify for a well-paying job. Typically, it takes two years to get an associate degree online, but some accelerated programs can be completed in even less time. With that in mind, check out these five online degree programs at the associate level that can lead to a stellar salary:
Want to learn how to create appealing websites that function equally well on mobile devices and desktop computers? It could be that web design is the easiest online associate degree to get, since it is readily adaptable for virtual delivery. In this kind of program, you study scripting languages, design techniques, usability, and security fundamentals. You may also learn how to develop content strategies and how to optimize a site for search engines.
Related career: Web developer—$74K
It might seem odd, but you can get a nursing degree online—mostly. True, many healthcare occupations do not lend themselves to distance learning due to the hands-on nature of the work. (For instance, you can't become a dental hygienist online). However, there is such a high demand for nurses that many online programs have been developed. They allow you to fulfill the academic requirements through home study, but you still must complete supervised clinical training at a healthcare facility in your community.
Related career: Registered nurse—$73K
This is one of the best online courses of study for people who want to apply engineering principles to hands-on projects. Training in electrical engineering technology can help you become adept at building, calibrating, and troubleshooting a wide variety of electrical components and systems. These programs cover areas like circuit theory, signal processing, computer-aided drafting, and industrial safety. You can learn how to assist in the production of anything from mobile phones to medical equipment.
Related career: Electrical engineering technician—$65K
Networking technology programs focus on helping you develop the skills to install, configure, maintain, and repair the vital computer networks that businesses of all sizes rely on. They typically provide instruction in topics like routing and switching, network design, cloud computing, and information security. Graduates can pursue opportunities in a wide range of industries.
Related career: Computer network support specialist—$63K
These programs can prepare you to play a key role in the legal process by teaching you how to conduct research, prepare documents, review trial transcripts, and file appeals. You may also receive training in different specialties, such as criminal, family, civil, or contract law. Be aware that some Web-based programs do require you to complete an internship.
Related career: Paralegal—$52K
---
19 of the Highest-Paying Online Bachelor's Degrees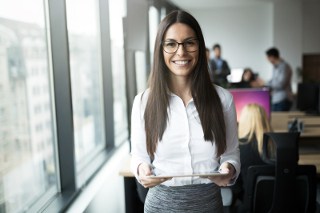 Are you looking for a bachelor's degree that can bump up your earning potential? If so, have a look at more than a dozen programs that typically include many of the best courses to take online:
1. Management information systems
Combining elements of both business and technology, management information systems (MIS) programs focus on how to use computer systems to make a company's operations more efficient or effective. Topics of study frequently include database design, project management, usability, network infrastructure, security, and business ethics. The end goal is to learn how to analyze and improve business processes through technology.
Related career: Information systems manager—$146K
Learning how to influence people's purchasing behavior involves training in a variety of areas, including market analysis, communications, product management, and promotional strategy. Some online marketing programs incorporate capstone projects or supervised practicums (which you complete in your local area). A few programs also offer opportunities to study abroad.
Related career: Marketing manager—$137K
These programs train you to manage a company's most important asset: its people. You'll explore a myriad of issues related to labor relations, employee satisfaction, and occupational safety. You'll also learn about recruitment, employee training, compensation and benefits administration, and organizational behavior. After getting your online degree, you can pursue professional certification to enhance your employability.
Related career: Human resources manager—$117K
Did you know that jobs for people who can design, develop, and debug computer applications are expected to grow in number by about 26 percent between 2018 and 2028? By providing training in areas like programming languages, operating systems, and security, online software development programs can help you get the skills to take advantage of this rising demand and earn an excellent salary at the same time.
Related career: Applications software developer—$108K
5. Economics
At its core, economics is the study of how people and organizations choose to allocate their resources to meet their needs. You learn how supply and demand drive consumer choices and how companies can use that knowledge to boost their bottom lines. Economics programs offer either a Bachelor of Science (B.S.) or a Bachelor of Arts (B.A.). Here's how they differ: B.S. programs tend to emphasize statistics and math, while B.A. programs typically focus on behavioral phenomena. Either one can prepare you for a range of well-paying careers related to economics.
Related career: Actuary—$108K
If you understand how to keep hospitals and other healthcare facilities running smoothly and effectively, you can expect to make some serious money. Healthcare administration programs typically feature courses related to informatics, healthcare law and policy, software applications, management, and finance. Through such training, you can develop valuable expertise in healthcare-specific business strategies.
Related career: Health services manager—$101K
Companies in industries ranging from banking to healthcare have a critical need to protect their information systems and data. That's exactly what cybersecurity programs train you to do. You learn how to identify potential security risks and take steps to defend against malicious attacks. Courses cover operating systems, network protocols, system architecture, penetration testing, and ethical hacking.
Related career: Information security analyst—$100K
Have you ever wanted to oversee the building of a house, road, or bridge? Construction management programs can provide the training you need. By studying design theory, building codes, material properties, and estimating principles, you'll learn how to manage projects, control costs, and communicate with workers. Some programs also include training in green building methods.
Related career: Construction manager—$95K
We live in a world that is awash in digital information, which is why skilled professionals who can design, implement, and optimize the systems that store all that data command such high salaries. In a database management program, you might study topics like cloud computing, data mining, database development, programming logic, and network management. That allows you to become adept at improving the effectiveness of database tools.
Related career: Database administrator—$94K
10. Finance
Finance programs are all about teaching students how to manage money effectively. You learn how to assess market conditions and adopt different strategies in order to maximize income or generate wealth. Coursework often covers portfolio management, credit analysis, commercial lending, investment principles, risk management, and financial planning.
Related career: Personal financial advisor—$88K
11. Supply chain management
Teaching students how to get both raw materials and finished products from where they are to where they need to be is the focus of supply chain management programs. This branch of business administration concentrates on controlling the timely and efficient movement of goods and services. It generally includes training in order processing, purchasing, distribution, and quality management.
Related career: Logistician—$75K
Animation programs help students develop the skills and expertise to bring animated characters to life in movies, TV commercials, and video games. They provide a thorough grounding in the principles of design as well as the fundamentals of storytelling. Typical courses cover storyboarding, drawing, character modeling, special effects, and animation production.
Related career: Animator—$75K
13. Sports management
Become a leader in the sports industry! Sports management programs help you get a foundation of business knowledge as it relates to the world of athletics. You learn about marketing, facility design, finance, and management. Graduates can pursue opportunities in event management, fundraising, administration, or player representation.
14. Technical communication
With a curriculum that includes training in writing, editing, multimedia technology, and documentation design, technical communication programs can teach you how to distill complex technical information into readable, engaging content. Some programs may allow you to specialize in writing for a specific industry, such as software development or healthcare.
Related career: Technical writer—$73K
Every business relies on accountants to track its financial activities and maintain its financial health. Online accounting programs focus on developing students' analytical and quantitative skills through courses in auditing, financial management, information systems, taxation, and business strategy. This field offers a multitude of specialties, including management accounting, tax accounting, and forensic accounting.
Related career: Accountant—$72K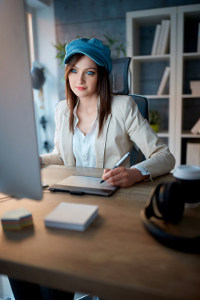 The U.S. market for video games is expected to be worth more than $31 billion by 2023. So it's no surprise that graduates of game design programs often go on to earn impressive salaries. Coursework covers game conceptualization, play mechanics, storyboarding, scripting, modeling, animation, programming, and prototyping.
Related career: Video game designer—$65K1
17. Education
Believe it or not, you can get a teaching degree online. Many programs offer online classes in instructional techniques and classroom management, as well as subject-specific courses such as science or math. However, before you can be licensed, you will have to arrange to complete a student teaching practicum with a school in your community.
Related career: High school teacher—$62K
These online programs combine training in general business concepts such as marketing and accounting with courses in aviation-specific topics like airport design and fleet management. Depending on the program, you might concentrate on airline operations or focus more on airport management. In either case, you learn how to deal with the unique business challenges of the aviation industry.
Related career: Airport manager—$61K1
Learning how to shape a company's public image can easily be done online and can lead to a comfortable salary. Public relations degree programs typically offer training in communication, marketing, promotions, crisis management, and media literacy. Many programs require online students to get practical experience with agencies in their local area.
Related career: PR specialist—$61K
---
7 Online Master's Degrees That Can Lead to High-Paying Jobs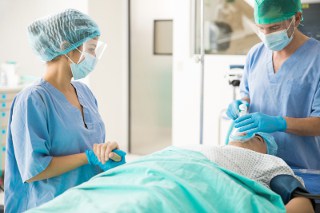 It will likely come as no surprise that many of the highest-paying jobs are reserved for those with a graduate-level education. And assuming the coursework is completed through an accredited institution, an online graduate degree is credible and valuable. Here are seven of the top-paying master's degrees you can take online:
1. Nurse anesthesia
Many people would argue that a master's degree concentrating on nurse anesthesia is the best online degree to get for a high-paying job. That's because nurse anesthetists get paid extremely well. And since these programs are aimed at working registered nurses, most require very little on-campus time, though you will have to undergo clinical training in your local area. Upon completing your degree, you will have to pass a certification exam to become a Certified Registered Nurse Anesthetist (CRNA).
Related career: Nurse anesthetist—$175K
2. Engineering management
Are you an engineer who wants to move into more of a leadership role? You can develop the expertise you need through an online engineering management program. This type of training focuses on helping you gain the people and business skills to supervise and oversee engineering projects. Courses cover quality control, project management, process measurement, and engineering law.
Related career: Engineering manager—$145K
3. Economics
Graduate training in this subject can open the door to a variety of high-paying careers related to economics. These kinds of programs offer courses in econometrics, financial analysis, statistics, and advanced economic theory. You can learn how to make high-level business decisions based on economic data.
Related career: Financial manager—$130K
4. Data science
What insights can be derived from a mass of complex data? That's the kind of question that data science programs teach you to answer. Through in-depth training in statistics, computer programming, machine learning, visualization, and analytics, you can learn how to mine data in order to identify meaningful trends and patterns. Most programs require an undergraduate degree in a STEM field, such as computer science or statistics.
Related career: Data scientist—$96K1
5. Industrial-organizational psychology
You can become a psychologist online by earning a bachelor's degree in a related field and following it up with a master's in industrial-organizational psychology. Unlike many other specialties in psychology, this one does not require a doctorate or an internship, which makes it ideal for distance learning. And online psychology degrees are respected just as much as traditional degrees, provided they are obtained from an accredited institution.
Related career: Industrial-organizational psychologist—$93K
6. Biomedical engineering
Bridging medicine and engineering, these programs train you to use engineering principles to solve biological problems. You can learn how to design things like pacemakers, imaging devices, and artificial body parts. Coursework may cover topics such as artificial intelligence, quantitative physiology, and biomechanics. You'll need an undergraduate degree in an area such as engineering or science.
Related career: Biomedical engineer—$91K
7. Applied statistics
Numerical reasoning is the essence of any applied statistics program. These online master's programs offer training in regression analysis, predictive analytics, statistical software, and data mining. You can learn how to design surveys and experiments and how to analyze the information collected from them. Such training can lead to a range of opportunities in both industry and government.
Related career: Statistician—$91K
---
Frequently Asked Questions About Studying Online
1. How long does it take to complete a degree online?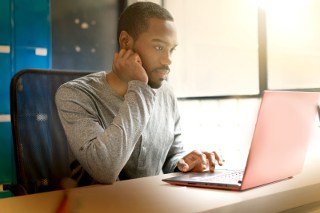 Just like with on-campus programs, it takes about four years to get an online degree at the bachelor's level, and another two years at the master's level. (Or, if you don't mind a less advanced credential, you can earn an associate degree in only about two years—total.) Some accelerated programs allow you to finish sooner. The amount of time it takes will depend on whether you study on a full- or part-time basis and whether you have already completed any other post-secondary training. (If you previously attended school on campus, you can finish your degree online—as long as your current school offers this ability and is willing to transfer some of the credits you've already earned.)
2. Are online degrees easier to get?
Online classes are easier in the sense that you have the flexibility to schedule them around your other commitments. Many courses are asynchronous, meaning you can tune in to recorded lectures and access course materials when it's convenient for you instead of being tied to a fixed timetable. Plus, online courses often feature multiple start dates, so you may not have to wait long before beginning your training.
However, the best online classes demand that students meet the same requirements and learn the same material as on-campus students. So in that sense, it isn't any easier to get a degree online than it would be to get one the traditional way. Online college is not harder, but it is different: You must be self-directed and disciplined in order to succeed.
3. How are online degrees viewed by employers?
Online education has become so common that many employers accept online degrees without batting an eye. Most hiring managers are more concerned about what you studied and whether you attended a reputable school than how you earned your credentials.
Plenty of well-regarded colleges, such as Harvard and Columbia, offer online degrees. But you don't need an Ivy League name on your transcript in order to be a credible job candidate. As long as you receive your degree from an accredited school, potential employers will take you seriously. (Plus, in many cases, there's nothing to indicate that your degree was obtained online, so employers may not even be able to tell.)
4. How much does it cost to get an online degree?
The cost of an online degree varies enormously. Online college can be cheaper than traditional college, but that isn't always the case. A 2018 survey of officials who coordinate online programs at brick-and-mortar schools found that about three-quarters of them charged the same amount for online offerings as they did for on-campus programs. However, keep in mind that students who study online do not have to budget for on-campus room and board or transportation to get to and from school.
So, what do online programs cost? In a survey by Learning House, online college students said that they commonly pay between $300 and $600 per undergraduate credit and between $800 and $1,000 per graduate credit. It's worth noting that in many cases, online students who are taking courses at an institution in another state can still pay the in-state tuition rates.
You may also have to spend money on a computer. Some online colleges give you a laptop when you enroll, and the cost is built into your tuition. Other schools offer discounted devices or allow online students to rent laptops for a minimal fee.
Online programs typically have other costs as well. For instance, students may have to pay technology fees or transcript fees. There may also be costs associated with internships or clinical rotations.
Of course, the cheapest online college is one that doesn't actually charge any fees. Did you know that free online schools exist (sort of)? Plenty of college-level courses are available for free online, but most do not qualify for college credit, meaning they can't be applied toward an actual degree. And some charge a fee for you to take an exam or receive a certificate of completion.
---
Expand Your Potential
As you can see, the highest-paying online degrees are found in a wide array of academic areas. Clearly, completing your training online can be both convenient and lucrative. So why not explore the job-driven programs available from technical institutes and vocational colleges? These types of schools offer flexible training options that can help you achieve your aspirations. Just put your zip code into the school finder below to generate a list of possibilities!
---