Mechanical Engineering Technician Schools
Last Updated
Mechanical engineering technician schools offer the chance to learn in-demand skills that can lead to a plentiful variety of good-paying opportunities.
Imagine the satisfaction of using your creativity and understanding of scientific principles to help solve practical problems and make industrial processes more efficient. As a mechanical engineering technician, you could help do things like design a faster method of manufacturing airplane parts, create more effective heating systems, or fine-tune the instruments that measure the results of automobile crash tests.
Those are just few of the many possibilities in this field. In fact, from smartphones to air conditioning systems to cars and trucks, you're always surrounded by the end results of mechanical engineering technology. Professionals in this field make a positive impact on the world, regardless of the fascinating sectors they work in.
So discover mechanical engineering technician schools that can help you start preparing for a satisfying career. Just enter your zip code in the search tool below!
Awesome Facts About Careers in Mechanical Engineering Technology
---
Mechanical Engineering Technician Schools
Sponsored Listing
---
---
4 Awesome Facts About Careers in Mechanical Engineering Technology
Mechanical engineering technicians are problem solvers. They use their mechanical skills as well as their knowledge of science, engineering, and math to help figure out solutions to problems in manufacturing, transportation, construction, and other related sectors. Although they often work closely with mechanical engineers, their work tends to be more hands-on. For example, a mechanical engineering technician might prepare blueprints based on an engineer's specifications or perform tests on a machine part and report the results to an engineer.
Here's what else you should know:
1. There's an Exciting Range of Career Options
Graduates of mechanical engineering technology programs can pursue a wide variety of job possibilities. In fact, this is one of the most diverse engineering occupations out there. Here are just a few examples of the areas you could specialize in: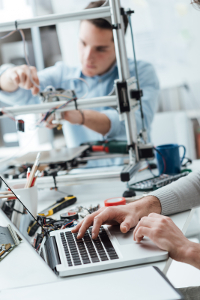 Mechanical product design and fabrication: Imagine using a 3D-modeling program to design a tool, then using computerized machines to create it with amazing speed and accuracy. As a mechanical engineering technician, you could be involved in this process from beginning to end.
Automation and manufacturing: More production tasks are being done by machines instead of humans. This trend creates opportunities for mechanical engineering technicians who know how to program, test, and maintain those machines.
Computer graphics and CADD: You could use sophisticated software to illustrate engineering concepts and designs. Mechanical engineering technicians often work with CADD (computer-aided design and drafting) programs to create detailed engineering drawings and blueprints.
So, where are the jobs? The top three industries for the employment of mechanical engineering technicians are: 1) architecture and engineering, 2) machinery manufacturing, and 3) transportation equipment manufacturing. But mechanical engineering technician positions are found in many other sectors as well, such as electrical power generation, computer manufacturing, and scientific research.
Because the opportunities in this field are so diverse, mechanical engineering technicians often have a variety of different job titles throughout their careers. For example, they might have titles such as:
Assembly test technician
Automation technician
Drafting and computer graphics engineer
Engineering technician
Field service representative
Manufacturing and quality management engineer
Manufacturing technician
Mechanical CADD technician
Mechanical engineering consultant
Mechanical technician
Plant maintenance and production manager
Pneumatic technician
Power and energy engineer
Process engineer
Process technician
Production manager
2. The Work Is Interesting and Beneficial
Mechanical engineering technicians can feel confident that what they do makes a difference. After all, they help improve the way things work. And they often accomplish that in many different ways. Precise job duties vary by specialty, but here are some example tasks:
Operating sophisticated machines
Monitoring manufacturing processes
Testing, adjusting, and fixing machines and instruments
Designing mechanical devices, then programming CNC (computer numerical controlled) equipment to create those devices
Reviewing blueprints to make sure they meet standards
Designing, monitoring, and troubleshooting production processes
Performing quality-assurance tests
Creating workflows and project budgets
Collecting data to evaluate project performance
Collaborating with engineers and other colleagues
Doing basic machining and welding
In addition, mechanical engineering technicians often have opportunities to work with some truly cutting-edge technology related to exciting advancements that can improve our lives. For example, check out these relatively new sectors where mechanical engineering technicians can make contributions:
Nanotechnology is the science of very small things. How small? Well, engineers in this field often measure their work in nanometers. (There are 25,400,000 nanometers in one inch). Engineers can use nanotechnology to make materials more durable, improve the quality of medical procedures and medicines, and make water treatment more efficient. Those are just a few of the advances in nanotechnology that mechanical engineering technicians are helping with.
3D printing turns a digital diagram into a tangible object. This process is often more versatile than traditional manufacturing. Employers that use 3D printing are looking for workers with experience in 3D modeling—skills often held by mechanical engineering technicians.
Robotics combines science and engineering for the purpose of designing and operating machines that can perform tasks automatically. Robots can be more efficient and accurate than humans (and they never need a coffee break). As a result, their use is spreading in areas such as surgery and industrial manufacturing. Mechanical engineering technicians have the skills needed to help develop and maintain useful robots.
3. The Right Education Can Pay Off
There are a few different ways to become a mechanical engineering technician. For an entry-level position, you usually just need a certificate or two-year associate degree in mechanical engineering technology. So, within a relatively short time frame, you could qualify for opportunities that frequently pay higher wages than the national average.
Take a look at the numbers: According to the Occupation Employment and Wage Statistics (OEWS) program, the median yearly salary of a mechanical engineering technician is $60,460.* The highest-earning mechanical engineering technicians make over $95,300. And the highest-paying industry for this occupation pays an average annual salary of $105,410.
You can also earn a bachelor's degree in this field. Or you can use a mechanical engineering technician program as a step toward becoming a mechanical engineer (by completing a full engineering program). In addition, professional certification in mechanical engineering technology can help move your career forward. For instance, the National Institute for Certification in Engineering Technologies offers several certification options. Getting certified requires passing an exam, and you may need a supervisor to endorse your qualifications.
4. The Job Outlook Is Promising
According to the Occupational Outlook Handbook, the number of job opportunities for mechanical engineering technicians is expected to increase about two percent from 2021 to 2031.* That's close to the national average of about five percent.
Opportunities could be particularly strong in the manufacturing sector. Consider these numbers from a report on manufacturing: Between 2018 and 2028, about 4.6 million manufacturing jobs are expected to become available. But 2.4 million positions may not be filled because of a shortage of qualified workers. That's because as manufacturing jobs become more complex, finding workers who have completed the right training becomes more important—and more difficult. As a result, 83 percent of manufacturing companies say they have offered higher pay to retain skilled workers.
---
Get Started Today
Now that you've learned some key facts about being a mechanical engineering technician, take the next easy step. Find mechanical engineering technician schools near you by entering your zip code into the search tool below!
---
---
* Unless otherwise noted, salary information is based on May 2021 data from the Occupational Employment and Wage Statistics (OEWS) program. Job growth and average yearly openings estimates are from the Bureau of Labor Statistics and are for the 2021 to 2031 period.