Culinary Schools & Colleges
By Publisher
| Last Updated
Culinary schools provide many aspiring chefs with the knowledge and abilities they need to start working in commercial kitchens. You can learn to cook and perform other professional tasks in two years or less. Tens of thousands of jobs are available every year in a wide variety of exciting workplaces. Plus, this career sector offers the potential for self-employment and good pay.
---
---
---
Culinary Education & Training
Culinary arts schools specialize in teaching people like you a wide range of valuable skills. Formal training can provide a great head start, regardless of the career path you have in mind. Plus, it can be exciting, challenging, and fulfilling.
Education Levels
Post-secondary culinary training usually leads to one of these academic credentials:
Certificate or diploma: A certificate or diploma program often takes between 9 and 12 months.* It covers basic skills and fundamental knowledge, and the courses are strictly career-related.
Associate degree: Most of your courses will be related to the culinary industry. But you will also have some more advanced courses and a few general education classes. Completing a program at this level typically takes from 15 to 24 months.*
Bachelor's degree: You'll likely have a more balanced mix of general and career-related classes. You may also have more advanced courses than you would have at a lower level. In general, you need about four years to complete this kind of program. But some schools offer accelerated programs that take as little as three years.*
---
---
Culinary Schools
Sponsored Listings
Shelton, Connecticut
Columbia, Maryland
Culinary Arts and Food Services
International Baking and Pastry
---
Shelton, Connecticut
Columbia, Maryland
Culinary Arts and Food Services
International Baking and Pastry
Lexington, Kentucky
Louisville, Kentucky
Culinary Arts
Hospitality Management
Hospitality Studies - Online
Hotel and Restaurant Management
Professional Baker
Professional Cook
Restaurant Studies - Online
Melbourne, Florida
Sarasota, Florida
Tallahassee, Florida
Baking and Pastry Arts
Culinary Arts
---
---
Typical Courses in a Culinary Program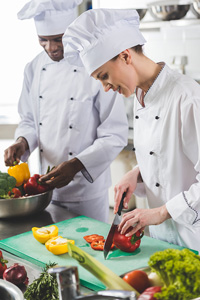 Examples of career-related classes include:
Safety and sanitation
Food storage and refrigeration
Food science
Nutrition
Mise en place
Baking and pastry fundamentals
Classic French cuisine
American regional cuisine
International cuisine
Food presentation
Dining service
Kitchen supervision
Professional development
For associate and bachelor's degree programs, general education classes may include examples like:
Mathematics
Written communication
Public speaking
Biology
Chemistry
Intro to psychology
Computer technology
Many programs also include a real-world externship that lets you gain experience in an actual commercial kitchen before graduating. Some schools even have on-site kitchens and restaurants with paying customers.
Skills You Can Learn
You can receive training related to skills like:
Identifying ingredients and food products
Sharpening, holding, and using knives safely
Using and caring for other kitchen tools and equipment
Preparing ingredients
Making salads, dressings, pates, and other cold food items
Cooking with dry heat, moist heat, or a combination of both
Preparing stocks, soups, and sauces
Cooking various types of proteins, starches, and vegetables
Baking bread
Creating restaurant-style desserts
Plating and presenting food
Planning menus
Developing recipes
Working across multiple stations in a commercial kitchen
Purchasing food and controlling costs
Certification
Certification is not required to be a chef. It is completely voluntary. However, being professionally certified by a respected organization can give you added credibility in the job market. It can tell potential employers that:
You understand food safety and sanitation procedures.
You hold a certain level of culinary expertise.
You are serious about a career in the culinary arts.
You can meet the high standards of food preparation.
You have worked under a qualified professional.
You possess experience in various kitchen stations.
Popular options for getting certified include:
The American Culinary Federation (ACF): This organization offers nine certification levels for savory cooking, six levels for pastry, and one certification for culinary educators.
ServSafe: The National Restaurant Association offers a variety of certifications related to safely handling food and alcohol.
Culinary Education & Training FAQs
How long is culinary school?
Most commonly, it takes between 15 and 24 months to get through culinary school. However, depending on the school and the academic credential you're seeking, it's possible to find programs that take as little as nine months or as many as four years.*
How can a chef be self-taught?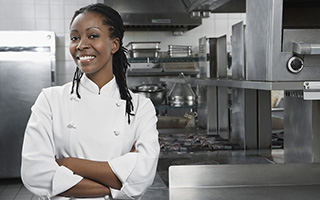 You can teach yourself how to cook by reading detailed culinary books, watching online videos, and having your friends and family test what you make. But suppose you aren't going to culinary school. In that case, you should consider getting an entry-level job in a commercial kitchen and working your way up the ranks. (You don't need any prior experience to get a job as a dishwasher. And most restaurants will train you from there (i.e., how to cook and prepare food)—if you show reliability and passion for the industry.)
Even so, many fine restaurants, hotels, and resorts want people who already know how to conduct themselves efficiently in a commercial kitchen—even for entry-level jobs. That's why finding a culinary school near you may be the most efficient method for getting off to a promising start.
How do you get into culinary school?
Most of the time, you just need a high school diploma, GED, or equivalent credential. Generally, you also must be at least 17 or 18 years old. Aside from meeting those requirements, you simply need to find a school in your area and apply.
Is culinary school hard?
Many students find it challenging, but it isn't too difficult if you follow a few tips. For example:
Listen attentively to your instructors.
Write down everything.
Ask questions about anything that interests or confuses you.
Always pay close attention to cooking demonstrations.
Makes notes about every recipe (or anything you might forget) and keep them handy.
Go easy on yourself when something doesn't turn out exactly as you'd hoped. (You may learn more from your mistakes than from your successes.)
Does going to culinary school make you a chef?
It doesn't necessarily make you a chef immediately, but it gives you a good head start toward becoming one. After all, formal training can help make you a competent cook, especially when it comes to the basics. And it can make you much more confident in a commercial kitchen than you would otherwise be, which can positively impact how quickly you advance.
Almost every aspiring chef begins their culinary career in an entry-level role. But as you gain professional experience, you can move into higher positions and become a bona fide chef—possibly in just a few years or less.
Can I get culinary training online?
Some culinary schools do offer online programs or classes. They are often self-paced and involve video demonstrations and home-based cooking assignments. (You may be asked to take photos of the finished dishes you make and/or document each step of your cooking process.)
---
---
Culinary Career Information
Chefs and other culinary professionals are part of a large, important, and highly varied industry. It's a career sector that offers numerous opportunities and potential rewards for those with talent, dedication, and enthusiasm.
Career Outlook
15% growth from 2021 to 2031
Median Salary
Chefs and Head Cooks
Job Openings
Average Yearly Openings
Length of Training
Most Common Length
Work Settings
Specializations
Pastry chef, personal chef, caterer, research chef, culinary instructor
Source**
Bureau of Labor Statistics
Job Openings & Outlook in the Culinary Field
From 2021 to 2031, the number of new jobs for chefs and head cooks is expected to increase by 15 percent.** That's a lot faster than the overall occupational average.
Key Benefits
Opportunity for self-employment: You could start your own business as a private chef, caterer, or restaurateur.
Chances to be creative at work: The possibilities for experimenting with new dishes are immense.
Potential for travel: You could work for private clients, tour operators, or large hotel, resort, or restaurant chains.
What a Chef Does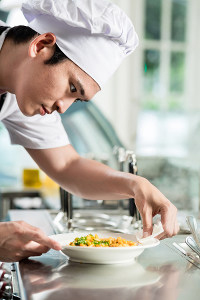 Chefs perform a wide range of tasks related to food preparation. For example, they may:
Prepare, season, and cook a variety of foods
Plan and price menu items
Collaborate with others to develop recipes and menus
Order and manage inventory
Keep records and accounts
Supervise and coordinate activities related to food preparation
Plan work schedules
Ensure that sanitation and safety standards are observed
Monitor the proper handling and storage of food and supplies
Perform quality-control duties
Deal with customer complaints
Handle requests related to dietary considerations
Check the quantity and quality of received products
Determine how food should be presented
Work Settings
According to the Occupational Outlook Handbook (OOH), about 49 percent of all chefs and head cooks work in restaurants or other eating establishments. The rest work in places such as:
Hotels and resorts
Entertainment venues
Country clubs
Cruise ships
Amusement parks
Corporate office cafeterias
Hospitals
Long-term care facilities
Food product development laboratories
Private homes
The OOH says that eight percent of chefs are self-employed.
Culinary Careers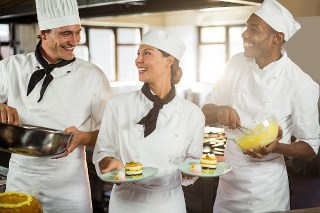 Culinary training is designed to prepare you for working within the brigade de cuisine system, a staff hierarchy used in many commercial kitchens. Most people begin their culinary careers in entry-level roles and work their way up through the system. For instance, you might start as a cook and get promoted to more advanced positions as you gain experience.
Some of the most common jobs include:
Executive chef: This person is the head manager for food preparation and sometimes oversees more than one restaurant. In many cases, executive chefs do little, if any, cooking. When they are in the kitchen, they are more likely to act as the expediter (i.e., the person who coordinates things between the servers and the chefs and cooks).
Chef de cuisine: Also known as the head chef (or, in some restaurants, the executive chef), this culinary pro manages the entire kitchen. Some head chefs help cook or expedite food regularly. Others cook periodically or leave the cooking duties to the rest of their team.
Sous chef: This person is often the second in command. They generally run the kitchen daily and are very involved in the food preparation.
Saucier: In this position, the focus is on making sauces, preparing warm appetizers, and putting the finishing touches on various dishes.
Station chef: Also known as a chef de partie, this person manages a particular station (i.e., an area of the kitchen) and prepares specific types of dishes. For example, pastry chefs control the preparation of bread and other baked goods, including dessert items like candies, cookies, custards, and cakes. Other stations can include:
Grilled, broiled, and roasted items
Sautéed items
Fried items
Vegetable dishes and garnishes
Soups and stocks
Commis: This junior chef rotates between various stations, filling in as needed.
Line cook: In this role, the focus tends to be on preparing one particular type of food in a specific way at a single station.
Garde manger: This person prepares cold salads, sandwiches, and appetizers.
Besides food preparation, some culinary schools can prepare you for restaurant management roles, including front-of-house operations. The knowledge you gain can even help prepare you for a career as a food writer and critic.
Specializations
Some culinary professionals enjoy focusing their careers in a particular area. For example, you can specialize as a:
Pastry chef: Prepare desserts and baked items. Also known as a pâtissier, you can even specialize in a particular type of item, such as bread, cake, candy, frozen dessert, breakfast pastry, or chocolate (as a chocolatier). General skills for this can be learned in a culinary arts program. Or you can learn more in-depth skills in a pastry arts program.
Personal chef: Prepare food in private settings, such as homes and small corporate offices. You can be hired to accommodate special diets and cook for busy professionals, potentially even celebrities. If you pursue this career, it's good to gain additional business knowledge, especially in marketing. You'll need to build a great reputation through word of mouth to attract the highest-paying clients.
Caterer: Provide food on location for special events or social gatherings. Some schools offer catering classes or make this part of their curricula. But as long as you know how to cook and manage a business, you can grow a catering company (and a good reputation) one client at a time. Event planning courses or experience as a banquet chef can also be helpful.
Research chef: Help develop new food products for food manufacturers or hotel and restaurant chains. In addition to culinary expertise, you may need a degree in food science.
Culinary instructor: Teach others how to expertly prepare food and master its presentation. You may need an associate or bachelor's degree and at least three to five years of professional chef experience.
Culinary Career FAQs
How can a chef make more money?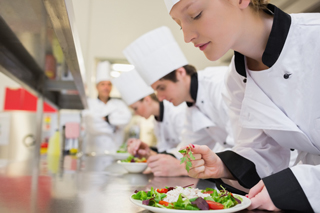 You can increase your earning potential by gaining mentorships with more experienced and prominent chefs. But you also need to refine your talent by developing your own cooking style and philosophy. It all takes time and experience. Then, you can promote your unique approach and seek the highest-paying opportunities.
Look for executive chef positions, but don't limit yourself to the usual types of employers. (For instance, many performing arts companies pay well.) Also, consider starting your own restaurant or catering company so you can retain the profits from all your efforts. And don't overlook the earning possibilities that can come from being a personal chef to celebrities or other wealthy individuals and their families.
What is a typical day like for a chef?
Depending on the specific role and type of establishment, the schedule can be varied. A chef may work any time from early morning to late at night. In some roles, the days can be long sometimes. For example, executive chefs may work as much as 12 hours in a single day since they oversee food delivery, plan menu items, carry out administrative tasks, and supervise technically challenging prep work.
Other professionals within a kitchen can also work long, intense shifts, performing prep work for the day's menu items, cooking dishes, and cleaning their stations for the next service.
How do I know if a chef career is right for me?
You should have a real passion for making great food. That's the biggest thing. (One way to learn whether you truly have enthusiasm for the industry is to work in a commercial kitchen first, even if it's just doing dishes or basic prep work.) But it's also good to agree with the following statements:
You want a career that falls outside of the typical nine-to-five routine.
You are willing to work your way up the ranks within a commercial kitchen.
You can handle being on your feet for long periods.
You work well under pressure.
A team environment appeals to you.
You have an exceptional eye for detail.
You take direction well.
How can I be successful in the culinary field?
If food is truly your calling, you will be more inclined to work hard and earn your stripes in the kitchen. Here are some other tips for succeeding as a chef:
Go to culinary school: This step can be especially beneficial if you learn best in a highly structured environment and don't want the pressure of being employed while making and learning from your mistakes. A good culinary school can teach you all the basics, giving you more confidence and ability when you land your first job in a commercial kitchen.
Find a mentor: Look to a seasoned professional to provide guidance and help you learn the tricks of the trade.
Practice new recipes: Challenge yourself to learn new recipes outside of work. This practice can prepare you to handle anything that comes your way and can offer inspiration for new dishes.
Eat a lot of different things: Always try new foods, experiment with new flavors, and cultivate your palate. Broadening your culinary horizons is very important.
Keep up your education: Whether you choose formal education or on-the-job training, continue to hone your skills and learn about new techniques and food trends.
Stay busy: You should be cleaning your station or something (anything) else in the kitchen if you're not busy.
Remain humble: This is something that young chefs are often warned of, especially right out of school. Respect and success in the culinary industry are gained through experience in the kitchen, not only education.
Above all, stay energized about your career choice. Read books, magazines, and blogs about cooking. And look for daily inspiration in places like the local farmers market or even the grocery store.
---
Check Out Local Programs If You Want to Go to Culinary School
Many cities across the U.S. have culinary schools that offer convenient training options. In most cases, they provide lots of hands-on instruction so that you can hit the ground running when you begin your career in a commercial kitchen.
---
* Length of training information is based on a combination of information from the Occupational Outlook Handbook, the U.S. Department of Education, and a wide sampling of relevant program lengths from about 30 individual school websites. They are a mix of public, private non-profit, and private for-profit institutions.
** Unless otherwise noted, salary information is based on May 2021 data from the Occupational Employment and Wage Statistics (OEWS) program. Job growth and average yearly openings estimates are from the Bureau of Labor Statistics and are for the 2021 to 2031 period.