Christian Colleges
Last Updated
Christian colleges provide learning opportunities to people of faith who aspire to put their spiritual values to work.
Combining your spiritual development with practical leadership skills can be truly powerful. And online Christian colleges make it especially convenient to start down that path. It's how you can become an effective advocate for your faith while also improving your chances of finding and succeeding at your life's calling.
Just imagine how your faith might add more light to the world. Whether through ministry, business, missionary work, social service, or any other vocation, you can infuse your professional life with a larger purpose—one that stems from your beliefs. That's why an online bible college can be a great partner in your journey. It can give you extra freedom and flexibility as you learn about the gospel and explore your individual mission.
So why not list your priorities and see if your faith comes out near the top? Christian colleges, after all, enable believers to honor their most cherished values while still getting an education they can benefit from. Find some good options that are available to people in your area by typing in your current zip code today!
4 Powerful Kinds of Christian Training You Can Get Online
---
---
Christian Studies Schools
Sponsored Listings
---
4 Powerful Kinds of Christian Training You Can Get Online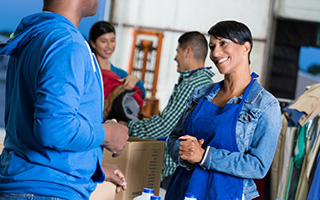 According to Pew Research Center, Christianity is the largest religion on Earth, with over 31 percent of the global population identifying with the faith in 2015. Pew Research Center further stated that in 2019, 65 percent of Americans described themselves as being part of the Christian faith.
But individuals like you can help ensure that biblical teachings continue to have an impact. Faithful people have the power to transform lives and help change the world by promoting the gospel as part of their daily missions. Yet the skills to do that effectively often need to be learned.
Here are four of the most useful areas of faith-based education you can pursue online:
1. Christian Leadership and Management
By blending business training with biblical studies, programs like this give budding leaders the opportunity to cultivate and combine their full professional and spiritual potential. They offer a way to gain valuable abilities related to aspects like handling finances, planning strategies, and leading and managing teams of other professionals. And they integrate all of that with Christian teachings that are relevant to leading 21st-century organizations with faith-inspired ideas and intention.
That's why this business-oriented path can lead to many kinds of leadership opportunities with both for-profit and nonprofit organizations. For example, aside from ministry-based entrepreneurship or mission mobilization, many Christian leaders find success in:
Social or community service management: A lot of faith-based community organizations exist to serve different types of people in need. And they are usually led by Christians who have business-related expertise. Plus, from 2016 to 2026, the employment of social and community service managers in the U.S. could expand by 18 percent. And many of them earn good salaries. On average, they made $71,670 in 2018.
Public relations or fundraising management: The success of Christian businesses and nonprofits is often due, in large part, to having a good public image and reputation. So it's possible to find great opportunities related to planning and coordinating media campaigns or donation drives. And the median salary in the U.S. for managers in this field was $100,810 in 2021.
2. Biblical and Theological Studies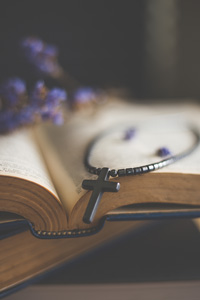 Specializing in this area offers the chance to become a true expert on how biblical messages relate to other religions and today's most pressing issues. You might even get the opportunity to learn the biblical languages of Hebrew and Greek as you explore the historical contexts and teachings of scripture. It's the kind of knowledge that's worth having in case you ever pursue seminary studies in the future.
Plus, programs of this nature also frequently include training in Christian apologetics, which is the science of defending against common objections or criticisms of the faith. That way, you can acquire skills that are truly valuable if you pursue a career as a minister, chaplain, bible educator, church administrator, or missionary.
3. Christian Ministry
Do you feel a calling to teach and inspire other people with scripture? Programs focused in this area usually incorporate theological and biblical studies along with practical training related to communicating Christian teachings and leading church groups or ministries. And they are often designed to help you develop a deeper, yet grounded, spiritual life.
4. Christian Studies
This kind of program frequently offers one of the fastest ways to acquire a better and more practical understanding of scripture and Christianity's role in the world, including how it compares to other religions. It can also serve as a great introduction to how ministries, missions, and other faith-based organizations spread the gospel and provide spiritual and physical relief to people around the globe. Plus, it can help you view life through a Christian perspective, enabling you to see opportunities for service that you might have missed before.
---
Mobilize Your Faith Today
Follow the path that's calling to you by learning more about how online programs at Christian colleges and universities can assist you. Type in your zip code right now to see a list of possibilities!
---