Anesthesia Technician School Guide
Last Updated
Let an anesthesia technician school start preparing you to join the health care field in a critical supporting role.
It is likely that modern health care would not exist without anesthesia. Medical teams rely on anesthesia technicians to support the professionals who administer anesthesia in order to block pain or sensation in patients so that they can undergo surgical procedures. You could find anesthesia tech jobs within hospital operating rooms, intensive care units, and other medical facilities.
Working in the field, you could be responsible for monitoring hospital equipment, preparing intravenous drugs, communicating with patients, and assisting other health care workers during surgeries, along with many other medical duties. So if you are ready to take a step toward a career that matters, then enter your zip code below to find an anesthesia technician school near you!
---
---
Anesthesia Technician School & Career Questions Answered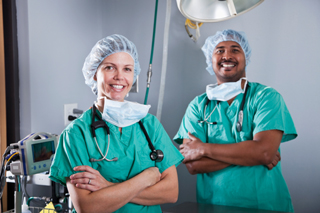 As you consider anesthesia technician training, you may have questions about schooling, as well as what the career itself entails. You may be wondering what an anesthesia tech job description looks like, what you might learn in school, how long it will take to complete your training, or what you could expect for an anesthesiologist technician salary. Well, keep reading to uncover these details and more about joining this important occupational field.
What Is an Anesthesia Technician?
An anesthesia technician is someone who supports the health care professionals—like anesthesiologists—who administer anesthesia to patients prior to surgical procedures. You may be responsible for monitoring patients before, during, and after surgery while taking care of other important tasks. Anesthesia techs are typically required to possess knowledge of a variety of anesthetic equipment, practices, and technology.
As you explore this career field, you may find that an anesthesia technician job description includes some or even all of the following responsibilities:
Obtain supplies and equipment required for medication administration.
Prepare intravenous solutions and medications.
Set up anesthesia machines and equipment.
Clean, sterilize, assemble, calibrate, test, and troubleshoot equipment.
Solve technical problems with anesthesia equipment.
Transport patients to and from the operating room.
Manage inventory, and order and stock medications and supplies.
Maintain equipment records.
Assist in setting up and tearing down the operating room.
Assist anesthesiologists, nurse anesthetists, and anesthesia assistants as required.
What Could Anesthesia Tech Schools Teach Me?
Anesthesia technician schools typically help you attain general medical knowledge first. Then, the remainder of your program focuses on the areas that are specific to anesthesia administration and management. And most programs offer a combination of classroom lectures, lab training, and clinical experience in order to provide you with a well-rounded, practical education.
Although each school varies, here are some of the topics that you may study:
Anatomy and physiology of organ systems
Medical terminology
Microbiology
Phlebotomy
Medical law and ethics
Anesthesia fundamentals
Anesthesia technology
Anesthesia pharmacology
Medication preparation
Pain management monitoring
Equipment maintenance and sterilization
Patient evaluation
Airway management
Fluid therapy
Cardiac monitoring
Emergency procedures
How Quickly Could I Complete an Anesthesia Technician Program?
Many people do not realize how fast they can complete an anesthesia technology program. Most schools offer associate degree programs, and these can typically be completed within one to two years, depending on how your courses are structured. There are also bachelor's degree programs available at some institutions, and these usually take anywhere from two to four years to complete.
Is Anesthesia Tech Certification Required?
Anesthesia technician certification is not mandated in any state, which means that it is voluntary for you to obtain. However, many people do opt for certification since there are a lot of employers that require it.
The American Society of Anesthesia Technologists and Technicians (ASATT) no longer offers a certification exam for anesthesia technicians. If you wish to pursue certification as an anesthesia technologist, here are the key steps you will need to take:
Check with your chosen school prior to registering to ensure that their program is recognized by the ASATT.
Apply to take the exam once your training is complete.
Include the exam fee with your application. (The fee is $325 for active members and $450 for non-members.)
Complete the exam within 90 days from receiving your confirmation from the ASATT.
Recertify every two years, which requires 30 continuing education hours.
Where Do Anesthesia Technicians Work?
Some of the more common work settings for anesthesia technicians include:
Hospital operating rooms
Intensive care units
Emergency rooms
Delivery rooms
Outpatient surgical centers
Health care clinics
Emergency ambulatory vehicles
Military divisions
Other surgical facilities
What Is the Average Anesthesia Tech Salary?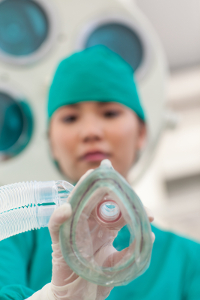 The Bureau of Labor Statistics (BLS) includes anesthesia technicians within the health technologist occupational category. So, according to 2018 data, an anesthesia technician salary could range from $28,130 to $72,720 and higher per year. If you are a more experienced or certified anesthesia technician, salary expectations would likely fall into the middle- to higher-end of this pay scale.
There are additional factors that can determine your pay level as well. For example, hospitals tend to pay higher-than-average wages. And the states with the highest average wages include Tennessee, Alaska, New Mexico, Washington, and Massachusetts.
What Is the Job Outlook?
As mentioned above, anesthesia technicians fall into the health technologist occupational group. And employment projections from the BLS show that health technologist jobs are expected to grow in number by 17 percent in the decade from 2018 to 2028. This is largely due to a growing demand for health care services for some of the following reasons:
Overall, the population is growing, so, naturally, more people will require health care.
The elderly population is also growing, and seniors tend to require more health care services.
The number of people with chronic diseases and conditions is growing, which typically leads to an increase in medical procedures.
---
What Steps Can I Start Taking Today?
Now that you have discovered key information about becoming an anesthesia technician, you may be thinking that this is exactly the medical career that you desire. So where do you go from here? Your next step is to locate an anesthesia technician school that suits your career goals. And you can do that right now. Just put your zip code into the search box below and discover programs that are offered near you. It could get you one step closer to the life that you deserve!
---