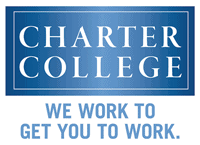 Charter College
Alaska · California · Montana
New Mexico · Utah · Washington · Online*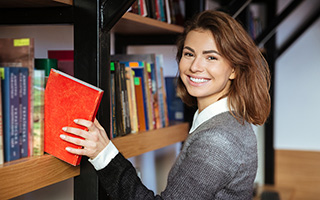 Unlike a traditional liberal arts college or university, Charter College's career training programs emphasize industry-specific education and relevant skills sought by employers. Taught by experienced professionals, programs at Charter aim to get you working as quickly as possible in customarily busy career fields.
With a focus on in-demand trades, Charter College integrates industry-standard technology with its unique blended learning option. Blended learning splits your studies between the classroom and online learning, allowing you to achieve your certificate while maintaining freedom in your schedule to live your life.
Charter College is ready to help you achieve your goals with online learning and campuses across multiple states.
---
Charter College Programs
---
Business
Business programs at Charter College focus on the skills and knowledge graduates need to succeed in the current marketplace.
Business Office Administration
A certificate in business office administration from Charter College can prepare students for positions in office administration, business communications, data entry, employee relations, and report preparation. Students can learn many different kinds of software such as Word, Excel, PowerPoint, and Outlook. Additionally, the program provides exposure to business fundamentals, leadership, project management, and managerial communications.
Offered:
---
Health Care
Learn to combine your natural compassion with medical knowledge and technical skills. Charter College offers a range of certificate programs in the health care profession. Taught by experienced professionals, who want to help you succeed, Charter's health care programs have become increasingly popular as the industry sees strong growth.
Dental Assisting
Charter College's dental assisting training covers patient care, sterilization of instruments and equipment, taking and processing dental x-rays, and more. Graduates of this 10-month certificate program are prepared to pursue an entry-level job in most dental settings.
Offered at:
Oxnard, California
Pasco, Washington
Vancouver, Washington
Diagnostic Medical Sonography
Charter College's A.A.S. in Diagnostic Medical Sonography program provides you with the knowledge and technical skills you need to pursue an entry-level position in the field. In classrooms, labs, and clinical practicums, you can learn various imaging techniques, common medical terminology, and how to engage with patients professionally. This program is delivered through blended learning and can be completed in as little as 14 months.
Offered at:
Health Unit Coordinator
From how to manage a hospital unit to basic patient care, a certificate in health unit coordination will provide you with the fundamental industry knowledge you need to work successfully in hospitals, clinics, nursing homes, and more.
Offered:
Medical Assistant
From measuring vital signs to maintaining electronic medical records, the successful completion of this certificate program can prepare you for a wide variety of positions. Technological advances and an aging population mean the health care industry continues to see rapid growth and a constant need for workers.
Offered at:
Anchorage, Alaska
Wasilla, Alaska
Oxnard, California
Billings, Montana
Missoula, Montana
Farmington, New Mexico
Salt Lake City, Utah
East Wenatchee, Washington
Lacey, Washington
Pasco, Washington
Vancouver, Washington
Yakima, Washington
Medical Office Administrative Assistant
The Medical Office Administrative Assistant certificate program is a great place to start if you are interested in working as a medical secretary or in a medical insurance office. With a flexible, year-round schedule, you could be on this exciting new career path in less than a year.
Offered at:
Pharmacy Technician
Charter College could prepare you for your new career as a pharmacy technician in less than a year. You could be working in a hospital, outpatient clinic, or even for a pharmaceuticals company. If a career in health care appeals to you - this could be the certificate program you have been looking for.
Offered at:
Lacey, Washington
Vancouver, Washington
---
Information Technology
It would be challenging to find a company that doesn't use technology or computing systems, so there is usually an abundance of jobs in the information technology sector. Charter College's information technology programs prepare students for this fast-paced field by providing them with instruction from industry professionals using standard industry technology.
Computer Aided Design
If drafting or computer aided design are careers that excite you, Charter College's Computer-Aided Design certificate program could set you up for success. This program can prepare students to become AutoCAD certified with design skills in two-dimensional and three-dimensional modeling.
Offered:
---
Trades
Charter College's trades programs are taught by working professionals who are passionate about helping you achieve your goals. The continued demand for skilled trades professionals means consistent employment opportunities for those with the critical knowledge and skills you could learn at Charter College.
HVAC/R
Learn to install, maintain, and repair heating, air conditioning, ventilation, and refrigeration systems with Charter College! Demand for HVAC/R technicians continues to grow. In less than a year, you could be trained and ready to work in this booming industry.
Offered at:
Anchorage, Alaska
Lacey, Washington
Pasco, Washington
Vancouver, Washington
Welding
Getting your certificate in welding can open a world of possibilities. From shipbuilding to repairs on oil rigs, welding is a skill that is constantly in high demand. Students learn the basics of the industry, including hands-on cutting, welding, layout, and fittings. In less than a year, you could be working in your new career.
Offered at:
Anchorage, Alaska
Vancouver, Washington
---
Veterinary
If the time has come for you to launch your career in animal care, Charter College is ready to help you achieve your goal.
Veterinary Assistant
In the Charter College Veterinary Assistant certificate program, you can learn about small animal nursing, pharmacology, radiology, and surgical assisting.
As part of the program, students receive Fear Free certification, which teaches them ways to prevent fear and anxiety in pets during visits.
Offered at:
Oxnard, California
Vancouver, Washington
---
Charter College Locations
In addition to local campuses across the Western states, Charter College offers online courses and blended learning options for career education.
Online*
Alaska
Anchorage
2221 E Northern Lights Blvd 120
Anchorage
AK
99508
Wasilla
721 W Parks Hwy
Wasilla
AK
99654
California
Oxnard
2000 Outlet Center Dr 150
Oxnard
CA
93036
Montana
Billings
1595 Grand Ave 230
Billings
MT
59102
Missoula
1930 Brooks St
Missoula
MT
59801
New Mexico
Farmington
3030 E 20th St
Farmington
NM
87402
Utah
Salt Lake City
9485 South 700 East
Sandy
UT
84070
Washington
East Wenatchee
595 Grant Rd 5
East Wenatchee
WA
98802
Lacey
4520 Lacey Blvd SE 40th
Lacey
WA
98503
Pasco
5278 Outlet Dr
Pasco
WA
99301
Vancouver
17200 SE Mill Plain Blvd 100
Vancouver
WA
98683
Yakima
2706 West Nob Hill Blvd 106
Yakima
WA
98902
---
Move Forward With Real Purpose
One simple action can start you on the path to a brighter future. Let Charter College know that you'd like more information right now!
---
Accreditation
Charter College is institutionally accredited by the Accrediting Bureau of Health Education Schools (ABHES).
---
*For Alaska residents, programs are offered online through Anchorage. For non-Alaskan residents, they are offered online through Vancouver.