Colleges & Trade Schools in Indiana
By Publisher
| Last Updated
Learning market-ready skills at vocational colleges and trade schools in Indiana empowers many Indiana residents to pursue satisfying careers in expanding and emerging industries. This state offers many potential benefits for post-secondary students, especially adult learners. And good job prospects exist across many sectors, including business, health care, and skilled trades.
---
Education & Training in Indiana
Indiana trade schools, technical colleges, universities, and other post-secondary institutions are part of a region with several student-friendly qualities. In addition to affordable living and numerous financial aid programs, students can benefit from real-world work experiences and free adult education.
Key Benefits of the Region for College Students
Off-campus affordability: Indiana has the eighth-lowest cost of living in the U.S.
Potential for more one-on-one instruction: At public two- and four-year colleges and universities in Indiana, the student-to-faculty ratios are lower than the nationwide averages.
Numerous internship opportunities: Indiana college and trade school students can take advantage of Work and Learn Indiana, a free online tool for finding local openings in a wide range of industries. Plus, employers are incentivized to offer paid internships since the state may cover up to half of the wages for eligible interns for EARN Indiana, the state's work-study program. Also, several paid positions in the state government are offered to students through the Governor's Public Service Summer Internship program each year.
---
---
---
Indiana Schools
Sponsored Listings


Automotive Technology
Collision Repair and Refinishing
Diesel Technology
Electrical/Electronics
Machining and Manufacturing
Medical Assistant
Welding Technology
---
---
Student Costs in Indiana
Each college, university, and technical or trade school in Indiana has its own student charges schedule. Costs vary by location, type of program, student residency status, and other factors. However, estimates from the National Center for Education Statistics (NCES) show that, on average, Indiana's four-year institutions charged the following amounts for tuition and fees during the 2020-2021 school year:
Public schools: $9,656 (in-state); $28,972 (out-of-state)
Private schools: $35,447
Attending a two-year community college, trade school, or vocational school often comes with lower yearly tuition charges.
Accreditation for Colleges & Trade Schools in Indiana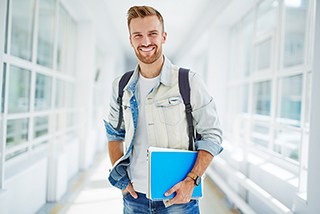 For students at post-secondary schools to qualify for federal aid, those schools must be regionally or nationally accredited by agencies recognized by the U.S. Department of Education. Independent accrediting organizations evaluate schools to determine whether they maintain certain quality standards. To gain and keep their accreditation, colleges, universities, and trade schools must consistently meet or exceed those standards.
The Higher Learning Commission (HLC) is the regional accreditor for post-secondary institutions in Indiana. Public colleges and universities in Indiana are accredited by the HLC, as are many private institutions. Other private institutions, including many trade schools and vocational colleges, are nationally accredited by organizations like these:
Accrediting Commission of Career Schools and Colleges (ACCSC)
Council on Occupational Education (COE)
Accrediting Council for Continuing Education & Training (ACCET)
Most private career schools in the state must be authorized to operate by the Indiana Board for Proprietary Education (BPE).
Financial Aid for Indiana Students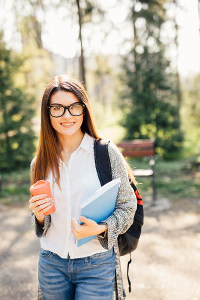 Indiana's Commission for Higher Education administers several state-funded grants and scholarship programs that make it possible for Indiana residents to afford post-secondary training. Two examples that stand out include:
The Frank O'Bannon Grant is Indiana's main vehicle for awarding aid to students based on their financial needs. You can receive grant money for use at an approved public or private institution if you qualify.
The Adult Student Grant provides eligible adult learners with up to $2,000 a year to begin or finish a certificate, associate degree, or bachelor's degree program. To qualify, you must show that you are financially independent but still need financial assistance.
You'll need to submit the Free Application for Federal Student Aid (FAFSA) to determine your eligibility for various programs to pursue state or federally funded student aid.
Indiana also offers several student aid programs for public safety officers and military members. If you qualify for such a program, up to 100 percent of your post-secondary tuition may be covered.
---
---
Trade School Programs Are Great Options for Learning In-Demand Skills
Vocational education allows you to qualify for job opportunities in fulfilling and reliable occupational fields. Career-oriented colleges and trade schools in Indiana offer convenient training pathways that help many people like you pursue better lives.