26 Short Career Programs That Lead to High-Paying Jobs
By Publisher
| Last Updated May 5, 2022
Are you eager to start earning good money but not ready to commit to a bachelor's degree? Trade schools and colleges offer short career programs that can qualify you for a professional role that pays well. Plenty of high-paying jobs with little schooling required rival jobs that need a bachelor's or higher, especially when it comes to salary and job outlook. Areas like healthcare, technology, and the skilled trades are full of opportunities.
Is it possible to get a job that pays well without spending four or more years at a traditional college or university?
The answer is yes. Absolutely. Many people choose to bypass that longer path and end up with some of America's highest-paying jobs. Without a degree like a bachelor's, they can still out-earn many four-year college graduates.
So, what does it take? It takes a broader view of your educational options and the enthusiasm to learn what skills are needed in the marketplace. Let this be your introduction to a world of fast careers that pay well. The opportunities for those with just two years or less of trade school or vocational training can be surprising.
---
High-Paying Jobs With Little Schooling Required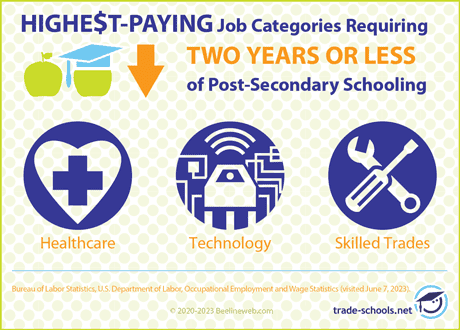 Following, you'll find some of the best-paying careers with little schooling required. For many, all you need is a simple two-year associate degree. And a months-long diploma or certificate program is often enough for some of the fastest careers to get into.
Salary and job growth numbers are from the U.S. Bureau of Labor Statistics' employment projections data. Employment in each of the 15 careers below is projected to increase at a rate that's equal to or above the average of four percent for all occupations between 2019 and 2029. Salaries are based on estimates from May 2020, listed in the form of median pay (median means 50% of those employed in a specific career make more than what's stated and 50% make less). Keep in mind that what you can earn might vary depending on which part of the country you work in and how much experience you have.
1. Dental Hygienist
Cleaning teeth, inspecting mouths for signs of disease, and educating patients about proper oral care are the primary duties for people with this career. For quick degrees that pay well, this is a popular option.
Median pay: $77,090
Top pay: $104,420 or more
Job growth: 6 percent
2. Diagnostic Medical Sonographer
These healthcare technicians use special ultrasound technology to capture images that help doctors correctly diagnose and treat their patients.
Median pay: $75,920
Top pay: $105,340 or more
Job growth: 17 percent
3. Registered Nurse
With just an associate degree, you can enter the world of providing and coordinating essential care for patients in places like hospitals, nursing facilities, and other healthcare settings.
Median pay: $75,330
Top pay: $116,230 or more
Job growth: 7 percent
4. Web Developer/Digital Interface Designer
Building attractive and functional websites requires plenty of technical skill but not necessarily much schooling, especially if you already enjoy teaching yourself new tricks. Depending on how motivated you are, this could be one of the quickest careers you can get into in tech.
Median pay: $77,200
Top pay: $146,430 or more
Job growth: 8 percent
5. Respiratory Therapist
Respiratory therapists help patients breathe effectively, whether they are helping with rehabilitation in a private clinic or placing someone on a ventilator to save their life. COVID-19 has dramatically increased the need for RTs, both on the front lines in hospitals and in treating lingering or lasting lung damage in those affected by the virus. This means the demand for RTs is high and expected to stay high for some time.
Median pay: $62,810
Top pay: $89,170 or more
Job growth: 19 percent (nearly five times the average for all occupations)
6. Cardiovascular Technologist/Technician
These specialists perform tests, take ultrasound images, or provide assistance during surgery for heart-related conditions.
Median pay: $59,100
Top pay: $96,790 or more
Job growth: 5 percent
7. Electrician
A little vocational schooling and a short apprenticeship are usually enough to enter this trade that lets you wire buildings for electrical power and communications.
Median pay: $56,900
Top pay: $98,720 or more
Job growth: 8 percent
8. Plumber/Pipefitter/Steamfitter
With a short amount of formal trade school or apprenticeship training, you can specialize in installing and repairing pipes and related equipment.
Median pay: $56,330
Top pay: $98,990 or more
Job growth: 4 percent
9. Commercial Diver
This tradesperson works underwater in special scuba gear to help build, repair, or remove large structures or equipment. For someone who already loves diving (or the concept of it), training to do it professionally can be one of the most exciting options among other programs in the skilled trades.
Median pay: $54,800
Top pay: $111,130 or more
Job growth: 5 percent
10. Paralegal or Legal Assistant
Supporting lawyers by taking care of responsibilities like legal research, administrative tasks, or document drafting is what these well-paid professionals are trained for.
Median pay: $52,920
Top pay: $85,160 or more
Job growth: 11 percent
11. HVAC Technician
These tradespeople install, maintain, and repair the systems that heat and cool our homes, businesses, and other buildings.
Median pay: $50,590
Top pay: $80,820 or more
Job growth: 4 percent
12. Surgical Technologist
Preparing operating rooms, organizing surgical equipment, and assisting surgeons during operations are a few of the main roles for this kind of healthcare technician.
Median pay: $49,710
Top pay: $73,110 or more
Job growth: 7 percent
13. Construction Equipment Operator
This skilled trade involves controlling big construction machinery used for building roads or major structures.
Median pay: $49,770
Top pay: $87,220 or more
Job growth: 4 percent
14. Licensed Practical or Vocational Nurse
No degree is required to get into this level of nursing, which lets you work alongside doctors and other health professionals after a quick vocational education.
Median pay: $48,820
Top pay: $65,520 or more
Job growth: 9 percent
15. Clinical Laboratory Technician
People in this occupation (also known as medical laboratory technicians) collect fluid and tissue samples from medical patients and perform basic diagnostic tests using special lab equipment.
Median pay: $54,180
Top pay: $83,700 or more
Job growth: 7 percent
---
Other High-Paying Jobs With Little Schooling Required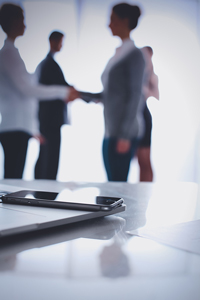 Here are some more of the highest-paying jobs with the least amount of schooling needed, all of which are expected to have some job growth (compared to the previously listed jobs, which are anticipated to grow at the same rate or faster than the national average). And these professions can often be started without a degree or with just a short amount of formal training or certification preparation.
16. Software Developer
Although many developers have bachelor's degrees, other successful people in this field begin their careers with under two years of formal training.
Median pay: $110,140
Top pay: $170,100 or more
17. Commercial Pilot (Non-Airline)
You don't need a college degree to fly charters or to get paid for jobs like aerial photography or firefighting missions. But you do need certification from the Federal Aviation Administration. You can prepare for your certification at an aviation school that offers short pilot training.
Median pay: $93,300
Top pay: $200,920 or more
18. Network Systems Administrator
Looking after the day-to-day needs of an organization's data communications systems is what this technology-based vocation is all about.
Median pay: $84,810
Top pay: $134,970 or more
19. Special Effects Artist or Animator
With the success of the video game industry and other entertainment like film and TV, the need for those with artistic talent and 2D or 3D computer animation skills is always present. If you thrive on using your creativity, this could top the list of easy jobs that pay well.
Median pay: $77,700
Top pay: $142,750 or more
20. Electrical or Electronics Engineering Technician
Helping engineers develop and test equipment and devices related to things like computers, health monitoring, communications, or navigation is what this kind of specialist does.
Median pay: $67,550
Top pay: $99,810 or more
21. Police Officer
Requirements vary from agency to agency. In some cases, you can become a viable candidate for police academy training by being in good physical shape and having some criminal justice education. Short career training can be a requirement or an asset.
Median pay: $65,540
Top pay: $109,040 or more
22. Aircraft Mechanic
The exciting trade of repairing and maintaining airplanes or helicopters can be learned by getting short FAA-approved training from an aviation school.
Median pay: $66,440
Top pay: $103,880 or more
23. Mechanical Engineering Technician
With an associate degree in this field, you can begin assisting mechanical engineers with developing, testing, and manufacturing things like industrial machines, engines, and tools with moving parts.
Median pay: $58,230
Top pay: $91,320 or more
24. Radiologic (X-Ray) Technologist or Technician
This type of career involves operating radiologic medical imaging equipment to produce images and media for diagnostic purposes. These types of professionals assist patients before and after imaging; then process and review the results to ensure they are clear enough for diagnosis and evaluation by a doctor.
Median pay: $61,900
Top pay: $92,660 or more
25. Civil Engineering Technician
Infrastructure projects like bridges and highways have their beginnings in the design and planning stage, which these professionals assist with.
Median pay: $54,080
Top pay: $82,960 or more
26. Diesel Mechanic
In this automotive trade, the focus is on inspecting, repairing, or overhauling large vehicles with diesel engines such as trucks, buses, and rolling machinery used in mining or construction.
Median pay: $50,200
Top pay: $76,460 or more
---
The Trouble With Many Conventional Degrees
Many traditional four-year degrees aren't all they're cracked up to be. For example, a labor market study shows that, on average, people with bachelor's degrees in majors like education and the humanities have some of the lowest earnings of all their peers.
According to an NCES employment report, more than half of college graduates with a traditional bachelor's degree in science, technology, engineering, or math are not employed in the fields they studied. Science majors, in particular, often have difficulty finding work in their fields. In many cases, success in these areas requires spending additional time in school to earn master's or doctorate degrees.
The result is that many college graduates who choose the conventional route end up underemployed in jobs like retail or food service. Those who major in science or the liberal arts are especially vulnerable unless they go on to graduate school to increase their opportunities. According to numbers from the Occupational Employment and Wage Statistics (OEWS) program, the median annual wage of a retail salesperson in the U.S. was only $27,080 in 2020. For cashiers, it was even less: $25,020.
Clearly, whether traditional college is worth the time and investment often depends on the major you choose.
---
Maximize Your Return-on-Investment (ROI) at a Trade School
In contrast to most traditional four-year institutions, career and technical schools specialize in putting students on a more defined path to succeeding in the job market. And they offer the chance to earn quick degrees or diplomas and complete fast career certification programs. Many of the highest-paying entry-level jobs can be attained with only two years or less of focused career education.
That's the real value of short vocational schooling. It's all about getting new opportunities and a positive return on investment (ROI). In this case, ROI refers to the extra amount you can earn in your lifetime as a graduate, after subtracting the cost of schooling and the amount that a typical non-graduate would earn.
The ROI of graduating from a vocational college or trade school is often very good since you learn marketable skills and technical abilities that employers need. Plus, your time is valuable. So why spend extra time training when there are great careers with little schooling you can get into sooner?
---