Registered Nursing Schools and Colleges
Last Updated
Registered nursing schools train students to become an essential part of today's health care systems. Millions of nurses work on the front lines of patient care, providing crucial medical services within hospitals, physicians' offices, community health clinics, nursing facilities, and other health settings.
From assessing patients and monitoring treatment plans to communicating with physicians and advocating for the best interests of patients, RNs can be found performing a broad range of important tasks that are critical to the delivery of comprehensive, quality care.
As a registered nursing graduate, you could be prepared to work within a wide range of healthcare areas, including medical-surgical, psychiatric, home care, and gerontology. Find out more today by finding a school and requesting further details!
---
---
Registered Nursing Schools
Sponsored Listings
Cutler Bay
Orange Park
Pensacola
Port St. Lucie
Centerville
Cincinnati
Columbus
Cuyahoga Falls
Manassas (Northern VA)
Newport News
Richmond
Virginia Beach
Clearwater
Daytona Beach
Fort Lauderdale
Fort Myers
Jacksonville
Lakeland
Melbourne
Miami
Naples
New Port Richey
Orlando
Pembroke Pines
Port St. Lucie
Sarasota
Tallahassee
Tampa
West Palm Beach
Nursing
Nursing BSN (Accelerated)
Nursing BSN (FastTrack)
Nursing BSN (Traditional)
---
Registered Nurse Career Information
What Is an RN?
The RN designation is reserved for nursing professionals who work collaboratively with physicians, licensed practical nurses (LPNs), licensed vocational nurses (LVNs), and other health practitioners to coordinate, deliver, and monitor care to all types of patients, from infants to teenagers to seniors.
In addition to offering clinical care to patients who are sick, injured, or disabled, RNs take on an array of important responsibilities related to:
Patient advocacy
Health promotion
Disease prevention
Personal support
Patient education
Because of these responsibilities, an RN must possess a solid foundation of clinical skills and medical knowledge, as well as the ability to think critically, adhere to ethical guidelines, offer empathy, deal with stressful situations, promote safety, and much more.
In addition to working alongside physicians, many RNs practice independently within community settings, and some pursue careers in policy development, research, teaching, or health administration.
Job Responsibilities
The specific role held by an RN can vary from situation to situation, but here are some of the fundamental responsibilities that are generally associated with this career:
Collecting and recording patient histories
Performing physical examinations
Taking patient vital signs
Assessing patient symptoms and medical needs
Communicating and consulting with physicians and other health professionals
Developing, coordinating, and modifying patient care plans
Setting treatment goals and measures
Giving medications and performing treatments
Operating and monitoring medical equipment
Documenting patient symptoms, care, and progress
Evaluating patient progress and establishing care strategies
Ordering diagnostic tests and analyzing results
Educating patients and their families about treatment and recovery
Supervising licensed practical or vocational nurses, nurse aides, and health care aides
Registered nurses can also handle a variety of tasks outside of the direct care realm. These can include operating health screenings, immunization clinics, public education sessions, and blood drives.
Many RNs go on to obtain specialized training in a particular area of nursing. Here are some of the optional disciplines of nursing:
Addictions: patients with drug, alcohol, or other substance abuse issues
Ambulatory care: outpatients in physicians' offices, clinics, and other venues
Cardiovascular: patients who suffer from heart disease or have undergone heart surgery
Critical care: patients in intensive care units (ICUs) who need close monitoring
Emergency (trauma): patients in emergency departments, typically those who are facing life-threatening situations
Genetics: patients who are suffering from genetic disorders such as Alzheimer's or Huntington's disease
Holistic: patients using holistic therapies such as massage, acupuncture, and aromatherapy
Home health: patients in residential settings
Hospice (palliative care): patients who are facing terminal illnesses and are in need of end-of-life care
Infusion: patients who require medications, fluids, and blood products using intravenous delivery
Long-term care: patients with chronic illnesses or disorders
Medical-surgical: patients who require general medical care
Neonatal: premature and newborn infants
Nephrology: patients with kidney disease and related illnesses
Occupational: patients with job-related afflictions and working with employers to reduce potential risks
Oncology: patients suffering from cancer and cancer-related issues
Pediatric: patients in pediatric wards, from infants to teenagers
Perianesthesia: patients in pre- and post-operative settings who have received or will receive anesthesia during surgery
Perioperative: patients undergoing surgery
Psychiatric: patients who are dealing with mental health issues such as mood and personality disorders
Radiologic: patients who require diagnostic radiation procedures such as ultrasounds and MRIs
Rehabilitation: patients who are facing short- or long-term disabilities
Transplant: patients who are organ transplant recipients or living donors
It's important to note that each state has its own board of nursing which regulates the official RN scope of practice, determining exactly what an RN is and is not permitted to do. So you may want to check out your state's board of nursing conventions in order to understand the rules that apply where you are planning to practice.
LPN vs. RN: Understanding the Difference
With so many designations in the nursing field, it can be tough to know one type of nurse from another or which nurses can do what. There are licensed practical nurses (called licensed vocational nurses in California and Texas), nursing assistants, nurse aides, nurse practitioners, registered nurses, and other nursing professionals who may all work in the same medical settings.
An RN:
Has obtained a diploma, associate degree, or bachelor's degree
Has passed the National Council Licensure Examination for Registered Nurses (NCLEX-RN)
Can provide complex care to patients in an independent or collaborative capacity
Can assess patients, develop and adjust care plans, and order diagnostic tests at their discretion
Can handle higher-level tasks such as advocating for patients or providing patient and family education
Can manage, oversee, and delegate duties to LPNs and LVNs, nursing assistants, nurse aides, and health care aides
An LPN (or LVN):
Has obtained a certificate or diploma in nursing
Has passed the National Council Licensure Examination for Practical Nurses (NCLEX-PN)
Can provide routine care under the direction and supervision of an RN, physician, or another health practitioner
Cannot make decisions about patient care independently
Mainly assists with basic care such as personal hygiene, medication, and mobility issues
Becoming an LPN (or LVN) generally requires less time and less education. However, the job also comes with less responsibility and less room for advancement. In addition, LPNs don't commonly earn as much as RNs.
For many, LPN is considered a stepping-stone toward becoming an RN. Many nursing students complete an LPN or LVN program, take the appropriate licensing examination, and gain some experience in the field before going on to take a registered nursing program.
RN vs. ADN vs. BSN
RN is a professional nursing designation for all registered nurses. The other acronyms represent specific types of educational credentials that lead to becoming an RN. ADN stands for "Associate Degree in Nursing," whereas BSN stands for "Bachelor of Science in Nursing."
Many RNs hold BSN degrees (or a BS in Nursing, which is essentially the same thing) since this is the preferred education for most positions in the field. However, a BSN is not formally required to join the registered nursing profession. You can enter the field in less time if you earn an ADN, which is sometimes called an ASN (Associate of Science in Nursing). Some RNs who graduate with a diploma or associate degree go on to complete their BSN degree (often through a bridge program) in order to advance to a clinical or administrative position, take on additional responsibility, or enroll in a master's degree program.
If you are currently an LPN or RN and are interested in taking a bridge program to get your bachelor's degree, check out these BSN programs.
RN Salary
According to U.S. occupational employment and wage statistics, the median RN salary is $77,600, which works out to $37.31 per hour.*
The highest-earning 10 percent of RNs are paid $120,250 or more.*
Another thing to consider when thinking about this data is that many employers include incentives such as on-site childcare facilities, flexible work schedules, and educational benefits.
Additionally, earning potential can vary depending on the type of employer you're interested in working for. That's why it's a good idea to know the expected salary in different work settings.
Here are the average yearly wages for RNs who work in:*
Outpatient facilities: $93,070
General medical and surgical hospitals: $85,020
Home health settings: $78,190
Physicians' offices: $73,860
Nursing care facilities: $72,260
The five regions where RNs earn the most include California, Hawaii, Oregon, the District of Columbia, and Alaska.*
Job Outlook
National projections indicate that employment of RNs will increase by 6 percent from 2021 to 2031.* This growth can be attributed to a number of causes, including:
Technological advances in the health care industry
Increased focus on preventive medical care
A substantial aging population of baby boomers requiring additional health care
Expansion of RNs working in primary care positions within community settings
A generation of RNs who are nearing retirement
Work Environments
When picturing an RN at work, it is common to envision a hospital as the setting. Although the bulk of nurses do work in hospitals, they can also be found in places such as:
Schools
Doctors' offices
Ambulatory (outpatient) care centers
Home health care services
Nursing homes
Rehabilitation centers
Correctional facilities
Military settings
Public health clinics
In addition to clinical settings, some choose to pursue employment within administrative and teaching environments, which can mean working in a research facility, college, university, or vocational school.
Perks of the Work
It's a respected profession: Becoming a nurse can mean working in a field that is both valued and esteemed.
You can specialize or advance your practice: Through experience and education, you can qualify to work in a variety of nursing areas or move into supervisory or administrative positions.
The work is immensely rewarding: The fulfilling nature of the work is a top reason for choosing this profession. From caring for patients to comforting family members, you could make a real difference in the lives of others.
Nursing is a universal profession: Health care is an essential service. That means job opportunities can be found in all geographic locations.
There is a nursing shortage: Thanks to medical advances, an aging population, and a large number of nurses nearing retirement, there is a growing shortage of nurses. As an RN, that can result in increased opportunities as well as potential employers competing to retain talented staff.
It's a team effort: RNs work alongside a number of professionals, including physicians, practical/vocational nurses, and other health practitioners. This means that you could be part of a collaborative team, working toward the same goals.
No day is the same: In the field of nursing, you can expect to encounter patients of all ages, backgrounds, and situations, giving you the opportunity to enjoy varied and challenging work.
Good pay: In 2018 (according to national estimates), the median RN salary was $71,730, which is considerably higher than the median of all occupations ($38,640).
Flexible hours: Although there can be a downside to shiftwork, many RNs prefer having 12-hour shifts because they often result in condensed workweeks. Some nurses also opt for part-time employment, especially those with young children.
How to Become an RN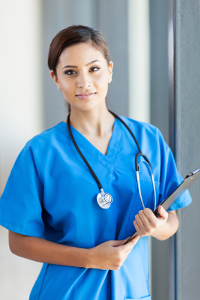 1. Enroll in a registered nursing program
A number of options exist for your education, including hospital-based diploma programs and post-secondary school programs that award associate and bachelor's degrees.
Hospital-based diploma programs are typically offered at hospitals in partnership with local vocational schools and are designed to cover basic areas of nursing care and theory while preparing students to take the appropriate licensing examination. This is considered the minimum level of education necessary to enter the profession.
Associate degree programs provide more instruction than hospital-based diploma programs but still offer a quicker route than a bachelor's degree program. Such programs generally consist of comprehensive clinical and theoretical training, but they usually include only a small amount of general education components.
A bachelor's degree program is the most in-depth educational option and covers more clinical and general education topics than diploma or associate degree programs. That's why successful nursing students at this level of education tend to know a lot of good life and study hacks. By earning a bachelor's degree in the nursing field, you can build a strong foundation in areas such as nursing care and theory as well as behavioral sciences, humanities, health care delivery systems, health policy, and leadership.
2. Take (and pass) the NCLEX-RN examination
After you complete one of the program options listed above, you'll need to apply to take, sit for, and pass the NCLEX-RN licensing examination. This is a requirement in all U.S. states and territories as well as the District of Columbia, and it must be completed before you can practice in the field.
3. Start applying for positions
Getting your first job in the field can be exciting. If your school offers job placement assistance or has a career services department, you could have the opportunity to be lined up with interviews, or you may have access to online job banks. Additionally, many practicum opportunities can result in job offers.
If you have trouble landing a position right off the bat, then volunteering your time with local organizations, hospitals, or clinics can be an excellent way to add experience to your resume and make industry contacts. It can be a good idea to keep an eye out for positions that are temporary or part-time. While these may not be your ideal choice, they can offer the chance to build experience or gain seniority. Plus, depending on the state you are planning to practice in, your license could qualify you to work as a nursing assistant or practical/vocational nurse until you find a suitable position.
Prerequisites
You may need to possess the following credentials in order to be accepted into an RN program:
High school diploma or GED equivalent
CPR certification
High school math and/or science credits
Basic mathematic competency
In addition to any specifically required items, you may want to consider:
Arranging a job shadowing experience or talking to someone already in the profession
Taking as many science and math courses as you can in high school
Developing strong study skills
Education and Licensing Requirements
You need to be aware of the typical registered nurse education requirements as well as the requirements for RN licensing, which include passing the NCLEX-RN examination. This comprehensive examination is required for practice nationwide. It is made up of questions delivered through computer testing.
To take the NCLEX-RN examination, you will need to:
Be at least 18 years old
Graduate from a recognized nursing program
Possess a high school diploma or GED equivalent
Register for the exam and pay the fee (approximately $200)
Provide your fingerprints, signature, photograph, and palm vein scan
Submit to (and clear) a background check
Additionally, you may have to satisfy other requirements for specific state boards of nursing. That's why it's a good idea to check out conditions for licensing in your state before getting started. Further to this, it is often necessary to earn continuing education credits in order to keep your nursing license current.
Depending on where you plan to practice, you will also need professional liability insurance, either at the time that you begin clinical rotations or once you are licensed and ready to start working in the field.
If you are interested in obtaining further credentials, such as certifications related to specialized care, then there are a number of organizations that offer that service.
Length of Schooling
It generally takes anywhere from two to four years to complete a registered nursing program and pass the NCLEX-RN exam.
Here are the most common program options:
Hospital-based diploma: Two to three years
Associate Degree in Nursing (ADN) program: Two to three years
Bachelor of Science in Nursing (BSN) or Bachelor in Nursing degree program: Four years
Accelerated Bachelor of Science in Nursing (BSN) degree program (for those who already possess a bachelor's degree in another field): 11 to 18 months
Master of Science in Nursing (MSN) program (for those who already possess a bachelor's degree): One to two years
Note that if you enroll in a nursing program on a part-time basis, it will take longer to complete your training. But part-time studies can be a good option if you plan to work while you're in nursing school.
Once you graduate from your program, you can apply to take the NCLEX-RN examination. According to 2020 statistics (encompassing January through December) from the National Council of State Boards of Nursing, 86.57 percent of test takers educated in the U.S. passed the exam on the first attempt. While awaiting your results, you can apply for an interim permit that allows for supervised practice until your licensure becomes official.
Program Curricula
What nursing programs cover can be somewhat different from school to school. However, many important topics are common to all RN programs. These subjects can include:
Human anatomy and physiology
Pathophysiology (physiology of disease)
Hemodynamics, blood, and blood products
Pharmacology (types of drugs, side effects, dosages, and interactions)
Safety and infection control procedures and concepts
Patients' rights and advocacy
Confidentiality and information security
Legal and ethical responsibilities
Case assignment, management, supervision, and delegation
Nutrition and oral hydration
Diagnostic testing and laboratory procedures
Parenteral and intravenous (IV) therapies and devices
Vital sign changes and abnormalities
Self-care, mobility, and personal hygiene
Health promotion and disease prevention
Nursing processes (assessment, analysis, planning, implementation, and evaluation)
Care planning (advanced directives, informed consent, and continuity of care)
Hospice and end-of-life care
Medical emergency care and response planning
Safe and correct equipment usage
Crisis management and behavioral intervention
Patient communication and support systems
Potential complications from surgery, treatment, and testing
Lifestyle choices and high-risk behaviors
Health screening and physical assessment techniques
Mental health concepts
Developmental stages, transitions, and the aging process
Abuse, neglect, and substance abuse
Cultural, religious, and spiritual awareness
Grief, loss, and stress management
Many programs also cover a variety of nursing care specialties such as geriatric, obstetric, mental health, palliative, and surgical.
Although you can expect that each RN program won't contain the exact same materials, the knowledge and skills needed to pass the NCLEX-RN are universal, so every program is likely founded upon the same goals.
In addition to classroom-based learning, RN programs contain one or more practicum components, which include clinical rotations. These practicums are designed to provide hands-on experience within various medical settings such as hospital departments, long-term care facilities, and community health organizations. Not only are clinical rotations a requirement of licensing, they are also an opportunity to put your theoretical knowledge into practice.
Room for Advancement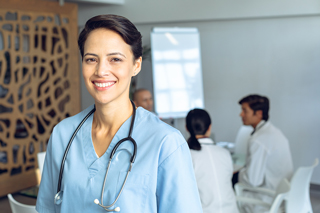 Abundant opportunities exist for expanding an RN career. Through experience and supplemental education in the field, you could move up toward management, coordination, and administration positions.
Additionally, many nurses return to school in order to obtain a Bachelor of Science in Nursing (BSN) or Master of Science in Nursing (MSN) degree. Obtaining a bachelor's degree (if you choose to initially complete a diploma or associate degree program) can allow you to compete for a variety of senior-level positions. Plus, there are online programs designed specifically for working RNs who want to earn a bachelor's, master's, or even doctorate degree while maintaining their current position and workload.
By going on to earn a master's degree, you could qualify to pursue a focused designation as an advanced practice registered nurse (APRN). Within this designation, you could choose to become a:
Clinical nurse specialist (CNS): A CNS offers care and consultations in a variety of specialized areas such as mental health or even administration, research, or education. Those with this designation tend to work in hospitals and other clinical settings.
Certified registered nurse anesthetist (CRNA): A CRNA handles anesthesia delivery as well as pre- and post-operative care. CRNAs can administer anesthesia independently within a variety of health environments such as dental offices and operating rooms.
Certified nurse-midwife (CNM): A CNM is responsible for prenatal care as well as labor and delivery. Typically, CNMs work in hospitals, birthing centers, and home settings, and they can also handle postpartum care.
Nurse practitioner (NP): An NP provides vital primary care within a variety of community situations. NPs can examine, assess, diagnose, and treat patients independently or with physician consultation and supervision (depending on the state of practice).
Additionally, some RNs choose to practice in areas that don't involve clinical care. Some of these careers include:
Forensic nursing
Legal nurse consulting
Nursing administration
Nursing education
Nursing informatics
Nursing research
Health care consulting
Medical writing and editing
Medical and pharmaceutical sales
A doctorate degree can prepare you to advance even further in your nursing career. Nurses have at least two options for doctorates, depending on their goals. A Doctor of Philosophy (PhD) can enable you to pursue research and academic positions. Alternatively, a Doctor of Nursing Practice (DNP) degree can lead to top leadership and administrative roles.
---
---
* Unless otherwise noted, salary information is based on May 2021 data from the Occupational Employment and Wage Statistics (OEWS) program. Job growth and average yearly openings estimates are from the Bureau of Labor Statistics and are for the 2021 to 2031 period.