Pilot and Flight Training Schools
Last Updated
Flight training schools can help your goal for an exciting career in aviation to soar.
If you love to travel and the thought of flying an aircraft intrigues your imagination, then a career as commercial or airline pilot is a smart way to explore your passion. Pilot training gives focused individuals like you the chance to explore a fun career that provides more than just excitement.
Stability. Great earning potential. Respect. The benefits of a career as a pilot can be truly remarkable. Commercial and airline pilots are critical to moving people and cargo from Point A to Point B in a diverse and ever-changing global economy. And the opportunities you can take advantage of when you have a commercial pilot's license are vast.
Begin your journey now by choosing a flight training school and requesting information!
---
Flight Training Schools
Sponsored Listing
---
---
Top 4 Questions About Pilot Training & Aviation Careers
1. What skills do commercial pilots need to have?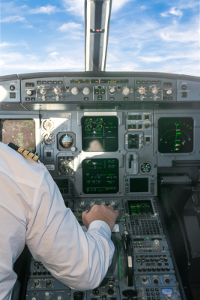 Interest and passion aside, pilots must possess unique skill sets beyond what is learned in ground school or behind the controls of their first trainer plane. They must have excellent communication, observational, and problem-solving skills. They must be able to clearly convey important information to air traffic control towers, flight crew members, and passengers as well as listen for instructions and understand what is required of them.
Pilots should have keen situational awareness to properly assess the impact that other aircraft and objects might have on the safe operation of their aircraft. Additionally, the ability to execute split-second decisions is vital and relies on a combination of excellent problem-solving skills and quick reaction time.
2. What education is required to become a pilot?
While some commercial pilots start out behind the controls of a military aircraft, many others opt to receive their training by enrolling in certified aviation programs. Regardless of whether you want to learn the basics to earn a commercial pilot's license or captain a passenger airliner, the skills you will need begin with a certified pilot training program. (In general, airline pilots operate aircraft to deliver passenger and cargo on a fixed schedule. Commercial pilots can generally be found engaged in a variety of aerial activities from charter flights and crop dusting to rescue operations and aerial photography.)
According to the Bureau of Labor Statistics (BLS), commercial pilots, at the bare minimum, must have earned their high school diploma, or equivalency, prior to applying for their pilot licensure. And any prospective employer might layer in additional requirements. For instance, employers looking to hire crop dusters might also require the pilot to demonstrate an understanding of basic agricultural practices.
If you are looking at earning a rewarding position with one of the regional or national carriers, however, you will most likely be required to have a bachelor's degree along with a commercial pilot license and appropriate certification from the Federal Aviation Administration (FAA).
3. How can I advance in my career once I earn my pilot licensure?
With a 2021 median pay of $202,180, according to data from the Occupational Outlook Handbook, airline pilot positions are understandably competitive.* However, the time couldn't be better to get flight training. Many industry sources such as Boeing predict looming shortages of both pilots and mechanics in the coming decades.
4. How do I get started?
If you are ready to take that next step that leads to the left seat in the cockpit of a commercial airline carrier, then the time is now. All you need to do is select a school and request information. A future in aviation is really yours for the taking—act now to get it started today.
---
---
* Bureau of Labor Statistics, U.S. Department of Labor, Occupational Outlook Handbook, https://www.bls.gov/ooh/ (visited August 16, 2023).