Graphic Design Schools Near You
By Publisher
| Last Updated
Find graphic design schools near you or online. You can choose from a variety of convenient programs for learning a wide range of creative and technical skills. By attending a college, university, or trade school for graphic design, you can become job-ready for a career that provides variety, flexibility, and excellent opportunities for advancement.
---
Graphic Design Training
Many graphic design jobs require a degree in this field, particularly those at large or midsized organizations. However, many clients and employers care more about experience and the quality and creativity of work in a graphic designer's portfolio than about their particular education. Technical training in professional design software is also a must. Many inexperienced graphic designers are able to build up their real-world experience through internships, volunteering, or paid freelance work.
Benefits of Attending Graphic Design School
Better career prospects: People who get a formal education in graphic design tend to have more and better-paying jobs open to them compared to self-taught people. Even though many employers place more value on designers' portfolios than their educational credentials, a degree, diploma, or certificate in this field is often necessary to get your foot in the door. Formal training also gives you more credibility among other designers.
Free or discounted access to design software: Most graphic design schools have computer labs where students can learn and practice their technical skills at no additional cost. Some schools even provide laptops with all the software you need pre-installed. Also, Adobe's student discounts make getting the required software much more affordable in situations where you need to purchase it yourself.
Built-in mentorship: Going to school for graphic design allows you to learn from teachers who may have years or decades of meaningful experience in the field. Some programs even incorporate workshops where highly talented guest speakers share their insights and tips about the design profession. A school setting provides ample opportunities for learning how to communicate about design, including sharing and constructively accepting criticism.
Length of Training
Although shorter programs are available, most graphic design students complete courses of study that last from 12 to 48 months.*
Most Common Length of School*
(range in months)
Photography

Graphic design

Web design

Computer animation
Graphic Design Program Options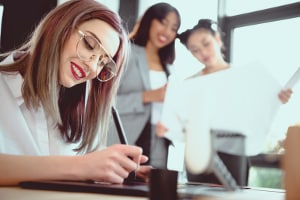 Certificate and diploma programs: An education at this level typically takes about a year. Although much less common, it's also possible to find courses that take as little as six weeks or as long as 18 months for full-time study. Some programs are designed for up to three years of part-time study.* These types of programs tend to have a heavy emphasis on teaching students how to use design software. They vary in the amount of attention they give to basic design principles. They can be worth taking if you already have some familiarity with the general design and creative process or if you're only pursuing freelance jobs or positions with small companies.
Associate degree programs: By earning an Associate of Arts (AA) or Associate of Applied Science (AAS) degree in graphic design, you can qualify for a much wider range of employment opportunities, including jobs with midsized organizations. Usually designed to take about two years, some accelerated programs can be completed in 18 months.* At this level, you typically study the fundamentals of design, learn how to use industry-standard software, complete a variety of projects, take a few general courses like math and English, and develop a professional portfolio.
Bachelor's degree programs: These are the most common courses of study in this field. By earning a Bachelor of Arts (BA) or Bachelor of Fine Arts (BFA) degree in graphic design, you can pursue jobs with organizations of any size. Programs at this level generally take four years to complete.* They include the widest variety of basic, intermediate, and advanced courses and projects in graphic design as well as classes in several other subject areas that help give you a well-rounded education.
Master's degree programs: You can pursue this education level if you have a bachelor's degree. Graduate programs in graphic design cover this field's key aspects in more depth and typically take an additional two years to complete.* This type of program isn't all that common, but it can be worth taking if you ever want to become a manager or executive in a large organization or teach design at a private college, state university, or other post-secondary school.
---
---
Typical Graphic Design Courses
Program coursework can vary a great deal from school to school. A lot depends on the length and depth of the curriculum.
Some schools place a heavy emphasis on developing students' skills with professional graphics software. Others place more focus on design theory and provide the opportunity to develop traditional art skills that aid in the creative process. However, many schools provide a good balance of both. They allow you to learn how to conceptualize a design as well as how to use the tools that help you execute that design.
A basic graphic design curriculum often includes courses that cover areas like:
Essential design principles
Color theory
Typography
Identity design
Visual systems design
Photography fundamentals
Digital imaging and photo editing
Professional design software such as:

Adobe Photoshop
Adobe Illustrator
Adobe InDesign

Print production
Basic web and digital media design
Digital asset management and file preparation
Portfolio development
Many graphic design programs include courses in additional subjects like:
Life drawing
Digital illustration
Motion graphics
Art and design history
Math
English
Marketing
Writing
Psychology
Sociology
Cultural issues
Entrepreneurship
Business software such as Microsoft Office
Skills You Can Learn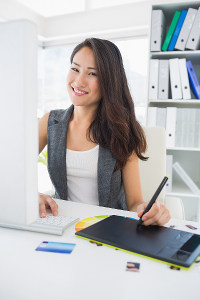 Depending on the particular graphic design school and program you choose, you may have the opportunity to develop abilities related to:
Generating and evaluating new concepts
Creating designs and solving visual problems using principles such as:

Alignment
Balance
Color
Contrast
Negative space
Proximity
Repetition
Visual hierarchy

Choosing appropriate fonts and setting type elements like:

Alignment
Kerning
Leading
Size
Style
Weight

Developing visual brand identities
Listening to and communicating effectively with stakeholders
Using Adobe Photoshop, Illustrator, and InDesign
Staging, taking, and selecting photographs
Editing digital images
Creating simple motion graphics
Using basic HTML or CSS to create website layouts and interfaces
Designing simple websites with WordPress or similar platforms
Selecting or creating digital and/or hand-drawn illustrations
Presenting design mockups
Revising designs and layouts based on feedback
Preparing computer files for printing or digital uses
Selecting appropriate paper stocks and finishes
Creating a professional portfolio
Licensing & Certification
Graphic designers do not need to be licensed or certified by any organization or government body. However, some designers choose to get certified through Adobe by passing exams that test their knowledge of particular software applications.
It's worth considering that type of voluntary certification if you haven't earned a graphic design degree and don't plan on doing so. In that situation, becoming Adobe-certified may show employers that you have the necessary technical skills for certain design jobs.
Education & Training FAQs
Can I learn graphic design on my own?
Some people are able to learn graphic design and achieve success without going to school for it. They read books and design blogs, watch online video tutorials, and practice what they learn by doing a variety of projects.
However, studying on your own isn't always a reliable way to learn everything you need to know for this field. It can also prevent you from being able to pursue the majority of design jobs that require a degree or formal education. And it requires a lot of patience and self-discipline.
Without getting a graphic design education through a trade school, college, or university, you may miss out on:
Constructive feedback that pushes your talents beyond their current limits
The experienced guidance of instructors who compel you to learn all of the technical and conceptual subtleties of the field (not just the aspects you find most interesting)
The camaraderie of other creative students who can challenge, inspire, and encourage you
As a self-taught designer, the quality and originality of work in your portfolio will be even more critical to your success.
Do I have to learn how to draw in order to be a graphic designer?
Not necessarily. Although many graphic designers are also good visual artists, most jobs in this field don't require advanced drawing ability. In some cases, you may just need to be able to communicate preliminary ideas through very simple sketches, which don't have to be beautiful visual art. Some graphic design positions don't require any sketching.
That said, learning how to draw can be beneficial for your career. For one thing, it can allow you to create illustrations when small budgets prevent the hiring of outside illustrators for certain design projects. Drawing can also help you improve your ability to:
Think creatively and conceptualize solutions
Design logos that rely more on imagery than type
Organize and present information
Notice small visual nuances
Recognize how visual details fit into an overall image or design
---
Graphic Design Schools
Sponsored Listings
Graphic Design and Media Arts:

User Experience Design
Web Design
Atascadero, California
Chula Vista, California
Oxnard, California
San Luis Obispo, California
Santa Maria, California
Las Vegas, Nevada
Online
Visual Design and Multimedia
Lakeland, Florida
Pembroke Pines, Florida
Port St. Lucie, Florida
North Wales, Pennsylvania
Computer Graphics and Design
Computer Graphics Specialist
---
---
Graphic Design Career Information
Graphic designers are part of an exciting and challenging profession that involves much more than creating visually pleasing layouts. The field offers terrific potential for skilled creative professionals to earn good salaries, become self-employed, specialize in cool areas, and move into more advanced roles.
Career Outlook
3.8% decline from 2019 to 2029
Median Salary
Graphic Designers
Job Openings
Average Yearly Openings
Length of Training
Most Common Length
Work Settings
Specializations
Brand identity, web and user interface (UI) design, print media and communications, product packaging, environmental graphics, data visualization, motion graphics
Sources
U.S. Bureau of Labor Statistics
U.S. Department of Education
Earnings
Among graphic designers, the median salary is $52,110, according to estimates from the Occupational Employment and Wage Statistics (OEWS) program. Those at the upper end of the salary range make over $89,210.
Those numbers don't take into account the extra income that you may be able to earn by doing freelance work on the side. Once you've gained enough clients and experience, working full-time as a self-employed graphic designer can also boost your earning potential.
In addition, many graphic designers achieve much higher salaries by specializing in web and digital interface design or by advancing into a senior position like art director.
Median Annual Wage Comparison
Job Openings & Outlook
Between 2019 and 2029, the overall employment of graphic designers is expected to decline by 3.8 percent. That's based on projections from the Bureau of Labor Statistics (BLS). However, an average of 22,700 job openings could still become available each year as people retire or move into other occupations.
A reduction of jobs in print media is responsible for most of the decline in graphic design employment. The demand for paper publications like printed books, newspapers, and magazines continues to shrink. But digital media is on the rise, providing job growth for graphic designers who know how to help craft good visual layouts and optimize the user experience on websites, mobile apps, games, and other electronic projects.
Key Benefits
Career flexibility: Graphic design is a highly portable vocation. After all, good visual communication is necessary in almost every industry and every part of the developed world. You can explore, mix, or bounce between different specializations. You can work from almost anywhere, thanks to the Internet. And you have the option of working for yourself, working for an employer, or doing a mix of both. More than 20 percent of graphic designers are self-employed.
Extraordinary advancement potential: With as little as a few years of full-time experience in this field, you can pursue higher-paying senior positions with titles such as design manager, chief designer, art director, creative director, or design director. By mastering this profession and gaining a graduate-level design education, you can also pursue teaching jobs at art schools or other colleges and universities that offer graphic arts programs.
Day-to-day enjoyment: Every new project brings a new adventure. The creative design process involves solving interesting challenges, brainstorming fun possibilities, and trying out many options. As you gain momentum behind a great concept, you can experience moments of euphoria and deep satisfaction. Plus, the highly varied tasks that go into completing a design project can stave off boredom and keep you feeling engaged.
What a Graphic Designer Does
The tasks of graphic designers are highly dependent on factors like whether they work alone or as part of a creative team, whether they are in a junior or senior role, the particular kinds of projects they are working on, and which stages those projects are in.
So, depending on those factors, a graphic designer might carry out tasks such as:
Fact-Finding, Idea Generation, and Planning
Brainstorming ideas and concepts for new design projects within the context of an overall branding, communications, and marketing strategy
Analyzing problems and gathering information
Consulting with copywriters, art directors, and clients to nail down a plan for executing a design concept that will most effectively communicate an intended message to a chosen demographic
Sketching preliminary ideas for logos, layouts, or illustrations
Assisting with the development of a corporate communications strategy
Project Execution
Selecting and arranging the most appropriate typefaces, images, color palettes, and other visual elements for a particular design
Using professional computer graphics software such as Adobe Photoshop, Illustrator, and InDesign to mock up and execute design projects like logos, ads, flyers, posters, brochures, business cards, catalogs, magazine layouts, corporate reports, promotional displays, product packaging, and much more
Collaborating with copywriters to ensure that any required text works well within an overall design
Consulting with printers over paper and binding options, costs, timelines, proofs, and more
Producing illustrations or other custom images for print and/or electronic media using special software, cameras, and computer accessories like digital drawing tablets
Consulting with web developers and programmers to create the best possible graphical user interface for a particular website or mobile app
Using software such as Sketch, Figma, Adobe XD, or InVision Studio for web or UI design mockups and prototypes
Revisions, Approval, and File Prep
Presenting designs to art directors or clients for their approval
Carrying out any needed revisions
Preparing appropriate files for a printer or for use in a specific electronic format
Proofing work for mistakes and compliance with branding guidelines
Self-employed graphic designers also develop new business contacts, market their services, submit proposals to potential clients, and perform various administrative tasks.
Work Settings
There is no standard employment situation or work environment for graphic designers. They can be part of organizations' in-house marketing, design, or production teams. They can work for outside agencies or studios. Or they can be freelancers with clients in multiple industries.
Examples of common work settings include:
Design studios
Advertising agencies
Corporate offices
Marketing and public relations firms
Home offices
Media studios
Printing facilities
Government or non-profit offices
Museums
Post-secondary schools
Specializations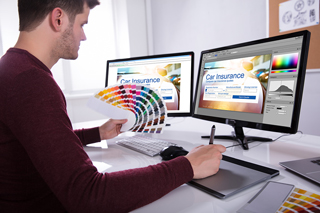 Most graphic designers get to work on several kinds of projects in their day-to-day jobs and throughout their careers. But some choose to focus their talents in particular areas. Here are some common examples.
Brand identity: Design logos, business cards, letterheads, and other core assets for companies, organizations, or individuals. Also, draft style rules and guidelines that provide direction on how and when to use (or not use) specific visual elements such as colors, typefaces, and images.
Web and user interface (UI) design: Help create functional and visually appealing layouts, navigational systems, and user experiences for websites, mobile apps, video games, or other forms of digital media.
Print media and communications: Focus on designing attractive and easy-to-read layouts for printed publications like books, magazines, and newspapers as well as marketing collateral such as brochures, flyers, catalogs, newsletters, posters, and more.
Product packaging: Specialize in designing the 3D materials that protect products, get the attention of consumers, and provide factual, useful, and persuasive information about the enclosed goods.
Environmental graphics: Help craft visual systems that catch people's attention and enable them to find their way in new places or gain a heightened understanding or appreciation for particular subjects. Designers in this area often create signage, visual cues, free-standing displays, and interactive design elements for retail environments, public spaces, trade shows, or museum exhibitions.
Data visualization: Turn complex facts and statistics into simplified visuals that are easier to understand (such as charts, diagrams, or other infographics).
Motion graphics: Design animated text or imagery for film, television, video games, websites, online videos, or multimedia projects using software like Cinema 4D or Adobe After Effects.
Career FAQs
Why is graphic design important?
From the first cave drawings, visual communication has been a critical component of human interaction. It's part of how we understand each other. But just as the poor use of verbal or written language can cause breakdowns in communication, so can the poor use of visual elements.
That's why graphic design is important. Done well, it clarifies the messages we wish to communicate.
In business, thoughtful design can provide many benefits, including:
A competitive advantage
Stronger customer trust and loyalty
Increased market share
Clearer differentiation from other brands in the marketplace
Plus, it has the power to enhance our understanding of complex ideas and societal challenges. It can even bring attention and public support to movements for needed social change.
Good visual design enriches the human experience, appeals to our emotional center, and makes much of what we take for granted possible.
What's the difference between a graphic artist and a graphic designer?
In today's visual communications landscape, the two job titles are often interchangeable. However, some professionals, employers, and educational institutions in this field prefer to make clear distinctions. In their view, graphic artists are more focused on creating illustrations that utilize their drawing skills. In contrast, graphic designers create layouts that may utilize a wide variety of imagery, text, and other visual elements that don't necessarily require any drawing.
This wasn't always the case. In many situations, before the widespread use of computers, graphic artists primarily carried out the technical aspects of producing a printed piece, such as physically setting type and screening photos. Also known as a production artist, a graphic artist handled the job's execution under the graphic designer's direction. It was the graphic designer, not the graphic artist, who developed the concept and design.
As with everything, however, there are exceptions. Some employers have retained the old hierarchy. And some have even flipped it, preferring the term "artist" for those who perform more of the conceptual work.
Where should I work when I become a graphic designer?
This field provides a surprising number of career options for those with determination and the creative talent and skills to back it up. Just about all businesses and organizations must adopt a well-crafted communications strategy in order to remain competitive and ensure that their messages get noticed and understood. Here are five of the most popular work options:
Design studios vary in size, but they are usually small companies. Design studios generally offer such opportunities in abundance for people who love creating logos, brochures, and packaging. Many provide clients with creative solutions for both print and the Web.
Advertising agencies usually provide more opportunities to do work that will be seen by many people. Although they are often fun places to work, they can also be very demanding due to clients' high expectations. Full-service firms provide their clients with complete brand strategy, design, production, and media buying services for every media type, including print, television, radio, and the Web. Smaller agencies frequently specialize in just one or a few creative services such, as brand development or online marketing.
In-house marketing departments are integral to the success of many companies and organizations. Graphic designers typically aid in the production of items like brochures, promotional displays, annual reports, catalogs, training materials, and, sometimes, advertising campaigns. The upside to working for an in-house art department is that you only have one client (your employer), so you get to know them very well.
Publishing and entertainment jobs vary greatly. Publishing includes companies that put out electronic and print magazines, newspapers, books, and business directories. Duties typically involve a lot of typesetting, layout work, photo manipulation, and advertising creation. Many TV, film, and gaming companies employ graphic designers to produce on-screen graphics, including motion graphics for credit and title sequences. Designers are also often responsible for creating various promotional materials.
Self-employment offers the freedom to select projects, gather your own clients, and set your own schedule. But the freelance lifestyle is not for everyone. It can mean unsteady paychecks, longer work hours, and design that may not always reach a large audience. Those who are self-employed also have the expense of keeping their computers and software packages up to date, networking to find new clients, and handling business administration tasks.
How can I get noticed as a new graphic designer?
First, make sure you have an online portfolio of your best work. You don't necessarily need to have your own website, but your work should be posted where potential clients, employers, and other designers can see it. Check out platforms like Behance and Dribbble for this purpose.
Also, get out and start networking. By attending design conferences and similar events, you can meet successful art directors, senior designers, and other creative professionals who can give you leads on potential opportunities or help point you in the right direction. Look into conferences like Adobe MAX and the Smashing Conference. Or become a member of AIGA and attend events put on by your local chapter.
Volunteering your design services to non-profit groups is another good way to develop contacts and good references.
You can also separate yourself from much of the competition by developing professional writing and editing skills. Or perhaps you have a knack for programming. Acquiring a combination of great design, writing, and coding skills is a sure way to get noticed since it is so rare.
---
Trade Schools for Graphic Design Make It Easy to Get Started
By checking out graphic design schools near you, you'll follow in the footsteps of many other talented and creative people. A trade school program can help you become a skilled, knowledgeable, and credible graphic designer with good prospects in a career you enjoy.
---
* Length of training information is based on a combination of information from the Occupational Outlook Handbook, the U.S. Department of Education, and a wide sampling of relevant program lengths from about 30 individual school websites. They are a mix of public, private non-profit, and private for-profit institutions.