---
---
Graphic Design Career & Education Information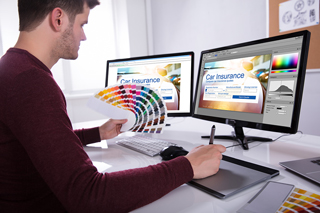 Possibilities abound for those with the impulse to make a living from their creative talents. That's because the impact of art and design can be huge, even if it is difficult to measure. We'd surely miss the work of creative professionals if it all suddenly disappeared.
Artists and designers matter. Plus, a hefty percentage of all communication is visual. This is where graphic designers come in. But graphic design isn't just about making things look good. There is far more to this career than you may imagine.
Graphic design is an exciting and challenging occupation that involves much more than creating visually pleasing layouts.
This career can broadly be described as work in which a skilled designer combines text with appropriate images and colors (and, sometimes, animation and sound) to produce functional value and desired results as part of a planned communication strategy.
It incorporates the work of illustrators, photographers, and copywriters into one package that is more powerful than the sum of its individual parts. However, graphic designers are increasingly being asked to become more than just visual artists. Many now perform the work of information architects, web developers, writers, and multi-media specialists as part of their creative duties.
---
The Importance of Graphic Design
From the time of the first cave drawings, visual communication has been a critical component of human interaction. It's part of how we understand each other. But just as the poor use of verbal or written language can cause breakdowns in communication, so can the poor use of visual elements.
That's why graphic design is important. Done well, it clarifies the messages we wish to communicate.
In business, thoughtful design can provide many benefits, including:
A competitive advantage
Stronger customer trust and loyalty
Increased market share
Clearer differentiation from other brands in the marketplace
Plus, it has the power to enhance our understanding of complex ideas and societal challenges. It can even bring attention and public support to movements for needed social change.
Good visual design enriches the human experience, appeals to our emotional center, and makes much of what we take for granted possible.
---
Day-to-Day Responsibilities
The job duties of professionals in this field are about as diverse as the many different sectors they work in. Some specialize in designing for print media. Some only do graphics for film and television. Others focus almost exclusively on designing for the digital realm, which includes websites, mobile apps, and interactive media like video games.
So you'll likely get many different answers if you ask different designers how to write a job description. Roles can vary significantly from employer to employer.
Still, in general, a day in the field will typically include a mixture of some of the following tasks:
Fact-Finding, Idea Generation, and Planning
Brainstorming ideas and concepts for new design projects within the context of an overall branding, communications, and marketing strategy
Analyzing problems and gathering information
Consulting with copywriters, art directors, and clients to nail down a plan for executing a design concept that will most effectively communicate an intended message to a chosen demographic
Sketching preliminary ideas for logos, layouts, and illustrations
Assisting with the development of a corporate communications strategy
Project Execution
Selecting and arranging the most appropriate typefaces, images, color palettes, and other visual elements for a particular design
Using professional computer graphics software such as Adobe Photoshop, Illustrator, and InDesign to execute print design projects, including brochures, catalogs, magazine layouts, corporate reports, promotional displays, product packaging, and much, much more
Producing illustrations and other graphics for a range of print and electronic media using special computer software and tools like digital drawing tablets
Consulting with web developers and programmers to create the best possible graphical user interface for a particular website or mobile app
Preparing mockups of design projects
Consulting with printers over paper and binding options, costs, timelines, proofs, and more
Revisions, Approval, and File Prep
Presenting designs to art directors or clients for their approval
Carrying out any needed revisions
Preparing appropriate files for a printer or for use in a specific electronic format
Proofing work for mistakes and compliance with branding guidelines
Many graphic designers also choose computer equipment and software, develop new business contacts, and perform administrative tasks (especially if working as freelancers).
---
Graphic Artist vs. Designer
For all practical purposes, there really is no meaningful difference between the two roles in today's visual communications landscape.
The two job titles are pretty much interchangeable. Different employers and education programs may use different terminology, but they are usually all referring to the same type of creative professional.
This wasn't always the case. In many places (before the widespread use of computers), it used to be that "graphic artists" referred to people in the commercial arts who primarily handled the technical aspects of producing a printed piece, such as physically setting type and screening photos. A graphic artist handled the production of a job under the direction of a graphic designer's specifications. It was the graphic designer, not the graphic artist, who developed the concept and design.
As with everything, however, there are exceptions. Some employers have retained the old hierarchy. And some have even flipped it, preferring the term "artist" for those who perform more of the conceptual work. In general, though, the lines have blurred and you can mostly assume that the two job titles now mean the same thing.
---
Career Options
The field provides a surprising number of career options for those with determination and the creative talent and skills to back it up. In fact, there is no standard employment situation or work environment for graphic designers. The possibilities are as broad as your imagination. So, what can you do with a degree?
Lucrative Sectors
Just about all businesses and organizations must adopt a well-crafted communications strategy in order to remain competitive and ensure that their messages get noticed and understood. And the need for talented, creative professionals is ever present in the world of media and entertainment. So if you choose a career in graphic design, some of the sectors open to you could include:
Publishing companies, including those that produce magazines, books, and newspapers in print or electronic media
Studios and production companies for television and film
Music labels
Advertising agencies
Small design studios
Public relations and marketing firms
Environmental design companies
Video game producers
Software companies
In-house corporate marketing departments (in almost every industry)
Non-profit organizations
Government communications departments
Freelancing
In addition to options for employment in the above sectors, graphic designers also have the ability to produce work on a contract basis as self-employed freelancers. This makes for an incredibly flexible career choice.
Career Advancement
Regardless of their employer, most begin their careers in roles that are supervised by designers with more experience. Initially, you may only be doing the work of a production artist, which means doing the technical work of executing the designs and concepts of someone else (such as a more senior designer or art director).
With experience, however, comes the potential for advancement into higher positions with titles such as design manager, chief designer, associate art director, art director, creative director, or design director. And, as you master the graphic design profession, you can even utilize your expertise by teaching at a design school or opening your own communications firm.
---
Salary
Graphic design salaries vary significantly depending on employer, location, industry, and level of experience. But based on Occupational Employment Statistics (OES) program estimates from May 2018, the annual wages break down like this:
The median graphic design salary was $50,370.
The highest-earning 10 percent made $85,760 or more.
Keep in mind that these numbers don't take into account the extra income that can be generated as a part-time freelancer or self-employed graphic designer. The salaries above also represent primarily those designers who have not advanced into a higher position.
Graphic designers who work their way up and become the equivalent of art directors can earn much more. OES program estimates from 2018 for the annual wages of art directors look like this:
Median wages were $92,780.
The highest-earning 10 percent made $172,570 or more.
---
Getting Started in the Field
A good design school can help you develop your full range of talents while giving you practice on a diversity of projects and teaching you about the creative process, as well as design itself. Plus, most full-time jobs now require applicants to possess at least an associate degree, if not a bachelor's, in graphic design or visual communications.
Picking a Graphic Design School
As you explore the options, here are some things to be aware of:
Some schools may ask to see a small sampling of your recent artwork, especially sketches from real life. They just want to know that you have some basic artistic ability as well as the genuine enthusiasm and commitment to see your design education through.
Some schools have programs that focus intensely on computer design skills, while others (primarily universities) focus more heavily on design theory as part of a broader liberal arts education. Many schools, however, do a great job of incorporating both computer skills and design theory.
Some design schools offer assistance in finding internships or other freelance opportunities for their active students and past graduates.
After You Graduate
School, of course, is only the first step. You need to know more than just where and how to train to become a graphic designer. The real opportunities begin after you graduate. As you look for graphic design work, consider these points:
Your Portfolio
Your portfolio is your biggest asset. In fact, having a good one is essential. You'll want to make sure you know how to make your portfolio the best it can be.
Your work should be capable of speaking for itself, but you'll also want to show potential employers that you're enthusiastic and confident in the abilities that allowed you to create it.
Networking
Attending design conferences regularly can allow you to mingle with—and meet—successful art directors, senior designers, and other creative professionals who can help point you in the right direction. (And don't be afraid of networking if you're shy. If you're willing to use your shared interest in graphic design to connect with like-minded individuals, you may discover that this field is actually one of the best careers for shy people.)
Volunteering your design services to non-profit groups is also a good way to develop contacts and good references.
Web Skills
Many of the best young designers are teaching themselves how to code websites, mobile apps, and games. As a result, more and more employers now want graphic designers who have at least a basic knowledge of markup and coding languages like HTML, CSS, ActionScript, MySQL, PHP, and JavaScript. It pays to learn all you can.
---
Positive Aspects of the Career
Moments of euphoria—Nothing feels better than being in that zone of creativity where time disappears, you've got momentum behind a great idea, and everything seems to come easily. When such moments occur, you feel lucky to be getting paid to experience them.
Greater appreciation for life's visual nuances—When you've been trained to pay attention to the subtle details in your designs, you start to notice the beauty in things that other people often take for granted. Your awareness can extend far beyond the spacing of a simple typeface to many other little things that make life so visually inspiring.
A sense of satisfaction—It feels good to see your ideas come to life in a finished design project. The feeling of a job well done can happen whether it's a result of your vision, your client's vision, or both.
Flexibility—Graphic design is a portable career option since good visual communication is necessary in almost every industry and every part of the civilized world. And, thanks to the Internet, it can now be done from just about anywhere. Designers also have the option of working for themselves as freelancers, working for employers, or doing a mix of both.
Built-in exploration—The creative design process involves brainstorming fun possibilities and exploring many options. Designers often get to encounter and learn about new ideas, objects, locations, and people as part of their work. Every new project brings a new adventure.
Variety—Most enjoy an exciting diversity of projects. Couple that with the variety of tasks that go into producing any single design and the typical day of a graphic designer is usually anything but typical.
---
Tuition
If you choose to go to graphic design school, you'll likely have a few options. The cost to attend will vary for each one. If you decide to work as a freelance designer after graduating, you'll have some additional expenses.
Tuition tends to range from as little as $4,000 to $50,000 or more depending on the type of school, its location, and whether you are pursuing a two-year associate degree or a four-year bachelor's degree.
Because the programs at many art and design schools incorporate traditional studio arts (like drawing, painting, and sculpture), additional expenses might be required for art supplies.
---
Graphic Design Program Curricula
Programs can vary a great deal. A lot depends on the school you choose.
Some schools place a heavy emphasis on developing their students' skills with professional graphics software. Others focus more heavily on design theory and developing traditional art skills that aid in the creative process. However, many schools provide a good balance of both. They allow you to learn how to conceptualize a design as well as how to use the tools that help you execute that design.
A Basic Curriculum
Life drawing
Color theory
Design principles (e.g., form and composition)
Typography
Photography
Image manipulation
Adobe Photoshop
Adobe Illustrator
Adobe InDesign
Web design fundamentals
Flash
Dreamweaver
Offset printing
Preparing artwork and digital files for production
Additional Subjects in Some Graphic Design Programs
Writing
Art history
Psychology
Marketing
Business fundamentals
Sociology
Cultural studies
---
Outlook for Jobs
Overall, Occupational Outlook Handbook data reveals that graphic design employment is expected grow by three percent between 2018 and 2028. However, it is worth noting that certain industries are expecting much higher growth. Just take a look at the projected graphic design job growth in the following sectors:
Online shopping—49 percent
Ambulatory healthcare services—27 percent
Computer systems design and related services—24 percent
Retail trade—21 percent
Software publishing—19 percent
Along with higher job growth expected in certain industries, the field is also currently undergoing some big (and exciting) changes. In some sectors, graphic designers' traditional roles are being expanded.
Data visualization, for instance, is now coming into its own as a bona fide profession. The world needs people who can take complex data and turn it into simplified visuals that are intuitive, easy to understand, and tell a story.
Prospects will likely be best for those who have print, Web, and interactive design capabilities.
You can also separate yourself from the competition by developing professional writing and editing skills. Or perhaps you have a hidden knack for programming. Acquiring a combination of great design and coding skills is a sure way to get noticed since it is so rare.
By harnessing the creativity you were born with, your career possibilities really are endless.
---
Main Career Categories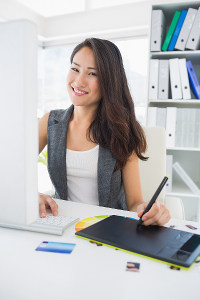 When you get past the seemingly endless list of possible job titles—layout artist, creative director, illustrator, production artist, art director, photo editor, brand identity specialist, etc.—there are essentially five broad categories of employment in this field:
1. Publishing and Entertainment
This is where you'll find most jobs. Projects and working conditions vary greatly depending on the employer. Designers that have print expertise, experience at creating graphics for the Web, and some skill at producing Flash animations are especially desired.
Publishing includes those companies that put out electronic and print magazines, newspapers, books, and business directories. Duties typically involve a lot of typesetting, layout work, photo manipulation and advertising creation.
In the entertainment sector, television and film companies employ graphic designers to produce on-screen graphics, including motion graphics for credit and title sequences. They are also often responsible for creating printed and Web-based promotional materials.
2. Advertising Agencies
If you want the chance to work with well-known brands, this is generally the sector to be in. Though they are often fun places to work, advertising agencies can also be very demanding due to the high expectations of clients.
Full-service firms provide their clients with complete brand strategy, design, production, and media buying services for every type of media, including print, online, television and radio. Design work at such agencies often encompasses a wide variety of projects for many different clients. Jobs like these can be very fulfilling; however, the hours and pace of work often stray from the normal 9-to-5-weekday routine.
Smaller advertising agencies frequently specialize in just one or a few creative services such as brand development or online marketing. Some still offer full services, but they tend to keep a smaller client base. Regardless of size, working for an advertising agency usually provides the opportunity to do work that will be seen by many people.
3. Design Studios
These firms tend to specialize only in graphic design and visual brand strategies. They vary in size, but are usually small companies with fewer than 100 employees. For individuals that love creating logos, brochures and packaging, design studios generally provide such opportunities in abundance. They typically provide clients with creative solutions for both print and the Web. Working conditions differ substantially depending on the employer.
4. Corporate Marketing Departments
Many companies utilize their own in-house marketing communications department. Graphic designers at such companies typically aid in the production of items like brochures, promotional displays, corporate annual reports, catalogs, training materials and, sometimes, advertising campaigns. The upside to working for an in-house art department is that you only have one client, so you will have the opportunity to get to know them very well.
5. Self-Employment
With the freedom to select projects, gather your own clients and set your own schedule, it's easy to understand why so many people choose to take this route. But the freelance life is not for everyone. It can mean unsteady paychecks, longer work hours and design that may not always reach a very large audience. Those who are self-employed also have the expense of keeping their computers and software packages up-to-date, networking to find new clients and handling business administration tasks. It's for these reasons that many graphic designers work for an employer full time—moonlighting as a freelancer when they want some extra variety—or combine their freelance work with a part-time job.
---
Get Moving
With a killer portfolio and the skills to back it up, you can establish a career that's perfect for you. Schools offering graphic design courses can be found in practically every major city. So tap your creativity and start designing the life you want!
---