Colleges & Trade Schools in Pennsylvania
By Publisher
| Last Updated
In Pennsylvania, countless people continue to create their own success stories. With convenient and streamlined training from technical colleges and trade schools in Pennsylvania, you can take advantage of great opportunities in health care, business, skilled trades, and many other occupations.
---
Education & Training in Pennsylvania
Students in Pennsylvania can benefit from a huge variety of higher education and career training options designed to help them succeed. Many Pennsylvania residents are eligible for state or federal financial aid if they attend accredited schools. Financial aid makes it more affordable to complete certificate, diploma, or degree programs (including those that provide hands-on training for in-demand vocations).
Key Benefits for Students in Pennsylvania
Higher potential for achieving your educational goals: Pennsylvania ranks fifth among all states for college graduation rates.
More chances for one-on-one instruction: On average, public and private degree-granting schools in Pennsylvania have lower student-to-faculty ratios than the nationwide averages.
Good prospects for a fulfilling life outside of school: Several networking groups throughout Pennsylvania make it easier for college students and graduates to grow their social connections and enhance their professional skills. Plus, Pennsylvania is a great place to pursue internships, apprenticeships, and other employment and workplace training opportunities.
---
Pennsylvania Trade Schools
Maybe you have your eye on a particular career path or want to improve your current skill set. Either way, you can learn valuable lessons from some of the most experienced professionals in the state.
So jump on the educational opportunities offered at these technical and trade schools, and request more information about their training programs, tuition costs, and class availability.
Sponsored Listings


Automotive Technology
Computer and Network Support Technician
Electrical/Electronics
Medical Assistant
Practical Nursing
---
---
---
Student Costs in Pennsylvania
Educational expenses depend on several factors, such as what you study, the length of your program, and the type of school you choose. Based on data from the National Center for Education Statistics (NCES), these were the average tuition and fees at four-year institutions in Pennsylvania during the 2020-2021 academic year:
Public schools: $14,532 (in-state); $25,697 (out-of-state)
Private schools: $43,926
If you attend a two-year community college or vocational trade school, your yearly tuition and fees may be lower than the amounts above.
Pennsylvania Trade School Accreditation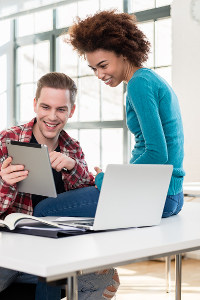 Independent organizations accredit schools that meet and maintain certain standards of quality. Accredited schools can lose their accreditation if they stop living up to those standards. The U.S. Department of Education recognizes several regional and national accrediting bodies. Attending a school accredited by such an organization is important to qualify for federal student aid.
The Middle States Commission on Higher Education (MSCHE) is the regional accrediting body for several universities, technical schools, and colleges in Pennsylvania. Alternatively, post-secondary schools in the state can be nationally accredited by organizations such as:
Accrediting Commission of Career Schools and Colleges (ACCSC)
Council on Occupational Education (COE)
Accrediting Council for Independent Colleges and Schools (ACICS)
Accrediting Council for Continuing Education & Training (ACCET)
All degree-granting institutions in the state must be authorized by the Pennsylvania Department of Education. In addition, many career-oriented schools that award certificates, diplomas, and associate degrees must be licensed and have their programs approved by the Pennsylvania Board of Private Licensed Schools.
Financial Aid for Pennsylvania Students
The Pennsylvania Higher Education Assistance Agency (PHEAA) administers various financial aid programs for eligible state residents. For example, the Pennsylvania State Grant Program provides money for school that doesn't need to be paid back, provided you meet the eligibility requirements. The exact award amount depends on a qualifying student's level of financial need and the type of institution he or she attends. The money can help pay for training or education at an approved public or private two- or four-year college, university, technical school, or trade school.
The PA Forward Student Loans program is another example. Eligible residents can receive low-interest loans that cover as much as 100 percent of the cost of attending a post-secondary school within the state. The program offers several options for repaying the loans.
Many students qualify for federal financial assistance, such as grants, loans, and work-study programs. Current or former military members may also be eligible for special educational benefits. And many schools and independent organizations offer scholarships based on merit or a wide variety of other factors.
For many types of aid, your eligibility is determined by submitting the Free Application for Federal Student Aid (FAFSA) each year.
FAQs About Being a Student in Pennsylvania
Should I have a car while attending a Pennsylvania college or trade school?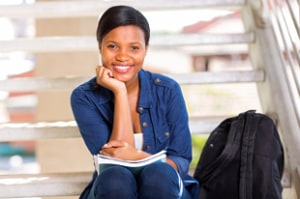 Having a vehicle provides the greatest convenience and flexibility, but it isn't necessary. Many students can't afford to own cars and simply prefer not to drive. Thankfully, affordable public transportation services are available throughout Pennsylvania, even in many rural areas. You can save a lot of money each year by taking advantage of public transit rather than paying for gas, parking, and insurance.
Some public transit agencies, including those that serve Philadelphia and Pittsburgh, offer discounts to college students who attend certain schools.
As a Pennsylvania student, is there anything else I should know about?
Commonwealth Secondary School Diploma
If you dropped out of high school and are at least 18 years old (or have a state-approved age waiver if 16 or 17), you can earn a Commonwealth Secondary School Diploma (CSSD) by completing one of three options. You can pass either the HiSET or GED exam. Or you can complete at least 30 credits at an accredited post-secondary school.
With a CSSD, you may qualify for admission to more technical colleges, vocational schools, community colleges, and traditional four-year colleges or universities.
Libraries
Also, regardless of where you go to school, it's a good idea to take advantage of your local public libraries. Beyond their vast collections of books and downloadable media, they frequently offer other helpful resources such as free Wi-Fi and computers with Internet access. Some libraries offer a variety of career services (like help drafting resumes or preparing for job interviews).
Student Services and Placement Assistance
Many career schools, technical colleges, and trade schools offer various student services, including assistance with your job search before and after graduating. And you'll likely receive placement assistance if your vocational program includes a real-world learning experience through an externship.
---
A Pennsylvania Trade School Can Prepare You for What's Ahead
As new career opportunities continue to be created in Pennsylvania, many of the best ones will go to people with post-secondary certificates, diplomas, or degrees. Several trade schools in Pennsylvania offer convenient training programs that can help you earn the credentials you need for worthwhile vocations.
Featured Pennsylvania Programs
---