Building and Construction Schools
By Publisher
| Published
| Last Updated
Construction schools focus on helping students develop the skills they need to launch rewarding careers in this fast-growing field. The building industry offers fulfilling work, high wages, and an interesting range of specializations. You can prepare for the many opportunities by completing job-focused training at a trade school.
---
Education & Training
College-level construction programs can help you gain a foundation of skills for a wide range of career opportunities.
Benefits of Attending Building & Construction School
Stand out from the competition: Getting formal construction training at a trade school can make you more attractive to potential employers. That's because it indicates that you've already learned some basic principles and safety protocols as well as industry-current techniques.
Get targeted training to match your goals: You can choose a program that specializes in one area or provides a broader-based education. So, whether you're brand new to the construction industry or are currently working and want to advance your skills, a trade school can help.
Boost your earning potential: Many of the highest-paying positions in construction, such as cost estimator and construction manager, are often reserved for candidates with post-secondary training.
Length of Training
Construction school programs generally last anywhere from six to 48 months.**
Most Common Length of School**
(range in months)
Carpentry

Plumbing

Electrical technology

HVAC technology

Construction
Construction Program Options
Certificate and diploma programs are short, normally no longer than a year.** They tend to be very focused on one particular aspect of construction, such as carpentry, estimating, wiring, or building inspection. They are typically aimed at people who want to get into the workforce quickly or who are already employed in the industry and want to expand their skill set.
Associate degree programs take roughly two years to complete, though some programs can be completed in as little as 14 months.** They offer a broader range of courses related to construction practices. Completing a program at this level can make you a stronger candidate for roles like foreman, site supervisor, or project manager after you've gained some experience. Many people with associate degrees also become construction managers, typically for smaller firms.
Bachelor's degree programs are usually about four years long.** They have a heavy focus on business principles and are designed to prepare students for roles in management or supervision. Many employers look for people with bachelor's degrees when hiring construction managers. And if you have no industry experience, a four-year degree can help you qualify for optional certifications like the Associate Constructor credential from the American Institute of Constructors.
Master's degree programs require about two years of study beyond the bachelor's level.** They provide more in-depth instruction in areas like risk management and design functions. These types of programs are generally intended for experienced workers who want to advance their skills in order to stand out as candidates for senior management or executive positions.
---
---
Typical Courses
Construction and building schools commonly feature training in areas like:
Blueprint reading
Building systems
Construction methods and materials
Framing or finish carpentry
Mechanical, electrical, and plumbing basics
Cost estimating
Site planning and preparation
Scheduling
Building codes
Business management
Skills You Can Learn
You could begin learning how to:
Read and understand blueprints
Use a variety of professional tools for cutting, drilling, finishing, and other functions
Erect and renovate different types of buildings
Calculate estimated project costs and prepare bids
Create work schedules
Organize and direct workers
Follow building codes
Review building plans and perform site inspections
Communicate on a job site
Licensing & Certification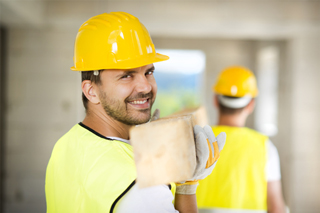 Some careers in construction require workers to be licensed, certified, or registered at the federal, state, or local levels. However, the rules differ between regions. For instance, some states require general contractors to be licensed if they work on jobs over a certain value. And some require separate licenses for residential and commercial contractors.
Here are a few examples of construction-related occupations that frequently have special regulations:
Building inspectors
Electricians
General contractors
HVAC technicians
Plumbers and pipefitters
The National Occupational Licensing Database has details about the regulations governing tradespeople in each state.
Construction professionals may also benefit from pursuing voluntary certifications from organizations such as:
Education & Training FAQs
Can I take a construction program online?
Yes. Some programs are offered in an all-online format, guiding students through hands-on projects using instructional videos and simulations.
What are the best trade schools for construction?
The best schools are the ones that offer high-quality construction training in a way that meets your needs. Schools that are accredited by a regional or national agency recognized by the Department of Education have demonstrated that they meet established standards.
However, much depends on your particular goals. For instance, online programs may be a good choice if the ability to learn from home is important to you. Other factors that may weigh into your decision include flexible scheduling, hands-on training opportunities, and job search assistance.
You can use our search tool to find construction schools near you.
Do I need a bachelor's degree in order to become a licensed general contractor?
No state makes it mandatory for contractors to have college degrees. However, most of them require a certain amount of construction experience, and you may have to pass an exam that tests your knowledge of things like contracts, estimates, labor law, and safety protocols. Completing a post-secondary program can help you expand your knowledge in these and other areas.
---
Construction Schools
Sponsored Listings
---
---
Career Information
Programs at construction or building schools can help students lay the groundwork for a wide range of satisfying careers with good wage potential.
Career Outlook*
9.8% growth from 2018 to 2028
Median Salary*
(Average Median)
Job Openings*
Average Yearly Openings
Length of Training
Most Common Length
Work Settings
Specializations
Residential, commercial or institutional, industrial, civil
Sources
U.S. Bureau of Labor Statistics
U.S. Department of Education
Earnings
People who work in jobs related to construction or extraction earn a median annual wage of $47,430. Construction managers, who are in a separate category, have median earnings of $95,260.
So, taking those two figures together, the average median wage for construction-related careers is $71,345.
Median Annual Wage Comparison
Job Openings & Outlook
According to the Bureau of Labor Statistics (BLS), employment in construction and extraction occupations (including construction management) is expected to grow by 9.8 percent between 2018 and 2028.
On average, 947,700 jobs are projected to become available each year over that time. That consists of:
New positions: 74,900
Openings from retirements: 252,500
Openings from people transferring to other occupations: 620,300
Key Benefits
The chance to literally shape your community: You can enjoy the pride and satisfaction of creating buildings, roads, or other structures that will likely endure for many years.
Variety of career paths: In addition to hands-on roles in the skilled trades, the construction industry offers opportunities in areas like administration, inspection, and occupational health and safety.
Good pay: Many construction-related jobs come with median wages that are higher than the national median for all occupations.
What a Construction Specialist Does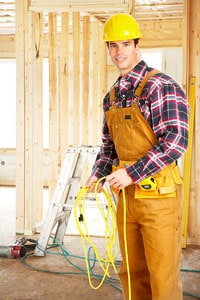 The specific tasks vary greatly by role. But broadly speaking, people who work in construction carry out activities like:
Interpreting blueprints and schematics
Measuring and cutting construction materials
Erecting or installing components like:

Framing
Wiring
Plumbing
Drywall
Insulation
Cabinets
Windows
Doors

Coordinating and overseeing the construction process
Preparing cost estimates, budgets, and work schedules
Collaborating with tradespeople and laborers
Ensuring that all safety regulations are followed
Adhering to building codes
Inspecting construction projects to make sure they are structurally sound
Work Settings
Some construction professionals work in offices or mobile trailers. However, most work at indoor or outdoor building sites like:
Houses
Office buildings
Shopping centers
Sports arenas
Parking garages
Bridges
Roads
Tunnels
Factories
Hospitals
Schools
Careers
The construction industry offers numerous opportunities for individuals who enjoy seeing the tangible results of their work. For some of the occupations listed here, you may need to complete specialized training or an apprenticeship in order to become fully qualified. Here are a few possibilities you could consider:
Building inspector: Determine if a newly built or remodeled structure meets all applicable codes and is safe for people to use.
Carpenter: Use materials like wood and fiberglass to construct framing for walls and windows, install cabinets, build stairs, and carry out other tasks.
Construction manager: Direct and coordinate the construction process and ensure that the work gets done on time and on budget.
Construction safety officer: Develop and implement measures to reduce the risk of injuries or accidents and make sure that all workers on a job site follow established safety regulations.
Cost estimator: Consider the materials, labor, and time required for a construction project in order to calculate a total estimated cost.
Electrician: Install wiring systems in renovated or newly constructed homes, offices, factories, and other buildings.
Home remodeler: Change a home's appearance or function by performing tasks like framing rooms, hanging drywall, installing new plumbing fixtures, or replacing electrical switches.
HVAC technician: Set up the heating, ventilation, and air conditioning systems that keep indoor conditions comfortable.
Plumber: Install, relocate, or replace the piping systems that keep water and other liquids flowing safely throughout different types of buildings.
Specializations
Many people in the construction field choose to concentrate on one or more of the following areas.
Residential: Build or remodel homes, including single-family dwellings and multi-family structures like apartments, condos, and duplexes.
Commercial or institutional: Work on larger and more complex structures like skyscrapers, shopping malls, hospitals, schools, and sports and entertainment venues.
Industrial: Focus on special facilities for industries like manufacturing, oil refining, chemical processing, or electric power generation.
Civil: Build or restore structures like roads, tunnels, bridges, sewer systems, pipelines, airports, public transit systems, railways, and communications systems.
Career FAQs
What kind of hours do construction professionals work?
That depends on their specific role and specialization. For instance, highway construction often happens at night when there are fewer vehicles on the road. Generally speaking, outside of residential construction, a typical workday goes from about 7 a.m. to 3 p.m. In areas with extremely hot summers, shifts may begin as early as 3 a.m. in order to finish before temperatures get too high.
Workers who focus on remodeling or construction projects in people's homes tend to start a bit later, usually around 8 or 9 a.m.
Construction managers must monitor site activities and deal with project delays or challenges, so they frequently put in more than 40 hours a week.
What's the difference between a general contractor and a construction manager?
These two roles encompass many of the same functions, but there are a few differences.
General contractors are brought in at the construction phase and are in charge of getting the project built. They examine the designs and use them to prepare a bid for the project owner. General contractors often charge a set price and stand to make more profit if the total cost comes in under their bid price. They are responsible for directing daily activities on the job site and managing all subcontractors.
Construction managers oversee building projects from planning and design right through to completion. Because they are involved in the very early stages, they can fine-tune the plans and help deliver more accurate estimates. Construction managers are typically hired for an agreed-upon price (not through a bidding process), and they tend to work more closely with project owners than general contractors do.
---
Construction Schools Can Open New Doors for You
The building industry has a growing number of opportunities for workers with the right sets of skills. Trade schools offer a reliable way to gain the expertise and abilities that can help you stand out.
---
* Salary, employment growth, and job opening numbers are based on BLS estimates for construction and extraction occupations and construction managers. The average median salary is the calculated average of the median earnings for those two occupational groups.
** Length of training information is based on a combination of information from the Occupational Outlook Handbook, the U.S. Department of Education, and a wide sampling of relevant programs from about 30 individual school websites. They are a mix of public, private non-profit, and private for-profit institutions.