Police / Law Enforcement Training Schools
Last Updated
Law enforcement training can help you reach your goal of helping to maintain peace and order as a respected professional. It's a way to develop skills that are always in need while also generating new opportunities in a career that can be exciting, well-paying, and full of purpose.
What kind of path will you choose? Will you start with the foundational instruction you can get from police training schools or the fascinating education offered through criminology or criminal justice programs? Ultimately, both options can lead to a time-honored career.
So pursue a future that's more secure for yourself, the people you love, and the greater public you'll serve. Find police colleges or law enforcement schools near you by entering your zip code into the search box below!
5 Honorable and Beneficial Careers in Law Enforcement
---
---
Law Enforcement Schools
Sponsored Listings
Criminal Justice:

Police Administration & Operations
Security Management
Sarasota, Florida
Tallahassee, Florida
Criminal Justice - Law Enforcement Concentration
Law Enforcement Operations
---
---
5 Honorable and Beneficial Careers in Law Enforcement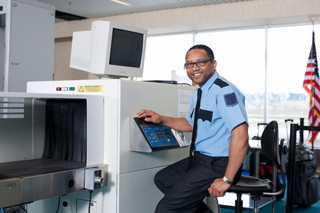 When you look at the occupational variety within the field of law enforcement, it's easy to get excited about your own career potential. That's particularly true if you also think about why so many kinds of criminal justice professionals are needed in the first place.
For instance, according 2018 crime statistics from the FBI:
More than 10.3 million arrests were made across the U.S.
Of those arrests, over 521,000 were for violent crimes.
The most common crimes leading to an arrest were drug violations, with over 1.6 million arrests that year.
Despite declining crime rates in recent years, those numbers still represent a lot of illegal activity. We still need many dedicated law enforcement pros to help keep everybody safe and ensure that justice is carried out when criminal acts occur.
Here are five great career options within this field that can allow you to make a real difference:
1. Security Guard
Did you know that some of the work that used to be exclusively reserved for police officers is now being handled by professionals in the private security field? Increasingly, people with security training are being hired to help protect property and conduct patrols for businesses and public facilities. Today's security guards often have the skills to handle incidents related to everything from vandalism and theft to terrorism and organized crime.
That's probably why, according to employment projections from the Bureau of Labor Statistics (BLS), over 154,200 new jobs for security guards are expected to be created between 2020 and 2030—a rise of 14.6 percent. The median pay for a security guard is $31,050 per year, and top earners can make over $51,600.
2. Correctional Officer
A lot of people who get arrested end up being incarcerated. So, with millions of arrests taking place each year, it shouldn't be surprising that U.S. prisons need to be well-staffed to handle a lot of inmates. In fact, in 2017, America had more than 180,000 federal offenders under some kind of correctional supervision or control. And that doesn't include the thousands more held within state prisons or local jails.
According to Occupational Employment and Wage Statistics (OEWS) program data, the median salary for a correctional officer in 2020 was $47,410. But the pay can go a lot higher if you work for a federal facility or accumulate experience. Some correctional officers made over $81,940.
3. Probation or Parole Officer
Sometimes, convicted criminals get sentenced to probation rather than to prison time. In those cases, they are still considered to be under correctional control. They just aren't necessarily considered a big danger to the community. However, they do need to be supervised to ensure public safety. And they also need to receive guidance in getting rehabilitated from their criminal past. That's where probation officers come in.
Similarly, professionals are needed to monitor convicts who have been released from prison but are still on parole as part of their punishment. Such convicts need help reentering their communities, and they need to be indirectly supervised to make sure they don't fall back into any illegal activities. That's the job of a parole officer.
Professionals in this category of law enforcement can make good salaries. OEWS program data shows that the median annual pay was $55,690 in 2020, with some probation and parole officers making more than $98,510.
4. Police Officer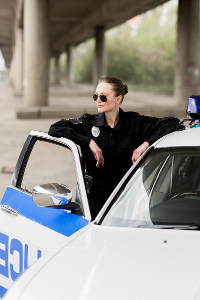 Policing is what comes to mind when most people think about law enforcement, which isn't surprising. Even with the expanding roles of many civilian security guards, police officers are still the most common first responders to crime scenes. In fact, according to the FBI, sworn officers represented 70.4 percent of all law enforcement professionals in 2018. Plus, there's a certain amount of prestige that comes with the courageous role of serving and protecting the public in the face of danger.
With law enforcement training from a post-secondary school, you may become a more appealing candidate for a police academy. And if you do achieve your goal of becoming a police officer, you can make a comfortable living. According to OEWS program estimates, the median salary for a U.S. police officer in 2020 was $65,540. And some officers made more than $109,040. Read about how to become a police officer here.
5. Emergency Management Director
This position isn't always found directly within the law enforcement field, but it is often closely related to it. That's because, when emergencies like natural disasters occur, people in this occupation frequently must coordinate with police and government law enforcement agencies. They are typically responsible for planning the responses to potential emergencies and putting those plans into action when disaster strikes.
Plus, emergency response directors don't always work in the public sector. Increasingly, many of them are employed by private companies to help them ensure that they can make it through weather disasters or other damaging events with as little impact on their operations as possible. According to BLS projections, an average of 700 job openings could become available each year from 2020 to 2030.
So, with the right educational credentials, you may have the chance to become an emergency management director who earns high pay. The OEWS program states that the median salary in this field was $76,250 in 2020, with a lot of the most experienced people earning more than $142,870, particularly if they worked at the federal level.
---
---
How to Become a Police Officer: 17 Steps to a Career With Impact
Here it is: the ultimate guide on how to become a police officer. The whole process is outlined in greater detail below. But here's a basic overview of the most common path:
First, you'll need to make sure you meet the minimum age and educational requirements, as well as other criteria (such as a clean record). Next, you'll apply to the police agency you want to join. If you make it past the initial screening, you'll need to pass a written test, physical abilities test, medical exam, psychological assessment, and background check. When you make it past those stages, you'll have one or more interviews. Then, if you're selected, you'll attend a police academy, which will be followed by real-world field training. Finally, you may or may not need to pass a regionally mandated licensing or certification exam in order to qualify to take an oath and get your badge.
That's the traditional route to becoming a police officer. However, the process can vary from region to region. And each law enforcement agency handles things a little differently. Plus, in some states, you can attend a police academy without getting hired by a police department first. It's an alternative process known as self-sponsorship, which means you pay your own way through the training and hope to get hired after you graduate.
Generally speaking, it takes anywhere from four months to a year or more to become a police officer. But it's better to plan for the longer end of that range than to underestimate the time it will take. After all, law enforcement agencies seek to hire smart, healthy, physically fit people of good character. To achieve that goal, they use many different screening tools, all of which take time to get through.
Regardless of the path you take to get there, becoming a member of the police force is worth the effort. You'll get to help serve and protect your community, which is a meaningful and rewarding way of life. And plenty of job openings are expected to become available over the foreseeable future. In fact, during the decade from 2020 to 2030, an average of 48,600 positions for police offers are projected to open up each year across the United States.
So check out the following step-by-step guide to becoming a cop in America. You'll learn how law enforcement training fits into the process. And you'll discover why it's so essential to know what to expect each step of the way.
The standard route:
The alternative: Self-sponsored police academy training
---
1. Research Local Police Employment Options
Before doing anything else, it's a good idea to find out exactly where the various opportunities are in your region. That way, you won't get locked into just one police agency as your potential employer. Start by making a list of local and state law enforcement agencies you may want to work for. Then, take time to visit the website of each agency. Get an idea of their size, find out which communities they serve, and see if they have any information about hiring or recruiting new police officers. Keep in mind that potential employers may include:
State or highway patrol agencies
County sheriff's offices
Town or city police departments
College or university police departments
School district police departments
Hospital police agencies
Airport, harbor, or transit police agencies
Housing authority police departments
Many police agencies conduct open-house events from time to time, which can give you the chance to talk with experienced cops and get a better idea of what this kind of law enforcement career is really like. You can also get a sense of the differences between agencies of different sizes. After all, large police departments don't necessarily represent the norm. In fact, May 2015 data from the U.S. Department of Justice indicates that nearly half of all local police agencies employ fewer than 10 cops.
---
2. Find Out What the Minimum Requirements Are
Each police agency sets its own basic requirements for new recruits. So you can't assume that one agency's hiring criteria will be the same as another's. You definitely have to research the criteria for each individual agency or department. The requirements are often posted on agency websites. But in some cases, you may need to call and request this kind of information. You can be a police officer by meeting minimum requirements, which typically include:
Being a United States citizen
Being at least 18, 19, or 21 years old (depending on the state and particular agency)
Being in good health
Having a certain level of physical fitness
Having a high school diploma or GED
Having a valid driver's license
Having a clean criminal record (i.e., no felonies or major misdemeanors)
In most cases, the subjects you have to learn to become a police officer are the same ones required for high school graduation (i.e., math, science, language arts, etc.). However, some police departments also require a certain level of post-secondary education. In fact, almost a quarter of local police agencies in America require officer candidates to have at least an associate degree, according to May 2015 data from the Department of Justice.
Most agencies eventually hire new police recruits on the condition that they successfully complete their training at a particular police academy. However, many smaller police departments don't have the money to pay for the basic training of all police cadets. So they recruit people who have self-sponsored their own police academy training, or they make it a requirement that you must have a certificate of completion from a police academy before applying for an entry-level officer position.
---
3. Honestly Assess Your Personal Traits and Motivation
Nobody likes to have their time wasted, least of all those who are in charge of screening, hiring, and training new police officers. And you probably don't want to waste your own time either. So it's important to be realistic about your qualifications, what drives you, and what kind of person you are.
Keep in mind that being a cop is inherently a little dangerous. Each day presents new circumstances and challenges, both physical and mental. Police officers are also held to high ethical and moral standards. (Cops who are primarily motivated by the potential prestige, power, or adrenaline rush of this occupation sometimes damage their careers or eventually fizzle out.) Simply put, being a police officer isn't just a job; it's a calling. It's also a privilege. Above all else, you need to be driven by the selfless desire to serve and protect the people in your community.
Becoming a cop will test (and expose) your character, mental toughness, and physical stamina. That's why it's wise to think about the life you've had so far, the traits you possess, and the things that are driving you to become a police officer. Be honest with yourself. For example, determine if you have: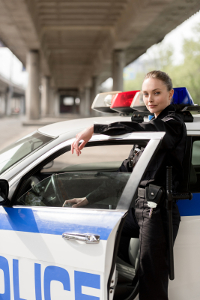 A personal history that doesn't include criminal behavior or the use of illicit drugs or excessive alcohol
Courage and good coping skills for stressful situations
The ability to make thoughtful, informed decisions, even when the circumstances are complex
An instinct for detecting when people may be lying
Strong moral values such as honesty, humility, cooperation, and respect for others
The ability to communicate clearly and effectively, both verbally and in writing
A knack for leading the way and guiding others
Good physical strength, endurance, and overall health
Good mental and emotional well-being
---
4. Get More Education or Experience (If Necessary)
Aside from police academy training, you don't necessarily need a post-secondary education to become a police officer. However, a growing number of police agencies do prefer (or require) that applicants have college degrees. Even a post-secondary certificate, diploma, or two-year associate degree can demonstrate your ability to commit to something and learn things at a higher level. And with a bachelor's degree, you may eventually qualify for more advanced or specialized positions that come with better pay.
Any kind of law enforcement programs are worth completing. Other courses of study that can pay off include those related to:
Criminal justice
Criminal investigations
Emergency management or homeland security
Forensic accounting
Cyber forensics or information security
Social sciences
Communications
If you choose not to take college courses, it's a good idea to a gain at least a year or more of real-world experience that involves dealing with the general public. Jobs in retail, customer service, and the restaurant industry are just some examples. Volunteering for a community service organization—or even your local police force—can also be beneficial. (Did you know that police volunteers do things like help out with neighborhood watch or disaster response?) And most police agencies view military experience as a major plus.
Simply put, you may need either some college education or prior working experience if you want a police agency to take your application seriously. The more education and experience you have, the greater your competitive edge.
---
5. Start a Physical Fitness Routine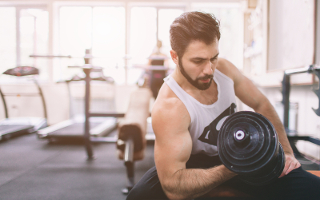 You might already be a fitness buff. If not, it's time to become one. Police officers must be able to run, climb, crawl, dodge objects, defend themselves, and subdue suspects. They also need healthy ways to cope with the stress they often experience. That's why regular physical exercise is so important.
As part of the recruitment process, you'll need to pass a physical abilities test. And when you attend a police academy, you'll be tasked with all kinds of physical demands on a regular basis. So start preparing for those things right away. Create a routine that features cardio, strength, and flexibility training multiple days a week. If you can, find out exactly what your physical abilities test will include so that you can tailor your training to it.
---
6. Clean Up Your Online Presence
Do this as soon as possible. When it comes to your online identity, it's better to be boring than risk being perceived as offensive, juvenile, or stupid. At minimum, the police agencies you apply to will most likely perform Google searches on your name to see what turns up. Increasingly, a lot of agencies even request the passwords to their applicants' private social media accounts as part of their background checks. (If you refuse to provide your passwords, your application might be terminated.)
Take time to "sanitize" any websites you own or profiles you have on Facebook, Twitter, Instagram, or any other social media platform you use. Delete any posts, comments, shares, likes, retweets, or biographical information that could possibly be construed as foolish, controversial, immature, or demeaning to any particular group of people. Do this even for things that are many years old. It's also smart to unfriend or stop following anyone who posts stuff that might be seen as offensive or idiotic. (You don't want to be seen as guilty by association.)
---
7. Submit Your Application
Most police agencies make their job applications available online. In some cases, you may need to download the forms, print them out, and complete them by hand. In other cases, you can complete everything online. You also may be able to request an application in person by visiting a police agency's main office.
Applications vary in their length and what they include. You may need to complete a main application plus one or more supplemental applications. Beyond providing basic information like your name, age, citizenship status, education, and work history, you also may need to answer a variety of questions about your health, previous run-ins with law enforcement, and personal life (both present and past). On a lot of applications, you're expected to write detailed, in-depth answers to those questions. Be honest. Anything you try to hide or downplay will likely come back to haunt you later in the process.
Pay special attention to the legibility of your handwriting if you aren't using a computer to type your answers. Also, make sure your application is completely free of errors such as spelling or grammatical mistakes. Submit the application only after you (and preferably someone else) has proofed it and determined that it's perfect.
---
8. Pass a Written Test of Your Basic Abilities
After your application has been reviewed and it's been decided that you meet the minimum requirements, you may be given a conditional offer of employment. The key word is conditional. When you reach this point, you still haven't met all of the qualifications to become a police officer. In fact, the screening process has only just begun. You'll need to get through everything that follows. Your conditional offer of employment can be revoked at any time, so don't quit any other job you may have. With most of the remaining steps, you either pass or fail.
The first screening tool at this stage is usually a written test, sometimes referred to as a police officer selection test, police entrance exam, or basic abilities test. Police agencies use it to find out if you have the fundamental smarts to handle the academic portion of your training at a police academy. People who've graduated from high school or earned a GED generally find the test to be pretty easy. It usually includes a variety of multiple-choice questions related to areas like:
Logical reasoning, such as basic problem-solving and pattern recognition
English, including spelling, grammar, and vocabulary
Reading comprehension
Simple math (often as word problems)
Since there isn't a national standard for this kind of test in the U.S., most police agencies get to decide which test to use (or they develop their own). Generally, the only requirement is that a test meet the guidelines established by the law enforcement commission of your state. Some police departments offer study guides that you can use to get ready for the test. You can also find a lot of sample tests online if you want to get a better idea of the style of questions that are often included.
---
9. Pass a Physical Abilities Test
The written test is usually followed or closely preceded by an assessment of your physical fitness. By this stage, you've hopefully been doing a lot of strength, flexibility, and cardio conditioning to prepare yourself. Once you know the day and time of your fitness test, make a plan to reduce the intensity of your exercise routine in the two days leading up to it. You need to give your body enough time to rest and recover before the big day. Make sure you drink plenty of water and get quality sleep.
On the day of your test, you'll either be tasked with doing a series of individual exercises within minimum standards or completing an obstacle course within a maximum amount of time. (The type of test varies from agency to agency.)
Here are some examples of the minimum performances you may need to achieve for the first kind of test. (The actual numbers and exercises for your test may be different from those below since every agency has its own requirements and the standards often vary by age and gender. These examples are only intended to give you a general idea of what you may encounter.)
20 push-ups within one minute
20 to 40 sit-ups within one minute
5 to 10 chin-ups
1 bench press of 70 to 98 percent of your body weight (for men) or 40 to 60 percent (for women)
Vertical jump of 13 to 16 inches
Standing broad jump of at least 6 feet
High jump of at least 3.5 feet
Sit-and-reach of 13 to 20 inches beyond your toes
1.5-mile run in under 13 to 20 minutes
300-meter sprint in under 59 to 70 seconds
Physical tests that involve obstacle courses often require police recruits to do things like:
Wear a weighted vest or a holster with a training weapon
Lift and drag dummies that weigh 125 pounds or more
Jump over short and tall barriers
Sprint and climb over tall walls or fences
Avoid hanging obstacles
Crawl under low barriers or through pipes
Climb up ladders and/or through windows
Run up and down stairs
---
10. Pass a Background Check (and Maybe a Polygraph Exam)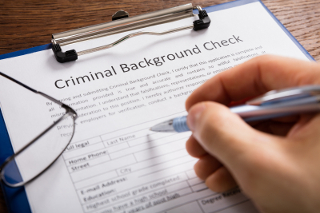 Nobody becomes a police officer without having their personal history investigated and verified. Police agencies try to learn everything they possibly can about new recruits. So, as part of your background check, you'll likely be fingerprinted. And you'll have to agree to having aspects of your life closely examined, such as your past employment, credit history, and any interactions with the justice system. In addition, many different people in your life (both past and present) may be contacted in order to verify the information you provided on your application. Plus, as previously stated, you may also have to agree to providing passwords to your private social media accounts.
Once background checks have been completed, many police agencies conduct polygraph exams (also known as lie-detector tests). Some agencies don't go this far, but it's important to be aware of the possibility. If you are given a polygraph exam, the best thing you can do is tell the truth and never waiver from your answers. After all, polygraph machines are designed to pick up divergent physiological changes that may be interpreted as symptoms of dishonesty or a guilty conscience. That's why trying to keep secrets can backfire. Even if background investigators missed something you've previously managed to keep hidden, a polygraph exam may unearth it.
To be sure, polygraph exams aren't perfect. Some people fail them despite giving honest answers and having nothing to hide. But if you review your personal history ahead of time and know what to expect, you'll naturally feel more confident and at ease. Most polygraph exams are structured in a way that you simply provide yes or no answers, without waffling or trying to explain anything. However, some examiners offer the chance to provide explanations to certain answers after the initial test has been done.
The questions you'll be asked in a polygraph exam will likely be related to topics such as:
Drug and alcohol use
Drug dealing
Domestic violence
Shoplifting and other forms of theft
Driving while impaired
Fraud and financial wrongdoing
Various other types of criminal behavior
The people you know
Your credit history
Your job and educational history
Suppression of any facts that may disqualify you
---
11. Pass a Medical Exam
Good physical health is an absolute requirement for new police recruits. After all, your training—and, ultimately, the job itself—will push you to the limits of your abilities. In addition to being examined by a physician, you may be sent for x-rays, blood and urine tests, an eye exam, a hearing test, and a dental check-up. Aspects of your health that are likely to be checked include:
Breathing function
Cardiovascular function, including blood pressure, heart rate, and circulation
Joint and muscle function
Spinal alignment
Any signs of abdominal irregularities
Any signs of infectious disease
Any other signs of physical defects, afflictions, or disabilities
Overall physical coordination
It's also worth noting that some police agencies have minimum height and weight requirements. For example, you may need to be at least 5'7" tall and weigh 140 pounds. Your overall physical appearance may also be evaluated for any prominent deformities that could be distracting or undermine your perceived authority among members of the public.
How you adorn yourself also matters. In some departments, police officers are allowed to wear earrings, but usually only one pair of the small stud variety. Generally speaking, you can join the police if you have tattoos, but some agencies require you to cover them while on duty (so in some cases, you can't have hand tattoos in the police).
In general, if disqualifying physical problems are discovered during your medical exam, you'll be removed from further consideration. However, you may be given a chance to rectify certain problems within a particular time frame and revive your eligibility. (Dental problems are a good example.)
---
12. Pass a Psychological Assessment
In addition to being physically capable, police agencies need to know that you are psychologically capable of handling the demands of a career in law enforcement. Not all agencies conduct this type of assessment, but many do. It's often done after the background check and polygraph exam so that the psychological examiner has that information available to review and use as part of their assessment. Exams of this nature can take many different forms, but it's fairly common for them to include:
A 30- to 60-minute conversation about your past, current lifestyle, what you envision for the future, and what kinds of feelings may be troubling you
One or more written tests that are intended to help create an accurate psychological profile of you as it relates to areas such as your attitudes, personal integrity, social aptitude, tolerance, conscientiousness, resilience to stress, and ability to manage anger and other challenging emotions
---
13. Pass the Interview Stage
When you successfully make it through all the exams and assessments, it's time to meet face to face with the experienced law enforcement professionals who will ultimately decide whether to select you for training. In most cases, this stage consists of an "oral board," which is an interview with multiple police officers who may hold different ranks. Generally speaking, it's designed to evaluate your honesty, commitment, and motivation, as well as to find out how you think and react when under psychological stress.
The oral board is an opportunity to demonstrate your professionalism and explain why you would be a great police officer. But you'll probably be asked a wide variety of questions, including some that will test your loyalty, moral judgment, and critical thinking ability. For example, your interviewers may ask you about:
Your reasons for wanting to become a police officer
What makes you better than the other candidates
Your interests, hobbies, and family life
Your greatest weakness
Your reasons for pursuing a job at their particular police agency
What your dream job involves
Your preparation for the current opportunity
Hypothetical situations in which the right course of action isn't clear, especially those that involve potentially doing something that goes against regulations or ethical guidelines
Bizarre problems that seem impossible to solve without more information
Keep in mind that a lot of questions won't necessarily have right or wrong answers. In fact, some agencies love to use trick questions in order to put more mental pressure on the candidates they interview. So it's usually best to go into an interview without preconceived notions.
Do your best to tackle each question head-on, to the best of your ability. If you're asked to solve a strange problem or to say what you would do in a tricky situation, try to think everything through before providing a response. Offer your best guess at an answer, followed by a detailed explanation of your rationale (i.e., how you arrived at your answer). The trickiest questions are often just used as a way to discover whether your mind becomes paralyzed under stress.
Before attending your oral board, take time to learn everything you can about the police agency. Good sources of information include the agency's website, published annual reports, and current officers. You may even want to see if you can ride along as a civilian with one of the agency's officers. Always be polite and respectful, timing your questions for when things have slowed down.
Some police agencies like to conduct informal interviews before deciding on the candidates they'll invite to an oral board. For example, you may be asked to come to the office in casual clothes for some relaxed chitchat. Your interviewer may even act super casual, encouraging you to get comfortable. Just remember that this kind of interview is often used as a way to screen out people of questionable character. Maintain your professionalism and avoid cursing, telling off-color jokes, or doing anything that could be considered inappropriate.
Some agencies also like to invite the candidates who passed their oral boards to a final interview, often with one of the highest-ranking officers or administrators. At this point, the goal is often just to get a better feel for your overall demeanor. (Will you fit in well with the rest of the department's police force?)
---
14. Complete Your Police Academy Training
When you've made it through all the other screening steps, you're finally ready to start training as a police cadet. This traditional route involves having your police academy training paid for by the agency that hired you. In addition, you generally start getting paid a salary or hourly wage. In 2019, entry-level pay for police officers in America was about $36,960 per year (or $17.77 per hour) or less. However, police cadets aren't yet sworn officers, so they don't always earn full entry-level pay. (Until you get your badge, you may only earn a fraction of the full amount.) In exchange for having your training paid for, you may need to sign an agreement that says you'll stay with the agency for a minimum amount of time (usually at least a few years).
There are many different types of police academies. According to a July 2016 bulletin from the U.S. Department of Justice, about one-third of all police academies in the U.S. are operated by two-year colleges. Another 20 percent are run by city police agencies. The rest are operated by state police and highway patrol agencies, county police departments, sheriffs' offices, four-year colleges and universities, technical schools, multi-agency partnerships, state law-enforcement commissions, or other similar organizations.
Police academy training tends to take between three and six months. The July 2016 justice department bulletin says that on average, training lasts about 21 weeks. The actual training methods vary from academy to academy. Some academies use an intense military-style training model that's physically and psychologically demanding. Other academies use a more relaxed training model in which the instructors are more caring and supportive and the focus is kept on academics and physical development. Still others use a balanced approach that draws from both models.
Every police academy has its own curriculum, so police cadets from different agencies don't always learn about all of the same things. However, areas of training that are commonly covered at various academies include:
Constitutional rights
Traffic laws
Criminal statutes
Investigative procedures
Patrol procedures
Search and seizure procedures
General use of force
Defensive tactics
De-escalation strategies
Firearms safety and skills
Use of non-lethal weapons
Driving tactics
First aid and CPR
Report writing
Communication
Law enforcement ethics
Stress management and prevention
Mental illness, domestic violence, and other social issues
Physical conditioning
About six out of every seven cadets successfully complete their police academy training, according to the July 2016 bulletin. But it definitely takes commitment. You'll need good study habits for the academic portions and a little luck when it comes to avoiding injuries during the physical training. One bonus is that when your training is sponsored by a police agency, you generally receive health and worker's compensation benefits.
---
15. Complete Your Field Training
After graduating from a police academy, it's time to begin your on-the-job training in the real world. At this point, you will still be considered a police trainee. You'll be paired with an experienced field training officer (FTO) from your agency and start patrolling the streets and responding to certain types of calls. Your FTO will evaluate everything you do. As you learn the ropes and demonstrate that you can handle the job, you'll slowly take on more and more responsibility.
During your field training, you may be assigned to a variety of different shifts and patrol areas so that you'll be ready to handle any entry-level assignment when you finally get your badge. The time it takes to finish this part of your training will depend on your particular police agency and how well you do. Generally speaking, it can take as little as two months or as much as one year.
When your FTO believes that you've fulfilled all the necessary requirements, they will officially endorse you and recommend that you become a full-fledged police officer.
---
16. Pass a Licensing or Certification Exam (If Necessary)
Some states, counties, and municipalities require that all police trainees pass a final written test before becoming sworn officers. The standards and contents of the exam vary from region to region, but if you've made it through a police academy and completed your field training, then you shouldn't have much trouble with it. The exam usually consists of various multiple-choice questions about relevant laws and the basic roles and responsibilities of a police officer. In some regions, you can take online practice tests that help you prepare for the real exam.
---
17. Take an Oath and Maintain Your Badge
The final step in becoming a police officer is usually to take an oath that includes swearing to duties like faithfully upholding the Constitution, serving your community, and protecting lives and property with fairness, respect, and integrity. After being sworn in, you'll receive a badge and finally be considered a full-fledged officer.
In many regions, you'll need to complete a certain amount of continuing education every so often in order to keep your badge. And if you want to move up the ranks or become some kind of specialized officer, you'll need to complete various other kinds of training. For example, it's common for experienced officers to get additional training in areas such as:
Leadership and management
Advanced crime scene investigation
K-9 handling
Arson investigation
Special weapons and tactics (SWAT)
Emergency management
---
The Alternative: Self-Sponsored Police Academy Training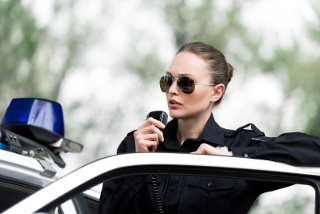 This option isn't available in all regions, but it's worth considering in some situations. For example, if you've had trouble getting through the traditional process outlined above, then you may be a candidate for self-sponsored training. Maybe you didn't quite make the cut when competing against more-qualified applicants, especially if you applied to large, popular police agencies that regularly receive a lot of interest. By paying for your own training, you may be able to boost your marketability and even attract the attention of smaller police agencies that need new recruits.
In fact, many small and mid-sized police departments simply don't have large enough budgets to invest in basic training or cadet wages. So they tend to recruit from two- or four-year college police academies that allow people to sponsor themselves. But before putting yourself through a police academy without the support of an agency, keep these things in mind:
In addition to your tuition, fees, and books, you'll need to pay for your own living expenses.
Unlike sponsored police cadets, you won't earn a wage, receive employer benefits, or have access to worker's compensation in case of injury.
You'll probably still have to pass a background check in order to qualify for admission. You may also have to pass a medical exam and meet minimum fitness standards.
After graduating, you'll have to find a law enforcement job within one to two years (depending on your region's requirements). If you don't, you'll have to repeat the whole process since policy academy certification is only good for a limited amount of time.
Some police academies have better reputations than others. So it's a good idea to find out what percentage of a particular academy's graduates go on to actually work as sworn police officers.
---
Get on the Path Toward Making a Positive Impact
Now that you know how to become a police officer, don't hesitate to start making your dream happen. Many people like you gain a boost to their marketability and a better understanding of this meaningful field by getting some basic law enforcement training as a first step. In fact, it's easy to find nearby schools. Simply enter your zip code below to get started!