Police / Law Enforcement Training Schools
Last Updated
Law enforcement training can help you reach your goal of helping to maintain peace and order as a respected professional. It's a way to develop skills that are always in need while also generating new opportunities in a career that can be exciting, well-paying, and full of purpose.
What kind of path will you choose? Will you start with the foundational instruction you can get from police training schools or the fascinating education offered through criminology or criminal justice programs? Ultimately, both options can lead to a time-honored career.
So pursue a future that's more secure for yourself, the people you love, and the greater public you'll serve. Find police colleges or law enforcement schools near you by entering your zip code into the search box below!
5 Honorable and Beneficial Careers in Law Enforcement
---
---
Law Enforcement Schools
Sponsored Listings
---
---
5 Honorable and Beneficial Careers in Law Enforcement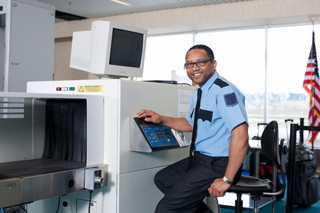 When you look at the occupational variety within the field of law enforcement, it's easy to get excited about your own career potential. That's particularly true if you also think about why so many kinds of criminal justice professionals are needed in the first place.
For instance, according 2018 crime statistics from the FBI:
More than 10.3 million arrests were made across the U.S.
Of those arrests, over 521,000 were for violent crimes.
The most common crimes leading to an arrest were drug violations, with over 1.6 million arrests that year.
Despite declining crime rates in recent years, those numbers still represent a lot of illegal activity. We still need many dedicated law enforcement pros to help keep everybody safe and ensure that justice is carried out when criminal acts occur.
Here are five great career options within this field that can allow you to make a real difference:
1. Security Guard
Did you know that some of the work that used to be exclusively reserved for police officers is now being handled by professionals in the private security field? Increasingly, people with security training are being hired to help protect property and conduct patrols for businesses and public facilities. Today's security guards often have the skills to handle incidents related to everything from vandalism and theft to terrorism and organized crime.
That's probably why, according to employment projections from the Bureau of Labor Statistics (BLS), over 40,000 new jobs for security guards are expected to be created between 2018 and 2028—a rise of 3.5 percent. The Occupational Employment Statistics (OES) program reports that a lot of the highest-paying jobs in security are related to the protection of utilities like natural gas distribution, waste management, and water systems. In those industries, the average pay is over $54,000 per year.
2. Correctional Officer
A lot of people who get arrested end up being incarcerated. So, with millions of arrests taking place each year, it shouldn't be surprising that U.S. prisons need to be well-staffed to handle a lot of inmates. In fact, in 2017, America had more than 180,000 federal offenders under some kind of correctional supervision or control. And that doesn't include the thousands more held within state prisons or local jails.
According to OES program data, the average salary for a correctional officer in 2018 was $49,300. But the pay can go a lot higher if you work for a federal facility or accumulate experience. Some correctional officers made over $76,760.
3. Probation or Parole Officer
Sometimes, convicted criminals get sentenced to probation rather than to prison time. In those cases, they are still considered to be under correctional control. They just aren't necessarily considered a big danger to the community. However, they do need to be supervised to ensure public safety. And they also need to receive guidance in getting rehabilitated from their criminal past. That's where probation officers come in.
Similarly, professionals are needed to monitor convicts who have been released from prison but are still on parole as part of their punishment. Such convicts need help reentering their communities, and they need to be indirectly supervised to make sure they don't fall back into any illegal activities. That's the job of a parole officer.
Professionals in this category of law enforcement can make good salaries. OES program data shows that the average annual pay was $58,790 in 2018, with some probation and parole officers making more than $94,770.
4. Police Officer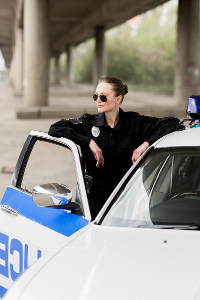 Policing is what comes to mind when most people think about law enforcement, which isn't surprising. Even with the expanding roles of many civilian security guards, police officers are still the most common first responders to crime scenes. In fact, according to the FBI, sworn officers represented 70.4 percent of all law enforcement professionals in 2018. Plus, there's a certain amount of prestige that comes with the courageous role of serving and protecting the public in the face of danger.
With law enforcement training from a post-secondary school, you may become a more appealing candidate for a police academy. And if you do achieve your goal of becoming a police officer, you can make a comfortable living. According to OES program estimates, the average salary for a U.S. police officer in 2018 was $65,400. And some officers made more than $101,620.
5. Emergency Management Director
This position isn't always found directly within the law enforcement field, but it is often closely related to it. That's because, when emergencies like natural disasters occur, people in this occupation frequently must coordinate with police and government law enforcement agencies. They are typically responsible for planning the responses to potential emergencies and putting those plans into action when disaster strikes.
Plus, emergency response directors don't always work in the public sector. Increasingly, many of them are employed by private companies to help them ensure that they can make it through weather disasters or other damaging events with as little impact on their operations as possible. According to BLS projections, an average of 900 job openings could become available each year from 2018 to 2028.
So, with the right educational credentials, you may have the chance to become an emergency management director who earns high pay. The OES program states that the average salary in this field was $82,570 in 2018, with a lot of the most experienced people earning more than $141,130, particularly if they worked at the federal level.
---