New Jersey HVAC Training Schools
By Publisher
| Last Updated
HVAC schools in New Jersey can help you become a skilled professional people can call on to keep indoor conditions comfortable. This is a highly versatile and reliable trade that offers abundant, well-paying opportunities in the Garden State.
---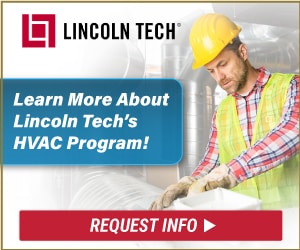 ---
Education & Training
New Jersey HVAC training schools can provide you with a solid knowledge of the basics behind heating and cooling, electrical foundations, motors, controls, and more. You can expect to gain the career-focused, hands-on education valued by employers.
What You Need to Learn*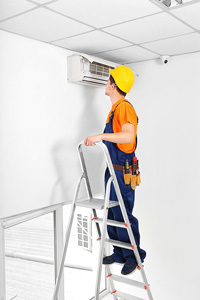 To pursue a career as an HVAC technician in New Jersey or anywhere else, you must become knowledgeable about:
Wiring diagrams and schematics
Basic electricity
The properties of natural gas
Temperature and heat flow
Furnaces, air ducts, and heat pumps
Refrigeration cycles
Condensers, evaporators, and compressors
Soldering and brazing
Refrigerant handling
Troubleshooting
Safety protocols
Training Options
You can get HVAC training through formal post-secondary programs or via an apprenticeship.
Post-secondary programs
Programs in heating, air conditioning, and refrigeration are widely available at trade schools, technical institutes, and community colleges. They take anywhere from six months to two years to complete.*
Shorter programs typically focus on residential HVAC systems and result in a certificate or diploma. Longer programs usually provide training on both residential and commercial systems and result in an associate degree.
Most programs include a blend of classroom lessons and hands-on training.
You can also get into this field with a bachelor's degree in HVAC or a related field like mechanical engineering. Such programs are available from colleges and universities and are typically four years long.*
Apprenticeships
According to United Association of New Jersey (UA of New Jersey), an HVAC apprenticeship typically takes five years. Each year, apprentices in New Jersey must complete a minimum of 200 hours of classroom lessons and at least 1800 hours of on-the-job training.
UA of New Jersey Air Conditioning & Refrigeration Division administers the classroom instruction portion of the training for each union local. You can also find HVAC apprenticeship opportunities through the U.S. Department of Labor.
Most Common Length of School*
(range in months)
Plumbing

HVAC

Welding

Electrical
---
---
Licensing & Certification
New Jersey does not require licensing for HVAC technicians at the journeyman level. However, if you want to work independently, you must become a contractor. And that requires getting a license from the State Board of Examiners of Heating, Ventilating, Air Conditioning and Refrigeration (HVACR) Contractors.
To be licensed as a master HVAC contractor in New Jersey, you must be 21 or older. You also have to take a two-part written exam that covers trade-specific issues in HVAC contracting as well as relevant state regulations. To pass, you must score at least 70 percent on each part.
In order to qualify for the exam, you must have done one of the following:
Completed an apprenticeship of at least four years that includes training in the proper handling of refrigerants and propane PLUS at least one year of experience as an HVAC journeyman.
Completed a two-year HVAC training program at a trade school or community college followed by two years of an approved apprenticeship PLUS at least one year of experience as an HVAC journeyman.
Completed a four-year bachelor's degree in HVAC technology that includes training in the proper handling of refrigerants and propane PLUS one year of HVAC work experience.
Completed a four-year bachelor's degree related to HVAC technology that includes training in the proper handling of refrigerants and propane PLUS three years of HVAC work experience.
Former members of the armed forces can apply any relevant training and experience received in the military toward an HVAC contractor license. They must still pass the licensing exam.
After successfully completing the licensing exam, you must:
Submit a surety bond of $3,000
Obtain at least $500,000 in general liability insurance
Get a Federal Tax Identification number
Pay the licensing fee
Licenses must be renewed every two years. You must complete five hours of continuing education credits in each renewal period.
Certification
Under Section 608 of the federal Clean Air Act, anyone who works with certain types of refrigerants that contribute to ozone depletion must be certified by the Environmental Protection Agency (EPA). That means you must pass an exam demonstrating that you know how to handle and dispose of such materials safely. The Section 608 exam is frequently included in formal HVAC training programs.
The EPA does not require specific certification to work with the newer R-410A refrigerant. However, because R-410A has much higher operating pressure than other refrigerants, many manufacturers recommend that Section 608-certified technicians undergo additional certification.
A range of voluntary certifications for HVAC professionals are also available from organizations such as:
---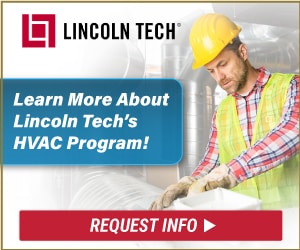 ---
FAQs About New Jersey HVAC Training
How much does it cost to get an HVAC contractor's license in New Jersey?
It costs $100 to apply to take the licensing exam. If you pass, you must then pay a $160 license fee along with a $25 fee for the pressure seal that contractors use on permit applications.
Can I use my HVAC license from another state to obtain a contractor's license in New Jersey?
No formal reciprocity agreements exist. However, the HVACR board in New Jersey will assess the licensing requirements of the other state to determine whether they are equivalent to New Jersey standards. If so, you may qualify for a contractor's license without having to go through any further testing.
Can individual municipalities in New Jersey require additional licensing for HVAC contractors?
No. The master HVAC contractor license issued by the state board allows you to work anywhere within New Jersey.
---
New Jersey HVAC Schools
Sponsored Listings
---
---
---
Career Information
HVAC (short for heating, ventilation, and air conditioning) technicians assemble, service, and repair the complex systems that control the temperature and air quality inside buildings. Some are known as HVACR technicians, where the "R" represents refrigeration. And many of them are needed in New Jersey.
New Jersey HVAC Technicians Snapshot
Career Outlook
9.2% job growth from 2020-2030
Median Salary

Job Openings
Yearly Average
Length of Training
Most Common Length
Work Settings
Sources**
U.S. Bureau of Labor Statistics
New Jersey Department of Labor and Workforce Development
Earnings
Data from the Bureau of Labor Statistics (BLS) shows that heating, air conditioning, and refrigeration installers and mechanics in New Jersey have median yearly wages of $62,390.** The top 10 percent of earners make $98,580 or more.
Median Annual Wage Comparison**
New Jersey Wages
Source: Bureau of Labor Statistics
Job Openings & Outlook
According to the New Jersey Department of Labor and Workforce Development, employment of HVAC installers and mechanics is estimated to increase by 9.2 percent between 2020 and 2030.
An average of 1,197 jobs should become available for HVAC professionals in the state each year over that decade. The job openings are projected to be split this way:
Newly created positions: 117
Openings due to retirements: 302
Openings due to workers transferring out of the occupation: 778
Featured New Jersey Programs
Featured HVAC School Locations
---
---
* What you need to learn and length of training information is based on a combination of information from the Occupational Outlook Handbook, the U.S. Department of Education, and a wide sampling of relevant programs from about 10 individual school websites. They are a mix of public, private non-profit, and private for-profit institutions.
** Unless otherwise noted, salary information is based on May 2021 data from the Occupational Employment and Wage Statistics (OEWS) program.