The 2022 Guide to Becoming an HVAC Apprentice
By Publisher
| Last Updated February 7, 2022
Millions of people across the United States rely on heating, ventilation, and air conditioning (HVAC) professionals to provide comfort and security to their homes, workplaces, hospitals, schools, and other spaces they spend time in. Clients value a skilled, experienced, honest, efficient, and trustworthy technician; someone who spent quality time learning hands-on as an HVAC apprentice.
Working as an HVAC apprentice is generally essential for becoming a highly-skilled technician. An apprenticeship can stand on its own or complement an HVAC training program at a trade school. The end result is to prepare you for different environments, equipment, technology, safety considerations, ethical conduct, and anything else relevant to the job.
If you place a lot of value on employment security, learning a trade essential to society's functioning could be a strategic choice for your future. HVAC technicians perform hands-on work that can't be outsourced and customer service that a machine can't replace. An HVAC apprenticeship can be a significant part of your path to becoming one of these essential trade professionals.
---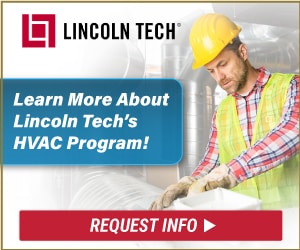 ---
What is an HVAC apprenticeship?
An apprenticeship in any trade or profession is an opportunity to learn on the job. During your training, you work alongside experienced industry professionals who can supervise your work. As an apprentice HVAC technician, you get to learn firsthand about:
Day-to-day expectations and responsibilities of specific roles within a service company
How to address common customer and equipment concerns
Who you should turn to for advice and assistance
Additionally, you get to interact with real-world challenges in the HVAC industry that you may encounter once you begin your full-time career.
Another benefit of becoming an apprentice is that many programs in the HVAC industry offer the ability to seek credentials while being trained. An apprenticeship can help you understand the industry during your training and help prepare you for challenges you may face on the job.
Some HVAC certifications you may be able to pursue include:
How does an apprenticeship program work?
Like professional internship positions, HVAC apprentice jobs generally have an application process to get started. Your application may ask for a detailed explanation of why you are a good fit for the program, so be prepared to express your enthusiasm and interest clearly. Depending on the employer, you may also be required to possess a high school diploma. Each company offering an apprenticeship program will have different qualifications. You can read more about qualifying for an apprenticeship program with this information provided by the U.S. Department of Labor.
Once accepted, you will be paired with an experienced HVAC technician or a team of technicians who will serve as guides and mentors. You will accompany your assigned technician or team to the same jobs they would respond to normally during your on-the-job hours.
While on a service call, you may have the chance to participate in various ways. When starting, your role will likely be minimal, but as you gain experience, you will be given more responsibilities.
However, you may be limited in what you can do on the job while still considered an apprentice. State laws and local ordinances may prohibit you from performing certain tasks without specific licenses, even though you work with full-time technicians. In these cases, you will likely be given other duties to take care of while certified technicians complete the more advanced and regulated work. Sometimes you may be asked to simply observe and take notes.
What else does an apprentice do?
While an apprentice will often complete HVAC work much like a full-time technician, they may also be required to participate in classroom study and testing. The company you are an apprentice with will usually offer access to additional training and study tools for learning while you're not actively in the field.
This combination of job training and classroom learning provides a well-rounded education in the HVAC industry. Classroom learning may include topics such as:
On-the-job safety requirements
Responding to emergency service calls
Properly addressing customer complaints
What if I make mistakes?
It's normal to doubt your skills and capabilities when you're about to work at a real job site for the first time. If you don't have much experience working with HVAC equipment and components, you may be worried that you will make mistakes while out on service calls with your mentor.
These fears are common, and the good news is that your training is designed to help you learn how to avoid mistakes in the first place, fix them when they do happen, and do your best to ensure they aren't repeated. Because your work is supervised, the odds of you making a serious mistake are low. If you make a mistake, you can rest assured that someone will help you correct it.
---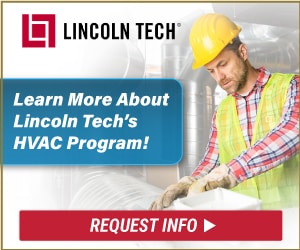 ---
How long is a typical HVAC apprenticeship?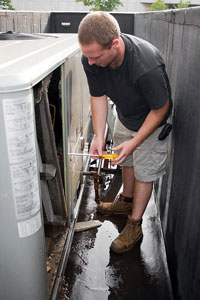 The length of an HVAC apprenticeship can vary by company. The typical length of service is between three to five years, which may seem like a long time, but keep in mind that you will be getting paid for work done as part of your HVAC training.
The length of time required for HVAC apprentice jobs will also be determined by state laws in your service area. Some states require a certain number of hours spent training, while others require a specific period marked by months or years. The company providing your training will be able to explain the requirements in your state so that you can set your expectations.
Does an HVAC apprentice get paid?
One of the benefits of choosing an apprenticeship over an unpaid internship is that virtually all apprentice positions in the HVAC industry are paid. You may even receive regular raises in pay during your service. Some HVAC apprentice jobs provide pay increases based on regularly scheduled performance reviews.
It's important to note that your pay as an HVAC apprentice will not be as high as it would be as a full-time technician. Additionally, you may not receive compensation during hours spent receiving classroom instruction. The good news is that if you are hired by the company providing the apprenticeship program, you are more likely to start at a higher wage due to your learned skills and company-specific experience.
Does an apprenticeship guarantee you a job?
While taking on an apprenticeship does not guarantee you a job after completion, most programs are designed to transition apprentices directly into full-time employment. Companies with on-the-job training programs often require that you provide a certain number of years of service as an employee upon completing your program.
It's worth noting that programs offered through large organizations may offer job placements that are out-of-state or even international, depending on your contract. It's vital to read and understand any agreements you sign before accepting an HVAC apprentice job, so you know exactly what you agree to.
How do I find an HVAC apprenticeship?
Get started by contacting HVAC employers in your area and checking for resources through local colleges, universities, and trade schools—even if you are not a student. Many of these institutions partner with local business owners to direct talent to companies seeking new hires.
The U.S. Department of Labor's apprenticeship finder is also a valuable resource for people looking for that avenue of HVAC training.
Is an apprenticeship right for you?
If you're seriously considering a career in this essential trade, an HVAC apprenticeship could be the foundation upon which your future industry expertise is built. Plus, continuing education benefits and certifications can greatly help you in your career.
It's also worth considering at this early stage whether you would prefer the benefits of attending trade school and getting a very focused, student-centered experience as a major part of your training. This can increase your confidence when it comes time to work in the field as an apprentice. And the formal training can invite more interest from some employers.
You can easily see the HVAC training programs available near you and online by doing a quick search based on your location. Explore your options now!