Schools for International Business & Trade
Last Updated
Create great opportunities by learning about international business. Schools that offer specialized programs in this field help business students become equipped with the abilities and understanding they need for success. And they can help you achieve the same.
What will you do with an education in international trade and business? The possibilities are extensive and exciting. Maybe you'll help discover new foreign markets for a company with amazing products or services. Perhaps you'll be one of the lucky professionals who gets to travel or live overseas while setting up or managing a company's international operations. Or maybe you'll be involved in the selling, purchasing, or logistics of a company's exports or imports. These are just a few examples of the interesting career paths you could pursue.
The global economy keeps growing. New trade agreements are signed between companies and governments in different countries almost every day. And new business markets are being developed in culturally rich nations that have incredible economic potential. And with education, you can be part of these exciting developments.
Start building the prosperous future you deserve. Find a school for international business and trade that's near you by entering your zip code into the simple search tool below!
6 Top Career Areas in International Business & Trade
---
---
International Business Schools
Sponsored Listings
---
---
6 Top Career Areas in International Business & Trade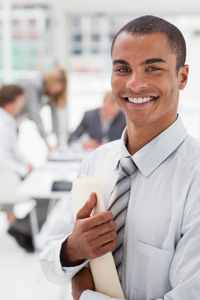 The ongoing expansion of international trade keeps generating all kinds of unique opportunities for people with the right business qualifications. Driven by advances in technology and communication—as well as improvements in diplomatic relations between nations—the growth of the world economy means that new positions are being created within international companies all the time. In fact, the numbers paint a very promising picture:
Between 1995 and 2014, the total value of global exports grew by more than 310 percent for commercial services and by over 267 percent for merchandise, according to data from the World Trade Organization (WTO).
WTO data shows that in 2014, merchandise exports by member nations were worth $18 trillion. And exports of commercial services were worth over $4.8 trillion.
According to the International Trade Administration (ITA), the United States was the world's largest exporter of commercial services in 2013 and the second-largest exporter of merchandise.
ITA says that over 230 foreign destinations receive exports from the U.S., including major trading partners such as Canada, Mexico, China, Japan, and Germany.
U.S. exports expanded by 96 percent from 2004 to 2013 and now support more than 11 million American jobs, according to ITA.
Here are six career areas that are especially worth considering as a future professional in international business:
1. International Marketing
Working in this area is all about identifying new markets in foreign countries and meeting the needs or wants of customers in those locations. It can involve planning and carrying out creative promotional strategies or coming up with innovative ways to distribute and sell a company's products or services within a culturally distinct region.
Salaries for people with roles in international marketing can be very good. For instance, the median salary for market research analysts in the U.S. in 2021 was $63,920, with the top earners making over $128,320.* Plus, many advancement opportunities exist. As you progress in your career, you might go from a marketing representative to an international business development manager. You may even get the chance to work as a regional marketing manager in a region like Asia, Europe, or Latin America.
2. International Sales and Purchasing
Whereas marketing involves focusing on entire markets, sales lets you focus on individual customers and clients. And the field of procurement, which is closely related, allows you to interact with international suppliers. As a professional in this area, you might handle deals involving the export or import of goods or services.
The salary potential for such positions is also extraordinary. In 2021, the median annual wage for U.S. sales managers was $127,490.* And for procurement or purchasing managers, it was $127,150. The highest earners in the field made more than $206,540 a year.
It's also possible to work your way into a career as an international trader or foreign trade consultant. Those options let you either work as an agent on behalf of buyers and sellers in different countries or as someone who matches them up and assists them in carrying out win-win export or import deals.
3. International Operations Management
As companies expand into different international markets, they rely on the expertise of operations managers to help set up new offices or other facilities and establish solid business presences. That can mean a lot of travel opportunities or even chances to live and work in fun or exotic places in other parts of the world. Plus, positions in this area often involve building professional relationships with interesting individuals or partnerships with foreign companies and suppliers.
Operations managers can earn great salaries. In fact, median pay in the U.S. was $97,970 in 2021, and many people in the field earned over $208,000.* Other possible job titles and positions include foreign project director, country manager, or international management consultant. In each case, you can help oversee a company's direct investment in a foreign market.
4. International Shipping and Logistics
Getting manufactured goods from point A to point Z (and all points in between) can be a complex yet fun and engaging process. The whole aspect of transportation, storage, and distribution is both an art and a science. That's why it takes well-educated logistics professionals to plan and oversee the movement of a company's valuable freight across national borders or entire oceans and into its final destinations.
In 2021, the median salary for logistics managers in the U.S. was $98,230 per year.* Some people within the field made over $162,770. And the field includes a number of other related career paths. For example, you might decide to become a freight forwarder, customs broker, or international transportation or shipping specialist.
5. International Financial and Accounting Services
Money is what makes global trade happen. Banks, insurance companies, and other financial organizations help ensure that capital can be accessed and risks can be minimized. And international accounting professionals help keep companies on track toward healthy bottom lines and in compliance with the tax and reporting requirements of the countries they do business in.
This field is incredibly broad and filled with all kinds of well-paying occupations. As one example, the median annual pay for accountants in the U.S. was $77,250 in 2021, and some made more than $128,970.* But as you begin learning more about this area of business, you might choose to become a bank officer, insurance broker, transfer pricing specialist, or foreign investment and risk analyst.
6. International Legal Services
Every nation has its own laws and regulations. And international trade is heavily influenced by all of the different treaties between pairs or groups of countries. For instance, just consider the many issues that international businesses face related to intellectual property or the transfer of technology. That's what makes the field of international law a major career option for so many business students. Commercial trade across foreign markets requires the advice and services of legal pros who know how to navigate the system.
Plus, you don't have to become an international investment or regulatory lawyer in order to take advantage of this field's opportunities. Being a paralegal who specializes in international law can enable you to make a comfortable living. In 2021, the median annual wage for American paralegals was $56,230, with the highest earners making over $88,640.*
---
---
* Unless otherwise noted, salary information is based on May 2021 data from the Occupational Employment and Wage Statistics (OEWS) program.