Appliance Repair School Information
By Publisher
| Last Updated
Technicians who fix major appliances for a living often enjoy consistent demand for their skills. Many also become self-employed, which expands their potential for higher wages. Getting trained through an appliance repair school generally takes very little time and gives you the chance to gain a comprehensive core of expertise that you can keep building on.
---
Appliance Repair Training
Some people enter this trade straight out of high school by landing apprenticeships with appliance repair companies. However, it's often easier to find that type of opportunity if you already have some formal training through a trade school. Programs tend to be short. Some include self-paced courses that are entirely online. Others incorporate classroom and hands-on training in labs with actual tools and appliances.
---
---
Appliance Repair Schools
Sponsored Listing
---
Length of Training
Most courses of study at appliance repair schools and other training providers tend to last anywhere from two weeks to 12 months.* Longer programs are much less common, available at only a handful of institutions.
Most Common Length of School*
(range in months)
Locksmithing

Appliance repair

HVAC technology

Small engine repair
Program Options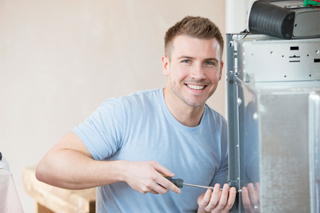 Certificate courses and programs are generally the shortest of all possible training alternatives. They are designed to quickly teach you the core concepts and skills or to help you advance your knowledge if you already have some experience in the trade.
Diploma programs usually last from nine to 12 months. But there are a few exceptions that take up to about 18 months (which is also about how long the few associate degree programs take).* Courses of study at these levels often provide broader, more in-depth training.
Apprenticeships provide a combination of coursework and paid on-the-job training through a private employer. However, many employers look for candidates who already have some relevant experience and/or formal training.
As an apprentice, you learn the trade under the guidance and supervision of a lead technician. Some employers have very structured programs with defined timelines, whereas others offer more open-ended training based on how quickly you pick up the required expertise.
Apprenticeships in your area can be found by using the U.S. Department of Labor's online search tool.
---
---
Typical Courses
Appliance repair programs vary in the range of subjects they cover, but many of them include classes in areas like:
Trades math
Safety precautions
Tools of the trade
Electrical theory
Basic electronics
Propane and natural gas fundamentals
Testing, troubleshooting, and diagnostic principles
Operation and repair of major appliances, including:

Refrigerators and freezers
Ovens, ranges, stoves, and cooktops
Washers and dryers
Dishwashers

Refrigerant handling and Environmental Protection Agency (EPA) regulations
Brazing techniques
Communication, professionalism, and customer service
Business management or entrepreneurship
Some programs combine appliance repair classes with training in heating, ventilation, and air conditioning (HVAC) technology.
Skills You Can Learn
Depending on the courses you take, formal training could help you develop core abilities related to:
Reading technical diagrams, schematics, and timer charts
Working safely with gas and electrical components as well as refrigerants
Testing electrical or electronic parts
Detecting gas or water leaks
Fixing common problems with each type of major laundry and kitchen appliance
Brazing copper or aluminum refrigerator coils
Taking accurate measurements
Installing, disassembling, and reassembling major appliances
Estimating costs
Managing parts inventories
Communicating effectively
Licensing & Certification
Just about every appliance tech needs a driver's license, since traveling to the location of each customer is a core part of the job. Beyond that, however, a lot depends on your particular state, the types of appliances you service, and whether you are employed by someone else or operate your own business.
Licensing
If you start your own company (even if you are the only one working there), you'll definitely need a business license, which will likely require having a minimum amount of liability insurance. A number of states also require that self-employed appliance technicians have a special contractor's license, particularly for any work that is valued above a certain dollar amount.
In addition, some states have licensing requirements for anyone who independently installs, adjusts, or repairs gas systems or equipment (including appliances). Those requirements can include a minimum amount of relevant experience and/or formal coursework through a state-approved organization.
Currently, South Dakota is the only state with occupational licensure requirements that are specific to appliance technicians who aren't necessarily self-employed. In that state, you must have a license at one of three levels:
Apprentice: Requires naming the licensed installer or contractor you'll work under
Installer: Requires a minimum of two years of experience as an apprentice
Contractor: Requires at least one year of experience as an installer
Certification
If your job will involve handling refrigerants that are known to deplete ozone in the atmosphere, you'll need to earn EPA Section 608 certification by passing an approved exam.
Also, if you'll be performing repairs on appliances that are still under warranty, you may need to become authorized by the individual manufacturers of those products. In many cases, you'll need to complete some brand-specific training related to particular models, especially for smart appliances with complex electronics.
Otherwise, additional certifications are voluntary. However, being professionally certified can give you greater credibility among potential employers and customers. Many technicians earn credentials through the National Appliance Service Technician Certification (NASTeC) or the Professional Service Association (PSA).
Education & Training FAQs
If I plan to specialize, do I still need training in general appliance repair?
You'll probably develop a much more valuable foundation of expertise if you take a comprehensive program that covers all types of major appliances. Even if you choose to specialize later on, you may be better served by having that core, general base of knowledge to build upon.
After all, many of the basic troubleshooting steps are the same no matter which appliance you are servicing. And the more varied your background is, the stronger your problem-solving abilities are likely to become. Job and business opportunities also tend to be better for technicians with both general and specialized expertise.
Should I get HVAC training also?
Household appliances and HVAC systems are often quite different, aside from certain shared components such as gas, electrical, and refrigeration elements. That said, some tradespeople and businesses do service furnaces, heat pumps, air conditioners, and automatic fireplaces in addition to kitchen and laundry appliances. So, extra training at an HVAC trade school may pay off with more customers or opportunities for employment.
---
---
Career Information
Appliance repair tends to be a stable trade with good opportunities for business ownership.
Career Outlook
1% increase from 2021 to 2031
Median Salary
Home Appliance Repairers
Job Openings
Average Yearly Openings
Length of Training
Most Common Length
Work Settings
Specializations
Cooking appliances, laundry and dishwashing appliances, refrigeration and small cooling appliances, household vacuum equipment, specific brands like Samsung, GE, Whirlpool, KitchenAid, LG, Frigidaire, Maytag, Panasonic, Bosch, Electrolux, Sub-Zero, and Wolf
Sources**
U.S. Bureau of Labor Statistics
U.S. Department of Education
Earnings
Estimates from the Occupational Employment and Wage Statistics (OEWS) program show that the median annual pay for home appliance repairers is $44,320.** Technicians at the top end of the pay range earn more than $63,820.
Median Annual Wage Comparison**
Job Openings & Outlook
According to projections from the Bureau of Labor Statistics (BLS), employment of home appliance repairers is expected to increase by one percent from 2021 to 2031.** However, an average of 3,600 jobs could open up each year because of technicians retiring or choosing to change careers.
Key Benefits
A great chance for self-employment: After gaining a year or more of experience, many appliance repair techs start their own businesses. That allows them to enjoy more independence and can substantially increase their income potential.
Peace of mind: Appliance repair is an essential service, meaning technicians are needed even during economic downturns or public health emergencies. After all, appliances are usually seen as necessities, not luxuries. That's why people in this trade can often rest assured that demand for their expertise is likely to remain steady.
Low barrier to entry: You can find courses through a trade school or other appliance repair training provider that take as little as just a few weeks or months to complete.* But it's also possible to qualify for certain apprentice or trainee jobs with only a high school diploma and a clean driving record.
What an Appliance Repair Technician Does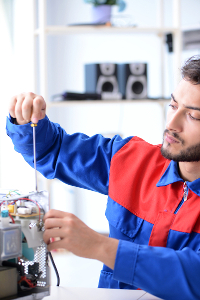 Techs in this field primarily install and service major kitchen and laundry appliances that enable people to store perishable food, cook meals, and wash clothes and dishes. On any given day, a technician may perform tasks like:
Communicating with customers in person or by phone
Reading work orders, product manuals, and technical diagrams
Operating appliances in order to find, observe, and evaluate malfunctions
Providing estimates for the cost of repairs or installations
Taking appliances apart
Testing pipes, connections, or electrical circuits
Looking up appliance parts in computerized databases
Cleaning, adjusting, or lubricating parts
Replacing defective or damaged components
Reassembling appliances
Installing new appliances, which can include:

Measuring openings
Removing and reinstalling cabinets
Making connections to gas or water lines
Leveling the appliances
Setting internal thermostats
Lighting pilot lights

Showing customers how to use and care for appliances
Billing customers
Maintaining work records and parts inventories
Work Settings
Appliance technicians primarily work indoors unless they need to repair or hook up vents that are outside. Apart from their own places of business, their jobs can take them to any setting where major laundry or kitchen appliances are used, sold, refurbished, or repaired. That could include:
Homes
Repair shops
Laundromats
Restaurants
Offices
Retail stores
Hospitals
Long-term care facilities
Schools
Daycare centers
Specializations
Some appliance service techs prefer to focus on installing or fixing only particular kinds of appliances. Doing so helps them keep their operations and parts inventories more streamlined and makes it easier to stay on top of the latest advancements. However, it's fairly common for experienced pros in this field to have multiple specialties, which may include:
Cooking appliances: Concentrate on servicing ovens, stoves, ranges, cooktops, and microwaves.
Laundry and dishwashing appliances: Specialize in repairing clothes washers and dryers as well as automatic dishwashers.
Refrigeration and small cooling appliances: Focus on servicing refrigerators, freezers, and window air conditioners.
Household vacuum equipment: Get a small amount of additional training that enables you to service vacuum cleaners and central vacuum systems.
Many appliance technicians also specialize in repairing and installing products from one or more manufacturers, which can include popular brands like:
Samsung
GE
Whirlpool
KitchenAid
LG
Frigidaire
Maytag
Panasonic
Bosch
Electrolux
Sub-Zero
Wolf
Career FAQs
Is appliance repair dangerous?
Working on machines that utilize gas or electricity always poses some inherent risk. For example, fumes from propane or natural gas can ignite, causing explosions and skin burns. And you can suffer electric shocks if you don't disconnect the power from appliances before working on them. Lifting heavy appliances can also cause back or muscle strains if you don't follow proper techniques.
However, well-trained technicians know how to prevent those kinds of dangers, and they wear safety attire or use assistive equipment when necessary. Plus, according to 2019 BLS data for this occupation, fatal work-related injuries are quite rare among home appliance repairers.
What should I think about before starting an appliance repair business?
First, evaluate the potential market and competition in your region. How many homeowners, restaurants, and other possible customers are within a 45-minute drive of where you want to set up shop? Is your area already serviced by several repair companies? If so, how will you stand out in a crowded marketplace?
One way to differentiate your business is to specialize in appliance brands that other companies don't service. However, you may run the risk of not having a large enough customer base if those brands aren't popular in your region.
Another thing to consider is whether to purchase a franchise or start your own independent business. With a franchise, you may have some restrictions on what you can do, but you'll likely get built-in marketing and administrative support as well as exclusive training programs.
Joining an organization like the United Appliance Servicers Association can be very helpful. In addition to frequent training and networking opportunities, you may be able to take advantage of potential savings on healthcare and business liability insurance.
---
* Length of training information is based on a combination of information from the Occupational Outlook Handbook, the U.S. Department of Education, and a wide sampling of relevant program lengths from about 20 individual school websites. They are a mix of public, private non-profit, and private for-profit institutions.
** Unless otherwise noted, salary information is based on May 2021 data from the Occupational Employment and Wage Statistics (OEWS) program. Job growth and average yearly openings estimates are from the Bureau of Labor Statistics and are for the 2021 to 2031 period.