System Administration / Networking Training Schools
Last Updated
Networks are behind many of the computer operations of today's world. The use of networks within businesses has created a strong demand for technical professionals who can create and maintain them, as well as fix problems or restore them when they crash.
A focused education can allow you to gain specific skills with IP routing, remote access, and address translation. You will learn to work with local area and wide area networks (LAN/WAN). LANs generally serve a small area, such as an office or building, whereas WANs cover a broad area, such as a state or country.
You can also receive additional certifications beyond a diploma or degree. These certifications can boost your credibility and add to your employability. It can be the route to take if you want to expand your career opportunities. Regardless of your choice, you are about to enter a sector that can offer you fulfillment and financial rewards. Get started by asking for more details!
Network Administration Career Information: 6 Frequently Asked Questions
---
---
Networking Schools
Sponsored Listings
Iselin (Edison), New Jersey
Moorestown, New Jersey
Paramus, New Jersey
Allentown, Pennsylvania
Lincoln, Rhode Island
Computer and Network Support Technician
Computer Systems Support Technician
DeLand
Kissimmee
Lakeland
Orlando
Pembroke Pines
South Miami
Tampa
Information Technology with Emphasis in Cybersecurity
Computer Information Technology - Networking
Information Systems Management - System Analyst
Lexington, Kentucky
Louisville, Kentucky
Cybersecurity
Network Support Administration and Security
System Support & Administration - Security
Atascadero, California
Chula Vista, California
Oxnard, California
San Luis Obispo, California
Santa Maria, California
Las Vegas, Nevada
Online
Information Technologies & Network Systems
Charlotte
Greensboro
Raleigh
Manassas (Northern VA)
Newport News
Richmond
Virginia Beach
Cloud Computing
Cyber and Information Security Technology
---
---
Network Administration Career Information: 6 Frequently Asked Questions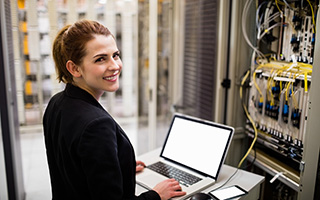 Computer networks are critical to the world's modern infrastructure. They make today's global economy possible. Without them, our communications and ability to access information and respond to challenges would be a lot slower. Networking technology enables companies, governments, schools, and many other types of organizations and individuals to learn, innovate, share, collaborate, and tackle important issues much more quickly, efficiently, and cost-effectively than would otherwise be possible.
For example, just think of how much most of us now depend on the Internet. It is a giant matrix of interconnected computer networks linking billions of separate devices around the world. It continues to transform our society in ways that we often don't imagine. In fact, it has become fundamental to our very way of life.
That's why people who pursue careers in network administration frequently become vital, well-respected professionals. Networking is one of the most important areas of information technology (IT), and it offers the potential to reap great professional benefits. For instance, the typical network administrator salary tends to be fairly high. And networking specialists often enjoy getting to take on new challenges while working in fun and essential roles within this ever-evolving sector.
So looking into this field is definitely a smart idea. Get a better understanding of it right now by exploring the answers to six popular questions.
1. What Is a Network Administrator?
In the most basic sense, a network administrator is an IT professional who manages and carries out the daily activities that are necessary for keeping one or more computer networks operational. People with this occupation also sometimes have job titles such as:
Network systems administrator
Network and server administrator
Network and computer systems administrator
Network and information systems administrator
2. What Does a Network Administrator Do?
Every organization has its own technology needs and challenges, so each employer is likely to have a slightly different network administrator job description. But the most common duties often include:
Figuring out what kinds of networking software and hardware an organization needs
Installing or upgrading various networking equipment or computer software as necessary
Performing maintenance operations or repairs on network systems
Monitoring and optimizing the security and performance of all network systems based on real-time and collected data
Assigning different permissions to different network users based on which servers or areas of a network they have the authority to access
Showing the users of a network how to use various computer software and hardware
Evaluating system alerts and solving problems as they arise
Providing support to users who have network-connected computers or mobile devices
As part of ensuring that data-sharing or communication services like email work as they're supposed to, network administrators utilize their knowledge of many different technologies and components. For example, they need to understand how to manage things like:
Switches: Devices that send packets of digital information between connected computers and gadgets over a single network
Routers: Devices that send packets of digital information between different networks
Servers: Computers that store large quantities of data and digital information for multiple network users
Firewalls: Special routers or servers that act as security buffers between public networks and private networks
Local area networks (LANs): Systems of interconnected devices that are used for sharing data and digital resources within small areas, usually in single buildings
Wide area networks (WANs): Systems of interconnected devices that are used for sharing data and digital resources over large distances
In addition to technical duties, a network system administrator job description might also include responsibilities that require good communication skills. That's because many organizations need IT pros who can clearly explain tech-related things in ways that non-techies can understand. And they often require networking specialists who can listen and discern what the technical needs truly are within various departments.
3. What Is the Median Network Administrator Salary?
In 2021, it was $80,600, which works out to hourly pay of $38.75.* With enough experience, it's possible to make a lot more. In fact, the highest 10 percent of earners in this occupation made salaries above $130,830.
Plus, in some locations, the pay is a lot higher than the nationwide median for this field. For instance, look at the average network systems administrator salary in each of the following regions:*
New Jersey: $108,860
Maryland: $106,480
California: $105,770
District of Columbia: $104,490
Massachusetts: $102,990
4. Can You Tell Me How to Become a Network Administrator?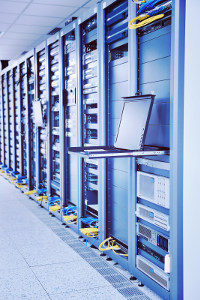 The most reliable way to start becoming a professional in this field is to get a computer networking education at the college level. Many training options are available. They range from short certificate and diploma programs to slightly longer courses of study that reward degrees. Even a general computer science or computer information systems degree can help you get started.
In addition to graduating from a post-secondary program, you might also want to earn some basic computer and networking certifications. For instance, a lot of employers prefer to hire entry-level networking pros who have attained at least CompTIA Network+ certification, which is vendor-neutral and demonstrates that you know most of the basics. Happily, a lot of technical and vocational schools include preparation for CompTIA certification as part of their networking programs.
At the beginning of your career, you might get hired first as a computer network support specialists, which is someone who mostly provides testing and troubleshooting support for computer networks and their users. Compared to that of a systems administrator, a computer network support specialists job description tends to be a bit more limited. The median computer network support specialists salary, while good, also tends to be a little less than that of a network administrator. (In 2021, it was $62,760.)*
With the right certifications and some real-world experience as a computer network support specialists, it might not be long until you attain a network administrator position. Beyond CompTIA certification, other certifications that you'll want to consider earning will depend on the particular networking equipment and software used within the organizations that you want to work for. Most certifications are geared toward the products of specific networking vendors. For example, some of the most widely respected networking certifications include:
Cisco Certified Network Associate (CCNA)
Cisco Certified Network Professional (CCNP)
Cisco Certified Internetwork Expert (CCIE)
Microsoft Certified Solutions Expert (MCSE) in server infrastructure, private cloud, communication, or enterprise devices and apps
Juniper Networks Enterprise Routing and Switching, Expert (JNCIE-ENT)
Wireshark Certified Network Analyst (WCNA)
Various options from other vendors like Brocade, HP, Alcatel-Lucent, Avaya, Citrix, and Extreme Networks
5. How Can I Advance in My Networking Career?
With enough success as a network administrator, it's often possible to move into higher roles. In some cases, you may need to upgrade your education first, especially if you have less than a bachelor's or master's degree. But some employers offer benefits that cover all, or a portion, of the tuition for going back to school. And many schools offer programs that can be taken online or on a part-time basis, which makes it convenient to upgrade your credentials while maintaining your existing job.
Advanced networking-related careers include occupations such as:
Computer systems analyst: People in this role have primary duties such as researching and evaluating data-processing challenges, user requirements, workflows, and existing systems as they relate to the business, engineering, or scientific needs of organizations. The median computer systems analyst salary in 2021 was $99,270.*
Computer network architect: Also known as a network engineer, this type of IT pro tends to be involved in designing, planning, and implementing large, highly customized, or complex networks that are fast, secure, and reliable. In 2021, the median salary for this occupation was $120,520.*
IT systems manager: In this high-level role, professionals get to oversee one or more of their organizations' information technology departments by planning, directing, and coordinating the activities of other IT staff. The average computer information systems salary for managers was $159,010 in 2021.*
A lot of network administrators also attain higher salaries and better positions by specializing in one or more particular areas of the field. In fact, advanced certifications or training options are often available for specialty areas such as:
Data-center systems
Cloud computing and networking
Wireless networking
Network security
Network forensics
Mobile solutions
Telecommunications
Network consulting and sales
6. How Many Networking Job Opportunities Are There?
That depends on where you're looking. Overall, the employment of network administrators in the U.S. is expected to rise by three percent from 2021 to 2031, according to the Occupational Outlook Handbook.*
A lot of the growth in the networking field will likely be a result of ongoing technology upgrades, the trend toward cloud computing and virtualization, and the expanding IT needs of the healthcare industry. In addition, many current IT professionals will be retiring in the coming years, which will lead to more job availability. When you account for employment growth as well as replacement-hiring needs, the average number of annual job openings that are projected to become available over the decade from 2021 to 2031 look like this:*
Computer and information systems managers: 48,500
Network and computer systems administrators: 23,900
Computer network support specialists: 16,100
Computer network architects: 11,800
---
Start Moving Ahead Right Now
Fast and convenient networking training is easy to find. Simply put your current zip code into the following program finder in order to locate networking schools that are online or close to home!
---
---
* Unless otherwise noted, salary information is based on May 2021 data from the Occupational Employment and Wage Statistics (OEWS) program. Job growth and average yearly openings estimates are from the Bureau of Labor Statistics and are for the 2021 to 2031 period.