Dialysis Technician Schools
By Publisher
| Last Updated
Dialysis technician training can prepare you to take on a critical position in the health care sector. People who have lost their kidney function need to have waste and excess fluids removed from their bodies. You can learn to operate the machines that make that possible—in just one year or even less.
---
Education & Training
Dialysis technician schools can help you gain the skills and knowledge to perform kidney dialysis for patients that require this life-sustaining service.
Length of Dialysis Technician Training
Typically, you have to go to school for four to 12 months to become a dialysis technician.** However, in some states, you only need a high school diploma and on-the-job training.
Most Common Length of School**
(range in months)
Nursing assistant

Phlebotomist

Dialysis technician

Practical nurse
Dialysis Tech Program Options
Dialysis technology training programs are offered by vocational schools, community colleges, and other training providers.
Most programs lead to a certificate or diploma. They can be anywhere from four to 12 months long and usually include both classroom instruction and a clinical externship.**
Most programs also prepare students for one or more of the certification exams required for all working dialysis technicians.
---
---
Typical Courses
Training generally covers topics like:
The principles of hemodialysis
Renal system anatomy and physiology
Communicating with patients and preparing them for dialysis
Operating and maintaining dialysis equipment
Complications and warning signs
Infection control
Skills You Can Learn
Dialysis technician training can help you become skilled at:
Cleaning and sterilizing dialysis equipment
Attaching tubing
Checking alarms and monitors
Maintaining patient safety and comfort
Keeping accurate records of procedures
Communicating with patients and other members of the health care team
Certification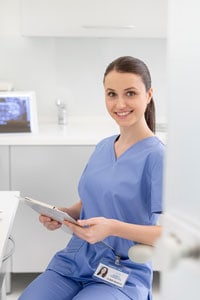 Under federal regulations, all dialysis technicians must become certified within 18 months of beginning work in the field. However, each state sets its own licensing and certification requirements. Some states mandate that technicians become certified before starting work.
You become a certified dialysis technician by passing an exam from a relevant authority. The three main national certifying bodies are listed below. Each state can specify which certifications are acceptable, so be sure to check what the rules are in your area.
1. Board of Nephrology Examiners Nursing Technology (BONENT)
BONENT offers the Certified Hemodialysis Technologist/Technician (CHT) designation for general dialysis technicians and the Certified Hemodialysis Bio-Medical Technician (CHBT) credential for those who focus on machine maintenance rather than patient care.
To be eligible to take either exam, you must have completed an approved training course or be currently employed in the field and have at least six months of work experience.
BONENT also offers a Certified Hemodialysis Water Specialist (CHWS) exam. You can take this exam if you already hold CHT or CBNT certification and have one year of experience in the dialysis water field. Otherwise, you must have a high school diploma or GED and three years of experience, an associate degree and two years of experience, or a bachelor's degree and one year of experience.
2. Nephrology Nursing Certification Commission (NNCC)
The NNCC offers the Certified Clinical Hemodialysis Technician (CCHT) designation for entry-level technicians. In order to qualify to take the exam, you must have a high school diploma or GED. You must also have completed a training program that includes a supervised clinical practicum. Plus, you need to provide details of any work experience you have accumulated. At least six months of experience is recommended, though not required.
The NNCC also offers the Certified Clinical Hemodialysis Technician-Advanced (CCHT-A) credential for technicians with a minimum of five years of experience.
Dialysis Tech Education & Training FAQs
What schooling do you need to be a dialysis technician?
You must meet the licensing and certification requirements in your specific state, so it's important to check with your department of health or board of nursing. Usually, would-be technicians must have a high school diploma (or equivalent) or a certificate or diploma in dialysis technology.
Some dialysis care centers, such as those operated by DaVita, offer on-the-job training to otherwise untrained technicians so that they can accumulate the hours they need for certification.
Can I train to be a dialysis tech online?
Yes, some programs are delivered entirely online. However, not all include a hands-on clinical component.
How long does it take to become a dialysis technician?
Dialysis technician training typically takes from 4 to 12 months.
How much does dialysis technician certification cost?
BONENT certifications, such as CHT, cost between $220 and $250 depending on whether you take the pen-and-paper option or the computer-based test. NNCC certification prices vary. The CCHT exam fee is $225, and the CCHT-A fee is $250.
Some training programs include the cost of a certification exam in their tuition and fees.
---
Dialysis Technician Schools
Sponsored Listings
---
---
Dialysis Technician Career Information
Dialysis technicians provide much-needed help to patients whose kidneys are not functioning correctly. Dialysis is critically important work that extends patients' lives.
Career Outlook*
6.7% growth from 2021 to 2031
Median Salary
Dialysis Technician
Job Openings*
Average Yearly Openings
Length of Training
Most Common Length
Work Settings
Sources***
Bureau of Labor Statistics
Dialysis Technician Salary
According to the Bureau of Labor Statistics (BLS), dialysis technicians are included in the general category "health technologists and technicians, all other." Median earners make $45,720 as an annual salary.*** The top 10 percent of earners make $75,340 or more each year. And the starting salary is $29,430.
Median Annual Wage Comparison***
Job Openings & Outlook for Dialysis Technicians
The Bureau of Labor Statistics (BLS) does not have specific data on this occupation, so it's difficult to say if dialysis technicians are in demand. However, the BLS does have a general category for "health technologists and technicians, all other," which includes dialysis techs. According to BLS projections, employment in this broad category is estimated to grow by 6.7 percent from 2021 to 2031.***
On average, about 11,800 health technician jobs are expected to open up each year over that time period.*** Roughly 1,000 of those will be brand new jobs. Approximately 5,000 openings will stem from retirements. And another 5,800 openings will come from workers transferring into other fields.
Key Benefits
A short amount of training: It's possible to finish school and start looking for a dialysis technician job in a matter of months instead of years.
The satisfaction of providing life-sustaining treatment: You get to help all kinds of people who depend on dialysis for their continued existence.
Enjoyment from lots of patient interaction: You can meet and get to know people with a wide variety of personalities and life stories, providing companionship, and learning from their experiences.
What a Dialysis Technician Does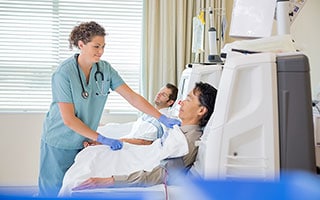 Dialysis technicians operate special machines that remove toxins from the bodies of people with advanced kidney disease. Under the supervision of a doctor or nurse, they provide care to patients undergoing dialysis treatment.
Technicians may:
Assemble the dialysis machine and ensure it is working properly
Address patient questions or concerns
Take patients' vital signs
Administer local anesthesia
Insert the needles that connect patients to the machine
Monitor patients during treatment and adjust fluid removal rates if needed
Disconnect and sterilize the machine
Update the health care team on each patient's condition
Work Settings
Most dialysis technicians work in:
Hospitals
Clinics
Specialized dialysis centers
Some work in:
Laboratories
Long-term care facilities
People's homes
Career FAQs
What's the difference between a dialysis technician, a hemodialysis technician, and a nephrology technician?
Those are simply different titles for the same occupation. Nephrology is the branch of medicine that concentrates on the kidneys. Hemodialysis (or just dialysis) is the actual process of cleansing the blood of a kidney patient.
Is being a dialysis tech a good career?
Many dialysis technicians find the work extremely rewarding because they provide essential physical and emotional support to patients undergoing treatment. Most dialysis patients have four-hour treatments multiple times a week, so technicians get to spend a lot of time with the same people and monitor their progress.
If you like to work at a fast pace, have great interpersonal skills, and value teamwork, then a career as a dialysis tech could be a terrific option for you.
Is working in dialysis hard?
Not every dialysis patient has a good outcome, and it can be hard to see someone's condition worsen or lose a patient who you've gotten close to. But it can also be immensely gratifying to realize that you helped someone live longer than they otherwise would have.
Do dialysis techs draw blood?
Dialysis technicians run the machines that clean patients' blood and return it to their bodies. They are qualified to draw blood, but that isn't something they typically do.
What hours do dialysis technicians work?
Most dialysis technicians work 40 hours a week. Some have more flexible part-time schedules.
---
A Meaningful Career Can Begin With Dialysis Technician Training
Getting the education you need to become a dialysis tech means having the opportunity to reap the rewards of providing essential medical services.
---
* Dialysis technicians are part of a broad category called "health technologists and technicians, all other."
** Length of training information is based on a combination of information from the Occupational Outlook Handbook, the U.S. Department of Education, and a wide sampling of relevant program lengths from about 30 individual school websites. They are a mix of public, private non-profit, and private for-profit institutions.
*** Unless otherwise noted, salary information is based on May 2021 data from the Occupational Employment and Wage Statistics (OEWS) program. Job growth and average yearly openings estimates are from the Bureau of Labor Statistics and are for the 2021 to 2031 period.