Cloud Computing Certification Training
Last Updated
Attaining cloud computing certification can greatly broaden your career opportunities.
Simply consider the major impact that cloud services continue to have in the world of information technology (IT). They are quickly becoming the new norm. As a result, people who get cloud computing training are increasingly discovering that their special skills—such as those related to network, storage, and server virtualization—are in high demand by many leading and up-and-coming organizations.
That's why attending school to learn these Internet technologies can really pay off. Plus, it's now possible to find programs that go way beyond just a single cloud computing course. In fact, full degree programs are available that can take you from beginner to entry-level pro in as little as 18 to 30 months. And they often cover a full range of relevant subjects so that you can become a truly versatile IT professional.
So take action toward realizing your tech ambitions. Find nearby schools offering comprehensive cloud computing courses of study right now by entering your zip code below!
3 Powerful Reasons to Pursue Cloud Computing Certification
---
---
Cloud Computing Schools
Sponsored Listings
---
---
3 Powerful Reasons to Pursue Cloud Computing Certification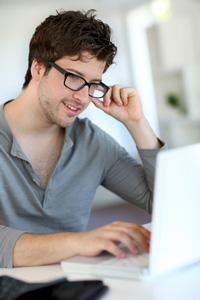 Companies, institutions, and other organizations around the world are discovering the extraordinary benefits of having their data and networking needs hosted in "the cloud." It's a way to centralize their IT-related administrative tasks while also reducing costs and improving their ability to quickly scale their technical operations up or down as needed. And tech consumers are finding out that the cloud offers new and convenient ways to use software and store their digital information.
It all means that people with professional cloud computing certification are often able to achieve a high level of success and satisfaction. By having an experienced background or practical education in computers, networking, and cloud technologies, you can pursue employer-valued certifications from industry associations and companies such as CompTIA, Microsoft, and VMware. And the options don't stop there. Many IT pros also choose to earn certifications related to Amazon Web Services (AWS) or to cloud products and services offered by other major companies like Oracle, Cisco, Google, IBM, EMC, Rackspace, and Red Hat.
With an education that helps prepare you for becoming certified, you'll have the chance to start experiencing the biggest advantages of contributing to this field. Here are three of the best reasons to train for a career in cloud computing:
1. Emerging and Leading-Edge Technologies
As cloud-based services get more sophisticated, the technologies that make them possible get more and more fascinating. So if you're driven by a deep interest in powerful new computing technology, then you'll likely enjoy being able to work with it every day. For example, imagine getting to learn about (and become an expert in) cloud-related technologies and processes like:
Virtualization
Autonomic computing
Hyperconvergence
Software as a Service (SaaS)
Platform as a Service (PaaS)
Storage Area Networks (SANs)
Application programming interfaces (APIs)
Scripting languages
Object-oriented programming
Systems administration
Network and server configuration
Software deployment via thin clients
Data center management
2. Exponential Growth
Cloud computing has gained amazing traction and continues to grow at a significant rate every year. According to Gartner, total worldwide revenues from public cloud services could rise by more than 33 percent from 2020 to 2022.
In addition, employment opportunities for network and computer systems administrators who work in industries that provide cloud technologies could expand by three percent from 2021 to 2031.*
3. Remarkable Salary Potential
According to the Bureau of Labor Statistics, network and computer systems administration specialists in the U.S. earn a median salary of $80,600.* And many of those who work in cloud-related industries have even higher salaries. For instance, network systems administrators in the data processing and hosting industry earn average yearly pay of $92,360. Plus, some people in this field make over $130,830.
---
How to Get Your Training Underway
Start getting the preparation you need for cloud computing certification by finding an accelerated yet in-depth program right now! By searching for nearby schools with your zip code, you can begin exploring some very enticing options.
---
---
* Unless otherwise noted, salary information is based on May 2021 data from the Occupational Employment and Wage Statistics (OEWS) program. Job growth and average yearly openings estimates are from the Bureau of Labor Statistics and are for the 2021 to 2031 period.