Dental Assistant Schools
Last Updated
A dental assistant trade school can ready you to become a valued and skilled professional going the extra mile in patient care to make a real difference.
Your education can prepare you for a multifaceted job that involves patient care, office, and lab duties. Successful completion of your program can allow you to become the vital link between the dentist and the patient. You will learn how to help make a patient feel comfortable, prepare them for their treatment, obtain their records, and assist the dentist as they may need it.
Formal training in this field can also lead you to excellent job opportunities. To begin your quest for a great career, find a dental assistant training school right now!
Dental Assistant Job and Education Information
---
---
Dental Assistant Schools
Sponsored Listings
---
---
Dental Assisting Training and Career Information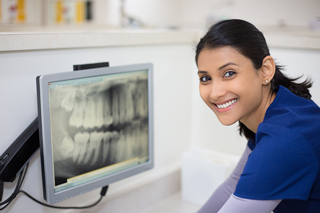 Going to see the dentist rarely involves seeing only the dentist. Today, various professionals make oral healthcare possible, each with a valuable and distinct role to play.
As more people become aware of the importance of maintaining a clean and healthy smile, dental assisting becomes increasingly important.
A dental assistant is:
A hands-on position in the field of allied dental healthcare
Someone trained to assist a dentist at the chairside of patients and perform other duties related to patient care and office administration within a dental practice
Someone who can possess a variety of professional titles throughout a career depending on geographic location and level of certification
Dental Assistant vs. Dental Hygienist: The Difference
Both dental assistants and dental hygienists work within dental practices under the supervision of a dentist. They may interact with many of the same patients, but the similarities don't go much further than that. So, what is the difference between the two positions? Here are a few key points to keep in mind:
Dental assistants help patients to feel comfortable and work side by side with dentists, assisting primarily with corrective and restorative dental procedures. They provide support to dentists in the way of duties, such as using rinsing and suction tools, passing instruments, and ensuring that sanitary practices are maintained.
Dental hygienists work with patients directly, primarily providing preventive dental care in the form of cleaning, scaling, and polishing teeth, and probing the teeth and gums for any signs of disease that need to be checked out by a dentist.
Dental hygienists generally have more seniority because they have more clinical knowledge.
Responsibilities of the Job
As a dental assistant, what you can do depends on the following factors:
Your employer
The state where you live and work
Your level of training and experience
The official certifications and designations that you have earned
The job titles and allowable duties can vary significantly from state to state. That's because each state has its own set of regulations, which must be followed by everyone working within a dental practice. The Dental Assisting National Board (DANB) provides links to specific information for each state.
Although a few states allow duties to be delegated to any dental assistant that a dentist deems to be competent, most states have created a hierarchy of job titles and allowable tasks based on a dental assistant's level of training and certification.
In general, the job's duties can be broken down into basic functions, expanded functions, and specialty functions.
Basic functions generally include:
Sterilizing and disinfecting dental instruments and equipment
Preparing dental instrument trays and laying out materials for treatment
Preparing patients for dental procedures
Recording patient medical histories and updating dental records
Working alongside dentists during "four-handed" dental procedures
Handing instruments and materials to dentists as needed or requested during procedures
Keeping the mouths and throats of patients clear through the use of tools such as oral irrigators and suction hoses
Instructing patients on pre-treatment, post-treatment, and general oral care
Ordering supplies
Scheduling and confirming patient appointments
Maintaining treatment and dental practice records
Taking and processing dental x-rays (with proper training and certification)
Expanded functions often include tasks such as:
Making oral impressions
Placing dental dams for isolating teeth during treatment
Applying topical anesthetics to gums
Applying sealants and cavity-preventive agents to teeth
Removing excess cement as part of a restorative dentistry procedure
Removing sutures
Performing coronal polishing
Fabricating mouth trays
Removing and fabricating temporary crowns
Preliminarily fitting crowns
Polishing amalgam-filling restorations with a slow-speed device
Performing teeth-whitening procedures
Specialty functions fall into areas such as:
Laboratory duties: casting oral impressions, cleaning removable orthodontic appliances, and making crowns, dentures, bridges, and veneers
Orthodontic tasks: removing cement from cemented brackets or bands, re-cementing loose orthodontic bands, and replacing ligatures and separators
Pediatric dentistry: performing procedures on children
Periodontics: assisting with procedures that involve the structures that surround and support the teeth
Oral surgery: assisting with more invasive procedures
Workplace
Most dental assistants are employed by private dental practices with one or more dentists. However, with training and experience come other opportunities, including working in different roles (such as office manager, instructor, or sales representative) and for different types of employers.
Dental assistants are commonly employed by:
Solo or group practices
Specialty practices: focus on a particular branch of dentistry such as oral surgery, pediatrics, orthodontics, periodontics, endodontics, or prosthodontics
State and local public health departments: includes school and community clinics
Dental school clinics: to assist students training to become dentists
Hospital dental clinics: assisting with bedridden patients
Insurance companies: processing dental insurance claims
Post-secondary education institutions: teaching dental assisting to others
Dental manufacturers and pharmaceutical companies: working as a sales representative for dental products
Career Perks
Here are a few of the positives associated with this job that you may not have even considered yet:
Varied work: A large variety of duties means that few dental assistants would ever call their work boring. Many find their tasks both fun and challenging.
Social interaction: It can be entertaining to meet new patients and different types of people.
Abundant opportunities: Since there is high demand in this field, those with experience don't often have to worry about being out of a job.
Flexible working options: The chance to work part-time is an advantage for many, especially those with families or other interests.
Rewarding role: It can be gratifying to help people improve or maintain their oral health because it often has a significant impact on their overall well-being.
Salary
Reflecting Occupational Employment and Wage Statistics program estimates from 2021, yearly wages look like this:*
Entry-level wages (10th percentile) are $29,580.
Median wages (50th percentile) are $38,660.
The top 10 percent earn $59,540 or more.
Typical hourly wages in private dental practices vary widely from state to state and can be as much as $25.00. This disparity is due, in large part, to differences in the cost of living. Employee benefits like paid vacation and health insurance also vary from employer to employer, but are typically offered only to those who work full time.
As a dental assistant, you are likely to receive the best wages if you work in a specialty practice or have the education and certification to perform expanded functions within your state.
Job Outlook for Dental Assistants Over the Next 10 Years
When it comes to this field, the outlook is bright. Dental assisting is one of the quickest-growing occupations in America. Employment is expected to increase by eight percent from 2021 to 2031.*
The career outlook will continue to be excellent for a variety of reasons. America's population continues to grow, older people are retaining their teeth longer, there is an increasing focus on preventive dental care, and new dentists (who are replacing retiring ones) are more likely than their predecessors to hire dental assistants with an education.
What the Different Job Titles and Acronyms Mean
There is currently no national standard for dental assistant job titles, designations, and certification. Depending on where you live, some job titles include:
Dental Auxiliary
Qualified Dental Assistant
Certified Dental Assistant (CDA)
Registered Dental Assistant (RDA)
Licensed Expanded Function Dental Auxiliary
Expanded Duties Dental Assistant (EDDA)
Expanded Functions Dental Assistant (EFDA)
How to Become a Dental Assistant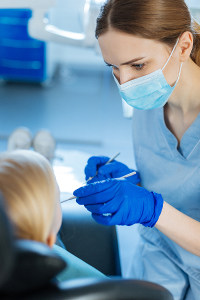 Depending on the state where you work and the duties that you wish to perform, dental assistant training requirements for work may state that you need to:
Take a state-mandated course in radiology and pass a written or practical exam before you can take x-rays.
Take other state-mandated courses for different sets of expanded functions.
Earn the Certified Dental Assistant (CDA) designation by passing the national exam administered by the Dental Assisting National Board (DANB). One way to become eligible for this exam is to complete a dental assisting program accredited by the Commission on Dental Accreditation (CODA).
Register with or obtain a license from your state, which sometimes involves an exam.
Complete ongoing continuing education courses to maintain your dental assistant certification.
Although each state has its own requirements and applies things differently, there is one designation recognized in a majority of states: Certified Dental Assistant (CDA).
Here are a few facts about the CDA designation:
It is earned by successfully passing the national CDA exam that DANB administers.
The most common pathway to taking the CDA exam involves completion or expected completion of a CODA accredited dental assistant program.
You must be certified in CPR (cardiopulmonary resuscitation) to qualify for the exam.
The CDA exam consists of three components. They are:

General Chairside Assisting
Radiation Health and Safety
Infection Control
CDA certification requires keeping your education up-to-date, renewing your CPR certification, and paying annual dues.
In some states, being a CDA qualifies you to take x-rays and perform other expanded duties. In other states that recognize the CDA designation, you must also pass one or more state exams before being allowed to perform expanded functions.
How to Become a Certified Dental Assistant
The biggest part of determining how to become a CDA is to consider your training options. The most common route to becoming a CDA is to seek formal training through a dental assisting program and prepare to take the CDA exam. Depending on the specific program that you choose, some work experience may be required.
Benefits of Education
Upon program completion, you will be eligible to take the CDA exam.
Hands-on experience and quality training are valuable assets to any employer.
The opportunity for advancement is readily available if you want to pursue expanded functions in dental assisting.
You can enter your career field confident in the knowledge and skills you have to offer.
How Long is Dental Assistant Training?
Programs tend to range in length, from as short as a few months to as long as one year. In terms of quality instruction, the longer programs generally offer the most comprehensive dental assisting training.
When choosing a dental assistant program, aim for one that incorporates classroom instruction, laboratory instruction, preclinical instruction, and a hands-on externship in an actual dental practice.
Many programs, such as those accredited by the Commission on Dental Accreditation (CODA), are typically designed to take about nine to 11 months to complete.
Program Prerequisites
A high school diploma, or an equivalent, is likely the only prerequisite you will need to begin training. High school students interested in the profession may want to consider science and business classes.
Dental Assistant School Cost
The cost of schooling varies greatly depending on where you live and the program you choose. Total costs typically range from about $1,000 to $8,000. Look into what that cost includes, since this price may include certification exam fees, uniforms, supplies, and more.
If you qualify, some programs can help you pay for school. The federal government offers several forms of financial aid (loans and grants). Many state governments also have programs designed to assist people who need to retrain for a new career.
In addition, a number of professional organizations offer dental assisting scholarships to members who qualify. A few of these include:
What's Covered in a Dental Assistant Training Program
Dental assistant programs can vary significantly in their curricula.
The best programs typically include courses in theoretical dental knowledge, laboratory skills, and chairside skills. They also usually include at least one clinical externship (sometimes called an internship) for real-world practice and assessment.
Many programs offer classes in:
Dental science
Prevention and nutrition in dentistry
Dental materials
Dental office management
Medical emergencies
Infection control
Chairside procedures
Dental radiography
DANB exam preparation and review
---
---
---
* Unless otherwise noted, salary information is based on May 2021 data from the Occupational Employment and Wage Statistics (OEWS) program. Job growth and average yearly openings estimates are from the Bureau of Labor Statistics and are for the 2021 to 2031 period.