---
---
Training for Photography Careers: Start Planning Your Future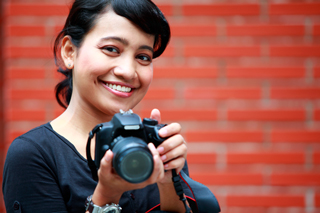 For people who are considering pursuing photography careers, one of the most common questions that they have is, "What does a photographer do?" Unfortunately, there is not a straightforward answer because not only are there different types of photographers, there are also different types of photography techniques. The field can seem simplistic on the surface, yet as you learn more, you will realize that it is quite extensive and multifaceted. That is why attending a photography school can be an important decision. It is where you can learn about various techniques, which could include:
Abstract—A conceptual form of photography that often focuses on a certain color, pattern, shape, or texture and is not easily recognized as a specific object.
Black and white—The use of contrasting shades of black, white, and grey in order to create a visually stimulating photo.
Forced perspective—A form of optical illusion that makes an object look closer, farther, bigger, or smaller than it really is.
HDR—A process of taking three photos of the exact same scene using different shutter speeds. Those images are then layered on top of each other in order to highlight various elements of the pictures.
High-speed—A specialized technique of taking photos of objects that move so fast that they are often unable to be seen by the naked eye.
Infrared—The use of special films or sensors that are sensitive to infrared light in order to create special effects, like chalky appearances and false colors.
Long exposure—A type of photography that uses slow shutter speeds in order to capture still images while blurring or smearing moving parts within the frame.
Macro—A method of taking extreme close-up pictures, usually of small objects.
Panoramic—A technique often referred to as wide-format photography that captures multiple horizontal images and joins them together into one wide image.
Tilt shift—A form of optical illusion photography that uses special lenses and high angles in order to make objects and scenes appear miniature.
Time lapse—A technique in which pictures are captured at a slower rate than they are played back, such as capturing the moon's movements over a five-hour period and playing all of the images back in only 10 seconds. The images can also be layered over the top of each other in order to create one still image.
If you are thinking about becoming a professional photographer, then it is important to identify the types of photography and techniques that interest you the most. Doing so can help you pick the photography school that can assist you with achieving your goals. So continue reading to discover more photography career information that could help you decide which training option suits you best.
---
Discover the Different Types of Photographers
Many people do not realize just how many different specializations there are within the field of photography. It is a great idea to think about the area where you would like to focus your skills so that you can choose a training path that can help you accomplish your career goals. However, keep in mind that you are not stuck in the specialization that you initially choose.
The beauty of the photography field is that, as long as you have built a solid foundation of knowledge and abilities, you can change your focus at any time. So knowing that you have some flexibility can make it less stressful to decide on your initial direction. Here are some of the more common areas that you could specialize in:
Advertising/commercial—Take photos that are used for advertising and marketing businesses, products, services, and people.
Aerial—Take photos looking down from a high point, typically from an airplane or helicopter.
Architecture or real estate—Capture images of houses, buildings, and other structures to be featured on real estate listings and websites as well as in magazines and other visual mediums.
Concerts or live events—Photograph live events and performances to be used by the performers, as well as for online and print publications.
Fashion—Take photos of models, fashion pieces, and runway events for publications and mediums like magazines and billboards.
Food—Use a camera, props, and special techniques to take visually appealing pictures for magazines, websites, billboards, and other print and online mediums.
Forensic—Take photos of crime scenes in order to capture their original state and provide records for law enforcement officials and the courts.
Landscape, nature, or wildlife—Take beautiful photos of wild animals and natural landscapes. You could establish a photography career in wildlife conservation or environmental activism and maybe even work for a publication like National Geographic.
Paparazzi—Keep track of celebrities and other famous people in public settings and take high-quality pictures of them to sell to tabloids, news outlets, and other print and online publications.
Photojournalist—Tell real-life stories through captivating images. If you want to become a photojournalist, then you may want to build a website, start a blog, and submit your best work to news outlets, editors, and publishers in order to get your name out there.
Portrait or family—Focus on taking pictures of people and consider specializing in areas like pregnancy, childbirth, newborns, families, special events, and school portraits.
Scientific—Take pictures of scientific and medical images and data by using a variety of specialized techniques like thermal or ultraviolet imaging.
Sports or action—Capture photos of sporting and other high-action events for sports teams and organizations or newspapers, magazines, and other media outlets.
Travel—Document people, countries, and cultures around the world by taking captivating images that you can sell to travel websites, magazines, newspapers, and other online and print publishers.
Underwater—Explore the depths of oceans, seas, and lakes and take incredible photos of marine life, coral reefs, ship wreckage, and other underwater features.
Wedding—Capture moments in time that couples want to remember forever. If you would like to become a wedding photographer, then you may want to spend time assisting other wedding photographers or volunteer your services to family and friends in order to gain experience.
---
Find Out How to Become a Photographer: Six Simple Steps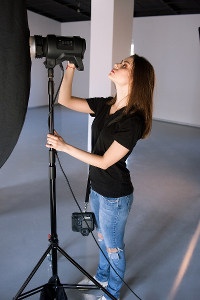 There are many ways that you can begin a career in photography. Some people dabble in the field as self-taught amateur photographers for years before going to the professional level. Others go straight into bachelor's degree programs to get a solid education from the start. So with that in mind, here are six steps that you could follow in order to begin pursuing your potential as a photographer:
1. Decide which type of photography you want to specialize in. Making that decision early on can guide you toward the training, internship, and job opportunities that can help you develop the skills that you desire.
2. Research photography schools that offer programs that fit your goals. Depending on the type of school you attend, you may learn about the following topics:
Photography principles
Photography history
Color theory
Image manipulation
Lighting
Studio photography
Portraiture
Picture formats
Film processing
Darkroom hardware
Digital editing software
Lenses and cameras
Advertising, marketing, and portfolio development
Business principles
3. Buy the equipment that you will need. When you are first starting out, it is often recommended that you buy used or older models in order to save yourself some money. You could also borrow or rent certain pieces of equipment to make sure it is what you want prior to investing money in it. You will also want to make sure that you have a good photo-editing software program.
4. Start building an online portfolio of your best work. Most people and organizations will be reluctant to hire you if they are not able to view photos that you have taken and edited.
5. Gain experience through internships, volunteer opportunities, or assistant jobs. Explore every avenue possible to obtain experience because that can help you strengthen your abilities, add to your portfolio, and provide you with networking opportunities in order to get your name known.
6. Find a photography job or start your own business. As you work through the above steps and develop confidence in your skills, you can apply for photography jobs or you could start your own freelance business. Going into business for yourself will require a lot of advertising, marketing, and networking in order to attract potential clients. However, the hard work can pay off once you obtain clients and word of mouth spreads. Some of the most successful photographers are self-employed.
---
Projected Job Outlook for Photographers
Employment projections from the Bureau of Labor Statistics show that, in the decade from 2018 to 2028, there could be an average of 11,800 job openings for photographers becoming available each year. So it is quite likely that you could find exciting job possibilities.
However, there could be even more opportunity if you start your own business. In fact, the Occupational Outlook Handbook estimates that over the same 10-year period, there will be 10-percent job growth among self-employed photographers. Although you are responsible for all of the start-up and operational costs for the business, you also get to keep all of the profits. So if you are motivated and have a strong business sense, then starting your own photography company could be a good choice.
---
Uncover the Average Salary for Photographers
When it comes to the field of photography, salary expectations can vary substantially based on factors like your level of experience, what industry you work in, and where you work. According to May 2018 data from the Occupational Employment Statistics program, the average hourly wage for photographers across the country is $20.56, which is $42,770 annually. However, check out the average hourly wage offered in the highest-paying states and regions:
District of Columbia—$39.83
Massachusetts—$31.29
Rhode Island—$26.35
Minnesota—$26.03
New Mexico—$25.83
There are also industries that pay much higher wages than the hourly averages mentioned above. Take a look at a few of those industries below:
Aerospace product and parts manufacturing—$38.99
Local government, excluding schools and hospitals—$31.47
Motion picture and video—$31.04
---
Explore Three Key Skill Sets for Becoming a Successful Photographer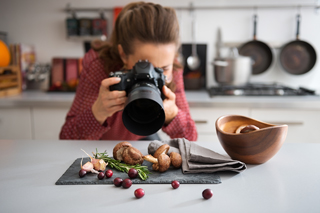 Photography schools can provide valuable training for those with a sharp eye and a creative mind. Whether you want to learn how to make a living from photography, or simply want to expand on your existing skills, formal training is often a good bet. However, if you truly want to succeed as a professional in this popular and competitive field, you should make sure that your education will help you acquire or build on three essential skill sets.
1. Technical Aptitude
Technical skills, for most great photographers, are second nature. The better you understand (and the more you practice) the mechanical aspects like choosing the right shutter speed, white balance, aperture, lenses, lighting, and filters, the more you'll be able to focus on the things really help you stand apart from other professionals.
Therefore, a good school will help you develop comprehensive expertise and hands-on practice with a wide range of cameras, lenses, and lighting equipment. You'll want to learn all the modern digital photography techniques, of course, but knowing how to work with traditional film can also provide you with a competitive edge in some circumstances.
Most of today's programs will also introduce you to image editing software like Adobe Photoshop, Lightroom, and Aperture. You'll want to make sure you learn how to process and manipulate your photos, including important techniques like color correction.
2. Creative and Documentary Flair
While creativity is more of a "soft" skill than a hard, technical one, it is vital that you learn how to develop an artistic sensibility. The single most important thing a photographer can possess is not the latest and greatest camera; it is a "good eye".
Photography is about recording events, telling stories and documenting the world visually. Your photos should convey information without requiring explanation. Schools that understand this will place special emphasis on the creative, conceptual aspects of the profession so that you can develop your own style.
You'll want courses that put your imagination to good use and challenge you to see the world around you from different perspectives. Classes in art theory and composition are crucial. But, you can also benefit greatly from any program that includes subjects like sociology or photographic history. It's all about gaining unique inspiration and insight, and learning how to see things in new ways so that your photos can stand on their own and evoke meaning.
3. Business and Marketing Smarts
At the end of the day, if you want to be a professional in this field, you'll need to learn how to make money from your work. Salaried photography positions can be hard to come by. And, about half of all photographers are self-employed, working on a contract-by-contract basis. That means acquiring some business acumen and marketing proficiency is essential to your success.
Look for a program that includes business courses in subjects like self-promotion, writing and negotiating contracts, and keeping financial records. You'll also want to learn how to assemble an effective portfolio; this can help you turn potential buyers of your services or existing work into paying clients and customers.
---
Start Unlocking Your Full Potential
When it comes to photography careers, you have the potential to enjoy a lot of freedom, flexibility, and choice. One of your first, and possibly most important, actions is to decide on a training path. If you are ready to discover photography schools that are offering programs near you, then all you need to do is enter your zip code into the search tool below. Stepping toward a brighter and better future is really that simple!
---