Find a Photography School Near You
By Publisher
| Last Updated
Enrolling in a photography school near you can be an excellent way to expand your technical knowledge and develop your creative sensibilities. By undergoing formal photography training at a college, university, or trade school, you can indulge your passion and prepare for a satisfying career.
---
Photography Training
Photography schools can provide valuable training for those with a sharp eye and a creative mind. Whether you want to learn how to make a living from photography or simply expand on your existing skills, formal training is often a good bet.
Benefits of Attending Photography School
The chance to broaden your horizons: Going through a formal program will likely expose you to more facets of the field than you would explore on your own. You can receive supervised technical training in a variety of shooting styles and techniques, as well as guidance in photo editing and business fundamentals.
Access to top-notch equipment: Many programs allow you to try out different kinds of cameras, lenses, and other equipment. So you'll know what you like best when it comes time to add to or replace your gear.
Networking opportunities: Building connections with your instructors and fellow students can help you become part of the photography community and get your name known. Some programs also include internships that allow you to establish contacts with professional photographers in the real world.
Length of Training
It typically takes eight to 48 months to complete a photography program at a college, university, or trade school.*
Most Common Length of School*
(range in months)
Photography

Graphic design

Computer animation

Journalism
Photography Program Options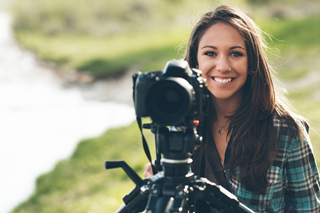 When it comes to getting hired as a photographer, your portfolio will be far more important than your educational credentials. So when choosing a program, it comes down to how comprehensive you want your training to be and how long you're willing to spend in school.
Certificate programs are usually no longer than a year.* They typically offer foundational training in equipment operation, photographic techniques, and editing software. If you want a quick way to hone your technical abilities under the guidance of experienced mentors, a certificate program can be a good option. This level of training is great for getting started as a freelancer.
Associate degree programs normally take about two years to complete.* In addition to the technical aspects of photography, they frequently offer training in design principles, drawing techniques, portfolio development, and small business management. They also include general courses like math, English, and art history. With an associate degree, you may have a better chance of becoming an in-house photographer for an organization, if that's a goal of yours.
Bachelor's degree programs typically last about four years, although some accelerated programs can be completed in three.* They offer more in-depth training in the conceptual and theoretical aspects of photography. They also provide more opportunities for students to specialize and develop their creative style. A bachelor's degree may open the door to a greater number of in-house photography positions, especially with large companies.
Master's degree programs are also available, but they are less common. They generally take two additional years of study once you finish a bachelor's program.* These types of programs tend to focus on theory and critical analysis of photography. A degree at this level can help you qualify for teaching positions at colleges and universities.
---
---
Typical Courses
Depending on the program you choose, you may learn about:
Image composition
Color theory
Different types of photography, such as:

Film
Digital
Black and white
Studio
Portrait
Sports
Fine art

The history of photography
Lighting
Color management and printing
Photo editing software, such as Adobe Lightroom or Photoshop
Framing techniques
Photojournalism
Video production
Portfolio development
Business principles
Social media strategies
Skills You Can Learn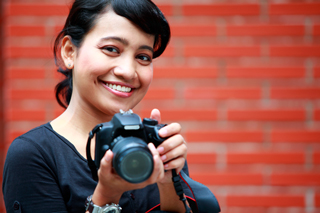 You could start learning how to:
Use different types of cameras, lenses, and filters
Apply techniques in:

Framing
Composition
Lighting
Exposure
Distance
Perspective

Retouch and color correct digital images
Use software like Adobe Photoshop or Lightroom
Process film
Put together a professional portfolio
Licensing & Certification
Photographers do not need any licenses to perform their jobs. However, if you plan to use a drone to take photos, you must become certified by the Federal Aviation Administration (FAA). That requires passing a written exam at an FAA-approved center. To qualify for the test, you have to be 16 or older, fluent in English, and in the mental and physical condition to fly a drone safely. Once you earn your certificate, you must also register your drone with the FAA.
Professional Photographers of America (PPA) offers a couple of certifications: Certified Professional Photographer and Certified Drone Photographer. They are completely voluntary, but they can aid in your marketing efforts and help you stand out as a pro who is serious about your craft.
Both certifications require candidates to be PPA members, pay an application fee, and pass a multiple-choice exam. Certified Professional Photographer applicants must also submit three specific images for technical evaluation. Certified Drone Photographers must submit their FAA certificate along with evidence of general liability insurance and a logbook that documents 30 hours of flight time.
Education & Training FAQs
What should I look for in a photography school?
If you want to make a living in this popular and competitive field, you should make sure that your education will help you acquire some essential skill sets, such as:
Technical aptitude: The better you understand (and the more you practice) the mechanical aspects like choosing the right shutter speed, white balance, aperture, lenses, lighting, and filters, the more you'll be able to focus on the things that help you stand apart from other professionals.

A good school will help you develop comprehensive expertise and hands-on practice with a wide range of cameras, lenses, and lighting equipment. You'll want to learn all the modern digital photography techniques, of course. But knowing how to work with traditional film can also provide you with a competitive edge in some circumstances.

Most of today's programs will also introduce you to image editing software like Adobe Photoshop and Lightroom. You'll want to make sure you learn how to process and manipulate your photos, including important techniques like color correction.
Creative and documentary flair: It's vital that you learn how to develop an artistic sensibility. Schools that understand this will place special emphasis on the creative and conceptual aspects of the profession so that you can develop your own style.

You'll want courses that put your imagination to good use and challenge you to see the world around you from different perspectives. Classes in art theory and composition are crucial. But you can also benefit from any program that includes subjects like sociology or photographic history. It's all about gaining unique inspiration and learning how to see things in new ways so that your photos can stand on their own and evoke meaning.
Business and marketing smarts: Acquiring some business acumen and marketing proficiency is essential to your success. Look for a program that includes business courses in subjects like self-promotion, writing and negotiating contracts, and keeping financial records. You'll also want to learn how to assemble an effective portfolio. This can help you turn potential buyers of your services or existing work into paying clients and customers.
What are some of the techniques that photography school can teach me?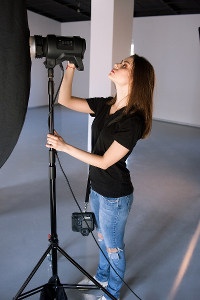 Here are a few examples:
Abstract: A conceptual form of photography that often focuses on a certain color, pattern, shape, or texture and is not easily recognized as a specific object.
Black and white: The use of contrasting shades of black, white, and grey in order to create a visually stimulating photo.
Forced perspective: A form of optical illusion that makes an object look closer, farther, bigger, or smaller than it really is.
HDR: A process of taking three photos of the exact same scene using different shutter speeds. Those images are then layered on top of each other in order to highlight various elements of the pictures.
High-speed: A specialized technique of taking photos of objects that move so fast that they are often unable to be seen by the naked eye.
Infrared: The use of special films or sensors that are sensitive to infrared light creates special effects, such as chalky appearances and false colors.
Long exposure: A type of photography that uses slow shutter speeds to capture still images while blurring or smearing moving parts within the frame.
Macro: A method of taking extreme close-up pictures, usually of small objects.
Panoramic: A technique often referred to as wide-format photography that captures multiple horizontal images and joins them together into one wide image.
Tilt-shift: A form of optical illusion photography that uses special lenses and high angles in order to make objects and scenes appear miniature.
Time-lapse: A technique in which pictures are captured at a slower rate than they are played back, such as capturing the moon's movements over a five-hour period and playing all of the images back in only 10 seconds. The images can also be layered over the top of each other in order to create one still image.
---
Photography Schools
Sponsored Listing
---
---
Photography Career Information
For individuals with the right mix of creative abilities and technical skills, the photography field offers satisfying work, good self-employment potential, and an enormous range of possible specializations.
Career Outlook
3.6% decline from 2019 to 2029
Median Salary
Photographers
Job Openings
Average Yearly Openings
Length of Training
Most Common Length
Work Settings
Specializations
Advertising/commercial, aerial, architecture/real estate, concerts or live events, fashion, fine art, food, forensic, industrial, landscape/nature/wildlife, paparazzi, photojournalism, portrait, scientific, sports, travel, underwater, wedding
Sources
U.S. Bureau of Labor Statistics
U.S. Department of Education
Earnings
Photographers make $36,280 in median annual earnings, according to Occupational Employment Statistics (OES) program estimates. The top earners make upwards of $79,440.
Some photographers work on salary, but many are freelancers who charge a set fee for different services. So the amount they make can vary depending on their workload.
Median Annual Wage Comparison
Job Openings & Outlook
Projections from the Bureau of Labor Statistics (BLS) indicate that employment of photographers is expected to decline by 3.6 percent from 2019 to 2029. However, an average of 10,900 jobs should still become available each year over that time frame due to photographers retiring or switching to different occupations.
While salaried jobs are becoming increasingly rare, the BLS notes that self-employed photographers should see an employment increase of 12.7 percent. Those who develop skills in areas like photo editing, digital video production, and drone photography will likely have the best prospects.
Key Benefits
Creative satisfaction from being a visual storyteller: You get to use your artistry and sense of style to express a vision, communicate an idea, or document an experience. The images you create can have a lasting impact on people's lives.
The chance to be your own boss: Close to two-thirds of photographers are self-employed, according to the Occupational Outlook Handbook. Running your own operation gives you more freedom and control over the types of projects you take on as well as the prices you charge.
Advancement opportunities: After gaining professional experience (and sometimes additional education), some photographers move into roles as studio managers, photo editors, teachers, or art directors.
What a Photographer Does
Some of a photographer's day-to-day tasks can include:
Choosing the right equipment for different types of shoots
Composing photos
Using special lighting, lenses, or filters to produce the desired look
Using photo editing software to modify or enhance a digital image
Developing images from film
Enlarging and printing photos
Framing completed images
Maintaining a portfolio and website
Communicating with subjects and clients
Marketing his or her services
Work Settings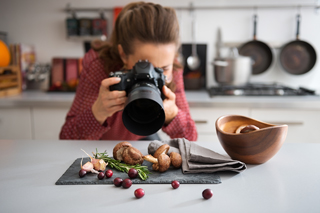 Photographers can work anywhere. Some common settings include:
Portrait studios
Advertising agencies
Private homes
Schools
Parks
Foreign cities
Corporate offices
Sports and entertainment venues
Conference centers
Banquet halls
Resorts or cruise ships
Wilderness areas
Specializations
Many people don't realize just how many different specializations there are within the field of photography. It's wise to think about the area where you would like to focus your skills so that you can choose a training path that can help you accomplish your career goals. However, as long as you have a solid foundation of knowledge and abilities, you can change your focus at any time.
Depending on your interests, you may want to specialize in areas like:
Advertising or commercial: Take photos that are used for marketing businesses, products, services, and people.
Aerial: Take photos looking down from a high point. Traditionally, that meant using an airplane or helicopter, but it's becoming more common to use a drone.
Architecture or real estate: Capture images of houses, buildings, and other structures to be featured on real estate listings and websites as well as in magazines and other visual media.
Concerts or live events: Photograph live events and performances to produce images to be used by the performers or by online and print publications.
Fashion: Take photos of models, fashion pieces, and runway events for magazines and billboards.
Fine art: Produce images for creative expression.
Food: Use props and special techniques to take visually appealing pictures for magazines, websites, billboards, and other media.
Forensic: Take photos of crime scenes in order to document their original state and provide records for law enforcement officials and the courts.
Industrial: Capture images of machinery, equipment, and products to illustrate the processes and people involved in sectors like construction, manufacturing, mining, and transportation.
Landscape, nature, or wildlife: Take photos of wild animals and/or natural landscapes.
Paparazzi: Take pictures of celebrities and other famous people in public settings.
Photojournalism: Take photos that tell the story of news events.
Portrait: Take posed pictures of people. You could further focus on areas like pregnancy, childbirth, newborns, families, special events, or school portraits.
Scientific: Create images that illustrate scientific data and medical information for exhibits or brochures.
Sports or action: Capture photos of sporting and other high-action events for teams or media outlets.
Travel: Document people, countries, and cultures around the world by taking images that you can sell to travel websites, magazines, newspapers, and other publications.
Underwater: Take photos of marine life, coral reefs, ship wreckage, and other underwater features.
Wedding: Capture moments that couples want to remember forever.
Career FAQs
What characteristics do good photographers share?
They have an eye for detail, a keen imagination, and a good understanding of how all the elements come together to produce an image. Patience and flexibility are also important. If the lighting changes suddenly or your subject won't cooperate, you have to find a way to get results.
Different types of photography require slightly different skill sets. For example, a wedding photographer must have good interpersonal skills. A sports photographer needs to be quick and agile. And a wildlife photographer has to be prepared to climb or crawl to follow his or her subject.
Where do photographers earn the most money?
OES estimates show that the highest average salaries for photographers are in the following regions:
District of Columbia: $89,310
New York: $65,070
Minnesota: $60,410
Massachusetts: $59,060
Rhode Island: $58,460
What are the highest-paying industries that employ photographers?
According to the same OES estimates, the top-paying sectors include:
Aerospace product and parts manufacturing: $87,070
Advertising, public relations, and related services: $71,930
Motion picture and video industries: $71,670
Other information services: $69,560
Residential building construction: $68,730
---
Trade School Photography Programs Can Advance Your Ambitions
In this field, you have the potential to enjoy a lot of freedom, flexibility, and choice. One of the best ways to develop the skills that can help you be successful is by attending a photography school near you.
---
* Length of training information is based on a combination of information from the Occupational Outlook Handbook, the U.S. Department of Education, and a wide sampling of relevant programs from about 30 individual school websites. They are a mix of public, private non-profit, and private for-profit institutions.