---
---
3 Reasons to Choose a Medical Transcription Career
1. Important Role in Health Care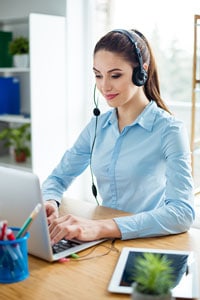 There's a reason more than 20 million people choose to work in the health care and social assistance sector. It's a rewarding career choice that allows you to make a real difference in the lives of others. Imagine the sense of satisfaction you can have, knowing you are improving the quality of care patients receive. Transcribing voice-recorded reports into a variety of essential health documents, including physical examination reports, discharge summaries, referral letters, medical records, and autopsy reports, is an essential component of an efficient medical system.
As a transcriptionist, your work can directly affect a patient's diagnosis, recommended course of treatment, and prognosis. Plus, your training can be a fascinating foray into medical language and the world of health care. You can build your knowledge of medical terminology, anatomy, physiology, and pharmacology. You can also learn about a variety of diagnostic procedures and treatment assessments, which will prove critical to producing accurate transcriptions.
2. Strong Job Market
Professionals in this field can take advantage of a job market that is expected to produce about 7,700 job openings each year, on average, during the decade from 2018 to 2028. As with other health care professions, this field will be affected by a growing population of seniors. Older patients require a greater number of treatments, medical tests, and procedures—all of which need to be properly documented. Also, the increasing need for electronic health information to be easily shared among practitioners, consumers, and insurance companies will definitely affect the demand for qualified people trained in medical transcription.
3. Possibility of Working from Home
Although the majority of medical transcriptionists work in hospitals or doctors' offices, some work in outpatient care centers, medical and diagnostic laboratories, and offices of other health care providers, such as physical therapists and audiologists.
And some can also enjoy working from the comfort of their own home, since much of the work is easily accomplished with a few simple tools like a computer and medical reference texts. However, this is usually not a possibility until you have completed your training, earned certification, and gained experience working in the field.
If you're really interested in working from home, then look for a program that offers internships in the field. Gaining on-the-job training during school could mean you get the required experience more quickly. It can also be a great way to build your network of potential employers.
---