Medical Transcription Training Schools
By Publisher
| Last Updated
With medical transcriptionist training, you can learn how to transcribe health professionals' recordings into medical reports to become part of patients' files. Through a short course of study, you'll have the opportunity to develop skills that can be used to work from home or in settings like hospitals and medical clinics.
---
Education & Training
An education in this field can prepare you for a satisfying career that involves producing clear, accurate reports that serve as the basis for critical decision-making about patient care.
Length of Training
A medical transcription course is typically 9 to 24 months long at a vocational school, technical institute, or community college.*
You can also become a medical transcriptionist at home through online training. With many online programs, you can work at your own pace and finish your training in as little as four months.*
Program Options
Vocational schools, technical institutes, community colleges, and other training providers offer two types of medical transcription programs:
Certificate programs generally take 9 to 12 months to complete.* They focus on the core areas of medical terminology and the basics of transcription.
Associate degree programs are usually two years long.* They are designed to provide a broader training experience and typically go more in-depth in areas like communication and office administration.
Both types of programs can be delivered either on-campus or online (or in a hybrid format that combines both aspects). Some also include an externship that allows students to get practical hands-on experience.
---
---
Typical Courses
Here are examples of courses that are commonly included in medical transcriptionist programs:
Many programs also include opportunities to practice transcribing or editing real-world dictations of:
Patient histories
Clinic notes
Consultation reports
Discharge summaries
Other medical correspondence
Skills You Can Learn
Programs are designed to help you develop skills such as:
Becoming familiar with common lab tests, procedures, and medications
Writing out medical abbreviations and acronyms in long form
Finding and fixing inconsistencies and errors in auto-created texts
Complying with confidentiality regulations
Tools & Technology
As a medical transcriptionist, you will likely use:
A computer and headset
Transcription software like InqScribe or Express Scribe
Word processing software
A foot pedal so you can stop, forward, or rewind the audio without lifting your fingers from the keyboard
Terminology manuals or medical dictionaries
Text expander software that lets you use custom shortcuts for terms or phrases that appear frequently (optional)
Some training programs provide the headset and foot pedal. And some include materials like the style guide from the Association for Healthcare Documentation Integrity (AHDI).
Certification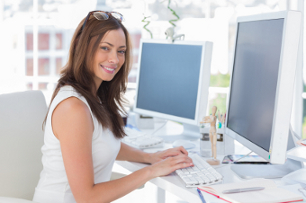 You don't need to be licensed or certified to start working as a medical transcriptionist. However, certification can be a good way to stand out from other candidates when attracting the attention of clients or employers.
The Association for Healthcare Documentation Integrity offers two voluntary credentials:
The Registered Healthcare Documentation Specialist (RHDS) certification is designed for transcriptionists who are just starting in the field.
The Certified Healthcare Documentation Specialist (CHDS) certification is for transcriptionists who have earned their RHDS designation and accumulated at least two years of experience related to acute care.
Note: The above designations have replaced the old Registered Medical Transcriptionist (RMT) and Certified Medical Transcriptionist (CMT) credentials.
Education & Training FAQs
Can you be a medical transcriptionist without training?
In theory, yes. But most entry-level medical transcriptionist roles go to candidates who have completed a specific program in the discipline. Similarly, certification is not technically required, but many clients and companies prefer to hire transcriptionists who have it.
What should I look for in a medical transcription training program?
Consider the program's length, the delivery options (i.e., in class or online), the scheduling flexibility, and the internship possibilities, if any. Find out whether you will have a chance to transcribe recordings that reflect real-world conditions. It's also wise to check whether the instructors have the relevant AHDI certifications.
The best school for medical transcription, either on-campus or online, is one that provides comprehensive training in relevant areas and allows you easy access to your instructors. You should be able to get answers to your questions in a timely manner.
Also, find out where program graduates commonly end up. Ask the program administrators to put you in touch with recent graduates so you can learn about their experiences. And see if the program provides any job placement help.
Can I use federal financial aid to help cover my training costs?
That depends on the program. Accredited schools approved by the U.S. Department of Education accept federal aid, such as Pell Grants. But many medical transcription programs do not qualify. Ask about funding possibilities before committing to any course of study.
Many programs offer flexible payment plans, loans, or discounts for students who need financial assistance. And some allow you to use military benefits.
Your state may also offer financial assistance for students enrolled in vocational or occupational training, so be sure to research your options.
---
Medical Transcription Schools
Sponsored Listing
---
---
Career Information
Transcribing voice-recorded reports into a variety of essential health documents is a crucial component of an efficient medical system. As a transcriptionist, your work can directly affect a patient's diagnosis, recommended course of treatment, and prognosis.
Career Outlook
3% decline from 2018-2028
Median Salary
Medical Transcriptionists
Job Openings
Average Yearly Openings
Length of Training
Most Common Length
Work Settings
Source
Bureau of Labor Statistics
Earnings
According to the Occupational Employment and Wage Statistics program, medical transcriptionists earn a median salary of $33,380 per year. The top earners make $51,260 yearly (or more).
Medical transcriptionists are generally paid by the number of lines they produce. So whether they work in an office or at home, transcriptionists make more money once they boost their speed and efficiency.
Job Openings & Outlook
According to the Bureau of Labor Statistics (BLS), employment in this field will decline by three percent between 2018 and 2028. No new jobs are expected to be created. However, there will still be opportunities due to current workers retiring or leaving the field.
BLS projections show that about 7,700 jobs should open up for medical transcriptionists each year over that decade.
Key Benefits
Flexible scheduling: You may be able to break away from the typical 9-5.
Working from home: Remote work possibilities can mean better job security and convenience.
Making a difference: Enjoy the satisfaction of having an essential role that contributes to people's health.
What a Medical Transcriptionist Does
Medical transcriptionists take physicians' voice recordings and translate them into accurate, readable text for medical reports. They also edit and proofread medical reports created by speech recognition software.
Typical tasks include:
Listening to audio recordings from health professionals (who may have different speech patterns or accents)
Converting medical jargon or acronyms into their full official form
Fixing misspellings or errors in auto-generated text
Formatting documents in the appropriate way
Ensuring that all documentation is accurate and complete
Work Settings
Medical transcriptionists can work for: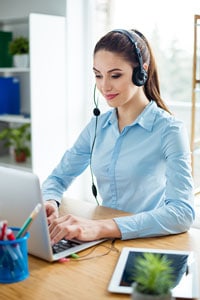 Clinics
Hospitals
Law firms
Medical labs
Government agencies
Insurance companies
According to the Occupational Outlook Handbook (OOH), one-third work for organizations that provide medical transcription services. And about six percent are self-employed.
Medical transcriptionists often work from home.
Career FAQs
Is medical transcription still in demand?
The healthcare system still relies on people who perform this type of work. That's because even the most advanced voice recognition software often struggles to interpret speech that is garbled by background noise or a speaker's accent. Some auto-generated reports end up with missing words or phrases that simply don't make sense.
Many healthcare providers recognize the value of having a human being find the inconsistencies and ensure that everything is documented correctly.
Is medical transcription a good career choice?
This career can be a good choice for people with excellent listening and typing skills and are meticulous about details. The combination of a flexible schedule, good pay, and the ability to work from home is extremely appealing to many.
If you already have health-related experience (for example, as a nurse or medical secretary) and a good command of English grammar, becoming a medical transcriptionist can be an excellent way to harness your expertise and enjoy a more relaxed work environment.
How can I tell if medical transcription is a good fit for me?
It's important to be self-disciplined and focused. Transcriptionists need to produce accurate reports on tight timelines. They must do so by working entirely on their own without any supervision.
You should also have:
A solid understanding of medical terminology
The ability to type quickly and accurately
A sound knowledge of English grammar, syntax, and punctuation
The ability to multitask
Exceptional attention to detail
Good concentration skills
---
A Flexible Career Can Start With Medical Transcription Training
Becoming a medical transcriptionist provides opportunities to work remotely, on your own schedule. With a short course of study in this field, you can get started more quickly than you might expect.
---
---
* Length of training information is based on a combination of information from the Occupational Outlook Handbook, the U.S. Department of Education, and a wide sampling of relevant program lengths from about 30 individual school websites. They are a mix of public, private non-profit, and private for-profit institutions.