Patient Care Technician Training Schools
Last Updated
Follow your heart into an incredibly reliable career.
Patient care technician training can put you on the path to making a stable living by helping you give vulnerable people the benefit of your skillful care and warm compassion. It's the kind of practical education that can actually have a positive and lasting effect for you and everyone you help.
As a patient care tech, you can work alongside dedicated nurses. And you can be directly involved in providing people with disabilities or chronic medical problems the very things that make their lives more comfortable and meaningful. That's the real power of becoming a patient care technician. Schools offering programs in this field understand what it takes to help you make that happen.
Plus, in addition to patient care technician opportunities, this type of training may also help qualify you for occupations such as personal care aide, home health aide, nursing assistant (CNA), or nursing aide.
The Wonderful Benefits of Becoming a Patient Care Technician
---
---
Patient Care Technician Schools
Sponsored Listings
---
---
4 Wonderful Benefits of Becoming a Patient Care Technician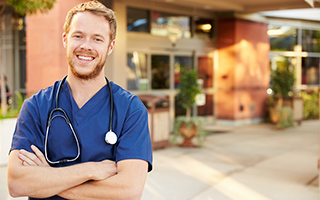 Healthcare is an amazingly diverse field, yet the role of a patient care technician (PCT) is one of the most special. Every day is filled with real purpose. And it doesn't require much post-secondary education to get started. In fact, PCT training often takes only about one year. It can help you develop the skills of a nursing assistant while also including extra training in areas like performing EKGs, drawing blood, and providing home health assistance.
That's what makes a PCT career so distinctive. It can give you an expanded role in healthcare as well as greater marketability since you essentially get combined training for a number of different positions such as:
Nurse assistant or nursing aide
Orderly
Home health aide
All patient care technicians are nurse assistants, but not all nurse assistants are patient care technicians. A PCT is basically a nurse assistant with the extra training to perform a few more advanced duties such as drawing blood and performing EKGs.
In some cases, people in this field even get the training necessary to work as a dialysis patient care technician. But, regardless of their position, their biggest focus is usually on providing direct care to people with long-term disabilities or medical conditions. Just look at these intriguing facts:
According to a Paraprofessional Healthcare Institute (PHI) 2020 report, America is home to about 4.5 million occupational caregivers.
The Occupational Outlook Handbook (OOH) says that in 2018, over 1.5 million caregivers were nursing assistants.
Direct-care aides (such as nurse aides and home health aides) are estimated to provide as much as 70 to 80 percent of all hands-on, non-volunteer, long-term care services within the U.S., according to a 2019 report by the National Center for Health Statistics.
The National Center for Health Statistics report also notes that nurse aides and assistants make up most of the nursing staff in many of the nation's long-term care facilities—almost 65 percent in nursing homes and over 83 percent in residential care communities.
Opportunities for qualified patient care technicians are clearly widespread. But here are three of the most significant benefits associated with careers in this field:
1. Excellent Career Outlook and Stability
Patient care technicians fill a huge and expanding need. In fact, this field represents one of America's fastest-growing job sectors. Every year, more qualified people are needed to provide direct care and medical assistance in nursing homes, assisted-living residences, hospitals, doctors' offices, private homes, hospices, and other types of healthcare settings. Statistics from a variety of sources show why this field is one of the best for potential job security: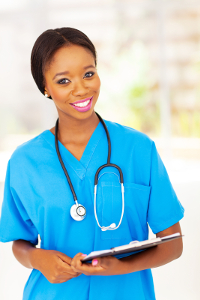 One report noted that in 2000, about 15 million Americans made use of a nursing facility or other type of residential care or home health service. However, by the year 2050, that number could increase to at least 27 million. Americans who receive long-term care services generally have physical or mental limitations that make it difficult or impossible to carry out routine activities on their own like bathing, getting dressed, eating, or moving from place to place.
The 2019 report from the National Center for Health Statistics found that over half of long-term care patients receive help at home, but more than 1.3 million reside in nursing homes, and more than 1.4 million reside in hospices. The rest receive skilled nursing assistance through adult day care services or while living in residential care communities.
According to data from the Congressional Budget Office, among people aged 65 and older, roughly one-third of them, on average, have one or more limitations that impact their daily functionality. And for those over the age of 85, that proportion goes up to about two-thirds.
By 2025, almost one out of every two Americans—about 164 million people—will be affected by a chronic disease.
A report from the Administration for Community Living noted that in 2017, the population of seniors aged 65 and older stood at about 50.9 million. By 2060, the number of seniors is expected to nearly double—reaching 94.7 million.
The Administration for Community Living report also found that very elderly Americans (those aged 85 and over) are expected to increase in population the fastest—from 6.5 million in 2017 to 14.4 million in 2040 (an increase of over 120 percent).
Many people who are cared for through long-term or home care services have Alzheimer's disease or another form of dementia. Between 2015 and 2050, the number of seniors in the U.S. affected by such a condition is projected to almost triple, according to the Alzheimer's Association.
The OOH says that from 2018 to 2028, the number of jobs held by nursing assistants in the U.S. is expected to grow by nine percent. And for home health aides, that number is even higher—36 percent.
So a lot of job possibilities exist in long-term care settings. But about three-quarters of nurse assistants work in hospitals, meaning that this field has quite a bit of employment variety (which can provide real career stability).
2. A Deep Sense of Joy, Connection, Purpose, and Fulfillment
As a patient care technician, nurse assistant, or home health aide, your days may be filled with all kinds of positive and memorable moments. Think about it: The job involves caring for people during some of the most vulnerable times of their lives. But that's why it often comes with so much fulfillment. Each person you help has the potential to give you something you could never buy—a wonderful feeling of pride, self-worth, and community connectedness. In fact, many people in this field develop enriching relationships with those they help and work with. Their patients might be parents, grandparents, uncles, aunts, or lifelong friends to others who can't be there for them each day. Sometimes, a PCT or nurse assistant might be the closest thing that a patient still has to family in his or her life.
That can make every day in this vocation truly special. By providing care and comfort to patients, you get the chance to experience the kinds of emotional rewards that few other career paths can offer.
3. Daily Variety
Being a patient care technician means having the ability to take on all kinds of interesting tasks. And, in many cases, each day involves new challenges, which keeps the job interesting. For example, on any given day, you might:
Help patients stay clean and comfortable
Provide assistance with mobility between rooms or between beds and assistive devices
Measure and track vital signs
Ensure that patients are properly fed and nourished
Set up special equipment used for physical or medical treatments
Administer medications
Assist with physical therapy
Draw blood or collect other biological samples for laboratory testing
Perform EKG tests
Talk with patients about any health concerns they have
Consult with nurses or doctors
Plus, the patients you help will likely come from a diversity of backgrounds. And each one may have a different set of ailments. For instance, you might get to help people with common or rare diseases, long-term injuries, genetic disabilities, mental illnesses, neurological disorders, orthopedic problems, and many other types of health conditions.
4. Quick Training and Certification
Compared to many other in-demand fields, this one requires relatively little training. In fact, a lot of patient care technician programs take just a year or less to complete. And many nurse assistant courses take as little as seven or eight weeks to complete (or up to about seven months for more in-depth training). Then, once you have your post-secondary certificate or diploma, the only other credential you may need is state certification, which usually involves a pretty simple process.
Patient care technicians and nurse assistants who work in long-term care facilities like nursing homes need to be registered in their states. And some states require all patient care technicians and nurse assistants (also called nurse aides) to be registered and certified regardless of the settings they work in.
Here's the simplest way to become a patient care technician or nursing assistant:
Successfully complete a short PCT or nursing assistant program that is approved by your state. It might include classroom training as well as supervised practice within a clinical setting.
Pass your state's nursing assistant competency exam in order to become a certified nursing assistant (CNA).
Pass any additional certification exams that are required in your state for drawing blood or performing EKGs if you want to do those things as a patient care technician.
Generally speaking, you need to be registered or certified as a nurse assistant in order to work as a patient care technician. In many states, you won't need any other type of certification unless you intend to perform phlebotomy or EKGs. But the requirements vary from state to state. A lot of states do offer the opportunity to earn further credentials that can allow you to perform more advanced kinds of patient care or to become a specialist in specific areas of the field such as geriatrics or hospice care.
That's why it's a smart idea to find out about the specific requirements and opportunities in your state. Here are just a few examples of where different states post that kind of information:
---
Ready to Take a Simple Step Forward?
Start with a quick search for schools offering patient care technician training in your area. Simply put your zip code into the search tool below to generate a selection of nearby programs!
---