Find an Electrician School Near You
By Luke Redd
| Published
| Last Updated
Through pre-apprenticeship training, an electrician school near you can give you a good start on the path to becoming a licensed journeyman. People who go into the electrical trade can benefit from good wage potential, enhanced career stability, satisfying workplace variety, highly engaging job tasks, and other advantages.

Online
Programs Available
Find an Electrician School
---
Electrician Training
Today, one of the most common paths to becoming a licensed electrician involves a combination of formal technical schooling and hands-on apprenticeship training. That's because most states require you to have a certain amount of classroom hours and electrical work experience before you can become officially licensed or certified as an electrician.
Benefits of Electrician Trade School
Better chances of landing a good apprenticeship: Electrical apprenticeship openings tend to get a lot of applicants, so you need to be more qualified than your competition. Finishing a trade school program shows that you have the commitment to stick with your training as well as the ability to hit the ground running as a new apprentice.
A forgiving learning environment: You may feel more comfortable practicing basic trade skills in a school setting than under the watchful eye of an employer who's paying you to learn. School instructors often provide their students with greater freedom to make mistakes. Plus, many trade schools offer free tutoring if you need extra help learning math or other related subjects.
Greater confidence and credibility: Your trade school training can make you feel much more self-assured as you begin an apprenticeship. By demonstrating that you already know the basics, your trainer and co-workers may take you more seriously than if you were completely new to the field.
Length of Training
Depending on the program, it generally takes from eight to 24 months to complete pre-apprenticeship training through an electrician school.*
Most Common Length of School*
(range in months)
Solar energy

Wind energy

HVAC

Electrical
Electrician Program Options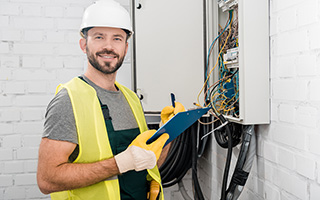 Many electrician trade schools and technical colleges offer pre-apprenticeship electrical programs that provide a valuable head start. Completing such a program may even count toward a future apprenticeship, allowing you to begin one at a more advanced level. (Some or all of the classroom requirements may be waived.)
Signing up for an online electrician school is also an option for those who want to learn from a distance while preparing for their individual states' occupational requirements.
Certificate and diploma programs tend to be short and career-focused, with the curriculum focused on teaching concepts and hands-on skills directly related to the electrical trade. Most certificate and diploma programs can be completed in under a year.* You might choose this option if your goal is simply to prepare for an apprenticeship as quickly as possible.
Associate degree programs may offer the same type of training but also include some general education courses. They're often designed to take about two years.* This might be a better option if you want extra flexibility for your future. It still provides pre-apprenticeship training in a relatively short amount of time. You may also be able to upgrade your education to a bachelor's degree in the future, which could be useful if you ever want a management position. Also, in some states, you may have a better chance to apply the credits you earn through an associate degree program toward the required classroom hours of your apprenticeship.
Apprenticeships involve working under the supervision of a licensed journeyman or master electrician for up to four or five years (according to the OOH). So, what's better to start with: an electrician trade school or apprenticeship? Although it is possible to head straight into an electrician apprenticeship, many people choose to complete a post-secondary program at a technical school first. Here's what else you should know:
Many employers and organizations that hire and sponsor apprentices look more favorably upon those who've attended nearby electrician schools.
Most apprentices are employees in training and get compensated for their work.
The OOH says that apprenticeships generally involve about 2,000 hours of hands-on training per year in addition to classroom instruction.
Many apprenticeships are run by state organizations or sponsored by joint training committees, which usually include local union chapters. One of the most common apprenticeship programs is administered through the electrical training ALLIANCE, which is comprised of a partnership between the International Brotherhood of Electrical Workers (IBEW) and the National Electrical Contractors Association (NECA).
You can locate potential sponsors near you by using the U.S. Department of Labor's apprenticeship finder.
---
---
Typical Electrician Courses
Depending on your school and program, your electrician classes may cover areas such as:
Electrical theories
Trade math
Residential, commercial, and industrial electrical concepts
Blueprint reading
Local, national, and state regulations
Building codes
Safety practices
Tools and equipment for the electrical trade
Low- and high-voltage systems
Design, repair, calibration, and modification of electrical components, equipment, and machinery
Inspection and troubleshooting of electrical systems
Power distribution
Grounding and wiring
Conduit and wiring protection
Electrical panels
Load calculations
Appliance, lighting, and ceiling fan installation
Motors and generators
Alarm systems
Telecommunications
An extremely important area of your training will be related to the National Electrical Code, which is a set of guidelines created and managed by the National Fire Protection Association (NFPA).
Not only is the National Electrical Code an essential section of licensing examinations, but it will also be an integral part of your working life. All electrical work (whether it's upgrades to existing systems or new installations) is required by law to be inspected and approved by state or municipal electrical inspectors. One of the main things these inspectors need to determine is if the electrical work adheres to the National Electrical Code.
Here are some other important facts about the National Electrical Code:
The NFPA periodically updates it, and new editions are released regularly.
It includes guidelines on electrical work for virtually all settings.
Skills You Can Learn
Electrician training programs offer the opportunity to develop abilities related to:
Reading and interpreting blueprints and technical diagrams
Interpreting the National Electrical Code and local regulations
Following safety procedures
Calculating loads, wiring lengths, and room dimensions
Using hand tools, power tools, and special equipment such as:

Wire strippers
Conduit benders
Thermal scanners
Voltmeters
Ammeters
Oscilloscopes
Cable testers

Installing, inspecting, troubleshooting, and fixing electrical components such as:

Wires and cables
Switches
Outlets
Circuit breakers
Fuses
Distribution boards
Motors

Pinpointing defects or potential hazards
Licensing & Certification
In most states, after you have successfully completed your training, you must get licensed before you can legally work unsupervised as an electrician. That generally requires passing a licensing exam after proving that you've accumulated enough hours of classroom learning and real-world work experience.
The specific requirements vary by state and municipality. That's why it's best to check with a local organization—such as the state licensing department or state fire marshal division—to determine the exact requirements and fees for your area.
In most cases, a license will only allow you to work within the specific municipality or state in which you took the examination. However, some interstate reciprocity agreements do exist.
Some states have multiple levels of electrician licensing (including some below the journeyman level). But in many regions, once you have successfully passed the relevant licensing examination, you will officially become a journeyman electrician. As a journeyman, you may be legally allowed to perform almost all types of electrical work. (Some states restrict journeyman electricians from designing electrical systems.)
Becoming a Master Electrician
After becoming a licensed journeyman electrician, you may choose to advance your career and pursue the master electrician designation. You will likely need to meet additional requirements before you are eligible to take a master electrician examination within your state or municipality.
The requirements tend to differ by state. Most states require that you have several years of experience as a licensed electrician before you can take the certification exam and upgrade to master status. However, some states will accept a bachelor's degree in electrical engineering (or a related field) in lieu of years of experience.
Once you have successfully passed the examination, you will be legally allowed to perform more advanced work, including the planning and design of electrical systems. You can also take on supervisory or management roles.
As a master electrician, you may also become a private electrical contractor by getting a business license and starting your own company. If you go this route, you might need to purchase a minimum amount of liability insurance.
Education & Training FAQs
How much do electrician programs cost?
Expenses vary depending on the particular school and level of education you choose. According to the U.S. Department of Education's College Affordability and Transparency data for the 2018-2019 school year, the average electrician school cost (tuition and fees) was $14,632 for programs in the "electrical and power transmission installers" category. Some programs were as little as $299 or just a few thousand dollars, whereas one program was more than $40,000.
Keep in mind that many students qualify for financial aid. Data for 2017-2018 from the same source shows that the average net price for these programs was $15,567. (The net price is the amount a student pays after subtracting financial aid from the total cost of tuition, fees, books, supplies, and other education-related expenses, including room and board if applicable.) The net price ranged from as little as $4,394 to as much as $26,626.
What do apprentice electricians get paid?
The U.S. Department of Labor says that apprentices (across all trades) earn starting wages of $15 an hour, on average. Generally, as your skills and understanding of the job improve, your wages go up. According to PayScale, the median wage for electrical apprentices is $15.33 per hour. The top earners make over $20.53 an hour.
Do I need to be good at math to be an electrician?
You do need to learn some math and use it while on the job. However, some people find that, thanks to their training, they can handle doing math in the electrical trade even though they weren't good at math in high school. That's because applying mathematical concepts to practical, real-world situations makes them easier to learn. Plus, many electrician schools offer extra tutoring through instructors or peers. So you can always ask for help if you encounter concepts that are hard to understand.
Electricians primarily use simple arithmetic, geometry, trigonometry, and algebra in their jobs. They need to know basic concepts from those mathematical branches in order to carry out routine tasks such as:
Taking measurements
Converting between different units of measurement
Calculating precise angles
Figuring out the voltage, current, or resistance of an electrical circuit
Calculating the amount of power being supplied by an electrical source
Featured Schools
Sponsored Listings
---
---
---
---
---
---
---
---
---
---
---
---
---
---
---
---
---
---
---
---
---
---
Electrician Career Information
The electrical trade offers numerous opportunities for satisfying work, good wages, and specialization. Many electricians also enjoy excellent job security thanks to a steady demand for their critical skills.
Career Outlook
10.4% growth from 2018-2028
Median Salary
Electricians
Job Openings
Average Yearly Openings
Length of Training
Most Common Length
Work Settings
Specializations
Residential work, commercial work, industrial work, signage and highway systems, fire alarm and security systems, power line work, telecommunications, solar energy, wind energy, electrical inspection, aviation technology, automotive technology, marine technology
Sources
U.S. Bureau of Labor Statistics
U.S. Department of Education
Earnings
According to the Occupational Employment Statistics (OES) program, the median electrician salary is $56,180. The top 10 percent of earners in this trade make more than $96,580 a year.
Median Annual Wage Comparison
Job Openings & Outlook
Projections from the Bureau of Labor Statistics (BLS) show that the number of electrician jobs could grow 10.4 percent between 2018 and 2028. On average, about 94,600 job openings in this trade are expected to be available each year over that period. That number includes:
Brand new positions: 7,400
Openings from people retiring: 23,100
Openings from people changing occupations: 64,100
Key Benefits
Career stability: Safe access to electricity is vital for most aspects of modern society, making this an essential trade with a fairly reliable demand for skilled workers.
Opportunity for self-employment: About six percent of electricians work for themselves (as contractors), allowing them to choose their own projects and set their own schedules and pay rates.
Sense of pride and fulfillment: You get to perform interesting work with your hands and provide vital services within your community. Without electricians, homes wouldn't have heat and light, hospitals wouldn't have the use of vital, lifesaving equipment, and the countless gadgets that have become part of our daily lives couldn't exist.
What an Electrician Does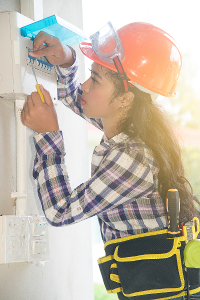 Depending on their particular jobs and areas of focus, electricians can take on several different responsibilities. But for many people in the trade, the day-to-day work often involves tasks such as:
Planning the layout and installation of electrical systems with consideration for safety and code compliance
Reading blueprints
Installing new electrical components (such as wiring, fuses, etc.)
Repairing and maintaining existing electrical infrastructure
Inspecting existing electrical systems, components, and equipment in order to safeguard against hazards and ensure code compliance
Connecting wires to various components within electrical systems (such as transformers, circuit breakers, etc.)
Working with power and hand tools to repair or replace equipment, wiring, and lighting fixtures
Assembling, installing, and testing electrical equipment, fixtures, and appliances
Using ohmmeters, oscilloscopes, and voltmeters to identify problems and test electrical systems
Training and supervising apprentices, electrical helpers, or less experienced electricians
Consulting and collaborating with architects, engineers, or specialists in other trades who are working on the same projects
Work Settings
Electricians use their skills in a huge variety of environments, both indoors and outdoors. Depending on their specific jobs and qualifications, those settings can include places like:
Construction sites
Homes
Businesses
Factories
Hospitals
Schools
Airports
Entertainment venues
Government buildings
Utility sites
Oil rigs
Repair shops
Mining or drilling sites
Roadways
Specializations
People in the electrical trade can pursue many different areas of focus. Some electricians prefer to specialize in installation (such as for new construction or renovations). In contrast, others choose to focus on maintenance and repair. And some electricians decide to branch out into very particular industries that often require additional training, certification, and other qualifications. Here are several examples:
Residential work: Use your skills to install, upgrade, or fix electrical wiring and systems in houses, condominiums, apartments, townhomes, and other places of residence.
Commercial work: Provide your services as part of the construction, renovation, or maintenance of electrical systems in properties that are often large and accessible to the public. Examples include office buildings, schools, retail stores and shopping malls, hospitals, restaurants, entertainment venues, and similar structures.
Industrial work: Specialize in installing or maintaining electrical equipment, machinery, and systems for manufacturing facilities, utility plants, mining or extraction sites, or similar large-scale operations.
Signage and highway systems: Help fix, maintain, or install traffic lights, pole lighting along streets, airport runway lights, or lighted signs or awnings on buildings or detached structures.
Fire alarm and security systems: Focus on installing or repairing low-voltage systems that help protect buildings and their occupants from blazes, theft, acts of vandalism, or other threats.
Power line work: Get specialized training for putting high-voltage transmission lines and distribution equipment into place or fixing components damaged by storms, car accidents, bird strikes, natural disasters, or other events that often cause power outages.
Telecommunications: Contribute to the installation and repair of underground or overhead cable, Internet, or phone lines used for transmitting video, data, and voice calls.
Solar energy: Play a key role in the nation's transition to renewable sources of electricity by gaining skills for installing and maintaining solar photovoltaic panels and related systems.
Wind energy: Help install and maintain huge outdoor turbines that generate clean electrical power from the natural movement of the air.
Electrical inspection: Closely examine the wiring and other electrical components in buildings that are being constructed, renovated, or sold in order to ensure that everything is safe and up to code.
Aviation technology: Play a part in the manufacturing, repair, or refurbishment of aircraft by working on the vital electrical systems in airplanes or helicopters.
Automotive technology: Troubleshoot and fix a wide variety of electrical components and systems used in motor vehicles.
Marine technology: Contribute to the production, refurbishment, or repair of boats, ships, or other watercraft that have onboard electrical equipment or systems.
Career FAQs
What's the difference between an electrician and an electrical technician?
These terms are sometimes used interchangeably. However, the roles are often different. Electricians are mostly involved in maintaining and installing wiring and electrical systems for structures. Electrical technicians are frequently more involved with maintaining and repairing equipment, machines, or devices that use electricity. The term "electrical technician" is also sometimes used for:
People who assist electrical engineers with the design, testing, and production of devices powered by electricity
Apprentices in the electrical trade who are under the supervision of journeyman electricians
Tradespeople who primarily work with low-voltage electrical systems
Is being an electrician dangerous?
The trade does have some inherent risks. Injuries can occur due to falling from ladders or scaffolding or being burned or shocked by electricity. But most professionals can perform their work safely by taking precautions, utilizing their electrician training, and following occupational best practices.
According to BLS data, only 80 electricians suffered fatal injuries from their work in 2018. The top three causes of those fatalities were:
Exposure to harmful substances or environments
Transportation incidents
Falls, trips, and slips
That same year, about 715,400 electricians were employed in the U.S., according to the Occupational Outlook Handbook (OOH). So the occupational fatality rate in this trade was only about 0.01 percent.
What personal qualities can help me succeed in the electrical trade?
Many of the best electricians share these traits:
Honesty
Friendliness
Patience
Trustworthiness
Adaptability
Self-directedness
Attention to detail
The ability to communicate clearly
Good vision (with no color-blindness)
Physical strength, flexibility, and stamina
The ability to think logically
Good hand-eye coordination
What are the top-paying industries and regions for electricians?
According to OES program estimates, the industries with the highest average electrician pay (per year):
Natural gas distribution: $104,250
Promoters of performing arts, sports, and similar events: $86,820
Land subdivision: $82,630
The same estimates show that electricians earn the highest average wages in these regions:
District of Columbia: $79,870
New York: $79,480
Illinois: $78,790
---
Trade School Is a Valuable Way to Begin
Going to an electrician school near you has several potential advantages. Trade school programs provide many students with dependable and convenient ways to prepare for electrical apprenticeships that lead to satisfying careers with high wages and good job security.
---
* Length of training information is based on a combination of information from the Occupational Outlook Handbook, the U.S. Department of Education, and a wide sampling of relevant program lengths from about 30 individual school websites. They are a mix of public, private non-profit, and private for-profit institutions.