Sports Medicine Schools
By Publisher
| Last Updated
Sports medicine schools offer you the chance to learn essential skills related to promoting the health and performance of athletic competitors. Through a variety of different programs, you can prepare to take advantage of an array of fascinating career opportunities in a field with job growth that significantly exceeds the national average.
---
Education & Training
Sports medicine offers many possible educational paths, some of which can be completed in a relatively short time.
Length of Training
Most sports medicine programs take between 12 and 48 months to complete, depending on the type of credential you pursue.**
Most Common Length of School**
(range in months)
Massage therapy

Sports medicine

Athletic training

Physical therapy
Program Options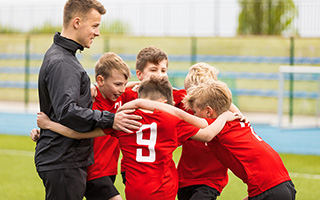 Certificate programs are available for those who wish to become athletic trainer aides or fitness specialists. They offer basic training in areas like first aid, injury assessment, and taping. These types of programs typically take about one year.**
Associate degree programs can be found in sports medicine or related disciplines like kinesiology or exercise science. These usually take about two years and can prepare you for entry-level roles such as physical therapy aide or assistant athletic trainer.** Many are designed to allow you to transfer your credits to a bachelor's program.
Bachelor's degree programs typically take about four years to complete.** They can prepare you for positions such as exercise physiologist or strength and conditioning coach. They can also lay the groundwork for advanced studies at the graduate level.
Graduate degree programs usually take two to three years to complete once you hold a bachelor's degree.** You must complete a degree at this level in order to qualify for positions such as physical therapist or athletic trainer.
---
---
Typical Courses
Programs vary in their course content. However, they typically cover subjects like:
First aid
Physical performance
Fitness assessment and exercise planning
Strength training and conditioning principles
Sports-focused massage therapy
Exercise physiology
Sports psychology
Kinesiology
Risk management and injury prevention
Care of sports injuries
Nutrition
Programs at the associate level or above also include general education courses such as English composition, math, and interpersonal communication.
Many programs also include a supervised clinical component.
Skills You Can Learn
The specific abilities you gain will depend on the particular program you choose. But in general, sports medicine training can help you learn how to carry out tasks like:
Guiding athletes through warm-up or stretching exercises
Applying tape or braces for support
Providing first aid
Assessing injuries
Deciding whether athletes are ready to resume competition
Implementing rehabilitation programs
Following ethical standards
Education & Training FAQs
How can I prepare for sports medicine programs?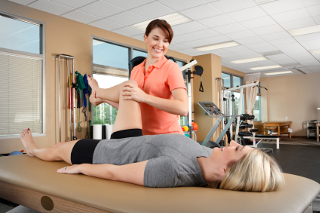 Taking high school science courses like anatomy, biology, chemistry, or physics is a wise move. You may also want to gain sports-related experience in some way, perhaps as a player, team manager, or coaching assistant. Becoming certified in first aid or CPR can also be useful.
Can I become an athletic trainer with a bachelor's degree?
That used to be the case, but the standards are changing. Going forward, athletic trainers will require a master's degree in order to qualify for the certification exam. By the fall of 2022, athletic training programs will only award master's degrees.
---
Sports Medicine Schools
Sponsored Listing
---
---
Career Information
Sports medicine includes a number of different areas that concentrate on athletic performance and injury care. The career opportunities are diverse and growing.
Earnings
According to the Occupational Employment and Wage Statistics program, the median salaries for a few of the common occupations in which sports medicine graduates find work include:*
Athletic trainers: $48,420
Exercise physiologists: $47,940
Fitness trainers: $40,700
Massage therapists: $46,910
Physical therapist aides: $29,200
Physical therapists: $95,620
Job Openings & Outlook
Bureau of Labor Statistics (BLS) projections show that occupations related to sports medicine should experience an average job growth rate of 17 percent from 2021 to 2031.* That's based on an average of the projected rates for:
Athletic trainers
Exercise physiologists
Fitness trainers
Massage therapists
Physical therapist aides
Physical therapists
The same BLS data reveals that the above occupations should have a total of 117,900 annual openings, on average, over that 10-year span.*
Key Benefits
Helping top competitors get even better: It can be an incredible feeling to know that you contributed to athletes reaching their goals or achieving excellence.
Continually solving interesting challenges: Injuries affect people in different ways, and the variety of cases, complications, and recovery times means you will never be bored.
The potential for travel: You may get to go to all kinds of different locations for games, tournaments, or other sporting events.
What a Sports Medicine Specialist Does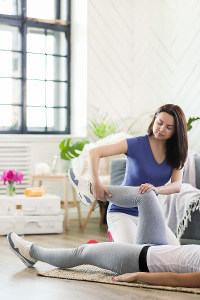 Sports medicine professionals strive to prevent and treat athletic injuries and help people carry out physical activities safely. They work with athletes at all levels to boost their overall performance.
Depending on their specific role, they might:
Apply protective tape, braces, or bandages
Evaluate injuries
Carry out fitness or stress tests
Perform first aid
Offer advice on stretching, strengthening, or conditioning exercises
Demonstrate proper exercise techniques
Use hands-on techniques such as massage to increase mobility and promote wellness
Develop regimens to help injured athletes rehabilitate
Provide guidance on nutrition and weight control
Work Settings
Sports medicine professionals commonly work in settings such as:
Sports training facilities
Schools
Rehabilitation centers
Fitness centers
Recreation centers
Hospitals
Physical therapy clinics
Corporate wellness departments
Careers
Sports medicine is a broad field that encompasses a range of occupations. Some careers require additional training in specialized fields. Here are just a few possible paths you could follow:
Athletic trainer: Provide preventive and emergency care, assess injuries, and develop rehabilitation plans for sports competitors.
Exercise physiologist: Develop physical activity regimens to help improve patients' health and overall athletic performance.
Massage therapist: Manipulate muscles and soft tissues to ease pain and assist in rehabilitation.
Personal trainer: Support clients' performance goals by recommending appropriate exercises and demonstrating the proper techniques.
Physical therapist: Focus on restoring movement and function in patients who have suffered injuries.
Physical therapist aide: Help out with a lot of the basic duties in a physical therapy clinic, including assisting patients and setting up equipment.
Sports nutritionist: Design dietary plans to optimize the performance of athletes in different sports.
Career FAQs
What sorts of traits do successful sports medicine specialists share?
People who build successful careers in this field tend to be trustworthy and dependable. They must be able to establish good relationships with lots of different people and help those people feel comfortable following the rehabilitation protocols. It's also important to be compassionate toward injured athletes so that they feel encouraged and supported.
Which specific occupations in the sports medicine field have the best job outlooks?
Based on BLS projections, massage therapists are expected to see the fastest employment growth from 2021 to 2031.* Here are the rates:
Massage therapists: 20 percent
Fitness trainers: 18.9 percent
Physical therapist aides: 18.8 percent
Athletic trainers: 17.5 percent
Physical therapists: 16.9 percent
Exercise physiologists: 9.1 percent
In terms of the average number of annual job openings, fitness trainers are number one, as you can see below:*
Fitness trainers: 65,600
Massage therapists: 25,200
Physical therapists: 15,400
Physical therapist aides: 7,600
Athletic trainers: 2,500
Exercise physiologists: 1,700
---
An Education in Sports Medicine Can Open Several New Doors
Sports medicine schools help people gain the kind of expertise that can be applied to multiple career possibilities that are interesting and fulfilling.
---
* Unless otherwise noted, salary information is based on May 2021 data from the Occupational Employment and Wage Statistics (OEWS) program. Job growth and average yearly openings estimates are from the Bureau of Labor Statistics and are for the 2021 to 2031 period.
** Length of training information is based on a combination of information from the Occupational Outlook Handbook, the U.S. Department of Education, and a wide sampling of relevant programs from about 30 individual school websites. They are a mix of public, private non-profit, and private for-profit institutions.