Motorcycle Mechanic Schools
By Publisher
| Last Updated
Students who get training through motorcycle mechanic schools have the opportunity to gain practical expertise for an enjoyable, in-demand trade. Formal vocational programs tend to be relatively short, and many include hands-on instruction. So if you want to become job-ready and start fixing bikes, you should look into the specialized education offered at trade schools near you or online.
---
Motorcycle Mechanic Training
Vocational programs can help you learn the technical concepts and processes of motorcycle repair. In many cases, they offer a blend of classroom learning and hands-on training. But online programs are also available. Some people learn the trade as paid apprentices.
---
---
Motorcycle Mechanic Schools
Sponsored Listings
Take advantage of this opportunity to learn foundational skills in just 42 weeks. Receive hands-on training in the repair of motorcycles, ATVs, personal watercraft, and more. And choose a specialized training path that helps prepare you to work on the products of one or more of your favorite brands. Elective options include Harley-Davidson, Yamaha, BMW, Suzuki, Kawasaki, and Honda.
Phoenix, Arizona
Orlando, Florida
Motorcycle Technician Specialist
Learn about motorcycle repair at your own pace, from the comfort of your home. This career diploma program offers easy-to-understand lessons that you can follow online, whenever it suits you. It also includes many hands-on exercises so that you can practice what you learn. You even have the option of completing a real-world work experience.
Motorcycle Repair Technician
---
---
Benefits of Motorcycle Repair School
A short and reliable training path: Going to a vocational school takes the guesswork out of what and how you should study. It can reduce the amount of time it takes to learn the fundamentals. And you can receive expert guidance from experienced pros who push you to practice skills beyond what you already know.
Greater appeal to potential employers: Completing a trade school program can make you stand out from competitors for entry-level positions or apprenticeships. It shows you have the drive and commitment to stick with motorcycle repair and keep improving your skills.
Room for error while learning the basics: Students make mistakes, especially when practicing skills through hands-on exercises. It's an expected part of the learning process. School instructors generally have much more patience for errors than employers who train mechanics on the job. Being in school can take away some of the pressure and allow you to learn from your mistakes more efficiently and comfortably.
Length of Training
It typically takes between 10 and 18 months to finish a program at a motorcycle mechanic school.*
Motorcycle Mechanic Program Options
Completing a certificate or diploma program tends to be the most common way to get post-secondary motorcycle mechanic training. At some trade schools and vocational colleges, that takes less than a year, but it can also take up to about 18 months.*
In some areas of the country, it's also possible to find an associate degree program that takes up to two years. However, that path is relatively uncommon.*
Another option is to find an apprenticeship. In this scenario, an employer sponsors your training, and you get paid as you learn the trade on the job. Some motorcycle manufacturers offer their own apprenticeship opportunities, and you may be able to find openings through the U.S. Department of Labor. Completing a post-secondary motorcycle repair program can make you a more compelling candidate for such opportunities.
---
---
Typical Motorcycle Mechanic Courses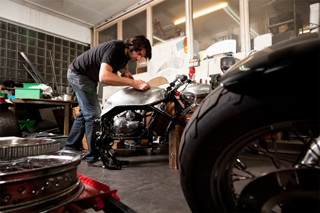 Motorcycle service technology programs often cover subject areas like:
Engine and transmission fundamentals
Electrical systems
Ignition, fuel, and exhaust systems
Suspensions and brakes
Diagnostic procedures
Repair and maintenance methods
Basic welding techniques
Proper handling of hazardous materials
Workplace professionalism and safety
Some programs incorporate placements at repair shops, giving students valuable work experience.
Skills You Can Learn
Your training may help you develop skills for working on motorcycles and ATVs, including expertise related to:
Identifying, inspecting, troubleshooting, fixing, and adjusting:

Two- and four-stroke engines
Transmissions
Steering and suspension systems
Brakes
Fuel injection and delivery systems
Ignition and electrical components
Cooling systems
Exhaust and emission-control systems
Frames and wheel assemblies

Using a wide variety of hand and power tools
Utilizing electronic diagnostic scanners
Following safety procedures
Communicating effectively with customers and coworkers
Licensing & Certification
You don't need anything special in most states—just a driver's license with a motorcycle endorsement. No other state licensing is required. The exceptions are Michigan and Hawaii, which require motorcycle mechanics to pass state exams to become certified or licensed to diagnose and fix bikes for the public without supervision. You also need a minimum amount of relevant schooling and experience to qualify for licensing in Hawaii.
Many employers prefer or require their motorcycle technicians to obtain specific manufacturer certifications (such as from Harley-Davidson, Honda, Yamaha, etc.). Such credentials are often necessary to perform warranty or insurance work on particular makes and models. Certification typically involves completing special classes or workshops that individual manufacturers or their training partners conduct.
Education & Training FAQs
What should I think about when choosing a motorcycle mechanic school?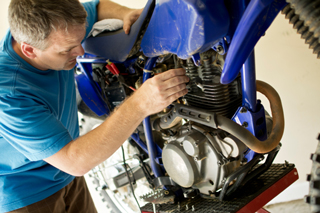 First, consider whether you'll have the chance to learn how to work on other small-engine vehicles, such as snowmobiles, ATVs, and jet skis. Depending on your region, having the skills to work on more than just motorcycles can lead to additional opportunities during the off-season.
Second, look into whether particular schools can help you meet important industry contacts such as manufacturer representatives. Such contacts can make all the difference in your career development since, everything else being equal, success in the motorcycle industry is frequently about who you know.
Third, consider the training format. Will you have opportunities for lots of hands-on practice in a shop setting? Or, for now, do you prefer to learn the basic concepts from home through an online program?
What will I need for my hands-on training?
Some schools supply students with everything they need as part of the overall tuition and fees. At other schools, you may need to purchase certain items separately.
---
---
Motorcycle Mechanic Career Information
Repairing motorcycles can be a fun, interesting, and reliable way to make a living. Employment within the trade is growing. In addition to becoming your own boss, there are opportunities to specialize in fixing the kinds of bikes you love most.
Career Outlook
4.3% growth from 2021 to 2031
Median Salary
Motorcycle Mechanics
Job Openings
Average Yearly Openings
Length of Training
Most Common Length
Work Settings
Specializations
Harley-Davidson, Honda, Yamaha, Kawasaki, Suzuki, Polaris, KTM, Ducati, BMW, Triumph
Sources**
U.S. Bureau of Labor Statistics
U.S. Department of Education
Earnings
The median yearly wage for motorcycle mechanics is $38,170, according to the Occupational Employment and Wage Statistics (OEWS) program in May 2021.**
Rather than a regular hourly wage or salary, many people in this trade are paid a flat rate or commission for each piece of work they perform. Some employers, especially larger businesses, also provide valuable benefits like health insurance and retirement plans.
Job Openings & Outlook
Motorcycle mechanics are in demand. According to Bureau of Labor Statistics (BLS) employment projections, the number of jobs in this field is expected to increase by 4.3 percent between 2021 and 2031.** Most of those openings are projected to come about due to people retiring or changing occupations.
One important consideration for people looking into a career in motorcycle technology is that the job demand may vary seasonally. Many areas of the U.S. get cold and snowy in the winter, which inevitably means there are far fewer bikes on the road. If consistent work hours throughout the year are a top priority, automotive or diesel mechanic training may be a better choice.
Key Benefits
Highly engaging work: Repairing motorcycles involves a lot of problem-solving, so boredom is rare in this vocation.
Potential for self-employment: With experience, you could start operating your own repair shop, which could increase your income potential and independence.
Skills that transfer: Motorcycle repair can sometimes be a good entry point into other mechanical trades. With additional training, some of your skills could be utilized in similar trades such as automotive, diesel, or heavy equipment repair.
What a Motorcycle Mechanic Does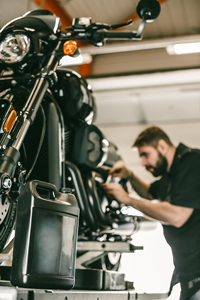 Also known as motorcycle technicians, people in this trade ensure that the bikes they service are in safe and efficient working condition. They may work on a wide array of bike types, from scooters and mopeds to customized choppers and touring editions to high-powered race bikes and off-road dirt bikes.
Plus, many mechanics have the skills to work on all-terrain vehicles (ATVs), snowmobiles, personal watercraft, and other motorized vehicles powered by small engines.
Depending on where they work and how much expertise they have, their daily tasks can include:
Conducting tests on ignition timing, generator output, and engine performance
Diagnosing electrical or mechanical issues
Inspecting and testing malfunctioning components
Discussing diagnosed problems, required parts and labor, and estimated costs with customers
Repairing or replacing broken parts
Performing routine maintenance (e.g., replacing spark plugs, changing oil, lubricating parts, etc.)
Scraping carbon build-up off pistons, valves, cylinders, and other parts
Performing complete engine overhauls
Welding any breaks or tears in motorcycle frames
Fitting custom accessories to new motorcycles
Completing paperwork for warranty or insurance repairs
Work Settings
Motorcycle techs can find jobs in several kinds of environments, such as the following:
Repair shops
Dealerships
Racing facilities
Factories
Salvage yards
Police fleet garages
Specializations
Motorcycles come in a wide variety of styles and engine types. Although some mechanics may focus on repairing or adjusting parallel twin, flat-twin, inline-triple, inline-four, or other kinds of engines, specialization in this trade is usually geared toward working on brands of motorcycles. For example, many technicians in the U.S. specialize in servicing bikes from manufacturers such as the following:
Honda
Yamaha
Kawasaki
Suzuki
Polaris
KTM
Ducati
BMW
Triumph
Career FAQs
What qualities do you need to become a good motorcycle mechanic?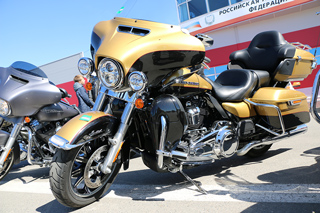 In addition to mechanical aptitude and a genuine passion for motorcycles, successful technicians often have:
Excellent problem-solving abilities
Good hand-eye coordination
Basic math skills
A good understanding of basic electronics
An eye for detail
Physical stamina
A strong safety mindset
Welding is another great skill to have, especially if you want to work on custom bikes. And if you ever intend to open your own repair shop, having some business knowledge can be very helpful as well.
Do motorcycle technicians have advancement opportunities?
Some mechanics eventually move into higher-paying roles that may or may not involve as much hands-on work. In many cases, they take on different responsibilities while still utilizing their technical knowledge. For example, those with the right skills, experience, and connections can advance or transfer into other positions within the industry, such as the following:
Master service technician
Service writer
Service manager
Shop foreman
Shop owner
Racing team technician
Sales representative
Manufacturer representative
---
Motorcycle Mechanic Schools Are Worth Checking Out
Learning how to fix motorcycles is a fun and challenging process that many trade schools make easier and more convenient. Completing a formal training program is one of the most popular and reliable ways to prepare for this enjoyable and engaging career.
---
* Length of training information is based on a combination of information from the Occupational Outlook Handbook, the U.S. Department of Education, and a wide sampling of relevant program lengths from about 30 individual school websites. They are a mix of public, private non-profit, and private for-profit institutions.
** Unless otherwise noted, salary information is based on May 2021 data from the Occupational Employment and Wage Statistics (OEWS) program. Job growth and average yearly openings estimates are from the Bureau of Labor Statistics and are for the 2021 to 2031 period.