Occupational Therapy Assistant Schools
Last Updated
Occupational therapy assistant schools enable caring people to attain skills for helping others live more active and productive lives.
That's what makes this vocation a special option. It can provide you with the daily opportunity to give your very best to society. After all, have you ever imagined the fulfilling rewards that might come from what you would get to do? It's about assisting people in your community with overcoming or adapting to their physical, emotional, or developmental challenges.
By getting training in this field, you can explore a much wider world of meaningful employment possibilities. And you'll move closer to enjoying the other benefits that can arise from pursuing this path. So locate nearby occupational therapy assistant programs right now by entering your zip code below!
5 Big Advantages of Becoming an Occupational Therapy Assistant
---
---
Occupational Therapy Assistant Schools
Sponsored Listings
---
---
5 Big Advantages of Becoming an Occupational Therapy Assistant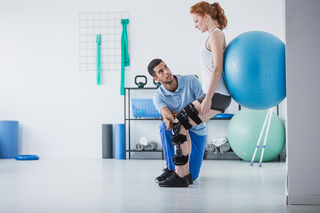 Throughout every community, there are people who have difficulty with life's basic tasks. Some of them were born with disabilities, and others have limitations as a result of aging, injury, or illness. But they all deserve the chance to achieve greater independence and fuller enjoyment of their lives.
The numbers are striking. For example, according to the Centers for Disease Control and Prevention, roughly 17 percent of children in America between the ages of three and 17 have at least one developmental disability like autism or cerebral palsy. And more than 23 percent of U.S. adults suffer from arthritis, which can make everyday physical activities difficult or even impossible.
Of course, the full range of other challenges that can affect people's lives in this way is extensive. It includes everything from Alzheimer's disease to vision impairment to repetitive motion injuries to brain and spinal cord injuries to mental disorders.
That's why occupational therapy (OT) matters. This area of healthcare focuses on helping people develop or regain common abilities that are necessary for everyday learning, working, or living. And for those who provide that assistance, it is a field that can generate a lot of professional and personal benefits such as:
1. An Abundant Variety of Possible Job Settings and Career Opportunities
One of the great things about becoming a certified occupational therapy assistant (COTA) is that the field offers a lot of diversity. As a result, you can pursue the opportunities that most align with your particular interests.
For instance, consider that wherever occupational therapists are found, you're also likely to find assistants. That means, as a COTA, you might have the chance to work in:
Occupational therapy offices
Physical therapy clinics that offer OT services (even though there's a difference between occupational therapy and physical therapy)
Hospitals
Nursing homes and other assisted-living environments
Public or private schools at every level
Private residences (as part of a home healthcare service)
Social or community assistance agencies
Mental health centers
Beyond the appealing range of job settings, this field also offers the potential to specialize in a particular area of practice. That way, you can work directly with the kinds of patients you most enjoy helping, whether they be children, seniors, or people suffering from particular conditions. (Many people with jobs in the OT field get to help children with issues related to their growing, playing, or learning, according to the American Occupational Therapy Association website.)
Broadly speaking, the main areas of occupational therapy practice include:
Pediatrics (i.e., helping children and youth)
Gerontology (i.e., assisting older people as they age)
Disabilities and physical rehabilitation
Work-related injuries
Mental health coping and recovery
Chronic disease prevention and management
In addition, many occupational therapy assistants get the opportunity to earn certifications for specialties related to:
Working with school-age children and young adults in educational settings
Helping disabled people modify their homes or workplaces and adapt to using assistive technologies
Assisting people who suffer from low-vision disorders
Training certain disabled patients or their caregivers in how to perform feeding techniques or use adaptive equipment that allows them to eat and swallow food successfully
Helping people with disabilities learn how to use adaptive technology that enables them to drive or learn new ways to get around their communities on foot, on bicycle, or by using public transit
2. An Outstanding Job Outlook*
Several trends are contributing to the growing demand for occupational therapy assistants. For example, the number of elderly people in America is rising rapidly, and they are, increasingly, trying to stay active. Autism spectrum disorder is also on the rise among children, and more parents are seeking help for their kids as they learn about learning and developmental disabilities. Plus, the Affordable Care Act is enabling a lot more people to access health insurance that covers occupational therapy services.
The result is that the Occupational Outlook Handbook expects employment in this vocation to grow by 25 percent in America from 2021 to 2031.
3. Excellent Compensation*
High demand often results in good pay. In fact, according to the Occupational Employment and Wage Statistics program, the median salary for an occupational therapy assistant in the U.S. was $61,730. But for COTAs in the home healthcare industry, the median was over $75,070. And the highest earners in this field made more than $100,020. In addition, many of the jobs in this vocational area come with good employer benefits like health insurance and paid vacation.
4. Relatively Little Time in School
Becoming an occupational therapy assistant usually requires earning an associate degree. What is an associate degree? It's a college-level credential that typically requires no more than about two years of study. As part of that training, many occupational therapy assistant programs incorporate several weeks of real-world practice to help prepare you for the National Board for Certification in Occupational Therapy (NBCOT) exam, which must typically be passed in order to become licensed in your state. The bottom line is that, compared to some other good healthcare occupations, it's possible to enter this field rather quickly.
5. A Daily Sense of Enjoyment
Occupational therapy assisting is known to be among the least stressful vocations in healthcare. Plus, it doesn't generally require spending much time at a desk. Instead, most COTAs get to stay pretty active while making a meaningful difference in the lives of the people they help. It's a role that can offer daily variety, flexible work schedules, and rewarding personal connections.
---
Where to Begin
Start exploring nearby options for occupational therapy assistant training. Schools in your area can be found with one simple search. Just enter your current zip code to generate an updated list of possibilities!
---
---
* Unless otherwise noted, salary information is based on May 2021 data from the Occupational Employment and Wage Statistics (OEWS) program. Job growth and average yearly openings estimates are from the Bureau of Labor Statistics and are for the 2021 to 2031 period.