Michigan HVAC Training Schools
Last Updated
Discover why Michigan HVAC training schools are worth exploring if you want to get into a reliable and good-paying trade.
For starters, think about what a career involving heating and cooling technology could really mean for you. It might enable you to build the life you've always wanted—in a place you love. And here's an important fact: A lot of successful tradespeople have gotten started by learning job-ready skills at HVAC schools in Michigan. So it might just be one of the most effective ways of putting yourself on the path to meaningful opportunity.
Plus, here's another reason why this region is a terrific place to get HVAC training: Michigan is known for having hot summers and cold winters. And that means people rely on climate-control systems to provide comfortable temperatures and good air quality inside the buildings where they live and work. As you develop the skills of an HVAC technician, you'll likely notice just how valued those abilities are.
Why put off your future? Check out the compelling programs offered in your area right now by entering your zip code!
3 Powerful Benefits of Becoming an HVAC Technician in Michigan
---
Michigan HVAC Schools
Sponsored Listings
---
---
3 Powerful Benefits of Becoming an HVAC Technician in Michigan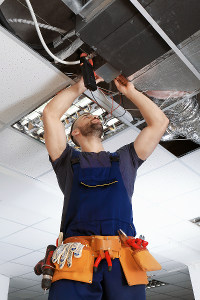 Knowing how to service or install heating, ventilation, air conditioning, or refrigeration (HVACR) systems can have a lot of advantages. HVAC techs in Michigan frequently enjoy benefits such as:
1. Career Stability
Almost every building—both old and new—requires a functioning climate-control system and good circulation of healthy air. But most HVAC equipment breaks down eventually and needs to be either repaired or replaced. Plus, it uses a lot of energy, which can be costly. And that leads a lot of businesses and homeowners to upgrade or retrofit their systems for greater energy efficiency and lower utility bills.
The result is that qualified HVAC technicians tend to stay in pretty high demand, especially in states like Michigan. In fact, nationwide, the employment of HVAC mechanics and installers is expected to increase by 5 percent from 2021 to 2031.* And there are reasons to believe that Michigan's job growth in this trade could be even higher.
For instance, consider how the construction industry ties in to demand for HVAC techs. New buildings—as well as many renovated ones—usually require the installation of new HVAC systems. So as cities within the state grow, the need for qualified technicians often grows as well. Between 2020 and 2030, employment within Michigan's construction sector is expected to grow by 8.50 percent.
2. Good Wage Potential
According to the Michigan Bureau of Labor Market Information and Strategic Initiatives, in 2021 the statewide median hourly wage of an HVACR tech in Michigan was $23.76, which equals $49,410 a year. But, in some areas of the state, the median was much higher.
HVAC techs in metro areas like Ann Arbor, Lansing-East Lansing, and Grand Rapids earn significantly more than the state median for this trade. In those regions, the median pay ranges from $27.85 to $29.63 per hour ($57,920 to $61,630 annually).
3. Engaging Work
HVAC schools in Michigan can teach you how to do some of the most interesting work in the skilled trades sector. In fact, people in this vocation often get a lot of satisfaction from doing things like:
Troubleshooting sophisticated heating and cooling systems
Installing advanced HVAC equipment, including components like air ducts, electrical wiring, and water supply connections
Making repairs using a variety of specialized tools
Figuring out how much energy a customer's heating or air conditioning system uses
Recommending options for improving the energy efficiency of a system
Learning about how to integrate environmentally friendly systems that use technologies such as solar power
Turn Your Curiosity into Action
Find out where you can get Michigan HVAC training. Schools offering fast programs in this trade are ready to provide all the information you need. Just type in your zip code to see the options near you!
---
---
* Unless otherwise noted, job growth and average yearly openings estimates are from the Bureau of Labor Statistics and are for the 2021 to 2031 period.