Medical Receptionist Training Schools & Colleges
Last Updated
The healthcare industry continues to grow and expand, which creates great opportunities for those wanting to break into this fulfilling career field—and health administration is no exception. If you are interested in a career that involves business-related skills as opposed to hands-on patient care, medical receptionist training is a great option.
Medical receptionist schools can prepare you to perform a wide range of vital administrative tasks, including computerized scheduling, medical billing, patient-records management, and much more. Many programs can also allow you to gain a strong knowledge of general health areas, from medical terminology to pharmacology.
Depending on your program choice, a medical receptionist college can also allow you to receive a strong foundation in dental receptionist training. Plus, most schools can give you first-hand insight into the workforce by providing you with practicum or externship opportunities within an actual medical facility.
If you can see yourself becoming a valuable administrative employee within hospitals, clinics, labs, or physicians' offices, check out the medical receptionist training options below!
Top 3 Questions About Medical Receptionist Careers
---
---
Medical Receptionist Schools
Sponsored Listing
---
---
Top 3 Questions About Medical Receptionist Careers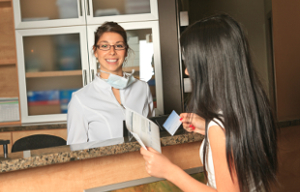 Would you describe yourself as a people person? Do you want to do meaningful work that provides a feeling of accomplishment each day?
As a front-desk medical receptionist, your days could be filled with interesting and enjoyable tasks that make a genuine difference in other people's lives. And the confidence that you have in your own future could become a lot stronger.
After all, receptionists within the medical field are growing in demand. According to the Occupational Outlook Handbook, about 142,300 new receptionist jobs are projected to become available from 2021 to 2031.* And the best opportunities are expected to be within the health care industry.
Some of the biggest reasons for this extraordinary growth are that people are living longer, and America's population of senior citizens is rapidly increasing. As a matter of fact, the number of Americans over the age of 65 is projected to rise by about 69 percent between 2020 and 2060. The result is that doctors' offices, hospitals, and other health facilities will likely see a surge in new patients as well as more frequent visits by older ones.
So you have the chance to become an essential contributor on the front lines of patient care. Plus, medical receptionists get to enjoy not only the relative stability of a growing field, but also the advancement opportunities that come with it.
Check out the following frequently asked questions to discover even more of the potential benefits:
1. What Is the Average Medical Receptionist Salary?
Receptionists who work in medical offices, hospital departments, and other health care settings often use their positions as stepping-stones into higher-paying careers in medical administration. For instance, with a year or two of experience as a receptionist, it's often possible to attain a job as a medical office assistant. And from there, it's possible to eventually become a medical office manager. That said, receptionists in this field often earn salaries that are nothing to sneeze at.
So how much does a medical receptionist make in the U.S.? Occupational Employment and Wage Statistics program data shows that, on average, receptionists who worked in doctors' offices earned annual pay of $33,670 in 2021.* And those who worked in the offices of other kinds of health care practitioners made $31,650, on average. But the highest-earning receptionists made more than $45,760. Plus, you can't overlook the fact that medical receptionists also tend to receive good employer benefits such as paid vacation and extra health and dental insurance coverage.
2. What Does a Medical Receptionist Job Description Usually Include?
Most jobs in this field are very people-oriented. In fact, for anyone with the title of medical receptionist, duties often require a good amount of social and emotional intelligence. That's because receptionists tend to be the first and last professionals that patients see during their visits. And each individual patient might display a different emotion, anything from cheery to sad to anxious.
So, what does a medical receptionist do exactly? It usually depends on the particular place of work, but most receptionists in the health care industry get to enjoy a fun, diverse, and challenging variety of duties. For example, a medical office receptionist job description often includes tasks such as:
Greeting patients and checking them in
Collecting personal and insurance-related information from patients
Directing or escorting patients to a waiting room, exam room, or treatment area
Answering, initiating, or forwarding phone calls
Taking detailed messages
Sending and receiving emails
Scheduling, confirming, or canceling patient appointments
Typing patient information into an electronic medical records system
Handling basic payment and billing procedures
Soothing emotional patients or family members
One of the most important duties of a medical receptionist is simply to treat each patient and health practitioner with respect while displaying a warm and positive attitude.
3. How Can I Become a Medical Receptionist?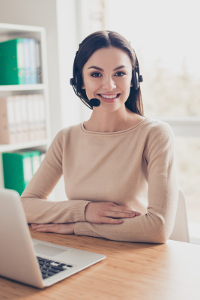 When it comes to becoming a professional medical receptionist, requirements vary from employer to employer. Even so, you don't usually need much training. Many people succeed at entering this field after just a few months of post-secondary schooling in a program related to medical office assisting or medical administration. Those who want a more clinical role helping with direct care tend to lean more toward medical assistant programs.
If you intend to learn how to become a medical receptionist, then it might pay to explore formal training programs that can help you. Many essential medical receptionist skills can be learned more quickly than you may realize. You can learn how to:
Understand medical terminology
Develop exceptional communication skills, including good phone etiquette
Attain computer skills in spreadsheet and word processing applications
Gain an understanding of the rules about medical patient privacy
Many employers will give extra attention to your resume if you have such training already. Beyond that, all you really need to do is apply and follow up with the employers you'd like to work for. Aside from the credentials that you earn through school, you don't even need to attain any extra medical receptionist certification.
---
Get a Valuable Head Start
Don't hesitate to find out where you can get the medical receptionist training that provides a competitive edge. Conduct a quick search for programs in your area by using your zip code in the school finder at the top of the page!
---
---
---
* Unless otherwise noted, salary information is based on May 2021 data from the Occupational Employment and Wage Statistics (OEWS) program. Job growth and average yearly openings estimates are from the Bureau of Labor Statistics and are for the 2021 to 2031 period.