Personal Trainer School Options
By Publisher
| Last Updated
Fitness training is a fast-growing field that provides the opportunity for fulfilling work, flexible schedules, and other advantages. A personal trainer school near you may offer courses that can help you begin guiding people safely toward their goals for physical conditioning and well-being.
---
Education & Training
By attending a fitness trainer school, you can learn important skills for helping people reach their physical goals.
Length of Training
Personal trainer programs typically take anywhere from three to 12 months to complete. If you pursue an undergraduate degree in a related area like exercise science, it can take 24 to 48 months to complete your education.*
Program Options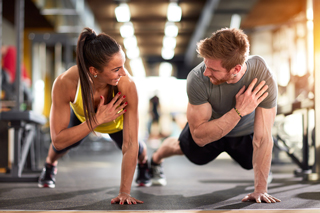 Certificate and diploma programs can allow you to gain the fundamental knowledge to take certification exams and pursue entry-level personal trainer positions.
Associate and bachelor's degree programs in disciplines like kinesiology, exercise science, or physical education provide a broader scope of training. It's becoming increasingly common for employers to require such a degree, especially if you are interested in working in a rehabilitation facility or taking on another specialized role.
Master's degree programs build on the concepts learned at the bachelor's level. They can help you qualify for leadership roles like fitness director or head athletic trainer.
An O*NET OnLine survey asked fitness trainers and aerobics instructors to indicate the required level of education. Here's how the responses broke down:
Post-secondary certificate: 57 percent
High school diploma or equivalent: 14 percent
Associate degree: 10 percent
---
---
Typical Courses
Programs can cover a wide range of subjects, including:
Anatomy, physiology, and kinesiology
Biomechanics
Client assessment and goal setting
Program development
Fitness concepts and exercise principles
Exercise techniques and form
Injury management and emergency medical care
Motivation and communication
Nutrition and lifestyle modifications
Business and legal skills
Skills You Can Learn
You can start developing abilities related to:
Evaluating a client's mobility, balance, strength, endurance, and flexibility
Setting appropriate goals
Designing safe workout programs
Demonstrating proper exercise form and techniques
Adapting fitness programs for different client characteristics
Motivating clients to achieve their best
Communicating with clients in a clear and respectful way
Licensing & Certification
Legally, personal trainers do not need to be licensed or certified. However, most gyms will not hire or admit trainers who do not possess at least one accredited certification. Plus, certification is often required in order to get liability insurance.
Look for a program that is accredited by an agency like the NCCA (National Commission for Certifying Agencies). Such accreditation is a seal of approval given to programs that cover the necessary theoretical and practical components and require students to take comprehensive exams.
Accredited certification programs are available from many different organizations, including:
To obtain basic certification, you will need to meet a few requirements. For most programs, you must:
Be 18 years of age or older
Hold current CPR (cardiopulmonary resuscitation) and AED (automated external defibrillator) certification
Possess a high school diploma or equivalent
For more advanced certifications, you may need to have at least a bachelor's degree in a related field.
Education & Training FAQs
How much does certification cost?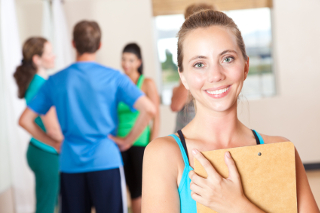 Each certifying organization has its own fee structure. But based on the fees of eight different organizations (like those referenced above), it generally costs anywhere from $100 to $600 to take a personal trainer certification exam. Some providers offer packages that include the exam fee along with study materials such as textbooks, instructional videos, study guides, and practice tests. Package prices vary widely, from about $100 to $2,400.
Some post-secondary programs include the initial cost of certification in their tuition fees. Plus, if you already work at a health club or are a veteran, you may qualify for discounts on certification fees.
Do I have to renew my certification?
Yes. Most personal training certifications must be renewed every two or three years, depending on the organization. That typically requires completing a certain number of continuing education credits and paying a fee. The continuing education component is in place to ensure that you maintain your commitment to the field through ongoing professional development of your expertise.
---
Personal Trainer Schools
Sponsored Listings
Applied Exercise and Fitness
Exercise Science, Fitness, and Nutrition Management
Personal Trainer
---
---
Career Information
Personal trainers strive to help people improve their lives through the benefits of an active lifestyle. This field offers flexibility, variety, and good growth potential.
Earnings
Salaried personal trainers are not the norm. Rather, many work on an hourly or commission-driven basis. Also, many are self-employed. So your income will likely be based, at least partially, on your ability to generate business.
According to the Occupational Outlook Handbook (OOH), the median hourly wage for fitness trainers and instructors is $19.57.* That equates to an annual salary of $40,700 for full-time work.
The top earners make $36.51 or more per hour. Full-time work at that rate would generate $75,940 or more per year.
Job Openings & Outlook
From 2021 to 2031, employment of exercise trainers and group fitness instructors is expected to grow by 19 percent, according to Bureau of Labor Statistics (BLS) projections.*
An average of 65,500 jobs in that category should become available each year over that same time frame.
Key Benefits
The satisfaction of helping others succeed: It can be immensely gratifying to see your clients become fitter, stronger, healthier, or more confident.
Lots of flexibility: Many trainers are independent contractors who are free to set their own availability, policies, and areas of specialization.
Endless variety: Trainers get to consider each client's unique abilities and goals, develop customized plans, and continually refine the plans as circumstances change. So every day presents an interesting challenge.
What a Personal Trainer Does
Personal trainers help clients achieve increased fitness and health. They can assist clients in reaching a number of physical fitness goals, from weight loss to cardiovascular endurance to muscle gain.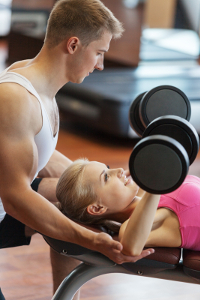 Typical tasks include:
Assessing clients' fitness levels
Creating realistic goals
Developing programs that incorporate various types of exercise, such as cardio, strength, and flexibility training
Teaching pre- and post-workout stretches to help clients avoid injury
Supervising clients during exercises to ensure they are using proper techniques
Monitoring clients' progress
Providing information about nutrition or lifestyle issues
Administering first aid if necessary
Updating client records
Work Settings
Personal trainers can be found in settings like:
Gyms
Health clubs
Recreation centers
Corporate wellness centers
Yoga studios
Hotels and resorts
Cruise ships
Hospitals
Rehabilitation centers
Retirement complexes
Clients' homes
Some trainers conduct training sessions in their own homes or even online.
About 22 percent of fitness trainers and instructors are self-employed.
Specializations
Personal trainers can pursue certifications in a huge range of niche areas. The list below, while not comprehensive, describes some of the major categories and the specific specialties offered in each.
Athletics and performance: Pursue one or more specialties that help sports competitors get better results, such as strength and conditioning, indoor group cycling, mixed martial arts conditioning, or golf fitness.
Nutrition and lifestyle: Help your clients make healthy eating and lifestyle choices by pursuing a specialty like sports or fitness nutrition, behavior change, weight management, or wellness coaching.
Disease management and recovery: Design programs for people dealing with injuries or chronic conditions. These clinical specialties include areas like orthopedic exercise, cancer exercise, and post-rehabilitation exercise.
Special populations: Customize fitness routines for the unique needs of groups like seniors, children, or pregnant or post-natal women.
Career FAQs
For what reasons do people seek out the services of a personal trainer?
Personal trainers often work with people who:
Want to lose weight or gain muscle
Need to learn proper form in order to avoid injury
Are interested in working out but don't know where to start
Have a disability or are facing an illness
Have reached a plateau while training on their own
Want to minimize the risks of age-related illnesses and injuries
Are interested in pre- and post-natal fitness
Do personal trainers only work one-on-one with clients?
Trainers can work with groups as well as individual clients. By becoming a group fitness leader, you could plan and choreograph fitness classes, run intensive boot camps, and lead semi-private training sessions. Many trainers specialize in this particular area, but many also take on these tasks in addition to personal training sessions.
What kind of equipment do I need to get started?
That depends on where you plan to do your training. If you will be based in a gym or fitness facility, you probably won't need to buy very much. But if you plan to see clients in their homes or yours, you will likely need to collect basic gear like:
Floor mats
Free weights
Jump ropes
Resistance bands
Exercise balls
Balance boards
Weighted belts
---
Many Industry-Relevant Skills Can Be Learned Through a Personal Trainer School
It's easier to become a qualified fitness professional when you pursue the kind of vocational education that provides built-in support and convenience.
---
* Bureau of Labor Statistics, U.S. Department of Labor, Occupational Outlook Handbook, https://www.bls.gov/ooh/. Some careers listed may be part of a combined occupation profile (visited August 1, 2023).