Fashion Design Schools and Colleges
Last Updated
Is fashion design school for you? You love the latest trends and enjoy flipping through fashion magazines in search of the hottest new looks. Friends emulate your cutting edge fashion style and knack for accessorizing. With formal training, you can learn how to use your creative flair to launch a fun and glamorous career.
Exciting opportunities in the fashion industry exist in merchandising, marketing, designing and more. Whether you ultimately wish to become a marketing specialist, a fashion buyer or design the latest fashion trends, there are schools ready to help you achieve your goals.
Learn how trends are created, what influences consumer purchases and the strategies behind advertising and retailing. Gain expertise on the fundamentals of design, illustration and custom patterns, fashion show production, use of fabrics, insider secrets of the industry and more.
Some schools even take you on field excursions to the fashion meccas of Milan, Paris and New York to get an intimate look at the workings of the fashion industry. Others arrange for internships for students at fashion houses, retailers and textile producers in the fashion industry to gain valuable experience.
To begin your exciting career in the world of fashion design, merchandising, marketing and more, just select one of the schools below and ask for more details! And to learn even more about what to expect from an education and career in this field, read through this informative article.
---
---
Fashion Design Schools
Sponsored Listing
---
Fashion Designer Career Information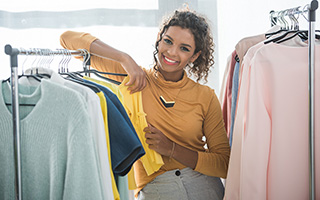 This morning you got dressed. You went to your closet and chose items based on your personal style. You also probably thought about the activities you were planning to do, the weather, and other factors. What you may not have considered is that fashion designers conceived each and every thing you put on.
Fashion designers work with all types of apparel, from wedding gowns to children's wear to industrial safety gear—and everything in between. They even design accessories, such as handbags and hats.
This profession is not as simple as whipping up a pretty drawing or sewing a single top. Designing clothing is a complicated job that entails deliberating over function, cost, aesthetics, style, and more. That means considering a wide range of factors, including style trends and the intended consumers. Plus, fashion designers work within budget constraints, requiring them to deliver a product at a specified cost and within an allotted time frame.
This broad description doesn't do justice in conveying the wide range of tasks and responsibilities that fall under this profession. Below is a list of career options that fall under the umbrella of fashion design to help you understand the breadth of opportunities in this field:
Design assistant
Fashion designer
Textile designer
CAD designer
Dressmaker
Stylist
Technical designer
Pattern maker or cutter
Tailor or seamstress
Fashion buyer
Illustrator
Fashion forecaster
Production manager
Manufacturing coordinator
Sample sewer
Couturier
Costume designer
In addition, there are a number of professions related to the business side of the industry (beyond the technical and creative aspects). For example, fashion journalists and fashion retail managers aren't directly related to the production of apparel, but they do play important roles.
Job Description
The job description can include:
Conceiving ideas for collections and individual garments
Researching and forecasting industry trends
Sketching designs for various types of apparel and accessories
Selecting fabrics, patterns, colors, silhouettes, trims, and embellishments
Sourcing materials and coordinating labor for production
Designing textiles for use in garments
Drafting patterns using computer applications and manual techniques
Utilizing computer-aided design (CAD) applications to digitize designs
Constructing sample garments
Attending trade shows to promote or purchase products
Marketing designs at a wholesale, retail, or consumer level
This is just a sampling of responsibilities. Depending on a number of factors, such as size of company or level of expertise, you could be tasked with many or just a few of these items. Upon entering the industry, you could land a junior designer or design assistant position in which you might assist in one specific area, such as sourcing notions (trim, buttons, zippers, etc.), sewing production samples, or putting together storyboards.
Fashion designers generally work in a particular niche. The most popular specializations include:
Children's wear
Intimate apparel
Knitwear
Bridal/special occasion wear
Sportswear
Women's day wear
Women's evening wear
Men's day wear
Men's evening wear
Outerwear
Accessories
Can You Tell Me How to Get Into the Industry?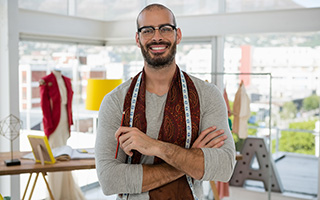 It's important to realize that there isn't one path to achieving this goal.
Although formal education is not the only option, it certainly offers the most potential. These days, a background in just one department or area of fashion design is likely not enough to propel you to full designer status. It's important to possess a strong understanding of a variety of topics, from textile composition to manufacturing processes to pattern drafting.
Ideally, the first step should include applying to a fashion program. There are a wide range of options to choose from, including vocational schools, art schools, and even prestigious universities. The one you opt for should reflect your professional goals, whether you want to open up your own small boutique or land a job with a high-fashion design house.
Additionally, if there is a specific aspect of the design process that you are drawn to, you can often obtain specialized instruction by taking various electives and choosing related internship opportunities.
Upon graduation, you can start pursuing entry-level positions in your area of interest. You may also be hired on during an internship, allowing you to enter the field directly out of school. To obtain a position, you'll need to be armed with a portfolio showcasing your work. This is just as important as your resume (if not more so). A portfolio can be a combination of illustrations, photos, tangible garments, and other examples of your achievements.
Starting out in the field, you should expect to be hired on in a junior role. Such positions often include design assistant, pattern drafter, or junior stylist. Within this role, you will most likely perform a lot of low-level (but important) work, allowing you to gain experience in the industry and make valuable network connections.
As you earn your stripes in the field, you can work your way up the ladder toward more coveted positions or branch out as a freelance designer or entrepreneur.
What Education is Needed?
Formal training is becoming increasingly important when it comes to breaking into this field. As mentioned above, deciding whether to obtain training depends on your individual goals. But if you plan to pursue work within a larger organization or want to gain the necessary skills to work with industry-standard technology, then education is likely the right option for you.
An advantage of formal education is that many programs can allow you to take part in an internship, which can provide you with the opportunity to gain real-world experience and make valuable contacts within a very competitive industry. Plus, an internship may even have the potential of turning into a permanent position.
And if you want to take your interest in beauty and appearance in a different direction, cosmetology school is another option worth considering. This field can also allow you to enjoy a creative career working toward an aesthetically pleasing goal.
How Long Does it Take to Complete a Program?
Programs tend to begin at durations of one year and increase in length according to the level of credential you plan to earn. The most common training options are two- and four-year diploma and degree programs. Additionally, many programs include internships, which can be paid or unpaid. This means that, while technically your education could last two to four years, you could be spending some of that time earning a paycheck in your new field.
What are the Prerequisites for School?
Depending on the specific school and program that you choose, the prerequisites can vary, but a high school diploma (or GED-equivalent) is often required. Some schools will also require basic sewing skills for entry, which is why high school students interested in the field are encouraged to take home economics classes if possible. Arts classes are also very helpful but not usually required.
In addition, many schools will require you to present or send a portfolio of your work for examination, including photographs of your creations, illustrations, and garments displaying your current level of skill. This may sound a little intimidating if you're not a gifted sewer, but just keep in mind that this is used to assess your creative talents, not your technical abilities.
Schools may ask you to take part in an interview during which you could be asked to talk about your interest in fashion, your goals, and any related experience. This is not only a good opportunity to wow faculty with your passion, but also to ask questions of your own and get to know potential instructors.
What Can I Learn in a Program?
Fashion trends and forecasting: Using a variety of sources to understand industry trends related to color, styling, technology, fabrics, and more
Market research: Identifying the target market and exploring its demographic information, including income level, expectations, needs, and style
Pattern design: Creating blueprints for garments using computer-aided drafting applications, as well as manual drafting techniques
Draping: Directly applying fabric to a three-dimensional mannequin in order to produce a garment design
Textile design: Developing embellishments, patterns, graphics, and textures for fabrics
Color and design theory: Applying color, harmony, proportion, rhythm, emphasis, and unity in the development of designs
Art and fashion history: Understanding the cyclical nature of fashion, the history of the industry, and influences from previous eras
Model and life drawing: Illustrating designs using knowledge of the human body, light, proportion, fabric rendering, silhouettes, and other factors necessary for effective portrayal of designs
Sewing and construction: Taking designs from the pattern stage to the finished product, including the steps of cutting, sewing, pressing, fitting, and finishing while using industry-standard tools and equipment
Business communications: Using professional communication abilities to effectively work with clients, other designers, and manufacturers in the production process
Computer design applications: Utilizing computer software applications to produce illustrations, photos, technical drawings, inspiration boards, marketing presentations, and more
Manufacturing and product development: Understanding the process beyond initial design, including costing, sourcing, engineering, and manufacturing
Technical illustration: Working with computer-aided design and drafting applications to produce accurate technical depictions, as well as garment specification documents
Design process and development: Exploring the process from initial conception and construction to trade show promotion and retail merchandising
Portfolio development: Developing a collection of work that displays your achievements in a hard copy and/or digital format
What is the Typical Salary?
If you're thinking about a career in the fashion industry, you may be considering how much you could potentially make. Since understanding your future earning capacity is important in weighing the factors of an impending career choice, here are national fashion design salary estimates from the Occupational Outlook Handbook (OOH) as of May 2021 to provide some insight:*
The median annual fashion designer salary was $77,450, which works out to $37.24 per hour.
The top 10 percent of fashion designers made more than $130,870.
While these numbers can give you a snapshot of the field, it's important to keep in mind that income can also depend on level of experience, area of the industry, and type of employment (since fashion designers can also be self-employed or work on a contract basis).
What are the Average Workplaces?
Generally, professionals in this field fall into the category of in-house or freelance design. In-house designers work directly for companies who design, manufacture, and sell the apparel at a wholesale or retail level, while freelance designers are self-employed and sell their designs to companies.
You could have the opportunity to work in:
Wholesale or manufacturing establishments
Apparel companies
Retail organizations
Film, theater, or dance companies
Design firms
Geographically speaking, fashion designers tend to find work in major urban centers (as you might expect). The largest hubs for the industry in the U.S. are New York and California, says the OOH.
What Are the Perks of the Career?
Travel: From trade shows to fashion weeks, working in this industry can include a range of travel opportunities. These could include presenting a new collection to clients in another city, sourcing materials overseas, or working on-location for a television program, film, or play.
Moments of glamour: While the reality of being a fashion designer isn't all runways and photo shoots, there are times when you could enjoy the glamorous side of the industry.
Creative expression: A career in this industry can help your creative talent flourish.
Enthusiastic coworkers: Thanks to the competitive nature of the industry, you have to possess a strong level of passion to achieve success in this field. That means you're likely to join a team on which you're not the only one who lives and breathes fashion.
Ongoing change: Every season is different in the fashion world. Trends flow and technology evolves, which can lessen the chance you'll ever reach a point of boredom in this field.
What Does It Take to Be a Fashion Designer?
In addition to hard work and dedication, it takes refined skills, a strong understanding of the industry, and drive. In order to best prepare for a future in this field, you should take advantage of any opportunity to hone your skills. You can: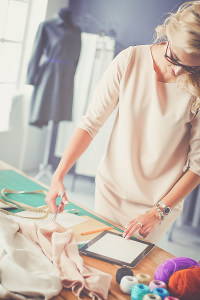 Sketch: There are some prodigies who were born to illustrate, but for the majority of designers, hard work and diligence are the keys to learning how to communicate ideas through visual mediums. It's also important to explore painting, sculpture, and other forms of artistic expression (all of which can help you develop an eye for proportion, scale, harmony, and other aspects of design).
Sew: Whether you want to work in production or dream of handling the creative direction of an entire brand, hands-on experience using all types of fabrics to create an array of garments will give you invaluable insight into design. You'll learn what fabrics work where, how they fall on the body, what construction techniques to use, and more. You'll also learn about the labor involved in putting together a garment, which is critical for costing and production planning.
Explore: From art and culture to architecture and media, take time to explore anything that may provide you with inspiration. Like in any creative profession, all areas of life can influence fashion design. By visiting galleries, watching period films, attending plays, or visiting historical sites, you could be fueling your potential for creating inspired and original designs.
Read: You're likely already a subscriber to a variety of fashion magazines, and these can be a great source of knowledge. Publications like Vogue and Women's Wear Daily can help you get to know new designers, understand trends, and more. You should consider magazines and professional trade publications (if you have access) required reading.
Write: Since designers are frequently required to communicate using the written word in addition to visual imaging, it's a good idea to hone this important skill. By practicing your ability to write effectively, you can prepare for the proposals, bids, client emails, and other communications that you may need to present throughout your career.
Collaborate: As a designer, you will need to work with others. You may be handling the design of a garment, but you will likely be counting on a number of individuals, from pattern drafters to fit models to marker makers, to help you bring your vision to fruition. Therefore, whenever you have the chance to work in a group setting, you should take advantage of the opportunity.
---
---
* Unless otherwise noted, salary information is based on May 2021 data from the Occupational Employment and Wage Statistics (OEWS) program.