---
---
CNC Training and Career Information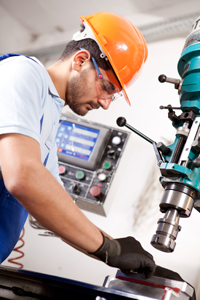 Do you have an interest in high-tech machines, a knack for numbers, and great dedication to detail? As a CNC machinist, you'll manufacture mechanical parts to rigorous standards of accuracy—in some cases, within a thousandth of an inch. CNC schools can give you the hands-on training you'll need to develop market-ready skills and gain a foothold in this fascinating trade.
Curious to learn more? Read on to explore the kind of work you could do, the training you will need, and the money you could make in the CNC machining field!
What Is CNC All About?
Let's start with some CNC basics: Computer numerical control (CNC) is a form of advanced manufacturing in which machines are used to automate processes like cutting, boring, drilling, threading, and grooving. In this field, you program, set up, and operate machine tools in order to manufacture parts to exacting standards of precision and accuracy.
In general, a CNC machine definition includes any machine tool in the manufacturing industry that relies on digital instructions to control its movement. The most prominent examples of CNC machines are lathes and mills, but additional examples include routers, grinders, punch presses, and other industrial tools. CNC professionals most commonly work with metal, but they can also shape parts out of plastic, wood, and other materials.
Depending on their specific focus and level of experience, CNC machinists may also be known as:
CNC operators
CNC setup operators
CNC programmers
What Is the Work Like?
In essence, this field involves creating parts and instruments using computer-controlled tools. Precision machining tasks can be quite diverse—you could manufacture components for things like car engines, airplane gears, artificial hips, or computer keyboards.
Some typical job duties include:
Studying engineering blueprints, drawings, and specifications in order to plan machining processes
Interpreting geometric dimensions and tolerances (GD&T) for each job
Calculating feed rates and machine speeds
Writing and inputting computer commands to make a CNC lathe, mill, or other tool perform the desired operation
Setting tool offsets, registers, and conditional switches
Preparing and loading material into machines
Overseeing CNC turning, facing, drilling, and cutting processes
Verifying that sample pieces adhere to expected standards
Making necessary adjustments to ensure quality production
Sharpening tools, replacing worn out components, and performing other preventive maintenance to keep machines working efficiently
Following all safety protocols
What Training Is Required?
There are a number of ways to learn CNC machining. The type of training you need depends on the specific kind of work you want to do. CNC operator training is typically done on the job. You might begin by helping experienced workers load materials and start and stop machines, then progress to changing tools and inspecting finished pieces. Depending on the complexity of the machine, your training could take anywhere from a few months to a year.
If you're interested in performing more advanced tasks by becoming a CNC machinist or CNC programmer, training at the post-secondary level will generally be required. You can learn CNC programming through CNC training courses at vocational colleges, trade schools, and technical institutes. These types of schools offer short CNC machine training programs that can prepare you to pursue work as a setup operator, machinist, or programmer.
CNC classes cover topics such as metalworking theory, applied math, process planning, basic welding, and CAD training. Plus, most CNC programming classes include hands-on training on the type of equipment you would use in a real machine shop.
CNC machinist training schools typically provide instruction in how to:
Interpret engineering drawings and blueprints
Calculate acceptable tolerances
Understand multi-axis machining concepts
Use CAD/CAM software to create tool paths
Use measuring tools such as calipers and micrometers
Inspect completed pieces for quality control purposes
Some employers are willing to pay for entry-level workers to take a formal CNC course.
Is CNC Certification Available?
Yes. The National Institute for Metalworking Skills (NIMS) offers a variety of machining credentials, six of which are specifically related to CNC technologies. While these credentials are not required to work in the field, they can help demonstrate your competency to potential employers. Many CNC programming training programs are designed to prepare their students for the NIMS assessments.
What Are Typical CNC Salaries?
The amount you can earn depends on the type of work you do as well as your level of training and experience. For instance, a CNC machinist salary will generally be higher than a CNC machine operator salary. Salaries also vary by geographic area.
According to the Bureau of Labor Statistics (BLS), the median CNC operator salary was $40,070 in May 2018. The following states had the highest average wages for CNC operators:
Washington—$64,290
Massachusetts—$51,150
North Dakota—$49,590
Maine—$47,530
Connecticut—$47,240
The BLS does not have separate salary info for CNC machinists in particular, but the median annual wage for all machinists was $43,630 in May 2018. Here are the regions with the highest average machinist salaries:
Hawaii—$66,840
Alaska—$64,220
District of Columbia—$62,950
Delaware—$55,210
New Mexico—$53,930
The highest wages in the CNC field tend to go to programmers. According to the BLS, the median CNC programmer salary was $53,190 in May 2018. The states with the highest average CNC programmer salaries were as follows:
California—$66,560
Connecticut—$65,560
Massachusetts—$65,150
Maryland—$61,850
Minnesota—$61,000
---
Shape Your Career
CNC training programs can get you started on your journey to career success. The schools listed above are ready to provide you with all the information you need. Or you can simply enter your zip code into the following search tool to find a CNC school that offers convenient training near you!
---