CNC Machinist Training
By Publisher
| Published
| Last Updated
CNC machinist training can help you prepare for an important role in the advanced manufacturing field. By learning how to work with computer numerical control machine technologies, you could become adept at creating parts and instruments for anything from cars and airplanes to industrial machinery and medical equipment. This is high-tech work that offers the potential for advancement as well as a real sense of pride and accomplishment.
---
Education & Training
CNC machine training schools near you may offer short, skills-focused programs that can lead to a career in this satisfying trade that doesn't require any licensing.
Length of Training
It commonly takes 9 to 24 months to complete a program at a CNC machining school.*
Most Common Length of School*
(range in months)
Electronic technology

CNC machining

Industrial maintenance

Engineering technology
Program Options
Certificate programs typically take up to a year to complete.* Some are designed for beginners while others are aimed at people who already have some training or experience in machining. In many cases, credits from certificate programs can be applied toward an associate degree.
Diploma and associate degree programs can take up to two years.* They tend to be very similar, but an associate degree program usually includes a few additional general education courses.
Apprenticeship programs are also available. Going this route involves receiving in-class technical instruction as well as paid, supervised training on the job. Apprenticeships are often sponsored by unions, industry associations, or manufacturers. You can look for relevant opportunities through the U.S. Department of Labor.
---
---
Typical Courses
CNC classes typically cover topics such as:
Blueprint reading
Precision measurement
Machine setup, operation, and maintenance
Geometric dimensioning and tolerancing (GD&T)
Computer-aided design and manufacturing (CAD/CAM) applications
Multi-axis milling and turning
Programming
Shop safety
Skills You Can Learn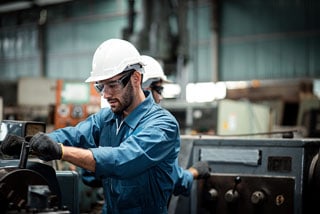 Depending on the program you choose, you could begin learning how to:
Interpret blueprints and technical drawings
Calculate acceptable tolerances
Understand multi-axis machining concepts
Set up and operate CNC mills, lathes, and other tools
Write and edit programs
Use measuring tools such as calipers and micrometers
Inspect completed pieces for quality control purposes
Troubleshoot mechanical problems
Licensing & Certification
You do not need to be licensed or certified in order to work as a CNC machinist. However, voluntary certification from the National Institute for Metalworking Skills (NIMS) can help demonstrate your competence to potential employers. Many CNC school programs are designed to prepare their students for the NIMS assessments.
Some machine manufacturers and software companies also offer certifications related to their products. Here are two examples:
Education & Training FAQs
What kind of math do I need to learn for CNC machining?
You will definitely need to know basic arithmetic and how to convert between fractions and decimals. It's also good to have a solid understanding of algebra, geometry, and trigonometry. And being able to convert between imperial and metric measurements (e.g., inches to millimeters and vice versa) can be very helpful.
Will I be tied to a fixed class schedule?
Not necessarily. Some CNC machinist schools offer courses in a hybrid format, meaning that a portion of the instruction is delivered online and the rest is provided in person. And many offer flexible scheduling options that allow students to choose day or evening classes. It's worth researching CNC training near you to see what's available.
---
CNC Machining Schools
Sponsored Listings
East Windsor, Connecticut
Indianapolis, Indiana
Mahwah, New Jersey
Grand Prairie, Texas
Machining and Manufacturing
---
---
Career Information
CNC machining can be a satisfying career choice for people who love to make things, are comfortable with computer technology, and have great dedication to detail.
Career Outlook
8.4% decline from 2018 to 2028
Median Salary
CNC Machinists
Job Openings
Average Yearly Openings
Length of Training
Most Common Length
Work Settings
Sources
U.S. Bureau of Labor Statistics
U.S. Department of Education
Earnings
The Bureau of Labor Statistics (BLS) classifies CNC machinists as CNC operators. For this occupation, the median annual wage is $41,200. The highest earners make $61,980 or more per year.
Median Annual Wage Comparison
Job Openings & Outlook
Overall employment of CNC operators is expected to decline by 8.4 percent between 2018 and 2028, according to BLS projections. However, over that same time period, an average of 13,600 positions should still become available each year as people retire or move into different occupations.
Workers who have the skills to program CNC machine tools have a much brighter outlook. BLS projections show that employment of CNC programmers should grow by 20 percent over that same 10-year span.
Key Benefits
The satisfaction of turning drawings into tangible parts: You get to use high-tech equipment to transform a block of material into a functional component for important industries like the aerospace, medical, energy, or defense sectors.
The chance to solve problems in a creative way: The challenges involved in troubleshooting mechanical issues or figuring out the most efficient and effective method of creating a part means it's unlikely you will ever be bored.
Advancement opportunities: After gaining some experience as a machine or setup operator, you could go after roles in CNC programming, shop supervising, or quality control.
What a CNC Machinist Does
CNC machinists use computer-controlled machine tools to manufacture parts to exacting standards of precision and accuracy—in some cases, within a thousandth of an inch. They most commonly work with metal, but they can also shape parts out of plastic, wood, and other materials.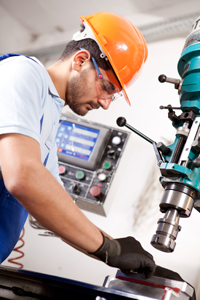 While job tasks vary somewhat depending on their specific role, typical duties include:
Studying engineering blueprints, drawings, and specifications in order to plan machining processes
Interpreting geometric dimensions and tolerances (GD&T) for each job
Calculating feed rates and machine speeds
Writing and inputting computer commands to make a CNC lathe, mill, or other tool perform the desired operation
Setting tool offsets, registers, and conditional switches
Preparing and loading material into machines
Overseeing CNC turning, facing, drilling, and cutting processes
Verifying that sample pieces adhere to expected standards
Making necessary adjustments to ensure quality production
Sharpening tools, replacing worn out components, and performing other preventive maintenance to keep machines working efficiently
Following all safety protocols
Work Settings
CNC machinists commonly work in:
Machine shops
Manufacturing facilities
Industrial plants
Careers
The CNC machining field encompasses a few different roles, such as:
Operator: Load raw materials into machines, calibrate equipment, adjust machine operating speeds during a run, and start and stop machines.
Setup operator or machinist: Enter the program into the machine, test and adjust the cutting tools, edit the program as necessary, and fix mechanical issues as they come up.
Programmer: Study blueprints, select the appropriate tool, and develop the code that tells the tool precisely how to create the part. CNC programmers typically spend most of their time in an office rather than on the shop floor.
Keep in mind that these roles often overlap, especially in smaller companies. For instance, it's common for job postings to call for CNC machinist/programmers to create the programs and set up the machines.
Career FAQs
What makes a good CNC machinist?
People who are successful in this field tend to:
Be detail-oriented and precise
Enjoy making things and solving problems
Be both mechanically and technically inclined
Possess good math skills
Be able to adapt when things don't go according to plan
Work effectively as part of a team
Which states have the highest wages for CNC machinists?
According to BLS data, the states below have the highest average pay for CNC operators:
Washington: $66,820
Vermont: $61,530
Massachusetts: $52,780
North Dakota: $49,950
Nebraska: $46,810
The list is slightly different for CNC programmers:
Washington: $93,500
California: $73,170
Connecticut: $72,730
Idaho: $71,940
Massachusetts: $67,620
---
* Length of training information is based on a combination of information from the Occupational Outlook Handbook, the U.S. Department of Education, and a wide sampling of relevant programs from about 30 individual school websites. They are a mix of public, private non-profit, and private for-profit institutions.