---
---
4 Terrific Reasons to Get Wind Energy Training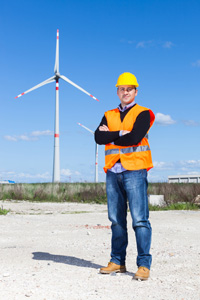 Just like almost every other nation, America has a growing need for electricity. But many of our traditional ways of generating it (such as burning coal and natural gas) contribute to the emission of greenhouse gases, which get trapped in our atmosphere and warm the planet. As a result, the world's climate is changing, which threatens the survival of humans and many other species.
But plenty of reasons for hope exist. In fact, alternative technologies like solar and wind energy are proving to be more than capable of helping us generate the power we need—without the harmful effects of other sources. And as these technologies become more widespread, they are creating powerful opportunities for people who want both a great career and the chance to help change the world for the better.
Here's why getting wind energy training can be such a smart idea:
1. A Fantastic Job Outlook
Wind turbine technology is one of America's fastest-growing employment sectors. In fact, jobs for qualified wind techs are expected to grow much faster than average between 2016 and 2026. They could grow in number by an astonishing 96 percent over that decade.* A lot of that growth is thanks to ongoing technological advances that are making wind energy more competitive in terms of cost and electrical output, which will continue to get even better. Plus, look at these facts:
The average wind turbine installed in 2014 generates about 17 times more electricity than one from 1990.**
The share of America's total electricity production generated by wind energy tripled between 2008 and 2013—from 1.5 percent to 4.5 percent. By 2030, that share could rise to 20 percent. And by 2050, it could grow to as much as 35 percent.***
America already has almost 900 large-scale wind projects in operation throughout 39 states. And more than 550 wind-related manufacturing facilities also offer good job opportunities to people in 44 states.**
Based on just the amount of wind-suitable land in America, wind energy alone has the potential to one day provide more than 10 times the amount of electricity needed for the whole country.**
2. Enticing Salary Potential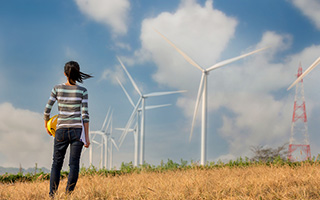 In 2018, the average yearly pay of a wind turbine technician in America was $58,000. And the highest earners in the wind energy trade made over $83,560.****
3. Fun, Interesting, and Meaningful Work
Wind techs often find their jobs exciting and enjoyably challenging. They get to climb tall structures and perform most of their work outside in the fresh air. Plus, many of their tasks are highly engaging. For instance, consider the fact that they are frequently involved in:
Helping to install new wind turbines
Inspecting the towers, blades, and nacelles (i.e., the housing that holds the electricity-generating components) of wind turbines
Repairing or replacing damaged or faulty equipment
Testing and troubleshooting a wind turbine's electrical, hydraulic, and mechanical systems
4. Low Barrier to Entry
Training to become a wind energy technician doesn't usually take very long. In fact, some programs take less than a year to complete, and the longest ones generally only take between 18 months and two years. That means you can attain the career-ready skills that employers in the wind power industry are actively looking for and start making money in a relatively short period of time.
---
Take One Simple Step Today
Why not use this moment to find wind turbine technician training in your area? All you need is your zip code to perform a quick search for nearby programs!
---
---
* Bureau of Labor Statistics, U.S. Department of Labor, Occupational Outlook Handbook, website last visited on December 20, 2017.
** American Wind Energy Association, website last visited on September 15, 2017.
*** U.S. Department of Energy, website last visited on January 27, 2017.
**** Bureau of Labor Statistics, U.S. Department of Labor, Occupational Employment Statistics, website last visited on July 16, 2019.